I wrote an article last week predicting that the annual report for BP Prudhoe Bay Royalty Trust (NYSE:BPT) would estimate the Trust termination in the year after 2018 and total future cash flows of $4 per share. Here is what the annual report that came out today actually read:
Based on the 2016 twelve-month average WTI Price6 of $42.75 per barrel, other economic parameters prescribed by the Conveyance, and utilizing procedures specified in Financial Accounting Standards Board Accounting Standards Codification ("FASB ASC") 932, Extractive Activities - Oil and Gas, BP Alaska calculated that as of December 31, 2016 production of oil and condensate from the proved reserves allocated to the 1989 Working Interests will result in undiscounted estimated future cash flow to the Trust of $63.824 million, with a net present value of estimated future cash flows at 10% discount of $59.186 million.

Based on the 2016 twelve-month average WTI Price of $42.75 per barrel, current Production Taxes, and the Chargeable Costs adjusted as prescribed by the Overriding Royalty Conveyance, it is estimated that royalty payments to the Trust will continue through the year 2018, and would be zero in the following year.
Dividing the future cash flows above by 21.4 million shares, results in future cash flow of $2.98 per share and $2.77 if discounted. Subtract a few cents for Trust administration and this is an estimate of total future dividends.
I told one of my mentors last spring that the April dividend for BPT would be five cents; when it came out to be seven cents, he jokingly teased me about being 40 percent off. I am getting better, I only have 25 percent error here. The benefit of this stock is the stable and predictable dividends, with the only real variability being oil prices.
There are some investors that cannot let go of this stock and try to promote it as a good buy. There also will always be a horde of investors who will gobble up shares based on the current high dividend yield, ignoring the total lifetime return. Oil prices may change, which does impact the value of this stock, but the fundamentals of this stock will not change.
Does this mean the share value should be $2.77?
Note that the price per barrel, used by the trustee in the annual report estimates, is lower than current oil prices. Based on the NMEX:CL futures prices for crude, the US Energy Information Administration (EIA) estimates the chart below for future oil prices. In this scenario (green solid line), oil prices creep up modestly to $58.33 by the end of 2018. I assumed the $58.33 price would continue through 2020.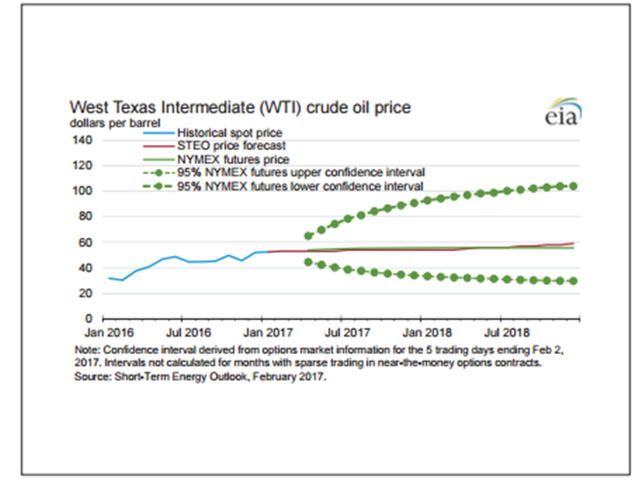 Other assumptions include a 2% annual increase in the CPI, tax rates are consistent with recent past and 90k bpd production or better. With these assumptions, I estimate $12.93 in total future cash flows to the Trust. Again, subtract Trust administrative costs and this becomes an estimate of total future dividends. Considering risks and a desired return, the value of the stock should be some value less than the estimated future cash flows.
The real value you place on the stock depends mostly on how bullish or bearish you are on future oil prices. If oil prices follow the upper confidence level (dotted green line) where oil climbs to $104 by the end of 2018 (and assuming it stays above $100 for years after 2018), a case could be made for a share price in the $40s.
Disclosure: I am/we are short BPT.
I wrote this article myself, and it expresses my own opinions. I am not receiving compensation for it (other than from Seeking Alpha). I have no business relationship with any company whose stock is mentioned in this article.