All throughout the last 8 years investors have been on a quest for yield. What was great news for bond holders who saw their bond prices shoot up, was bad news for investors who were looking at lower yields on their reinvestments.
Investors who were counting on their 5% annual distributions from CDs and investment grade bonds were now having to go down the capital stack or the ratings in order to generate the same yields.
It has gotten to the point where fixed income yields were on par to dividend yields on equities, and thus the dilemma.
Do we take lower yields on investment grade fixed income or do we go to junk bonds to maintain the yields? Or do you look at going down the capital stack and take on the risk of equities?
Many investors ended up taking on more fixed income risk by investing in lower grade securities. The industry did not help the situation by coming out with fixed income solutions which included "strategic income" or "opportunity" in their names, which in reality were "high yield" or "junk bonds."
The question at this point of the economic cycle should be, "If a recession is going to come, do I want to be higher up in the capital stack of a riskier company, or do I want to be on the bottom floor of a less risky building?"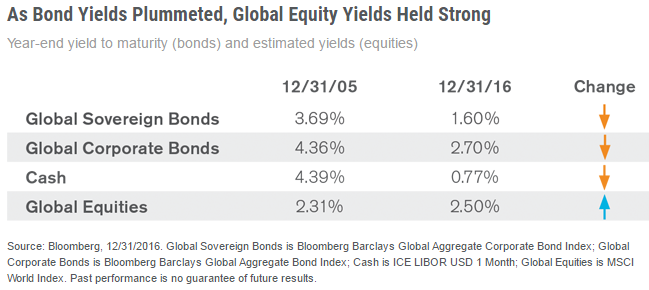 Source: Janus SGQI Brochure
Janus Capital (JNS) believes the answer should be higher quality, financially sound equities, especially if we are to be heading into a higher rate environment. For that reason they recently launched the Janus SG Global Quality Income ETF (SGQI).
Fund Basics
Sponsor: Janus
Index: SGI Global Quality Income Index, a Société Générale Index
AUM: $43.96 Million
Investment Objectives: Seeks quality, high-yielding global equities designed to deliver consistent dividend income.
Number of Holdings: 39
Current Yield: 3.78%, Quarterly
Inception Date: 12-07-2016
Fees: .45%
Source: YCharts & Janus Website
Why This Fund
Beyond everything we have discussed in the introduction, Janus offers an interesting proposition for their fund in the form of their client commitment.
Client Commitment
An equity ETF seeking to provide investors with a consistent income stream by selecting quality, high-yielding companies across the globe. In today's low-yielding environment, this may serve as an important complement to fixed income, offering both a diversified source of income and growth potential.
Source: Janus Website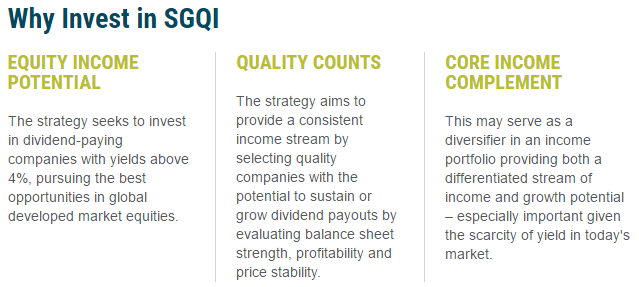 Source: Janus Website
The Index & Fund Strategy
For this fund Janus uses the SGI Global Quality Income Index, which targets "high quality" global dividend payers.
First let's address why we should look at dividends.
For starters, when we look globally, dividends make up a sizable portion of the total return.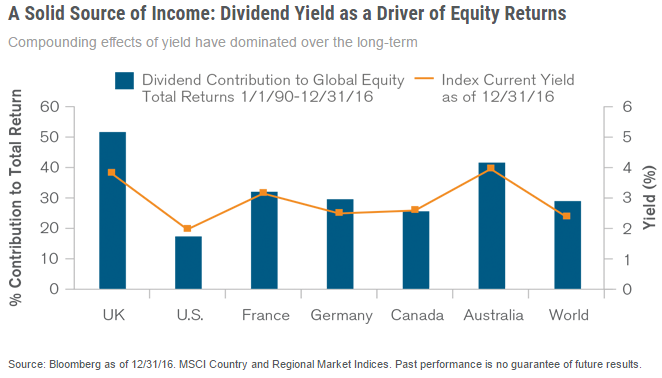 Source: Janus Brochure
One popular chart I liked to show a number of years ago was the S&P 500, both with the index alone, and the dividends reinvested. Even with the major market rally over the last few years, we can still see that dividends make up a large part of the total return in the USA, and accounting for up to 50% of the total return globally.
There is a point of caution though and something that I have talked about in great detail over the last year or so and that is financial engineering. In the race to keep up their dividend yield, companies have started over distributing and or using debt to buy back stock all while their revenues and net incomes fell.
All of this has started to catch up and more companies have started cutting their dividends. For those reasons, Janus and SGI are focusing on the fundamental of the company to sustain those dividends.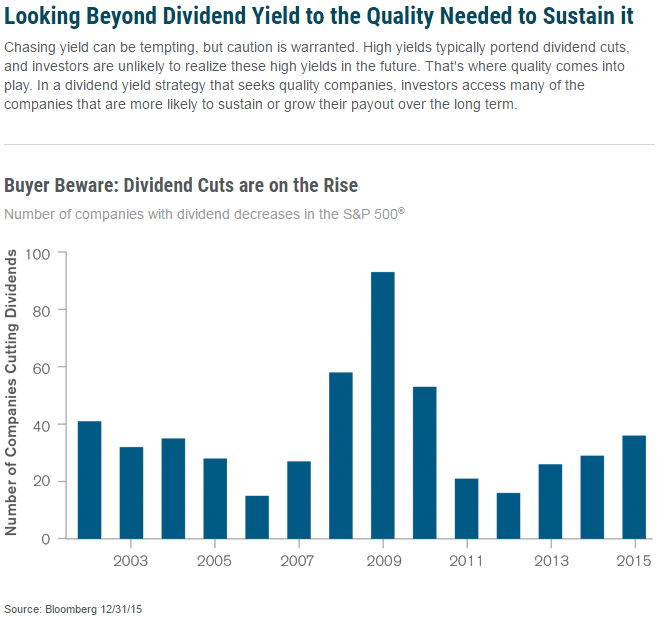 Source: Janus Brochure
So... how does the index select its components and what does it focus on?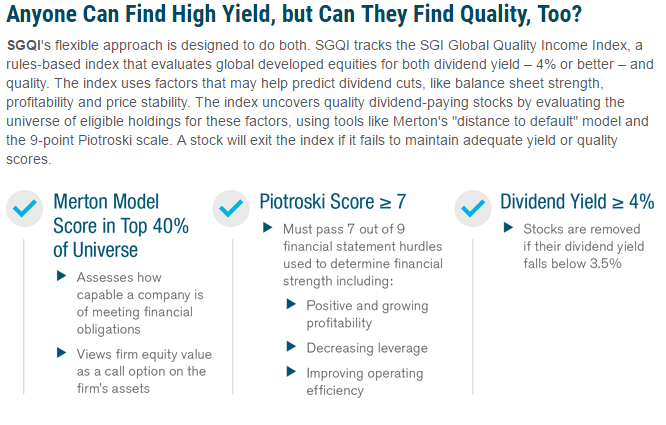 Source: Janus Brochure
One thing to note of that I believe is important but was not really discussed on the website is that the fund focuses on non-financial companies only. So if you hate big banks... this is a fund for you.
If we go to the prospectus we have a more detailed look at the index methodology.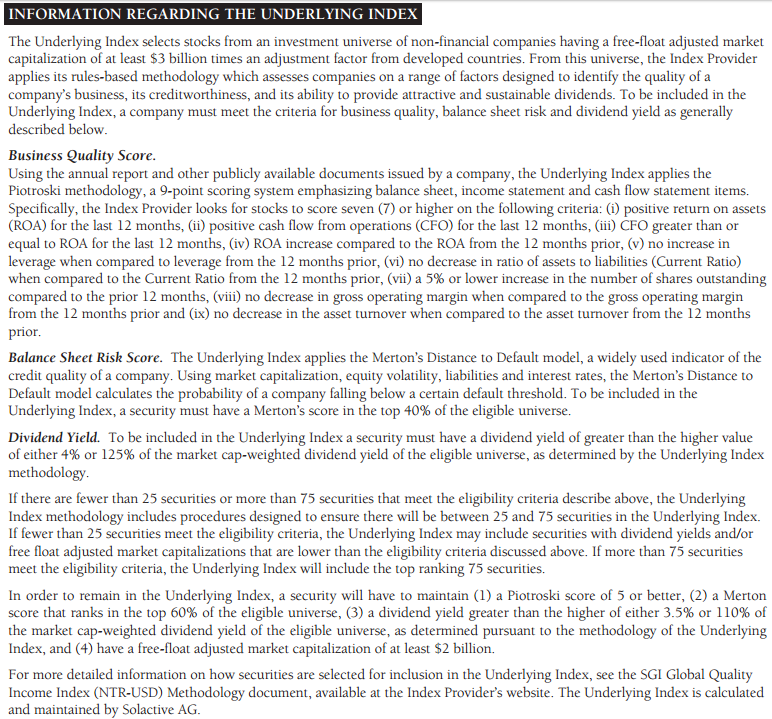 Source: SGQI Prospectus, Page 11
As we can see, while this is an ETF, it is not your typical passive index ETF.
After applying the methodology we have the following portfolio holdings.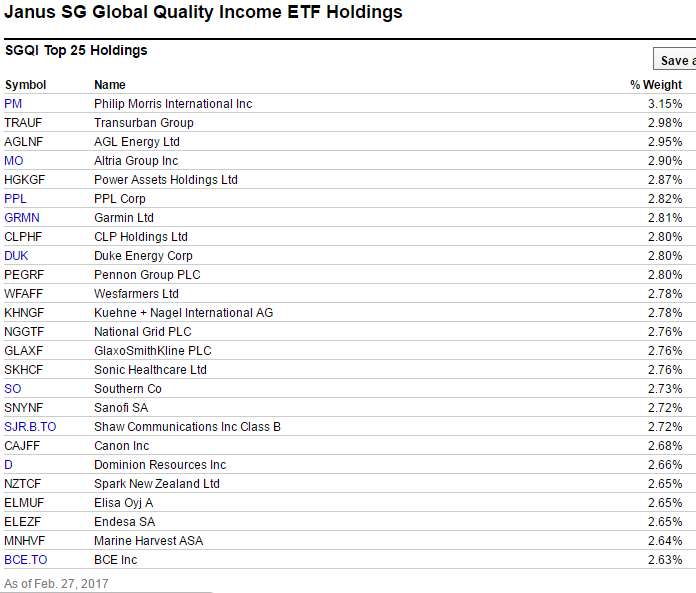 Source: YCharts
The fund is currently about 30% US and 70% developed international. There are no emerging markets present.
Looking at the top holdings you can see both energy and tobacco present so this fund is definitely NOT for the SRI crowd, or for investors interested in the Nuveen ESG NuShares that I looked at in my previous article.
Looking at the sector allocations we see a large focus on Utilities and Telecom.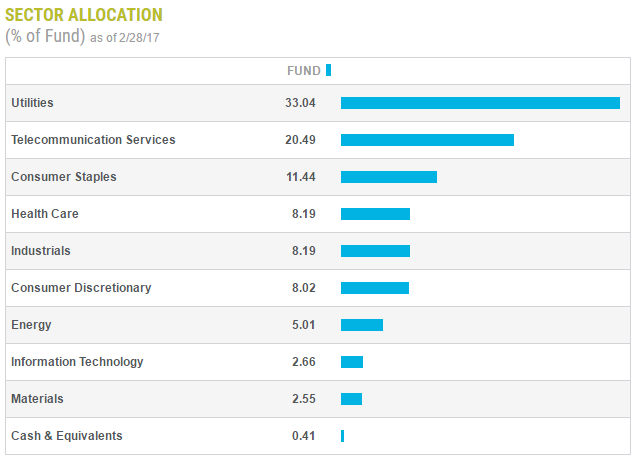 Source: Janus Website
Performance
As this is a new fund, we do not have long term performance numbers however we do have at least a quarter's worth.
The closest competitors to this fund and those I have chosen to compare it to are the Pacer Global Cash Cows ETF (COWZ) which I previously discussed, the iShares Core High Dividend ETF (HDV), the iShares International Select Dividend ETF (IDV) and the iShares Select Dividend ETF (DVY).
Looking at the performance since inception we have the following results.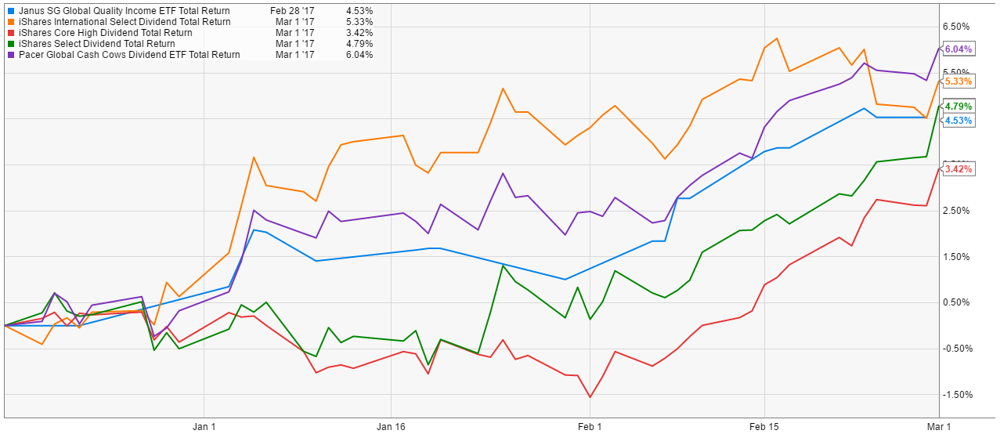 Source: YCharts
The first thing that must be taken note of is that in the YCharts chart above, the performance from 3/1 was not calculated for the Janus fund. If that was taken into account the fund would be approximately 1 percent higher, right behind the Pacer ETF.
Considering that the fund is arguably a lower beta fund without financials and with a larger focus on defensive securities, it has performed quite well against its peers.
Our Take & Bottom Line
Bottom line, I am a FAN of this fund and will likely add it to my holdings.
There are a number of reasons for this. First, the ETF is not a typical overly diversified passive ETF but rather it is a fairly concentrated fund following a strategy that focuses on finding financially sound companies throughout the world.
Secondly, the fund excludes financial companies. Financials perform well right until they don't and are just a bit too risky for me at this point of the financial cycle.
Finally, all of this is wrapped in a tax efficient, low cost wrapper, making this a solid long term holding.
The fund also earns my respect by having a transparent methodology that can be replicated.
There are a number of competitors chasing dividends that have raised a good amount of money whose investors should seriously consider this fund.
Methodology wise, the closest competitor is the iShares Core High Dividend ETF (HDV). It uses Morningstar's Economic Moat and Distance to Default indicators to form the Morningstar Dividend Yield Focus Index. This index however is applied only to US companies. There is also the iShares International Dividend Growth ETF (IGRO) which follows the Morningstar® Global ex-US Dividend Growth Index℠, employing a slightly different methodology to international companies.
The iShares Select Dividend ETF (DVY) is the traditional dividend seeking ETF that primarily focuses on the 5 year track record of paying. The iShares International Select ETF (IDV) is the international version of that fund. Neither actually look at the balance sheets.
None of the competitors however excluded financials. If that is something that is important to you, the Janus fund should be your first choice.
If you are traditionally a passive investor, you can use this fund to add alpha to your portfolio, either as a satellite investment to your equity or fixed income holdings.
Personally I believe a good way to use this fund is in conjunction with the Pacer Global Cash Cows ETF (GCOW) to have two takes on finding dividend paying companies with solid financial balance sheets. If this was an either/or choice, I would lean towards the Janus fund for the lower expenses and being more concentrated.
In conclusion, if you are looking for income, take a serious look at this fund.
I believe in active management that works, and I am here to help you find those opportunities. Please follow me here on Seeking Alpha as we look for those opportunities and sort out the good managers from the mediocre.Simply click the "Follow" button next to my name at the top of the article or on my profile page.
Disclosure: I/we have no positions in any stocks mentioned, and no plans to initiate any positions within the next 72 hours.
I wrote this article myself, and it expresses my own opinions. I am not receiving compensation for it. I have no business relationship with any company whose stock is mentioned in this article.