Data for the following companies are shown: Hess (NYSE:HES), Whiting (NYSE:WLL), Continental Resources (NYSE:CLR), XTO Energy (NYSE:XOM) , Oasis Petroleum (NYSE:OAS), Burlington Resources (NYSE:COP), Qep (NYSE:QEP), Statoil(NYSE:STO), EOG (NYSE:EOG), Marathon oil (NYSE:MRO), SM Energy (NYSE:SM), HRC (NYSE:HK), Newfield Production, Slawson Exploration, WPX Energy (NYSE:WPX), Lime Rock Ressources, Petro Hunt, Triange USA, Emerald Oil (NYSEMKT:EOX) , Enerplus (NYSE:ERF), Hunt Oil, Zavanna
IP30, which means peak month production of a well, usually expressed in barrel per day (bpd) refers to oil only here.
The official NDIC (North Dakota Industrial Commission) database lists 71 operators having drilled horizontal wells in North Dakota's Bakken. The table below shows average IP30 values and the associated number of wells for each half year since the beginning of 2014 for all active companies which came up with at least 40 new wells with IP30 since then.
The numbers are based on sales (runs) and show barrels of oil, not boe. On the aggregate level presented her, the difference between runs and production is in the order of 1%. The reason for choosing runs is that the data of confidential wells are as up to date as the date of non confidential wells. By contrast, production data of confidential wells are published with a significant time lag. Only horizontal wells with reported completion dates are considered (currently close to 98% of all new Bakken wells).
The list is ordered by the total number of wells having IP30 after 2013. The companies in the list represent more than 90% of all new lateral wells since then. The first column shows the total number of wells with IP30 between the beginning of 2014 and the end of 2016-H1.
The IP30 data for the second half of 2016 will be available towards the middle of 2017, as it has been found that 5 to 6 months of post IP30 month data are required to safely determine the correct IP30 month and value of a well, because of the varying length of the ramp up periods.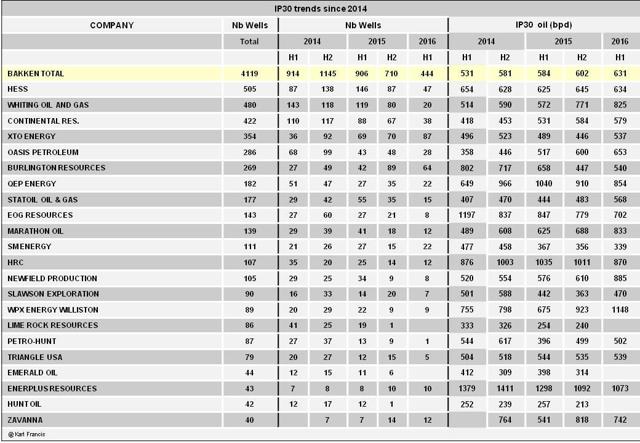 For several companies, the number of wells with IP30 in the first half of 2016 is very small, implying a lot of statistical noise. These IP30 numbers should be considered with caution.
Since 2014, the IP30 trends have been quite different from producer to producer. The weighted average IP30 of producers with at least 100 new wells since the beginning of 2014 has increased only moderately between the 2nd half of 2014 and the first half of 2016 - from 598 bpd to 617 bpd, despite high grading policies and the increasing use of enhanced completions.
Taking into account the trend to steepening decline rates (increasing interferences in the sweet spots, enhanced completions pushing initial well performance), the average oil related EUR of new wells has probably not increased in the last two years.
Production decline rates
Production decline rate indicators of the wells are not presented in the table. They vary quite significantly from company to company and are less up to date than IP30 values, because at least one year of post IP30 production data are required to be able to draw meaningful conclusions. The decline rates and First year IP30 multiples (the total first 12 month production starting with the IP30 month, expressed as a multiple of the IP30 month production) are mentioned in the company related comments below. They are compared to the average value of 5.23 for all 2014 Bakken horizontal wells (which means that first year production, starting with the IP30 month, is 5.23 x IP30 month production)
The average decline rate of 2014 Bakken wells is described here. This decline rate is based on more than 2000 Wells having had IP 30 in 2014. Their " first year decline" (= 13th month versus IP30 month) is around 76%. Horizontal Bakken wells completed in the 2009 to 2013 period had comparative first year decline values of 65% to 70%.
SELECTED COMPANIES
The ten largest producers + Enerplus are discussed in alphabetical order.
Continental Resources
The IP30 value of Continental's wells has increased from 2014 but has remained constantly below the Bakken average. The company was conservative with regard to the number of stages, fracking intensity and the use of sand, but it has started to generalize the use of enhanced completions recently. In the observed period, the production decline rate of wells has remained around 70% in the first production year. The first year IP30 multiple has been 10% above Bakken average. Continental seems to have accumulated a significant DUC inventory which, by applying enhanced completions, will result in increased IP30 values and probably deteriorating decline rates.
Enerplus
Enerplus is a small player in the Bakken. It's mentioned here because it had the most productive wells in 2014-2015, located in the sweet spots of Fort Berthold. Like EOG, Enerplus was an early adopter of the enhanced completion/high sand strategy. Since 2013, completions comprise 1000 Lb/ft sand. Enerplus doesn't seem to have altered its well design significantly since then. Contrary to many other producers, Enerplus has avoided tight spacing. Its wells have probably not been impacted by interference until now. Because of the small numbers of wells, data show significant volatility from period to period, but on average, first year decline was around 72-73%. The negative difference of 5% compared to older Bakken wells not subject to interference results probably from the application of enhanced completions.
IP30 performance has declined by approximately 20% between the first half of 2014 and the first half of 2016, indicating exhaustion of the company's sweet spots. To be able to add new Wells, Enerplus intends to reduce spacing, which should produce interferences, have a negative effect on the decline rate and will probably not be able to avoid a further deterioration of IP30 numbers.
EOG
EOG has pioneered enhanced completion in the Bakken. The company started to use high levels of sand and frack water in 2012 and generalized that method in 2013, routinely applying 1000 Lb/ft of sand. That amount was at least temporary increased to 1500 Lb/ft towards the end of 2013 and even higher volumes have been tested. That didn't prevent well productivity from starting to decline since early 2014. From an average of 1200 bpd in the first half of 2014, production has progressively fallen to 700 bpd in the first half of 2016.The last number is based on a very small number of wells. Full year 2016 data, based on company communications, suggest a 2016 average Ip30 around 740 bpd.
That's a significant multi-year IP30 fall. It reflects exhaustion of the Parshall field, where EOG's production is largely located and is an indication of the productivity decline speed, once a certain well saturation level is reached.
To be able to place new Wells in that field, EOG has apparently continuously reduced spacing. That may be the reason for the increased steepness of the average well production decline rate. That rate closely matched the Bakken average in the first half of 2014. The first year decline rate of Wells completed 18 months later was above 80%. There was a similar decline of the IP30 multiple, probably falling to 4.8 in 2016.
Hess
Hess shows the highest number of Wells with IP30 since 2014, totaling more than 500 Wells. IP30 performance of its wells has been relatively flat since 2014, oscillation in a range of 600 bpd to 650 bpd. The company applies an optimized and standardized completion design, which can be qualified as high intensity fracking (50 stages) but only using a relatively low amount of sand (550 Lb/ft). The company says that's it's not targeting the highest IP30 numbers but the best well economics. It also says that its standard design pad comprises 17 wells. This suggests a very high number of wells per spacing unit, but, often, the company drills into two juxtaposed space units from an area comprising several pads located close together. Nevertheless, Hess has one of the highest well densities per space unit and the average decline rates have constantly been among the worst of all the companies observed here, with first year decline rates around 83% and a first year IP30 multiple around 4.5.
Oasis Petroleum
In 2014, the IP30 of Oasis' wells was significantly below average. Performance has since increased significantly and has been a few % above the average Bakken well in 2016-H1. Oasis says that all of its new wells are benefiting from enhanced completions. Oasis has tested two variants, one with 1000 Lbs/ft sand and the other, called slickwater well, with 450 Lbs/ft sand+ ceramics and a very high level of frack water. The slick water well seems to be the preferred design. Well production decline rates have been close to the Bakken average in the past but are showing a deteriorating trend since the 2nd half of 2015. The trend of first year IP30 multiples suggests a value of 4.9 for 2016.
Marathon
Marathon has seen a significant IP30 increase since 2014, reaching more than 800 bpd in the first half of 2016 (although the sample size is small). One reason is the increased volume of sand, which has grown by 50% per lateral feet in 2015, according to the company. Well spacing has remained conservative and the related negative interference low. That is reflected in below year one average decline rates and a first year IP30 multiple 8% better than the Bakken average.
Qep
All Qep wells are concentrated in a sweet spot area of roughly 7 x 10 sq miles. The IP30 performance of Qep's already very productive wells rose strongly until the first half of 2015, trough the application of enhanced completion techniques, reaching more than thousand bpd, but then started to fall back quite significantly (sweet spot exhaustion?). First year decline rates, at an average of 78%, have been somewhat worse than then Bakken average. The first year IP30 multiple has remained at the Bakken average.
Whiting Petroleum
Whiting's wells have shown Bakken average IP30 performance until the middle of 2015. IP30 of later wells went up strongly, reaching more than 800 bpd in 2016 H1, after Whiting started to generalize the use of enhanced completions, with more stages and more sand. After an excellent 2016 Q1, average IP30 has declined by 15% in the 2 next quarters. The IP30 increase since 2013 has been accompanied by a steepening decline rate. From the Bakken average in the first half of 2014, first year decline was near 80% in the second half of 2015. The first year IP30 multiple has probably fallen to 4.9 in 2016.
Other significant players
Other significant players in the Bakken are XTO , Conocco/Burlington Resources and Statoil . They are part of larger companies where the Bakken production plays only a minor role. Very little data is available about their well design, completion philosophies and well costs in the Bakken.
The performance of Conocco/Burlington wells has significantly deteriorated from a high level in 2014 when the company started to apply enhanced completion techniques. The well density was at 8 wells per spacing unit in 2015 with tighter spacing being tested. First year decline rates have been in the 78% range.
The IP30 of Statoil's wells has been constantly below average, although moving above 600 bpd after 2016 Q1. The company is apparently using enhanced completions now. The past low IP30 values were associated with first year production decline rates of 65% to 70%, reminding Bakken wells drilled 6 to 8 years ago. Statoil's 2014 wells also had significantly lower y/y decline rates in the second production year, compared to the Bakken average.
Conclusions and outlook
Several companies which were early adopters of enhanced completion techniques and have their acreage concentrated in sweet spots have seen significant declines of their IP30 values of new wells, indicating an exhaustion of their acreage. More recent adopters of enhanced completion methods, by limiting drilling to their best acreage, have seen a boost of IP30 of new wells since 2014 but will sooner or later face the same exhaustion problems.
A partial reversal of high grading, unavoidable when drilling increases again, will also have a negative impact on average IP30 values. Bakken average IP30 may have come close to an all time high in 2016 and may fall back after 2017.
Disclosure: I/we have no positions in any stocks mentioned, and no plans to initiate any positions within the next 72 hours.
I wrote this article myself, and it expresses my own opinions. I am not receiving compensation for it (other than from Seeking Alpha). I have no business relationship with any company whose stock is mentioned in this article.