Vistra Energy (VSTE) describes itself as a "premier Texas-based energy company focused on the competitive energy and power generation markets through operation as the largest retailer of electricity and generator in the growing Texas market". What they should be saying instead was: Vista Energy is the company put together by TXU Energy (later renamed Energy Futures Holdings) by their senior bondholders after taking control of the assets left behind on a messy Chapter 11 bankruptcy.
We love messy bankruptcies, not the procedure itself but the companies that come to fruition as a result of it, as we tend to find many misplaced securities in that space. I wrote about another good opportunity in that space yesterday: Contura Energy (OTCPK:CNTE) (as discussed here). It seems that the wave of energy bankruptcies in recent years will keep bringing us a decent amount of opportunities.
The opportunity is quite similar to that of Contura Energy, actually.
In 2007, TXU - a producer and provider of electricity derived from coal-fired plants - was acquired by a group of PE firms (including KKR and Texas Pacific) for a whopping $45 B, making it the largest leveraged buyout in US history at the time. Even Warren Buffett got involved.
Then, the financial crisis hit, rendering the assumptions on which the LBO was based obsolete. First, the debt of $37 B took on by TXU for the LBO was unbearable - their interest expense increased by more than 5-fold; second, the cornerstone of the deal was a bet that natural gas prices would rise and stay high in the future, giving their coal-fired plants a competitive advantage. They didn't. As a result margins compressed, their debt servicing became unbearable and they could not re-finance because of the financial crisis. Caution advises not to mix a cyclical business with debt that cannot be sustained during a downturn. The result was a 2-year long bankruptcy procedure that came to an end late last year.
But enough with the sad stuff. There is always something positive in every situation, right? Indeed.
As part of the reorganization plan, TXU was split into two companies: Oncor - the former regulated business of TXU, bought by NextEra Energy (NYSE:NEE), and Vistra - the former power generation and electricity retailer businesses, delivered to senior lenders.
Vistra's operations are simple to understand. It has two businesses: TXU Energy and Luminant. TXU Energy sells retail electricity and value-added services to approximately 1.7 million residential and business customers in Texas. Luminant generates and sells electricity and related products from its diverse fleet of generation facilities totaling approximately 17,000 MW of generation in Texas, including 2,300 MW fueled by nuclear power, 8,000 MW fueled by coal and 6,000 MW fueled by natural gas, and is a large purchaser of wind-generated electricity. Basically, TXU buys electricity from Luminant and sells it at a small markup to retail clients.
Energy prices seem to be recovering from last year's epic glut which means that industry tailwinds should propel the company. In any case, by integrating both companies, Vistra believes they can smooth out the cyclicality of each business (e.g. when energy prices are down, the power generation business suffers but is compensated by an increase in margins in the retail business and vice versa), which remains to be proven as market conditions change going forward. For now it is too early to tell. According to the company guidance, both companies seem evenly balanced, contributing by roughly 50% each to the company's EBITDA.
But, is this a good opportunity? You bet.
To study Vistra's peer group we resorted to the competitors identified by the company in their latest S-1 form filed with the SEC. From these, we selected 2 groups - one whose operations are the most identical to Vistra's (highlighted in green) and the other operating in the regulated utility business (highlighted in red).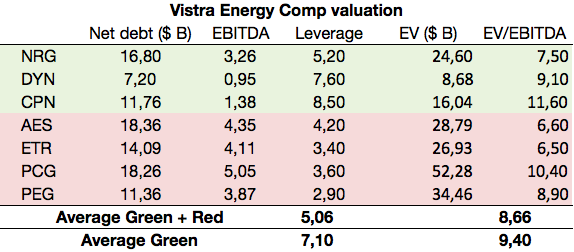 Source: Author using data from Morningstar and company financials
Post-bankruptcy Vistra now has only $3.5 B of debt and $1.8 B of cash in their books for a $1.7 B net debt. Their adjusted EBITDA for 2016 is expected to be close to $1.6 B for a leverage of 1.1x and an EV/EBITDA of 5.4x.
Comparing with its peers, Vistra appears as the least levered (by a mile) and the one with the smallest EBITDA multiple (even below the constituents of the red group). You would think that the company that has 1/5 of the debt would command a premium multiple, not a discounted one, right? Efficient markets, they say…
Having said that, Vistra does have room to safely add considerably more debt - we see them able to double or even triple their debt - in order to leverage their operations, which would be a nice bump to EBITDA as an added bonus. At current market prices, this optionality is given for free, which is always good (those who read our articles know we sure love getting free stuff when investing).
So, there you have it: Vistra is the safest company operating in the non-regulated space both because of their low leverage and their great value.
When the market acknowledges the existence of Vistra, it should re-rate the company's multiple to a more adequate 8x - 9x EBITDA. By doing so, each share would sell for somewhere between $26 and $30, a 60% - 85% upside.
So, how will Vistra get the market to re-rate them?
Immediate catalysts are already in motion: Vistra Energy trades over-the-counter but last month they applied for their stock to be uplisted to NYSE, which means higher market visibility from institutions and analysts.
The second catalyst is the presentation of FY16 earnings on March 30. If the company executed according to their forecasts an immediate stock price boost shall signal increasing confidence on the operative capabilities of the company. As an added bonus, once they post their first earnings, their numbers will appear in everybody's databases.
The third catalyst is time. Normally, full re-rating of companies coming out of bankruptcy takes at least 1 year since the market requires at least 1 year of full operation to check on execution of the reorganization plan.
Finally, there's management, which can take action to close their stock price's gap relative to their peers, namely through share repurchases, stock buybacks or going to conferences and doing presentations. This is especially true in the case of Vistra, which is 39% owned by Apollo, BAM and Oaktree. Directors appointed by these 3 shareholders will pay special attention to stock price performance.
In conclusion, there is little to differentiate companies operating in a commodity business. Unless you have the low-cost advantage, your product costs the same as everyone else's which means your margins are roughly the same and your earnings are worth the same amount of dollars that your competitor's, provided that your balance sheet is clean.
Because of this, the majority of the industry constituents should see the relative market value of their stock trade in a tight range. And that is true for everyone in the industry but Vistra, whose earnings are being valued by the market at a 30% to 40% discount relative to its direct competitors.
The combination of Vistra's low valuation and the catalysts laid out above, we could be in for a very interesting ride as the market re-rates the company closer to its peers.
Disclosure: I/we have no positions in any stocks mentioned, but may initiate a long position in VSTE over the next 72 hours.
I wrote this article myself, and it expresses my own opinions. I am not receiving compensation for it (other than from Seeking Alpha). I have no business relationship with any company whose stock is mentioned in this article.
Editor's Note: This article discusses one or more securities that do not trade on a major U.S. exchange. Please be aware of the risks associated with these stocks.