General Electric (NYSE:GE) ranked 9th in 2015's 'World's most admired companies' according to Fortune Magazine. This does not apply to General Electric's shareholders over the last few months since the stock has dramatically underperformed the S&P 500.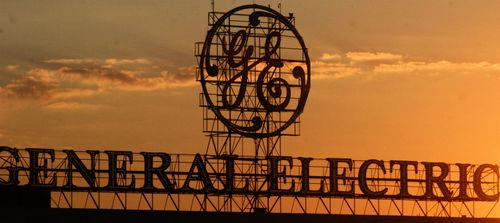 Source: CNBC
General Electric's stock price is where it was more than one year ago. The stock price had not gone anywhere since December of 2015. The S&P 500 however has hit multiple all-time highs since Trump's election in the last quarter of 2016.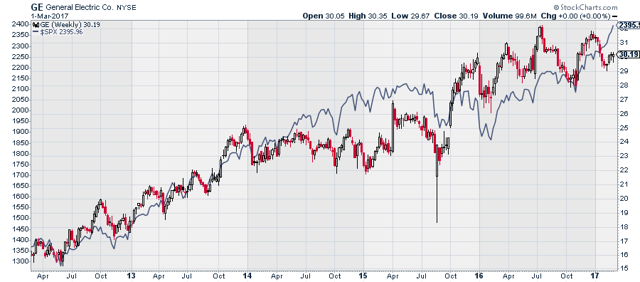 Another reason why I find it interesting that General Electric is not going anywhere since 2015, is because the economy bottomed in the first quarter of 2016. A few months later, we saw that the economy gained momentum in the third quarter of the same year.
Before I continue, it's important to define a few things. First of all, what do I mean by economic growth? I always look at the ISM manufacturing index. The ISM index is leading and tells us what we can expect in terms of economic growth over the next 1-3 months.
So, what are we looking at below? I combined two major regional numbers. The line-chart displays the average of regional manufacturing indices from five major FED regions (Empire State, Philly, Richmond, Kansas City and Dallas). The other indicator is the ISM index. The ISM index hit 57.7 in February. This is one of the highest levels since the 2014 growth peak. Regional indices did even better and hit a decade high in February.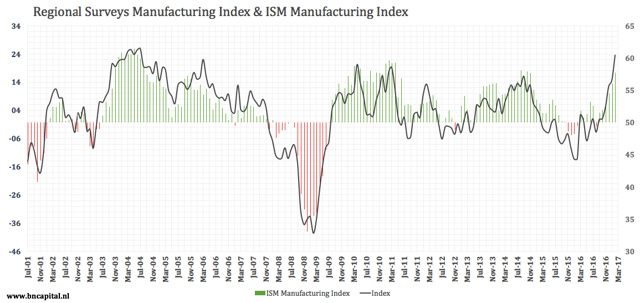 -----
Extra: To give you some more proof that leading indicators work indeed, I wrote an article about it. Feel free to read it if you want to know more about economic and the importance of the right 'tools'.
Article: Establish A Solid Macro View Using The Top-Down Method
-----
Now, let's look at another leading indicator. It is important to know how future capital expenditures are behaving. Especially given General Electric's product/services portfolio.
The graph below shows you future capital expenditures. This data is from the regional manufacturing survey. This means that this data is leading too.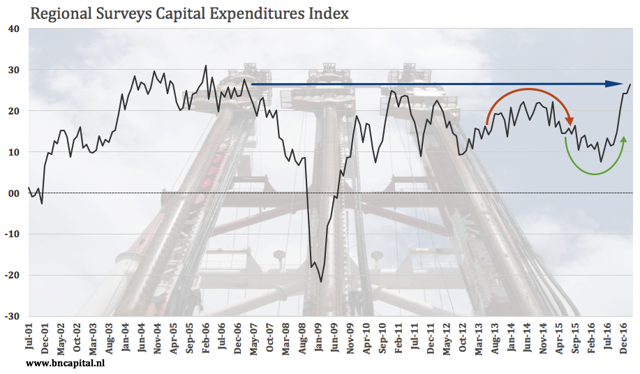 Future capital expenditures have dropped after the third quarter of 2014 and bottomed in the first quarter of 2016. Thus leading the macro economic trend very well. The current rally has pushed capital expenditures to 2006 levels. I have been bullish since mid-2016, but I did not expect to see this kind of momentum to be honest.
However, because General Electric is such a big international company with exposure in Europe (15%) and Asia (17%), it is important to include leading indicators of those regions as well. Below, you see two purchasing managers indices. Both are comparable to the ISM manufacturing index you just saw.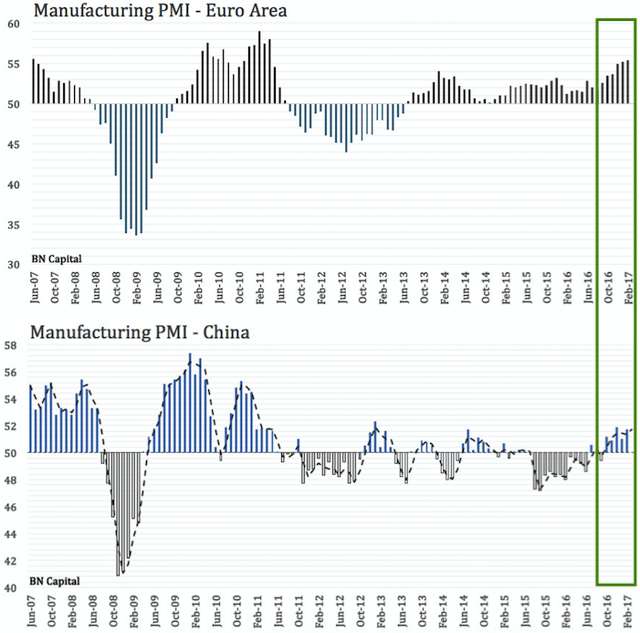 Both China and the Euro Area are accelerating. This is the first time since 2009-2010 that all major regions are showing serious strength. This has not only benefiting international companies, but also cyclical commodities like copper.
This strong leading indicator rally has pushed the spread between soft and hard data to an all time high. This means that expectations are sky-high. On the other hand, this large spread is no surprise because hard data needs 1-3 months to catch up. This is likely to benefit the next quarterly numbers from General Electric.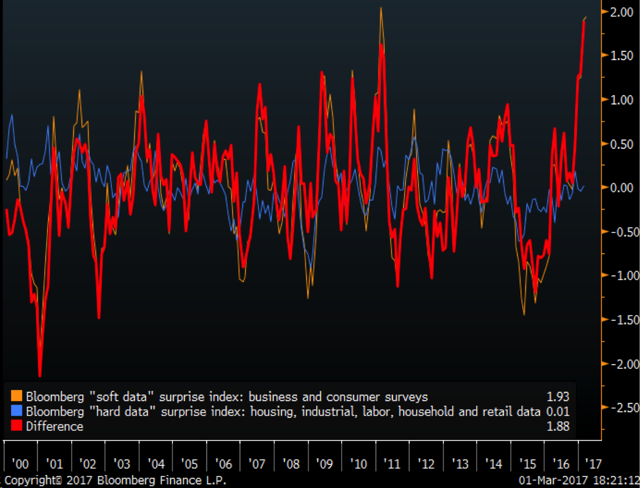 Source: Twitter (@boes_)
So, what does this mean for General Electric's stock price? Overall, General Electric's stock price is growing around 15-20% during strong economic years according to my graph below. I compared the year-on-year performance of General Electric to the ISM manufacturing index.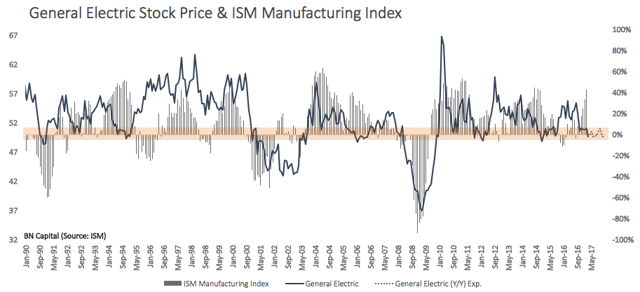 Current returns show that investors are not pricing in any growth at all. The same happened in 2014-2015 and in 2011. 2011 has been the start of the Euro Area crisis and an overall volatile year. 2014-2015 have been hit with extremely slow growth in the US, Europe and China. The current situation is different. Especially if you look at future returns (dot line). I always add these lines to see how much future growth is priced in. It is purely based on the idea that the current stock price isn't going to change over the next few months. Note that I only do this to see how much future growth is priced in. It turns out that expectations are extremely low. Almost comparable to times of below-economic expansion.
This means that every positive signal could push General Electric higher. I believe that this news will come from management decisions to reduce the problems from Trump's 'America First' policies. This is by far the biggest risk to General Electric.

Source: The Street
Paul Franke covered this 'risk' topic quite well in his article 'Another Casualty Of The Border Tax And Overleverage - General Electric?
However, General Electric itself is supporting Trump's border tax. They formed a so called 'American Made Coalition' to push for the border tax that would support American business through more fairness.

Source: Boston Magazine
Conclusion
General Electric has a tremendous tailwind due to an accelerating economy in all major regions of the world. You don't see these kind of economic expansions very often. General Electric's stock price returns about 20-30% during these expansions. However, current returns are close to 0%. Furthermore, based on the current price, we see that returns over the next few months are expected to be low. I believe that this is mainly due to the risks that come with protectionism. On the other hand, General Electric is aware of these risks and still pushing to get these ideas passed.
So, we know that expectations are low while the biggest bull case (growth) is gaining momentum. The biggest risk (protectionism) is priced in and a bit exaggeration in my opinion.
I believe that the current price offers a great entry with a great risk reward. The stock price is set to hit 35 USD over the next few months.
Many thanks for reading my article. Please leave a comment below if you have questions, remarks or a completely different opinion. You can also send me a direct message or tweet me @LeoNelissen.
Disclosure: I/we have no positions in any stocks mentioned, but may initiate a long position in GE over the next 72 hours.
I wrote this article myself, and it expresses my own opinions. I am not receiving compensation for it (other than from Seeking Alpha). I have no business relationship with any company whose stock is mentioned in this article.