The proposed Frontline (NYSE:FRO)- DHT (NYSE:DHT) merger took another dramatic turn this week when Frontline revealed a revised all-share offer. The new proposal, that would have given shareholders of DHT a larger share of the combined entity, was again summarily declined as being wholly inadequate and not in the best interests of DHT or its shareholders.
The board members of DHT, which is being advised by Lazard, wrote in their rejection letter that "the revised proposal continues to significantly undervalue the contribution of our company's business and fleet would make to a combined company, including with respect to net asset value and profit contribution".
DHT's argument against a merger centers around net asset valuation. Could it be that the stock market will have the final word?
Nobody can tell with certainty what the true intention of such swift dismissal really was. Yet, the fate of Frontline's takeover attempt is anything but sealed. It will depend on how the two stocks react to the news, and ultimately on what DHT's shareholders have to say about it.
The original proposal offered DHT shareholders a 19.2% premium over the stock's last closing price, valuing each DHT share at $5.09. DHT had closed on January 27, 2017 (the last day before the offer was made public) at $4.27. Shares of Frontline had closed on the same date at $7.02.
As is typical in all-share merger attempts, shares of DHT (being the prey) rose following the news, whereas shares of Frontline (being the predator) fell. As a result, the premium narrowed and briefly turned into a discount.
But following DHT's first rebuff, the premium started rising again. When Frontline made its revised offer, valuing each DHT share at $5.38, the premium rose to 15.3%.
It remains to be seen how DHT shares will react to the latest news. It must be noted however that on the first day following disclosure of the new failed proposal, shares of DHT declined, whereas shares of Frontline rose, raising the premium to 19.4%, higher even than the original!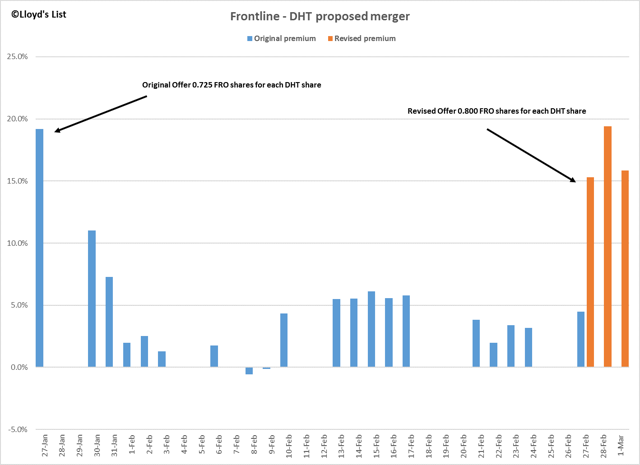 Notwithstanding any arguments regarding NAV or relative earnings contribution, if the gap between DHT's share and its implied value based on Frontline's offer remains, how long will it be before DHT shareholders start agitating for another look at the offer? Coincidentally, Frontline appears to be DHT's largest shareholder with an 16.4% stake in the company.
They only sure winner in this evolving saga has to be Frontline. If DHT shares rise, the market value of its shareholding will rise. If DHT shares fall, the likelihood of a merger will rise. Heads or tails, this looks like a safe bet for Frontline.
Disclosure: I/we have no positions in any stocks mentioned, and no plans to initiate any positions within the next 72 hours.
I wrote this article myself, and it expresses my own opinions. I am not receiving compensation for it. I have no business relationship with any company whose stock is mentioned in this article.