As per a TIAA study, up to 90% of millennials and 73% of non-millennials want their investments to deliver competitive returns while being invested in companies that operate on and promote positive social and environmental outcomes. (source: Nuveen/TIAA)
Unfortunately for far too long investors had to make a choice between having alpha generating investments or having the peace of mind that their investments were invested along their beliefs, either religious values, climate change or ESG criteria. Since my entry into the financial services industry in 2005 I have had to have this discussion with a number of clients and prospects who were interested in socially responsible investing. More often then not, those clients were willing to accept substandard investment returns in order to have that peace of mind, unfortunately for fund sponsors those investors are the minority of the investor marketplace.
Traditionally ESG investments have been limited to broad open end mutual funds such as those offered by Calvert and TIAA or thematic ETFs such as the various clean energy or climate change funds. While there were a number of socially responsible ETFs offered by iShares such as the MSCI USA ESG Select ETF (NYSEARCA:KLD) and the iShares KLD 400 Social Index ETF (NYSEARCA:DSI), the 800lb Gorilla of SRI, TIAA, has been missing from the ETF scene, until now.
With the 2014 acquisition of Nuveen, TIAA-CREF has acquired a terrific investment manager and distributor. With Nuveen's foray into the ETF marketplace with the NuShares offering, it is only natural that we see a TIAA branded ESG offering as well.
On December 14th, 2016 Nuveen announced the launch of 5 new exchange traded funds, the Nuveen NuShares ESG Large-Cap Value ETF (BATS:NULV), NuShares ESG Large-Cap Growth ETF (BATS:NULG), NuShares ESG Mid-Cap Value ETF (BATS:NUMV), NuShares ESG Mid-Cap Growth ETF (BATS:NUMG) and NuShares ESG Small-Cap ETF (BATS:NUSC).
The funds were designed to:
...track the investment performance of the U.S. stock market across various market capitalizations and investment styles while giving special consideration to certain ESG criteria. The NuShares ESG ETFs are the most comprehensive offering of domestic ESG ETFs in the asset management industry, and draw upon the deep, highly respected and decades-long responsible investment expertise of TIAA Investments.
Source: Nuveen NuShares ETF Press Release
Are these ESG funds worth your look? Or are they yet another under-performing ETF to come? Let's take a quick look.
Fund Basics
Sponsor: Nuveen Investments
Index: TIAA ESG USA
AUM: NULV - $6.478 Mil ; NULG - $6.709 Mil; NUMV - $6.490 Mil ; NUMG - $6.629 Mil ; NUSC - $11.67 Mil
Investment Objectives: To track the investment performance of the U.S. stock market across various market capitalizations and investment styles while giving special consideration to certain ESG criteria.
Number of Holdings: NULV - 112; NULG - 172; NUMV - 61; NUMG - 74; NUSC - 681
Current Yield: None, Annual Distribution
Inception Date: 11-16-2016
Fees: NULV - .35%; NULG - .35%; NUMV - .40%; NUMG - .40%; NUSC - .40%.
Source: YCharts & Nuveen NuShares Site
Why These Funds
Nuveen believes there are 3 big reasons to choose these funds.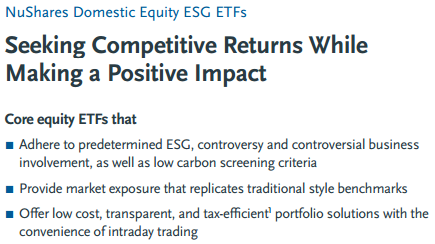 Source: Nuveen Brochure
More importantly and what is not being said is that these are the first set of ETFs "managed" by perhaps the most competent SRI manager, TIAA.
While none of these funds are actively managed, TIAA created the index methodology.
The Index & Methodology
As previously mentioned, there are 5 new ETFs available. Both growth and value varieties are available for large and mid cap stocks. While there is a small cap fund available, it is a blend fund.

Source: NuShares brochure
For each of the funds, the managers start with the base index provided by MSCI. TIAA then does an initial screen and overlays the ESG requirements. At this point your typical sin stocks (Alcohol, Tobacco & Firearms) would be removed.
The highest ranking companies are selected for the first half of the portfolio.
Up until this point this sounds like any other ESG fund such as DSI, KLD, the iShares Sustainable MSCI Global Impact ETF (NASDAQ:MPCT),
FlexShares STOXX Global ESG Impact Index ETF (NASDAQ:ESGG), or
Columbia Sustainable U.S. Equity Income ETF (NYSEARCA:ESGS).
Where the NuShares differ and what should give the Toyota (NYSE:TM) Prius and Tesla (NASDAQ:TSLA) drivers a smile is that for the remainder of the portfolio, only companies that have "a significantly lower carbon footprint than the Base Index" are included. Furthermore, companies that own fossil fuel reserves are excluded.
Once the screening process is complete, the companies are weighted to generally reflect the base underlying index.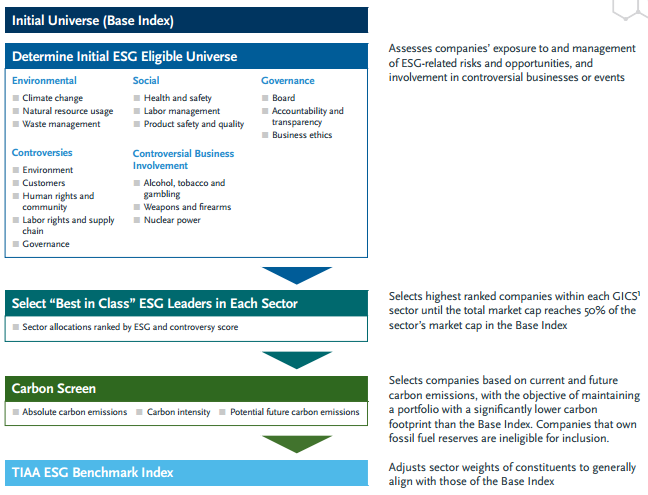 Source: NuShares Brochure
Who's It For? Our Take & Bottom Line
In its purest sense, these are passive ETFs that were give two passes of a "green screen." The first pass screens out controversial businesses and the second pass which controls 50% of the portfolio puts the focus on companies with a low carbon footprint.
One of the central promises is to provide socially responsible investments that achieve comparable investment returns.
Will these funds achieve good performance? It is too early to tell however I personally fail to see how applying a green screen will enhance performance, especially in a passive fund.
While there is no long term performance, we can take a look at how the funds have performed over the two short months in comparison to their respective base indexes.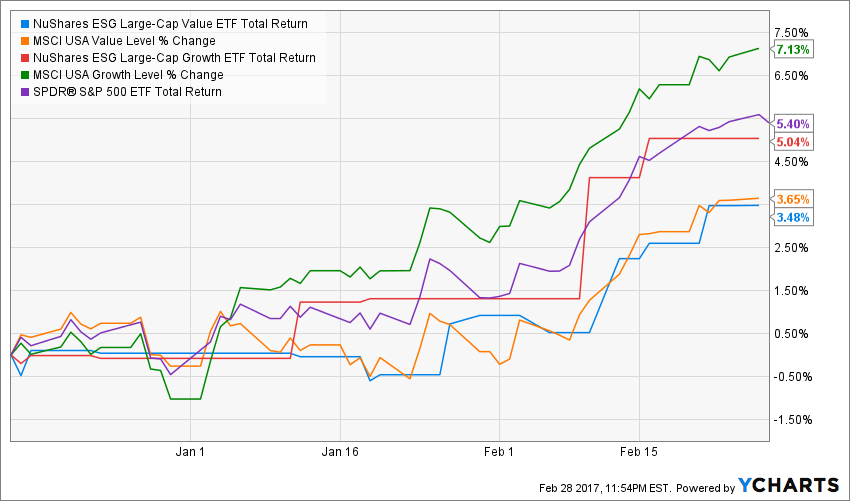 As we can see both the large cap value and growth funds trail their base indexes.
For the mid cap funds we see a slight change. While the value ETF trails the index by a notable margin, the growth fund is right in line with the index.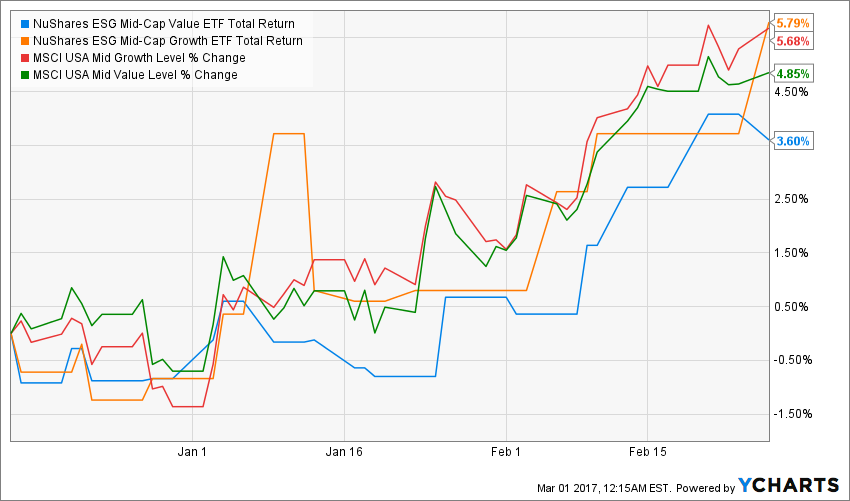 The one fund that I am perplexed by is the small cap fund. Unlike the large and mid cap funds which have some market cap concentrations, the small cap fund is comprised of over 681 securities. Even though the index is comprised of 1843 names, does it really make a difference? Performance so far says no.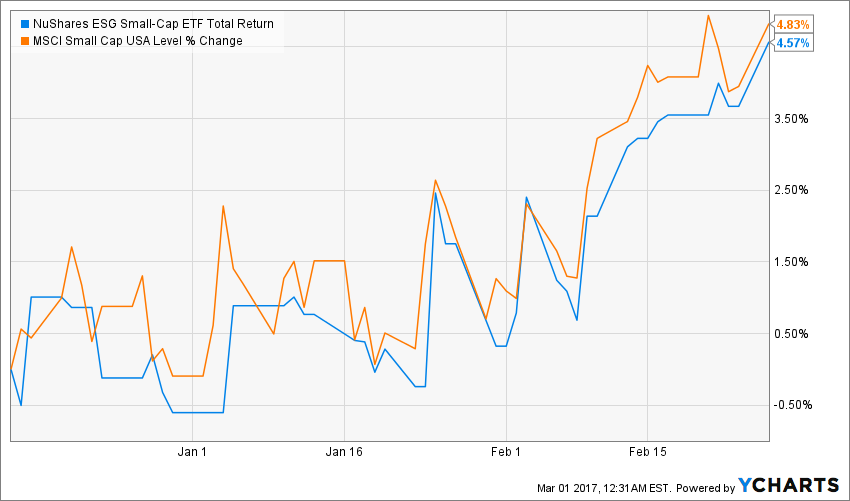 As we can see the small cap fund trails the index by 26 basis points. A part of those 26 basis points is the fee for the underlying fund, however the fee does not account for the entire difference. The ETF underperforms the base index.
Who are these funds for?
Even if you disregard any perceived benefits of having TIAA, there is one specific advantage to these funds. For an index investor, you finally have 5 ESG options that cover the 9 Morningstar Style Boxes. While the majority of the ESG options are either large cap or all cap, none are specifically targeting the individual market caps and styles.
If you do not value ESG principles above all else, you should NOT be looking at these funds. By screening out certain investments merely based on moral issues, you are limiting your investment options. Furthermore, passive funds will never outperform their indexes, nor do they aim to do so. If you do value ESG principles however want to have a chance of generating alpha, you should be looking at actively managed mutual funds or smart beta ETFs, rather than these passive options.
The only investment case that I can imagine for these funds is for an institution who has an investment policy statement of both passive investments AND an ESG criteria. In that case, these funds are a great diversification option.
Bottom line, for most investors these are passive index funds that are bringing a knife to a gun fight for the simple reason that they don't believe in owning guns. (obviously screened out). What we don't know is how wide a gap this will be. Will it be a knife against a 6 shot revolver or against a fully automatic rifle? Only time will tell.
I believe in active management that works, and I am here to help you find those opportunities. Please follow me here on Seeking Alpha as we look for those opportunities and sort out the good managers from the mediocre.Simply click the "Follow" button next to my name at the top of the article or on my profile page.
Disclosure: I/we have no positions in any stocks mentioned, and no plans to initiate any positions within the next 72 hours.
I wrote this article myself, and it expresses my own opinions. I am not receiving compensation for it. I have no business relationship with any company whose stock is mentioned in this article.