Top North America Seaport TEU Review
During 2016, top North America seaport twenty-foot equivalent container units (TEUs) were on track to witness negative performance. Overall, performance was negative through September, when considering laden and empty imported/exported TEUs. It was not until October through December, that positive momentum was sustained to close the year out with a 1.2 percent gain.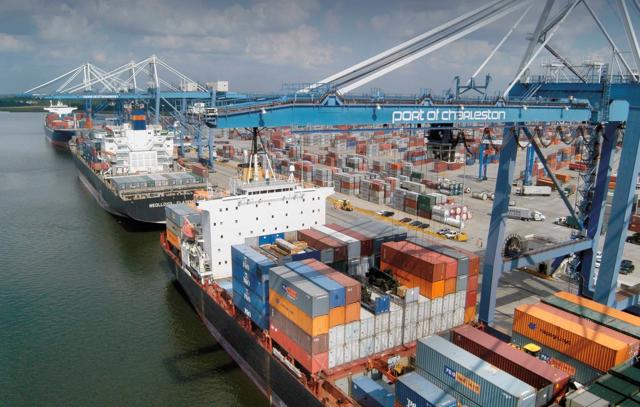 Port of Charleston, Source: Google Images
During January 2017, performance got off to a robust start with top North America seaports witnessing 15 percent growth versus last year. Every major coastal region witnessed significant double-digit performance from multiple seaports.
Initial thoughts of the surge in performance have been tied to the late Chinese New Year shipping season, and to early restocking of inventory after the peak shipping season. Truck tonnage and the PMI Composite Index have displayed strength during 2017, consumer and business confidence have also risen.
The more data that I review regarding the macro-economic trends, the more confirming it appears that the energy crisis and freight recession may have represented one of the best times to buy, when looking back over the next few years. There are some who would scoff at such a statement, but the U.S. economy is poised to increase its rate of growth.
The list below provides an overview of Top North America seaports. Collectively, these seaports reflected greater than 90 percent of total TEU traffic during 2016.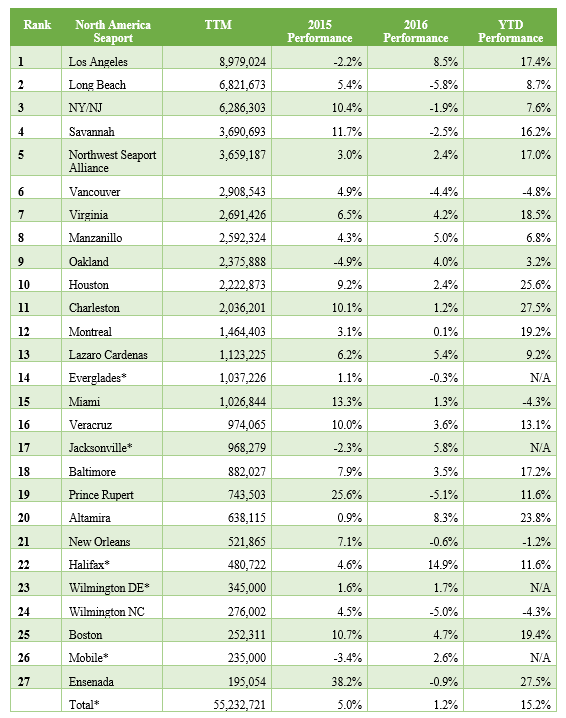 Source: Seaport websites, all numbers are subject to change based on revisions.
*Note: The seaports of Port Everglades, Jacksonville, Wilmington DE and Mobile do not provide monthly TEU data, and all TTM data is based upon the most recent fiscal year. Port Halifax provides quarterly TEU data so all information is as of the most recent quarter. These mentioned seaports are excluded from the total calculation.
During the first month of 2017, serious accomplishments have already been achieved, with others on the horizon. At the current pace, the Port of Los Angeles is poised to surpass the nine million TEU level. The Port of Charleston surpassed two million TEUs for the first time ever. The Port of Veracruz surpassed the Jacksonville Port Authority by total TEUs. The Port of Baltimore is quickly approaching 900,000 TEUs.
The strength of Los Angeles versus Long Beach continues to be a theme which has played out since the Hanjin Shipping bankruptcy. Unlike last year, both East and Gulf coast seaports have met or exceeded West Coast performance to date.
Some concerns may still be present regarding how President Trump's administration will look to implement new trade policies. Currently, negative rhetoric has focused on Mexico, Japan and China mostly. As time goes by, if things remain status quo, it will become less likely for policies to have a cataclysmic impact.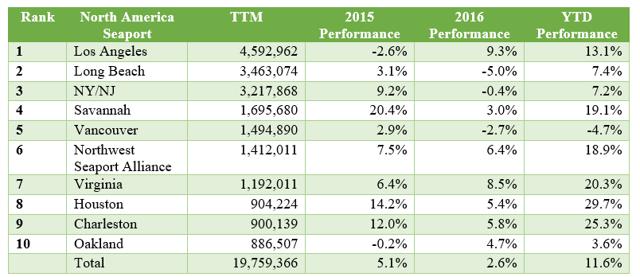 Source: Seaport websites, all numbers are subject to change based on revision.
Top performers for January laden import TEUs for West Coast ports included the Northwest Seaport Alliance (NYSE:NSA), Los Angeles, Lazaro Cardenas (total imported TEUs), Long Beach, and Manzanillo (total imported TEUs). Results were up 19, 13, 11, 7.4 and 7.2 percent respectively versus last year. Oakland and Prince Rupert were up moderately and Port Metro Vancouver struggled.
Leading East Coast seaports for January laden import TEUs included Charleston, Virginia, Savannah, Baltimore and Montreal (total imported TEUs). Results were up 25, 20, 19, 15.5 and 11 percent respectively versus last year. Miami was the main laggard down nearly one percent. New York/New Jersey had a solid performance as well.
The Port of Houston's laden import TEU traffic was up 30 percent in January versus last year, leading all peers. The Mexican seaports of Veracruz and Altamira (total imported TEUs) witnessed performance of 18 and 17 percent; New Orleans total imported TEUs were up 1.5 percent. Houston has now witnessed double-digit laden import TEU performance for eight consecutive months from 12 to 40 percent.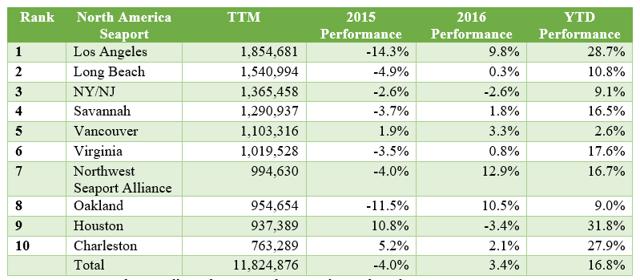 Source: Seaport websites, all numbers are subject to change based on revision.
Laden export TEUs were robust for West Coast ports. Top performers for the month of January included Los Angeles, Manzanillo (total exported TEUs), NSA, Lazaro Cardenas (total exported TEUs) and Long Beach with results of 29, 26, 17, 14 and 11 percent versus last year. Canadian seaports were soft, with Vancouver up three percent and Prince Rupert down nine percent. Oakland witnessed solid performance as well.
For East Coast ports, top performers included Charleston, Montreal (total exported TEUs), Baltimore, Virginia and Savannah with performance of 28, 27, 22.5, 18 and 16.5 percent versus last year. New York/New Jersey was solid. Miami was again the laggard down eight percent.
For Gulf Coast ports, Houston, Veracruz and Altamira (total exported TEUs) were up 32, 32 and 30 percent respectively versus last year. New Orleans was marginally lower.
North America Class I Rail Container Review
Class I rail operators break down their container performance by international and domestic services. For international containers, traffic moved proportions were as follows; BNSF and Union Pacific near 50 percent, Norfolk Southern near 60 percent and CSX near 40 percent. Most container moves for both Canadian rail operators are international.
In addition to direct haulage of international containers, a substantial number of international containers are transloaded to domestic containers with proximity to seaports, for BNSF, Union Pacific, Norfolk Southern and CSX. From this perspective, a substantial majority of container traffic for Class I rail operators is driven by seaport TEU traffic.
Additional companies directly benefiting from these trends include JB Hunt Transport (NASDAQ:JBHT) and Hub Group (NASDAQ:HUBG). Many others in the freight sector also benefit including ocean freight forwarders like Expeditors International (NASDAQ:EXPD), major truck brokers like CH Robinson Worldwide (NASDAQ:CHRW), XPO Logistics (NYSEMKT:XPO), among others.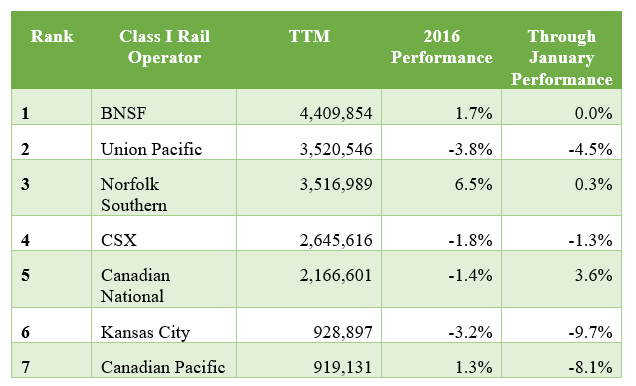 Source: Class I weekly container units carried
Class I rail operator weekly container traffic has been provided above through January 2017 and over the trailing twelve-month (NYSE:TTM) period. Interestingly, Class I performance was mixed, but mostly much lower versus seaport TEU traffic.
This is the first time that there has been such a stark contrast between the two over the past year. Factors to consider include competition from truck carriers, and/or increasing congestion at seaports as demand has continued to rise.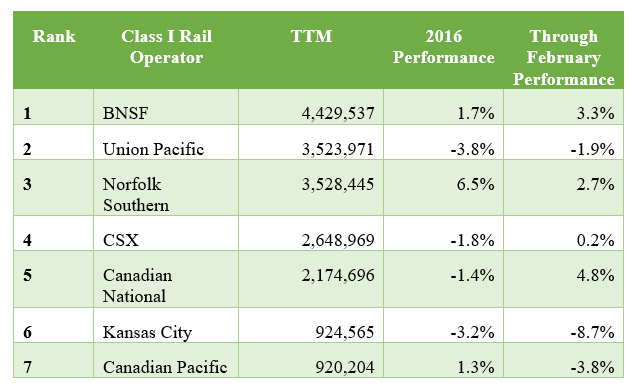 Source: Class I weekly container units carried
Looking to Class I rail traffic in February 2017, most operators have witnessed substantial improvement. Based on these results, it is worth considering whether seaport TEU traffic may end up being the leading indicator rather than Class I rail traffic. Either way, the strong direct correlation between the two remains the same.
Summary
Clearly, all regional seaport coastal geographies are off to an exceptional start for 2017. The East and Gulf coasts have reasserted their strength for both imports and exports. The ports of Los Angeles and Long Beach remain a dominant competitor for Asia to U.S. trade.
During 2016, weekly Class I rail traffic was an indicator for the directionality of seaport TEU traffic. For the start of 2017, this role has reversed, as seaport TEU traffic has outperformed rail results in January. Improvements for rail traffic in February suggest this.
Average spot market pricing for container freight rates has declined, but the pace of decline has not been as dramatic as last year. This bodes well for contract renegotiation and the overall health of the container shipping industry.
With expectations for an increase in economic growth rates for U.S. demand, freight activity may continue to pick up which bodes well for Class I rail operators over the course of the year.
Disclosure: I am/we are long JBHT, XPO.
I wrote this article myself, and it expresses my own opinions. I am not receiving compensation for it (other than from Seeking Alpha). I have no business relationship with any company whose stock is mentioned in this article.