Tesla (NASDAQ:TSLA) has short interest of 35 million on average daily volume of 4.6 million as of 1/31/2017. Robust short interest is the result of unusually high top line multiples for the auto industry. Questions about the executive shuffle and even capital raises are just distractions from the fundamental issue about Tesla: Is this company a tech firm or an automaker?
In light of Tesla's acquisition of SolarCity, a business Musk claims could add up to $1 billion to a $7 billion top line as well as a position in a small, technology-driven subsector of the auto industry, Tesla is not fully comparable to firms like Ford, GM or Toyota. Tesla's growth profile puts the company in line with mega-cap technology, and it deserves its multiples. Tesla is fairly valued compared to similar large high-growth equities on a long-term horizon.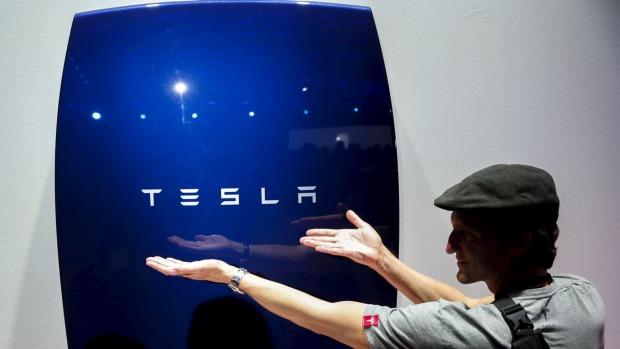 (source)
Tesla has a market cap of $40 billion on revenue of around $7 billion, while General Motors (NYSE:G) has a market cap of $55 million on revenue of $166 billion. Ford (NYSE:F) has similar multiples, and Toyota (NYSE:TM), despite significant topline growth, still has a P/S ratio of only 0.49. These numbers make Tesla look astronomically overvalued and are the reason TSLA is a magnet for short sellers.
However, Tesla's growth ratio tells a different story. While the P/S looks huge on its own, Tesla has the lowest regarding PEG with (1.41) compared to 4.038 for General Motors and 0.064 for Ford Motor.
| | | | | | |
| --- | --- | --- | --- | --- | --- |
| U.S Automaker | Market Cap (Billions) | Revenue | P/S | Sales Growth Rate (YoY) | PEG |
| Tesla | $41.40 | $7.00 | 5.366 | 73.01% | (1.41) |
| Ford | $49.56 | $151.80 | 0.325 | 1.50% | 0.064 |
| General Motors | $55.27 | $166.38 | 0.348 | 9.20% | 4.038 |
| Chrysler | $18.32 | $122.92 | 0.135 | (-1.44) | 0.064 |
Tesla's multiples reflect its growth, and even if the firm faces near-term setbacks this year, or even the year after, its annual top line growth rate justifies the current valuation. Assuming Tesla's revenue grows at around 40% for the next decade, the company could post up almost $300 billion in revenue by the mid-2020s. Such growth is not guaranteed. If it were, Tesla would be significantly more expensive. However, the auto industry presents virtually guaranteed global demand, and Tesla is positioned in the vanguard of industry growth.
Tesla, in addition to auto manufacturing, is a leading renewable energy firm, and this high-growth industry helps justifies Tesla's multiples. When Tesla is compared to mega-cap technology firms like Apple (NASDAQ:AAPL) abd Google (NASDAQ:GOOG) (NASDAQ:GOOGL) its multiples look downright tiny. Granted, these firms are not comparable in business operations, but they are similar in growth profile. There is an important concept illustrated by this chart.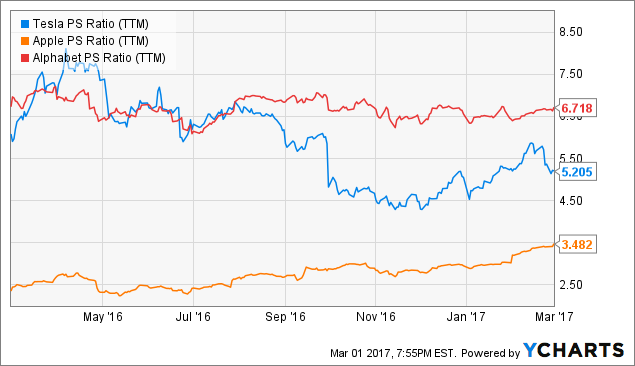 TSLA PS Ratio (NYSE:TTM) data by YCharts
Why would Apple, a firm with revenue dominated by a single product in a market that is mature and saturated, deserve a higher P/S ratio than Tesla, even though Tesla's long-term topline growth prospects are arguably better? The same issue comes up on the bottom line - accounting for growth - via the PEG ratio.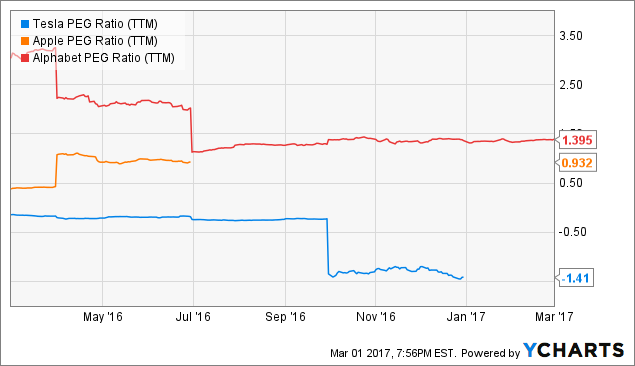 TSLA PEG Ratio (TTM) data by YCharts
Conclusion
Tesla looks overvalued compared to other major automakers on the p/s multiple, but this is mainly because the auto industry has abnormally low multiples. However, when we account for top-line growth, it is clear why the market affords Tesla an optimistic multiple. And when we look at bottom line growth via the PEG ratio, Tesla looks undervalued compared to comparable firms in the auto industry.
Tesla is being valued as a mega-cap tech firm because of its high-tech niche within the auto industry and its diversification into renewable energy. When the company is compared to other large-cap tech firms, its multiples are fair.
Disclosure: I/we have no positions in any stocks mentioned, and no plans to initiate any positions within the next 72 hours.
I wrote this article myself, and it expresses my own opinions. I am not receiving compensation for it (other than from Seeking Alpha). I have no business relationship with any company whose stock is mentioned in this article.