The announcement yesterday that Tricon Capital Group (OTC:TCNGF) will be acquiring Silver Bay Realty Trust (NYSE:SBY) confirms that there is a silver-lining on the single-family REIT sector, even as interest rates are expected to rise. The acquisition, priced at $1.4 billion and a 19% premium to the price Silver Bay was trading before the announcement, is an indication that there is still some upside potential in the relatively nascent business of acquiring single-family homes en masse, and renting them out.
The trend started after the real estate bubble burst in 2008-2009 causing the values of many homes to decline below what the homeowner owed on them. As homeowners walked away or were foreclosed on, the massive amount of inventory available at fractions of what the homes were worth just a few short years earlier made for a great opportunity for investors with cash.
At the moment, there are only four REITs under the Single Family Homes category within the FTSE NAREIT All REITs Index, and there are countless other buyers of single-family homes not classified as REITs. As of right now, it is unclear if Silver Bay will remain a REIT under the umbrella of Toronto traded Tricon, which is not a REIT. But in the meantime, I will look at some of the reasons why single-family rentals are still attractive and why I like Silver Bay within the sector.
Potential Drivers of Single-Family Rentals
This morning we got word that MBA Mortgage Applications were up 5.8% in the last week. It is a very volatile metric so I don't like to put too much emphasis on it, except that an increase is better than a decrease. Unfortunately, I can't determine from this headline number whether the mortgage applications were for purchases or refinancing.
On the other hand, last week, new residential sales data was released indicating that sales had reached a seasonally adjusted rate of 555,000 in January 2017. That is a 5.5% increase from the January 2016 rate of 526,000. Meanwhile the median price of a new house sold reached $313,000. But as you can see from the chart below, despite volatility from month to month, new residential sales have been on an uptrend even if they have flattened out at around 500K over the last few months.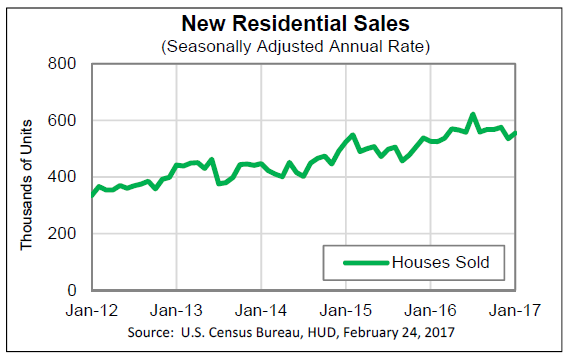 Sales of existing family homes have similarly been on an uptrend, but unlike new home sales, that trend since January of 2016 has been strong and surpassed the 5 million unit level earlier this year.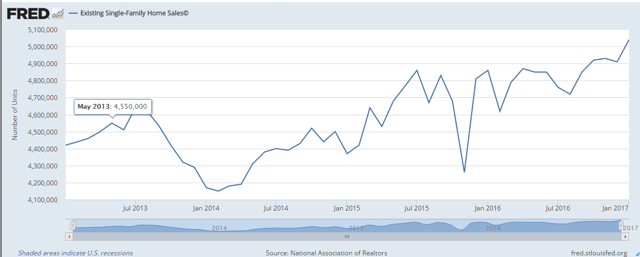 What's often been mentioned in the press as a reason for the flattening of sales even as existing home sales spike is the lack of enough inventory of homes for sale. Existing single-family home sales bottomed at 1.45 million in December 2016 and are currently at 1.51 million - still a long way off from the 1.9 million in May of last year. The chart below confirms the generally low level of inventory available of both new and existing homes - the current monthly supply of houses is just 5.7 months and just 3.6 months for existing single-family homes. Month's supply is calculated by the rate of homes currently for sale divided by the average number of homes sold per month.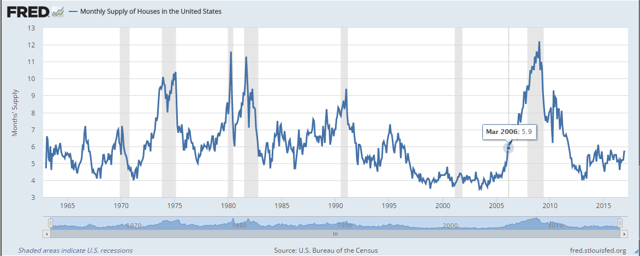 While housing starts have spiked considerably since the 2008-2009 downturn, they are still well below levels last seen in the early to mid 2000s when housing starts were above 2 million homes. Meanwhile, home ownership rates are at 20-year lows due to both tougher underwriting standards and a general disinterest for home ownership from Millennials.

Source: Silver Bay Investor Presentation
That doesn't mean there hasn't been a price to pay. The trend towards renting, voluntary or not, has caused rental rates to spike both for apartments and single-family units. The big question is at what rent level will consumers prefer to own rather than rent? We may be approaching that point. The problem is, by the time we reach that point and banks begin to lend again to "normal" borrowers - those with decent but not stellar credit scores - home prices may be out of reach for many consumers interested in buying. While they may be choosing to rent now, they may be forced to rent later.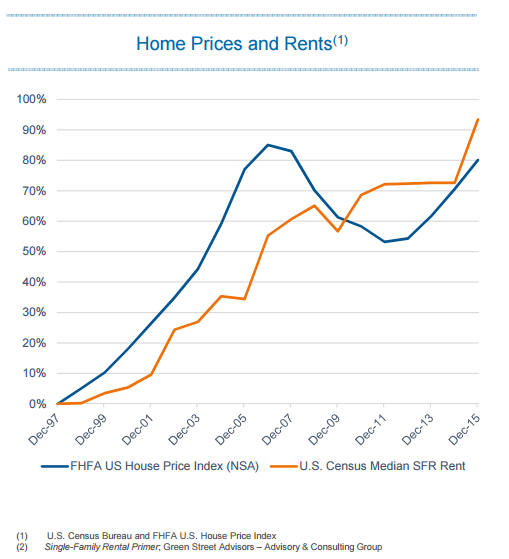 Source: Silver Bay Investor Presentation
In the meantime, where are the homebuilders? We know the apartment builders have been hard at work, and that's not surprising considering apartment rents were first to spike as household formations began to gain traction. After all, those millennials that had moved back home with the folks had to find their own place eventually. It was a natural evolution for them to move into apartments, sometimes with roommates.
Now, those same millennials are moving to the suburbs, settling down, getting married - OK now, let's not get too carried away. The reality is that they are growing up and interested in buying homes. But compared to apartments, single-family units are still well below their historical construction averages. I expect that as apartment rents stabilize, the shift to single-family construction, if it hasn't already started, will be well under way. But the longer this takes, the more attractive is the opportunity for a REIT like Silver Bay.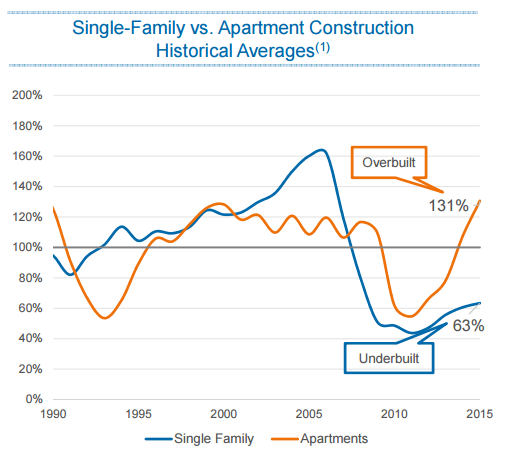 Source: Silver Bay Investor Presentation
Silver Bay Realty Trust
I particularly like SBY's focus on markets with a slightly higher median household income than the national average. Current SBY markets have rental rates at just 24% of median household income. That's 6% below the HUD standard and leaves room for about a $300/month increase in rent, all else equal. That means that as far as Silver Lake's portfolio is concerned, rental rates still have plenty of room to rise.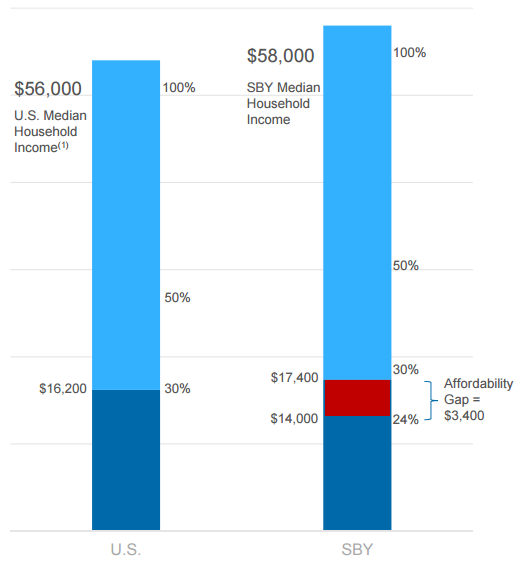 Source: Silver Bay Investor Presentation
SBY has also done a good job of optimizing its processes and generating higher cash flow. By shifting from a business model relying on external management companies to internally managing almost all its properties, Silver Bay has been able to decrease move-out to move-in days by 15, resulting in an extra $1.5 million in cash flow.
Source: Silver Bay Investor Presentation
With a yield of 2.89%, it is the highest yielding of the single-family residential REITs, even if it is low compared to those in other sectors. Unfortunately for investors looking to get in, the recent acquisition announcement caused the stock price to pop around 20%. I like the combined company long-term, so there are two ways for investors to play this; investors can buy the stock now and expect to receive $21.50 in cash when the transaction closes - not advisable since the stock is already trading at this level and will probably remain at this level - or the better option to play the upside potential of the combined company is to consider investing in TAH directly.
For the rest of the September 2016 presentation, go here.
Please don't forget to click on the "Follow" link to the right of my name at the top of the article.
Disclaimer: Please note, this article is meant to identify an idea for further research and analysis and should not be taken as a recommendation to invest. It is intended only to provide information to interested parties. Readers should carefully consider their own investment objectives, risk tolerance, time horizon, tax situation, liquidity needs, and concentration levels, or contact their advisor to determine if any ideas presented here are appropriate for their unique circumstances.
Disclosure: I/we have no positions in any stocks mentioned, and no plans to initiate any positions within the next 72 hours.
I wrote this article myself, and it expresses my own opinions. I am not receiving compensation for it (other than from Seeking Alpha). I have no business relationship with any company whose stock is mentioned in this article.