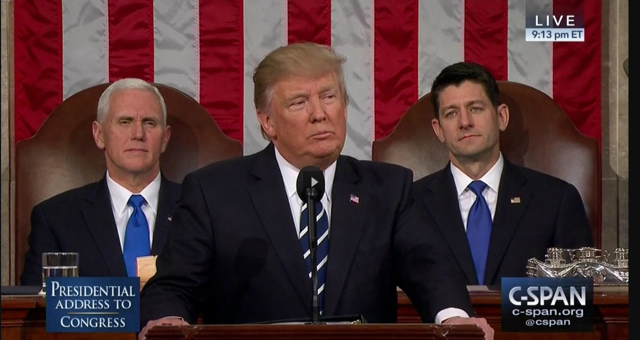 Bristol-Myers Squibb: Risk And Return
Seeking Alpha contributor Gaurao Bhade characterized Bristol-Myers Squibb (NYSE:BMY) as a high risk, high return bet for 2017, and President Trump's speech to Congress Tuesday night limned elements of risk and return for drug stocks in general. Bhade saw the chance for high returns in BMY based on a couple of factors primarily:
The possibility of BMY being acquired, or at least "getting its game together," now that it's drawn the interest of activist investors such as Carl Icahn.
The potential of BMY's Opdivo drug finding indications beyond non-small cell lung cancer.
Let's pause for a moment to note that Wall Street's sell-side analysts don't see a particularly high return for BMY over the next 12 months, as the graphic from Nasdaq (below) shows.

That price target works out to a potential return estimate of about 6.7% over the next year.
On the risk side of the ledger, Bhade noted the challenge Bristol-Myers has in competing against Merck's (NYSE:MRK) Keytruda in the first line non-small cell lung cancer segment.
President Trump's psuedo-State of the Union speech Tuesday night added to the risk/return picture for drug stocks in general. On the return side, President Trump raised the prospect of quicker drug approvals, highlighting an orphan drug created by Amicus Therapeutics (NASDAQ:FOLD), shares of which shot up the next day.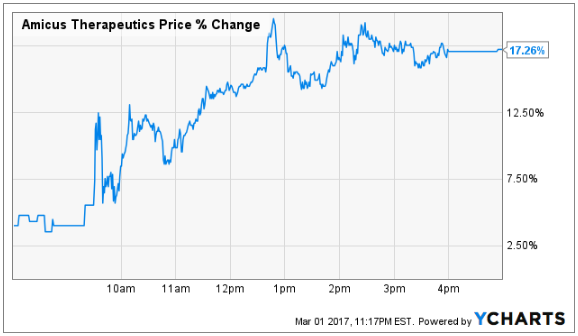 Trump added to the risk picture though, by criticizing high drug costs. As Boston Business Journal biotech reporter Max Stendahl put it the morning after the speech:
Trump, who has frequently criticized the pharmaceutical industry, provided no specific details regarding his plans for the FDA, although he vowed to immediately bring down the price of drugs, which he called "artificially high."
For context, consider that Trump is under pressure regarding the federal budget, as exemplified by former Senator Alan Simpson's appearance on CNBC the morning after the speech, and drug prices are of course a component of that via Medicare and Medicaid.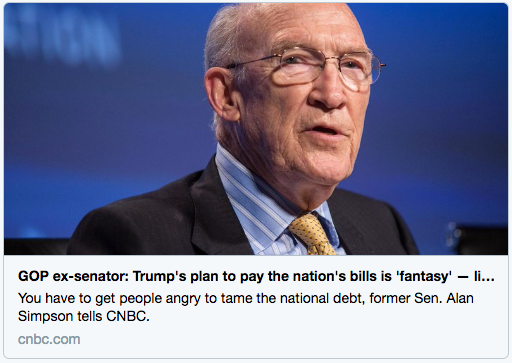 Owning Bristol-Myers Squibb With Less Risk
If you're long Bristol-Myers Squibb and want to limit your risk, here's an interesting way of doing so. We tried a few different parameters to find this optimal collar using the Portfolio Armor iOS app, but you can find optimal hedges manually without the app using the process here.
As of Wednesday's close, this was the optimal collar to hedge 1,000 shares of BMY against a greater-than-16% drop between now and mid-September, while not capping your upside at less than 13% by then. That's nearly 4x as high as the potential return over the same time frame implied by Wall Street's 12-month price target.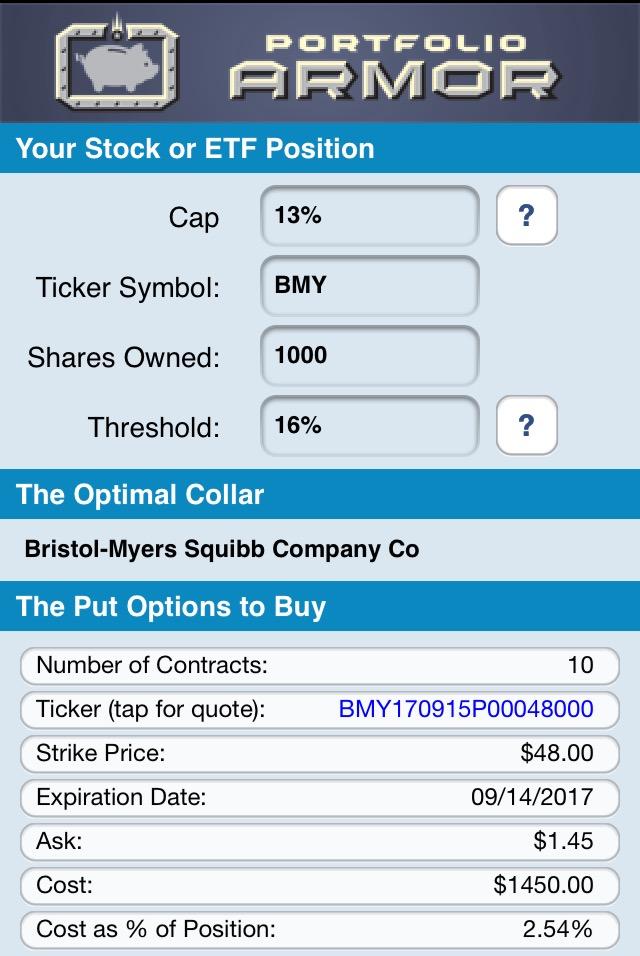 The cost of the put leg above was $1,450, or 2.54%, calculated conservatively, using the ask price of the puts. The income generated from selling the call leg below was $1,610, or 2.82% of position value though - also calculated conservatively, using the bid price of the calls.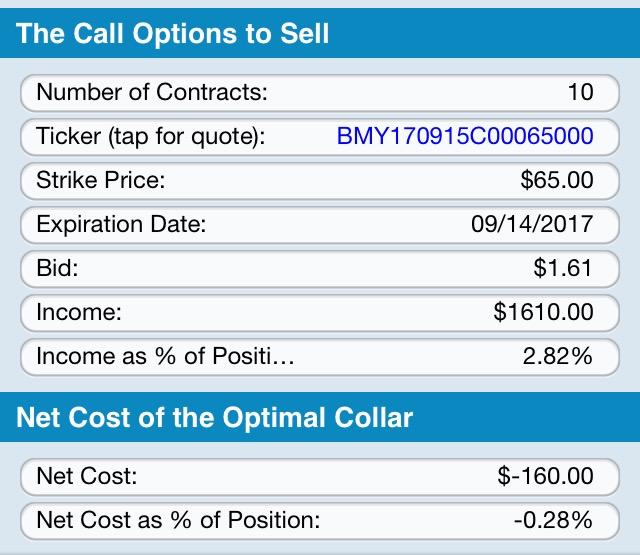 So the net cost here was negative, meaning you would have collected $180, or 0.28% of position value if you opened this hedge on Wednesday at the worst end of the bid-ask spread on both legs. If you bought the puts and sold the calls at some price within the bid-ask spread, you would have collected more than $180.
Disclosure: I/we have no positions in any stocks mentioned, and no plans to initiate any positions within the next 72 hours.
I wrote this article myself, and it expresses my own opinions. I am not receiving compensation for it (other than from Seeking Alpha). I have no business relationship with any company whose stock is mentioned in this article.