First of all I want to start with the chart below that depicts Nvidia (NASDAQ:NVDA) short interest over the past 12 months.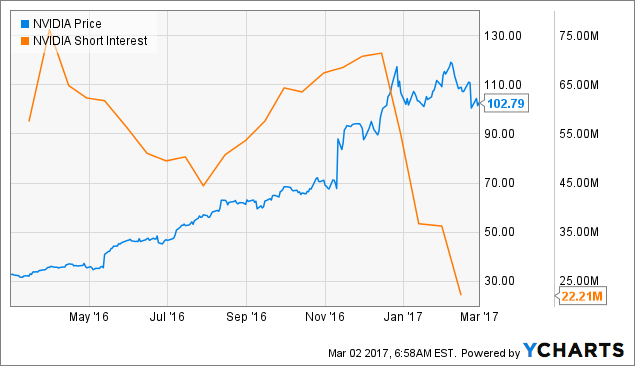 First observation
From around March 2016, when NVDA shares traded at around $27 a share, short interest in NVDA shares was about 75 million shares. Since then shares climbed to around $60 a share, with short interest diving to around 45 million shares.
In other words, shares got a boost from short sellers that reduced short interest by about 30 million shares.
Second observation
From about the $60 handle in August 2016, all to way to about the $120 mark, NVDA short interest was once again rising, but so were NVDA shares.
In other words, short sellers were going against the wind and were not the reason for the stock's rise. And yes, all of them "lost their shirts."
Third observation
From about December 2016 up to today, the stock has been hovering between $100 - $115. However, please note that short interest fell dramatically. In fact, almost 50 million NVDA shorted shares were covered.
What this basically means is that, while investors sold a lot of shares, at the same time, short covering was preventing the shares from falling.
However this also means that if and when we see the next round of selling, short sellers will not be available this time around to make up for the slack in demand.
Are short sellers coming back?
From the data above in the chart, the answer is no. Short interest in NVDA shares are at a multi-year low. In fact the last time short interest was lower was between 2011-2012 . However a recent article on Yahoo.com, tells us otherwise:
Earlier this month, Nvidia shares also appeared on Goldman Sachs' latest roundup of the stocks hedge funds are shorting the most. As of January 31, about 7% of Nvidia's market cap, or $4 billion worth of stock, was being sold short. This made the stock the second-most shorted by market cap among hedge funds tracked by Goldman.

Among stocks in the top-10 most shorted by hedge funds tracked by Goldman, only Caterpillar had 5% or more of its total float sold short. This means, simply, that as a percent of the shares outstanding, Nvidia shares are being most aggressively bet against among the biggest hedge fund shorts out there.
While the chart and the data from Ycharts contradicts the above statement from Goldman Sachs, when I checked short interest for NVDA shares on Yahoo.com, the current number was 36 million shares short, that corresponds to about 8.5% of the float.
So while short interest is not as high as they were in December, they are once again on the rise. Both according to the latest numbers from yahoo and via Goldman Sachs.
The question is, if short sellers are coming back, who will be the buyer to support the shares this time around?
Recently two minor brokerages downgraded NVDA shares that sent the stock down by 10%. One wonders what might happen if a major brokerage downgrades the stock.
The second issue is that the average 12-month price target for NVDA shares stands at $113.59. Is it worth the risk holding on to shares for such a miniscule return if the consensus is right? Yes, analysts are not always correct, but the average consensus usually (not always) is.
A technical view of NVDA shares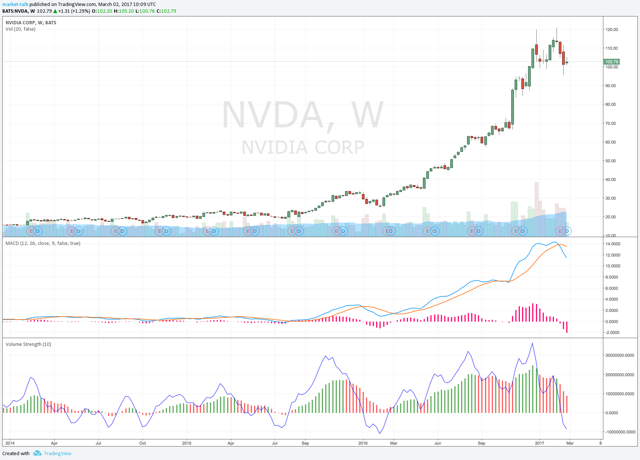 The above chart is on a weekly timeframe. Please note the bearish cross-over of the MACD indicator. From my experience, this indicator has a long way to go before turning bullish again.
The main reason is because of the weekly time frame. And when I mean a long time, I mean weeks to months. Also, the slope of the downturn on MACD is the steepest in a very long time. This tells me that the correction of NVDA shares has a way to go.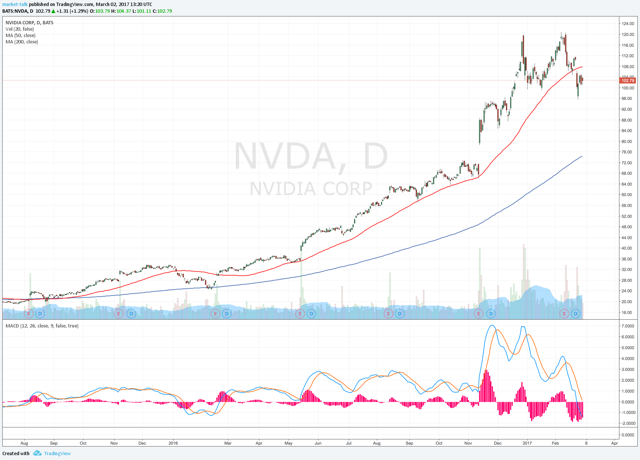 The above chart depicts NVDA shares on a daily timeframe. Please note shares have breached the 50 DMA (red line) to the downside. The 50 DMA is an indication to short term traders that the trend may be changing. It's something that program traders and short-term speculators look at very closely.
The last time shares breached to 50 DMA was back in Jan 2016 and shares fell about 20%. Shares however found support at the 200 DMA, and have been in an uptrend since then.
If this pattern is repeated again, then shares might correct all the way to about $85 per share. If that happens over the next month or so (I think probably sooner), it will meet the 200 DMA. Shares need to find support at that point, otherwise the long uptrend for the stock might be over.
Bottom line
Shares of NVDA have been supported above $100 because of short covering.
However, short interest in NVDA shares are climbing again, and this time short sellers are not going to cover to support liquidations.
On a technical note, all indications are that NVDA shares are in a correction phase.
For the time being, my best guess is that shares might fall to about $85 before finding support.
Disclosure: I am/we are short NVDA.
I wrote this article myself, and it expresses my own opinions. I am not receiving compensation for it (other than from Seeking Alpha). I have no business relationship with any company whose stock is mentioned in this article.