Perrigo (NASDAQ:PRGO) took it on the chin, again, this week after a weak earnings report. Now trading at 10.5x forward earnings, it's cheap. Cheaper than any of the major biotechs. Shares of PRGO are well off the near $200 price tag from 2016. Rejecting the Mylan (NASDAQ:MYL) buyout, in hindsight, might have been a mistake. But activist investor Starboard Value might help break this string of underperformance, at least it's hoping to.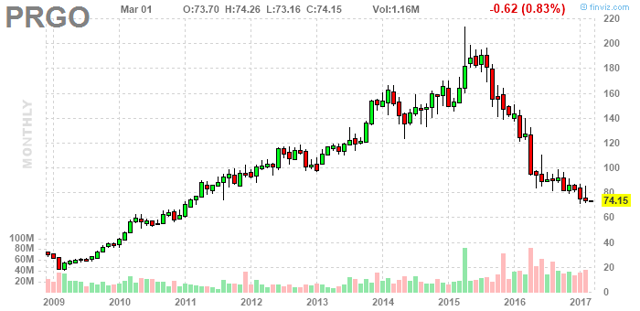 Starboard has PRGO as its largest equity holding as of 4Q 2016. The fund owns 6.6%. But some might be losing patience after the fourth quarter earnings and weak guidance for the year. Its CFO is stepping down as the company generics pricing continues to erode.
PRGO has caved a bit to Starboard. The activist now has five board seats and Starboard founder Jeff Smith also has a seat. Starboard has been working. PRGO is divesting its royalty stream for MS drug Tysabri, which could bring in upwards of $3 billion and reduce debt.
But is the 10.5x earnings multiple enough to make PRGO a value play, or is it a value trap?
Well, to start, Starboard is in the driver's seat with a strong board presence and the company has a number of catalysts to reaccelerate share price growth. This includes divesting the pharma generics business. Smith sits on two critical strategic review committees and has a history of M&A and divestitures. PRGO's prescription pharmaceutical business could easily find a strategic acquirer.
That's more money, in addition to the Tysabri sale, that will be used to reduce debt, as well as make a sizable strategic buyback. But the larger thesis might be to sell off the prescription business and then find a buyer for the remaining over-the-counter drug business.
Ideally, the sale of the prescription business could bring in upwards of $5 billion for the $10.7 billion market cap drug maker. Some of which could go toward debt, while the rest gets used for a buyback. Then we see a buyout of the OTC consumer business, with the likes of Reckitt Benckiser as a buyer.
For PRGO, Starboard will push for buybacks and the continued selloff of non-core assets. However, the worry is that PRGO's standalone consumer OTC business doesn't have a strong enough pipeline to rekindle growth or find a buyer. This includes facing hiccups, such as the delayed launch of its Nexium OTC brand, a fall in OTC drug pricing and declining traffic in PRGO's retail partners. So, even with the exciting buybacks and possible business divestitures, the OTC business has an uphill battle for 2017.
It appears we might get an opportunity to buy PRGO for cheaper in 2017. Then, 2018 could be a turnaround year for the drugmaker. This comes as PRGO is set to have completed a $130 million cost saving program by mid-2018. Wait for a better buy.
Disclosure: I/we have no positions in any stocks mentioned, and no plans to initiate any positions within the next 72 hours.
I wrote this article myself, and it expresses my own opinions. I am not receiving compensation for it (other than from Seeking Alpha). I have no business relationship with any company whose stock is mentioned in this article.