I am happy to present to the Seeking Alpha community my third new (and completely free) service: Commodity Seasonality. I started this project because it's tough for traders without access to a Bloomberg terminal to get info on the historical seasonality of commodity futures. My service uses clean back-adjusted data to display the 5-year, 10-year, and 20-year seasonal averages.
In addition, I also produce graphs that show the amount of contango or backwardation and 12-month price momentum for each contract. For contango/backwardation, my calculations are based on comparing the price of the contract with the highest open interest to the price of the contract with the third highest open interest.
Like with my other services, Seeking Alpha will be the sole location of my weekly recap articles. All of the below data and graphs come from the Commodity Seasonality web site. The easiest way to understand all of this is to dive into some data. So let's get started!
Energies
We're right in the middle of a historically strong period for WTI crude oil (NYSEARCA:USO). The commodity typically bottoms in January and peaks in early July. The below chart is one of my three different chart types. This one shows the historical average seasonality over the past 5/10/20 years, plus the YTD performance.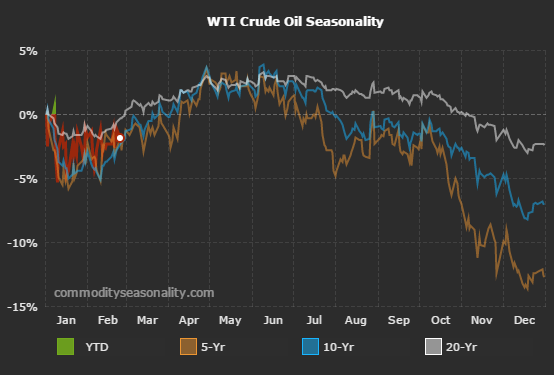 Here's another type of chart. It's a quick way to look at the average monthly performance over the past twenty years. For WTI, in the past April has been the best performing month and November has been the worst.

Here's the final chart type. It shows the historical price, term structure, and momentum over the past ten years. As you can see, contango in WTI has sharply decreased from last year.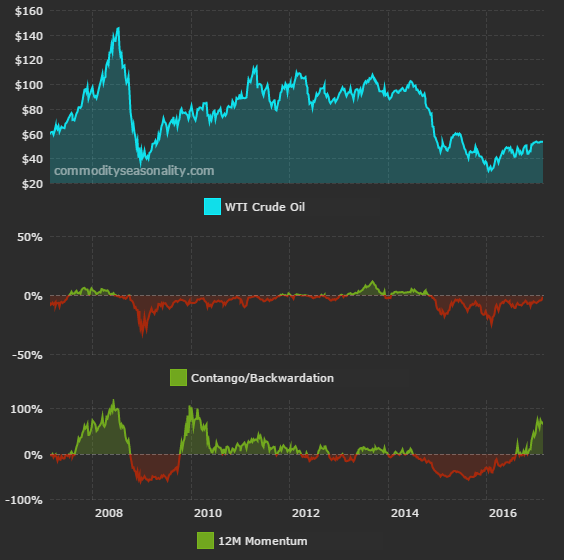 Here's a view of seasonality in natural gas (NYSEARCA:UNG) futures. Natural gas has had a horrible start to the year. In the past, the commodity has typically been strong in the March to June period.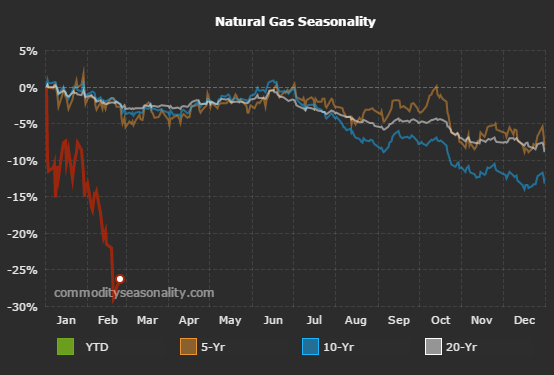 Average 20-year monthly seasonality in heating oil (NYSEARCA:UHN) futures is very similar to WTI.

Financials
The S&P 500 (NYSEARCA:SPY) has typically had a strong spring and lackluster summer period.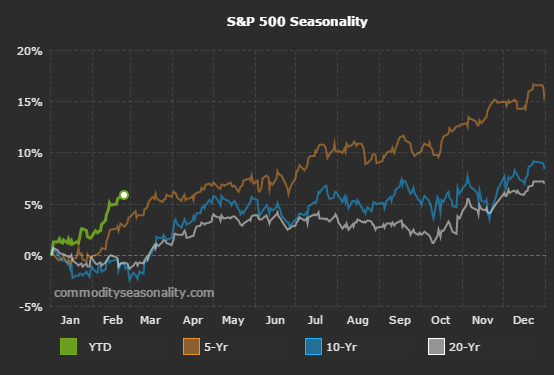 Twelve-month momentum in JPY/USD (NYSEARCA:FXY) is right at 0%, a crucial juncture.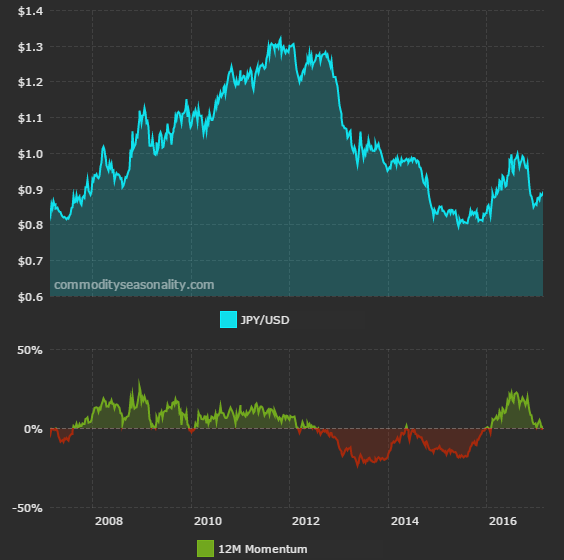 Grains
Agricultural commodities have been some of the best performing commodities in 2017. In the past, wheat (NYSEARCA:WEAT) hasn't exhibited that much seasonality. The steady downward slope in the below seasonal averages is mainly a function of wheat being in a persistent state of contango. For example, if wheat futures expiring in March are priced at $436 and May futures are priced at $457, it would cost you ~5% to roll the position forward. Extreme contango makes long exposure to commodities very expensive in the long run.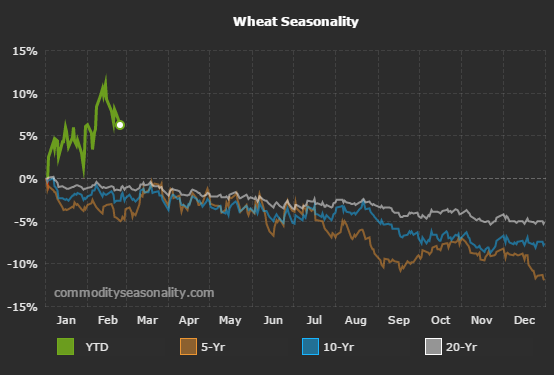 The graph below shows the historical degree of contango or backwardation in wheat futures. Contango in the wheat market has steadily increased over the past few months.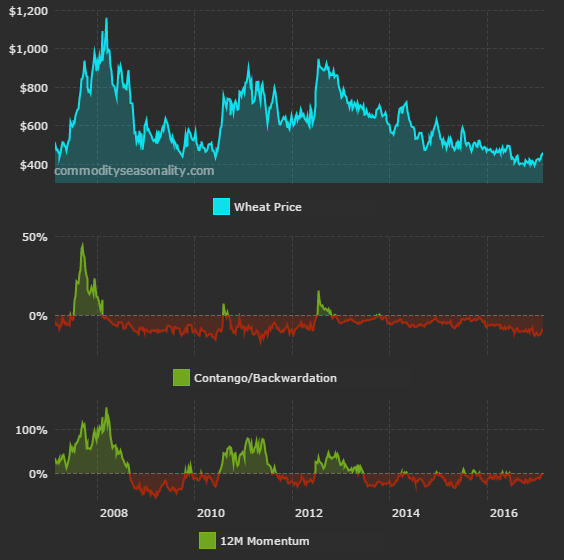 Metals
If you're long gold (NYSEARCA:GLD), be mindful of the below chart. The precious metal has typically underperformed in the March to July period.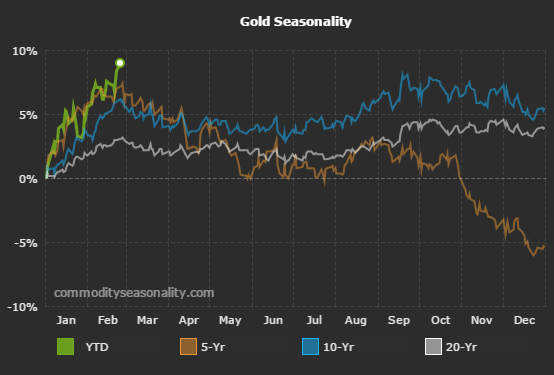 Here's a more in-depth look at the average monthly numbers.

Seasonality in silver (NYSEARCA:SLV) futures is quite similar to gold.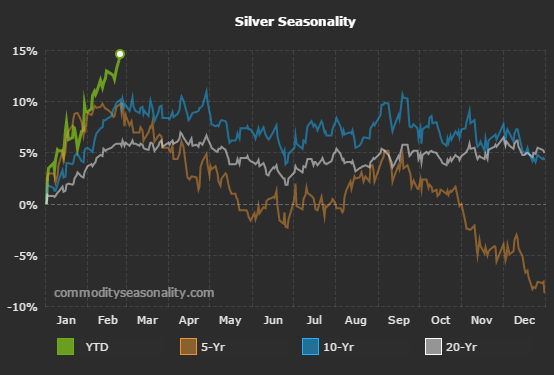 The February to March period has historically been very strong for copper (NYSEARCA:JJC) futures.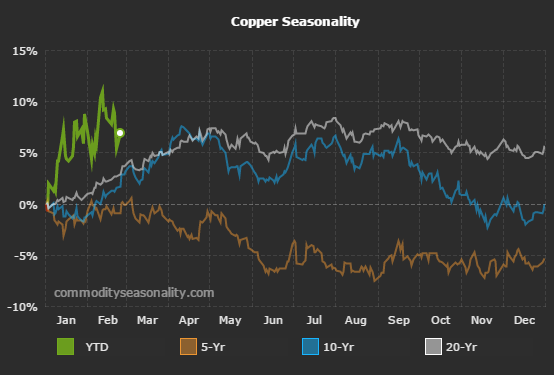 Soft Commodities
Cocoa (NYSEARCA:NIB) is the worst performing commodity over the past twelve months. Here's a look at its term structure and deeply negative momentum.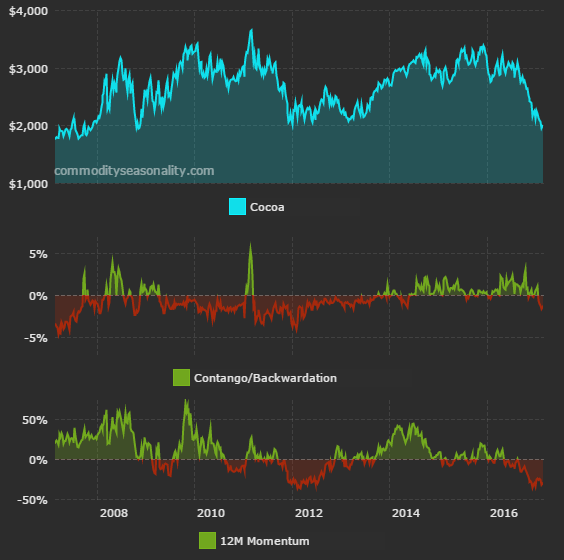 In contrast, lumber futures are up more than 10% year-to-date. Be aware of the typically weak April to September period.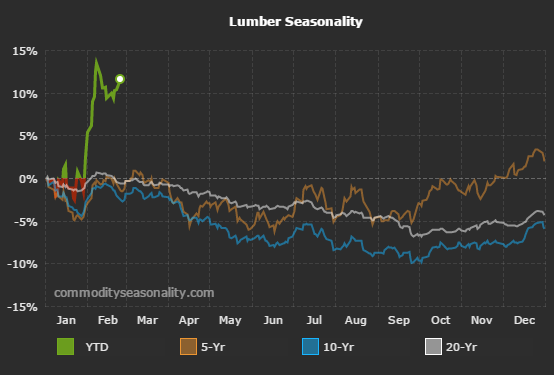 Over the past twenty years, March has been the worst performing month for sugar (NYSEARCA:SGG) futures.

Conclusion
That wraps up the coverage of individual contracts. I'll close with two of my most important charts: composite seasonality numbers for March and a quick glance at the term structure of all the contracts.
First, here are the average 20-year monthly performance numbers for March. The best performing contracts have been RBOB gasoline (NYSEARCA:UGA), the S&P 500 , and copper . The worst performers have historically been oats, cocoa , and sugar .

Take a look at the degree of contango or backwardation in each market.

Oats, cotton (NYSEARCA:BAL), and orange juice exhibit the most backwardation while wheat , natural gas , and corn (NYSEARCA:CORN) are in steep contango. A high degree of contango makes it expensive to be long, as traders constantly have to roll to higher priced contracts.
That's it! I hope you like this new service. It's meant to cut down on your research time and save you some money. I plan on posting weekly recap articles to Seeking Alpha, so be sure to follow me so you're always updated with the latest seasonality info.
Disclosure: I/we have no positions in any stocks mentioned, and no plans to initiate any positions within the next 72 hours.
I wrote this article myself, and it expresses my own opinions. I am not receiving compensation for it (other than from Seeking Alpha). I have no business relationship with any company whose stock is mentioned in this article.
Additional disclosure: Commodity Seasonality should not be construed by any consumer as personalized investment advice over the internet. Commodity Seasonality does not make any representations or warranties as to the accuracy, timeliness, suitability, completeness, or relevance of any information prepared by any unaffiliated third party, whether linked in this article or incorporated herein. This article and information are provided for guidance and information purposes only. Investments involve risk are not guaranteed. All information provided in this article should not be reproduced, copied, redistributed, transferred, or sold without the prior written consent of the site owner.