Jobless claims predict non-farm payrolls ("NFP"). Next week's NFP will be huger than huge. Get ready. It comes right before the Fed meeting too. If a hike is not expected, NFP next Friday should make it a lock.
Jobless Claims Multi-Decade Lows: Very Strong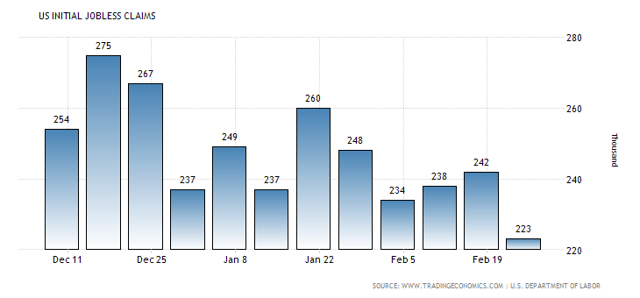 Source: Trading Economics
Jobless claims were incredibly strong today. Down means fewer people filed for unemployment insurance. That implies a strong jobs market.
Jobless Claims Predicts NFP
What really matters to the Fed is NFP which reports next Friday. That is the Friday before the next Fed decision March 15th.
Lower jobless claims calls for NFP to jump.
Let's see.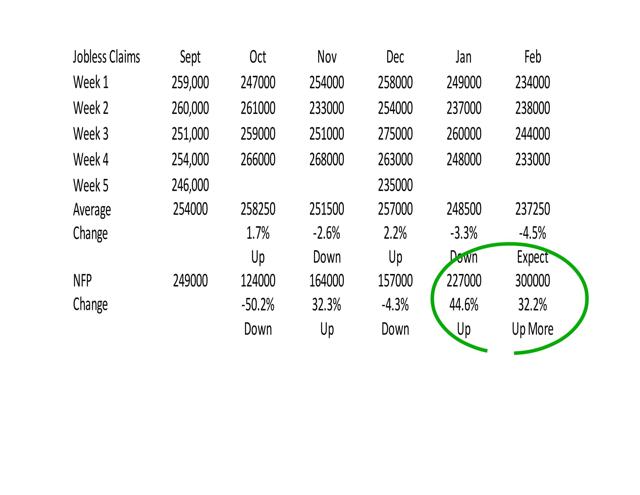 This grid shows the monthly average of weekly jobless claims which precede the NFP report each month.
When the jobless claims average for the month goes up NFP goes down and vice versa.
Last month the jobless claims average dropped and NFP jumped month to month.
February's jobless claims dropped more than January which should mean NFP's sequential jump could be greater (Green-ish electronically-generated magic-marker sort-of semi-circle above).
Jobless claims call for more than 300,000 new jobs in the NFP report. 300,000 would be an incredibly big number.
Expectations currently show 227,000. We'd guess expectations go up before next Friday. Either way we think the actual report should blow away expectations.
NFP And The Fed
Markets are now officially pricing in a 75% chance for a rate hike in March so we now expect a hike.
If the NFP report comes in like we expect the probability should move up further.
As the Fed sees markets pricing in a hike they will feel much more comfortable to actually move.
Conclusion
Strong jobs are typically a market positive and come next Friday. A rate hike with the market up huge could be a risk and comes the week after the NFP report.
Disclaimer:
ETFs reported by Elazar Advisors, LLC are guided by our daily, weekly and monthly methodologies. We have a daily overlay which changes more frequently which is reported to our premium members and could differ from the above report.
Portions of this article may have been issued in advance to subscribers or clients. All investments have many risks and can lose principal in the short and long term. This article is for information purposes only. By reading this you agree, understand and accept that you take upon yourself all responsibility for all of your investment decisions and to do your own work and hold Elazar Advisors, LLC and their related parties harmless. Any trading strategy can lose money and any investor should understand the risks.
Disclosure: I/we have no positions in any stocks mentioned, and no plans to initiate any positions within the next 72 hours.
I wrote this article myself, and it expresses my own opinions. I am not receiving compensation for it (other than from Seeking Alpha). I have no business relationship with any company whose stock is mentioned in this article.