Introduction
The retail industry has caught my eyes for two primary reasons. First, as investors we are taught to buy low and sell high. Although this doesn't work in every situation, over time buying good businesses when they are out of favor should yield favorable results. Take the energy industry when the downturn started in 2014. Energy began to receive a lot of coverage and many investors likely tried to search for bargains in the beaten-up sector.
Although the downturn has been more gradual than the energy downturn was, retail has some of the most beaten-up names today. Most people are aware of the reasons for this, but I will go over them in more detail in my article.
Second, and this is more unique to retail, is that as consumers these are the companies that we interact with the most. Peter Lynch was credited for saying to buy what you like. Many of us will have both frequent and consistent interactions with retail companies, and this perhaps allows us to understand some of their core strengths and weaknesses.
With that being said, it is my goal to identify both the opportunities and risks in the retail industry. Although there are undoubtedly many value traps out there, I view the troubles in an industry that I have pretty good familiarity with as a potential opportunity.
My View: Three Categories
On my first attempt to write the article, I tried to get a broad picture of the industry and figure out where the best place to look was. The way I'm thinking of it is in three different categories. We have:
1. Struggling brick-and-mortar chains (i.e. department stores)
2. Amazon (NASDAQ:AMZN) and the "discounters" (The big one is Amazon, although discounters like TJX (NYSE:TJX) and Ross (NASDAQ:ROST) fit in this category as well)
3. Everything in between (This includes clothing and apparel companies whose customers may include department stores)
My initial thought was that the companies in the third category presented the best opportunities. I figured that the companies in the first category represented value traps, and that no matter how low their valuation was their core businesses were in jeopardy. And although Amazon and many discount chains have been performing very well, I figured that their valuation would reflect that.
The clothing and apparel companies that have been caught in between this shift were likely to be punished for their exposure to malls and department stores, I reasoned. At the same time, I figured they still have strong brands and that as they expand their direct-to-consumer businesses they will do fine in the long-run.
While I still think the best opportunities may come from these types of companies, upon doing my research I came to the conclusion that there are opportunities in all three areas. We tend to think of department stores all as the same, but in reality they aren't. If we can find ones that are more likely to survive, they may prove to be good investments. On the other hand, while some brick-and-mortar companies have done a good job of bucking the trend, not all of them have seen a run-up in valuation. If we can identify those companies which have managed this difficult environment well but trade at reasonable valuations, then I think those could be good investments as well.
So with that, I will dedicate an article to each of the three categories that I see. The companies who are losing, the companies who are winning, and those companies caught somewhere in the middle. I will have the same beginning information for all three articles (detailing the change in the retail industry), and my first article will focus on the department stores. Note that my focus in these articles will be predominantly on clothing and apparel, although I will mention some mass merchandisers and grocers as well.
The Retail Industry Today
It is hard to fully grasp what is going on with North American retail today. Some things are pretty easy to understand. For example, as e-commerce has blossomed (and particularly, Amazon), there is a broad shift going on today in the way consumers prefer to shop.
More and more of retail sales are moving online. In 2016, according to the U.S. Department of commerce, e-commerce represented 11.7% of total retail sales. That may not seem like a huge number, but keep in mind two things. First off, that percent of total sales is growing: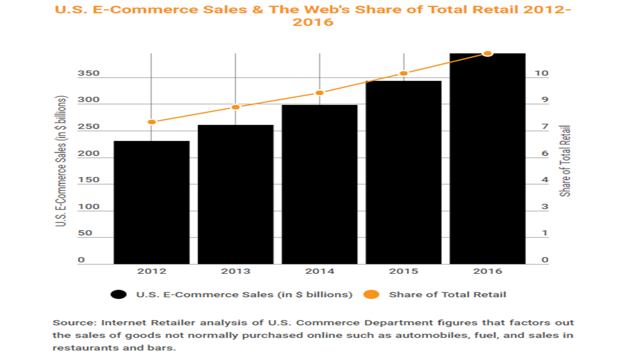 Here is the full link to the page on Internet Retailer for more detail
Furthermore, even though it represents just below 12% of total retail sales, e-commerce accounted for about 42% of the growth in total retail sales. Total retail sales, excluding certain items like fuel and automobiles, increased 3.9% in 2016 from a year ago. With e-commerce registering a comparable growth rate of 15.6% in 2016, we can see that the growth rate in e-commerce is currently quadruple that of the total retail industry.
The report on Internet Retailer also mentioned that Amazon accounted for a bulk of the gains in e-commerce.
That's the straightforward part. And with that being said, it is common to hear that Amazon/e-commerce is the reason why many department stores' futures are in doubt, and ultimately, the reason brick-and-mortar's days are numbered.
However, we have evidence today that may call into question those claims. Not every brick-and-mortar chain is struggling. Take TJX Companies. It recently revealed that total comparable sales increased 3% in 2017 following a 6% increase in 2016. That puts its sales for the last twelve months at $33.2B. Keep in mind it did this in the gloom of other retailers reporting earnings that also detailed store closures, such as Macy's (NYSE:M), Kohl's (NYSE:KSS), and J.C. Penney (NYSE:JCP). While most retailers are closing stores, TJX has its eyes on opening more.
Ok, big whoop. What is so special about that, considering Amazon is larger and growing its sales at an even faster rate?
Consider that TJX's online sales are estimated to comprise less than 1% of total sales, and management isn't rushing to change that.
This makes things less straight-forward. How can we say that brick-and-mortar is a thing of the past, even if most brick-and-mortar chains are struggling, when we have evidence of a company doing so well without a significant online presence? Throw Ross Stores in that category as well. Costco (NASDAQ:COST) also reported strong North American comparable sales, and although Home Depot (NYSE:HD) is in a more unique category it had yet another solid quarter. Well-known Amazon competitor Wal-Mart (NYSE:WMT) recently reported solid comparable sales growth.
These are all companies with significant brick-and-mortar presences, and most of them are competitors with Amazon in terms of products being sold. With this in mind, I want to answer a very important initial question:
Why are so many retailers struggling in an otherwise solid economic environment, while a few are continuing to do well?
Consumer spending has been a bright spot in the economy and the recovery is currently entering its 8th full year. As Bespoke Investment Group noted in a recent article, the consumer has been a particularly strong point for adding to GDP.
Yet many retailers are struggling, with declining sales and stock prices down significantly. There are a number of headwinds facing department stores today, and none of them are insignificant.
The Trade-Off: Sales Growth or Profits, But Not Both
The first thing I may ask is why are so many companies struggling to adapt to e-commerce? After all, shouldn't e-commerce be an opportunity, a new way for companies to reach their consumers? This is again where Amazon comes in. Strong businesses have a way of building a so-called "moat" around their business so that a competitor can't easily replicate it. Amazon has done just that.
Let's start with department stores. Department stores face a conundrum. Their physical stores are more profitable than their online operations, but of course less and less traffic is coming in to those physical stores which are often located in shopping malls. Store traffic is like the lifeblood for a retail location. Think of it as population growth for an economy. It is the ultimate headwind to be trying to thrive in an environment where store traffic and sales are declining.
To solve the sales growth problem, a department store may seek to establish an online presence (which they have). The problem is that the profit margins are tighter online. I think there are two straightforward reasons for this. The most important reason I believe is the cost of shipping. What Amazon has essentially done is changed a huge element of the buyer-seller relationship in retail: The cost of transportation. If you are an Amazon Prime member, you are eligible for free two-day shipping regardless of amount spent. Amazon is bearing the cost of transportation.
Now compare that to shopping before Amazon existed. You would hop in your car and head to the mall or the store on the weekend. You would go to your favorite stores and pick out some items, buy them, and come home. Even though that may sound routine and you have grown to like that experience, you are paying for the transportation cost (gas for your car).
Throw in free returns for online retailing and it is an environment that favors the consumer over the e-retailer.
By altering this factor in the equation, Amazon has now made it about more than consumer preference. If all else was held equal, some people probably prefer the experience of actually going to the store and shopping. Some probably prefer saving themselves time and the idea of dealing with the crowds at the mall.
But what Amazon has done with shipping is not only provided an alternative to brick-and-mortar shopping but arguably a better option. It is simply cheaper for the consumer. Many people may do a price comparison between the store and online/Amazon, but even if those numbers are the same the free shipping with Amazon makes it the effectively cheaper option.
For one purchase you're not going to think twice about these things. When you think about over a lifetime, though, it can be a significant financial difference.
Why Can't Department Stores Do This?
Well, they could try. And they certainly have. Macy's is now one of the largest e-commerce players in the country with 18% of its sales coming from online in 2015. The problem goes back to the free shipping and returns. According to a Fortune article, Credit Suisse used data to find that Kohl's operating margin on its e-commerce site was 9% in 2015 compared with the 14% rate at its stores.
That's not the only headwind they are facing. Amazon has an inherent advantage that these department stores don't: Amazon Prime. Amazon Prime is a membership program that means $99 per subscriber paid to Amazon at the beginning of each year. This is a boost for company cash flow, and it is similar to the negative working capital that Amazon achieves with its vendors. They are receiving that money up front even though the benefits are to be realized later.
Let's use last year's estimates and assume that about 54 million households are prime subscribers. At $99 a year, that is over $5B that Amazon collects every January. That is $5B that department stores don't have. It's kind of ironic because also in 2015, Amazon's net shipping costs surpassed $5B. That gives you an idea of how significant the shipping cost is in this equation.
Amazon Prime gives them an advantage department stores will have a tough time replicating (note that Costco also has a membership program). A department store could theoretically offer their own type of loyalty program for an annual fee, but the question is how much people would be willing to pay for it and how many people would subscribe.
The Discounters
That's the online threat facing department stores. There are also brick-and-mortar stores giving them problems. TJX Companies and Ross Stores are two discounters that are prospering in the midst of a tough retail environment. It's not very difficult to see why.
I did a Google search for "brands carried at Ross Stores" and this link is what first came up. The link lists some of the different brands that can be found at the likes of T.J. Maxx, Marshalls (both TJX owned), and Ross Stores. Between the three of them, you can find names like Air Jordan (Nike), Nike (NYSE:NKE), Under Armour (NYSE:UAA), Ralph Lauren (NYSE:RL), Northface (NYSE:VFC), and many more well-known brands. With that in mind, why would anybody try to buy these items for full price?
There is obviously the risk that a particular item may sell out and never get to a Ross or T.J. Maxx store, but that may be a risk most people are willing to take. It looks like many people have taken that route.
TJX has steadily continued to increase its sales: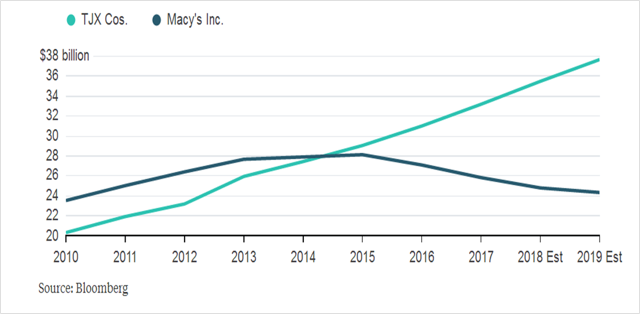 This graphs TJX's sales vs. Macy's sales since 2010. A New York Times article from mid-2016 notes that after the recession hit, many consumers became more frugal with their spending. Jharonne Martis, director of consumer research at Thomson Reuters, also noted, "During the recession, they (discount chains) were a favorite among customers."
In a time of economic distress, it is natural for people to look to save money. Perhaps that can be part of the reason for some brick-and-mortar chains' success, such as TJX, Ross Stores, Costco, and to some extent Wal-Mart. These companies maintained a solid value proposition for their customers, and that perception is evidently still there today.
That is probably also a reason why many traditional department stores such as Lord&Taylor, Macy's, and Kohl's are rushing to open off-price stores, notes the Consumerist. Nordstrom's (NYSE:JWN) Nordstrom Rack is also an off-price store, and it has enjoyed better performance than the traditional Nordstrom stores.
A piece from the most recent issue of Fortune, which I will cite multiple times in this article, had the following graphic: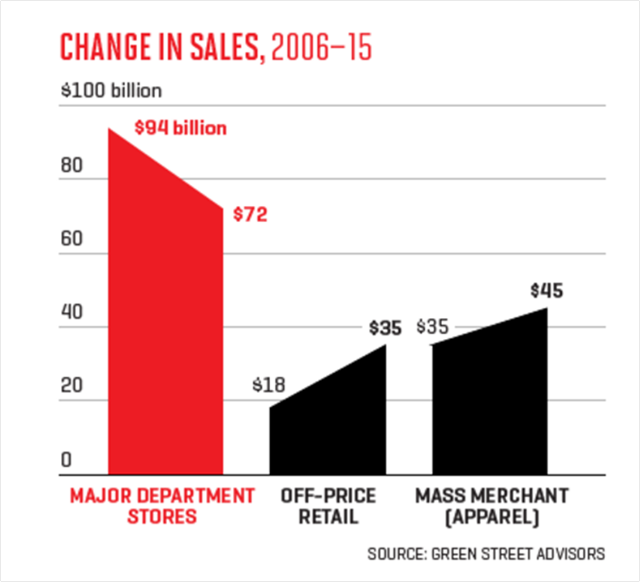 This graphic is self-explanatory as it shows the contrasting fortunes of department stores vs. off-price and mass merchant retailers over the past 10 years.
America is "Over-retailed"
Towards the end of 2016, Howard Schultz (CEO of Starbucks) made the claim that America is over-retailed and a downturn was inevitable. At the least, stores would slow their openings and/or reverse course. He made a similar comment in 2013 when he said that the country was over-stored. This is hardly revolutionary news, but it is right on point.
Take this stat from a Forbes article written in mid-2015: [In the U.S.] There is close to 25 square feet of retail space per capita, and 50 square feet when we count small shopping centers and independent retailers. In Europe, this number is about 2.5 square feet per capita.
Just as the oil industry can suffer from oversupply, the retail industry can suffer from too many stores. In either case, when supply outstrips demand (the total gross leasable area has grown by 30% since 1995 while the population has grown by 14%) a downturn is likely. Even as total retail sales continue to increase today (I mentioned earlier that they increased 3.9% in 2016), shopping malls continue to suffer from lower foot-traffic.
Expanding Direct-to-Consumer Business for Apparel Companies
The last headwind facing many traditional department stores is the fact that many apparel companies are choosing to expand their direct-to-consumer businesses. This is pretty straightforward; if more and more apparel companies either open their own physical company stores or sell directly to consumers online, they are essentially cutting out the middle man (department stores).
The same Fortune article I cited earlier gave a few examples of this happening today:
Ralph Lauren has been pulling back on shipments to leading U.S. department stores
Michael Kors (NYSE:KORS) is withdrawing its goods from sales events at department stores
Coach (COH) has begun exiting 250 department stores and giving the remaining ones fewer allowances for markdowns
A few other examples include:
Under Armour, although it still relies heavily on wholesale revenue from department stores, has seen its direct-to-consumer business grow at a much faster rate than wholesale revenues and comprise a larger portion of total sales
Nike, which has long used a metric in earnings reports called future orders, has recently said that metric doesn't hold as much power as it once did due to its expanding direct-to-consumer business
One Vicious Cycle
As we can see, there is not just a single headwind facing department stores. In fact, these headwinds together have created a negative feedback cycle. As more and more shopping moves online and department stores struggle to attract foot traffic, clothing and apparel companies will shift their sales from department stores to where consumers are shopping (as they have already begun to do), further hurting department store traffic.
Let's go back to the Fortune article. It pinpoints a huge problem: lack of differentiation. According to AlixPartners, traditional department stores have a 40% merchandise overlap. And that's not referring to brands or product categories; that's referring to specific products.
As the article also points out, many of the department stores were more unique in the past. For example J.C. Penney used to sell hunting rifles in the 1970s. When Wal-Mart and Target (NYSE:TGT) came along, these chains were forced to focus more on clothes and apparel. Fortune points out that clothes, handbags, and shoes now account for about 75%-80% of sales vs. 50% a few decades ago.
Today, some of the stores are trying to change this. For example, J.C. Penney has opened little Sephora shops in its stores. If you walk in a Macy's you can similarly see certain areas dedicated to a certain brand.
When we consider these facts, it is easy to just simply say that the department store is dead. I have heard many such remarks. When we do this, we are grouping all the department stores as one. It's convenient to do this in order to get a picture of an industry. As an investor, though, the next step is to evaluate individual companies to see which ones present better deals.
Are All Department Stores The Same?
Some chains have managed their sales better than others in this difficult environment: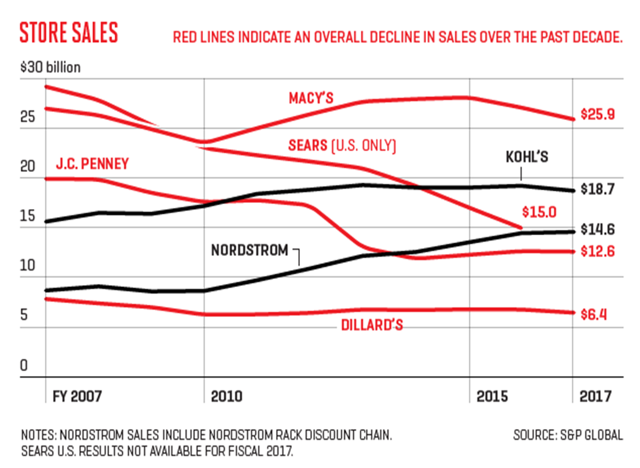 Source: S&P Global via Fortune
Note that although four of the six chains listed saw their sales decline from 2006-2015, two chains (Nordstrom and Kohl's) were able to grow sales. From eyeballing the graph we can see that Kohl's grew sales around 20% over the 10 years. Nordstrom, on the other hand, actually managed a pretty strong growth rate. Notice the caption at the bottom of the graphic: Nordstrom sales include results from its Rack discount chain.
Of all the department store chains, it seems Nordstrom has the best start with its discount chain. It also tops this year's list on Fortune for most admired general merchandisers, ahead of Target, Wal-Mart, Kohl's, and Macy's. Just because it is often grouped with the other department stores does not mean Nordstrom will experience the same fate. In fact, this perception could be an opportunity.
I have used five companies from the graph above and created a table with some comparable metrics. These are not the only department store chains out there. Hudson's Bay and Nieman Marcus could also be included, but I think these five will allow us to realize that not all the companies have similar prospects.

Source: Company Filings, YCharts, Author's Work, Fortune
The table starts with the S&P credit rating, then moves onto some operating statistics, and finally some valuation measures. A few notes to the table:
For sales per square foot, I used gross square footage rather than selling square footage (this is because most companies only list gross square footage)
I used total company sales which includes sales from e-commerce
3-year median EBIT margin, 3-year average ROA, EV/EBITDA, and EV/EBIT were all obtained using YCharts data
Trailing and forward P/E ratios were obtained using stock prices roughly as of 02/28 and adjusted diluted earnings per share from company filings
I didn't include Sears (SHLD) in the comparable table because it has been unprofitable for quite a while now and I simply don't think Sears should be selected for long-term investment
While I could not find J.C. Penney's square footage information, Fortune provided an estimate for its 2016 sales per square foot.
Analysis
Right off the bat, I like to look at sales per square foot among the different department stores. Even though I included sales from e-commerce, what remains important is that the higher the number the better. At a time when companies are rushing to close stores, those companies who are getting more sales (whether in-store or online) per square foot of retail space ought to be better off. Here is a chart that speaks to how far away some chains are from decade-ago levels: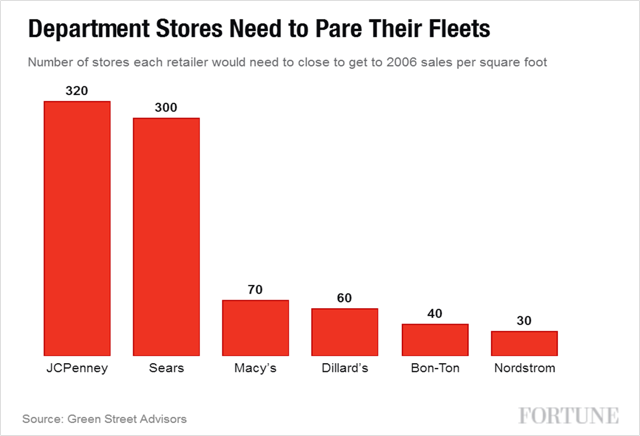 This chart is from 2016, so it is not updated with recent store closings.
A similarly important statistic is return on assets. Again, especially in a difficult environment, the company with the highest return on its assets should be in better shape.
In both of these categories, Nordstrom stands out. While most other stores are between $100 and $200 in sales per square foot, Nordstrom is close to $500. Now again, this number may be different than other sources because I included e-commerce sales, but even with just physical store sales that number is about $375 per square foot and well above its competitors.
Its sales per square foot is actually higher than that of T.J. Maxx and Ross, although that could be largely due to the fact that those companies sell lower-priced goods. They earn a much higher return on assets than Nordstrom's: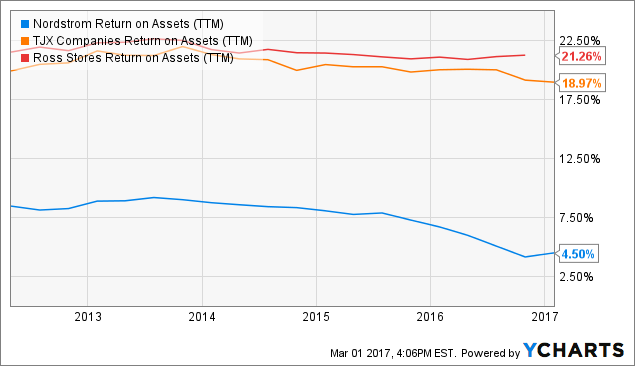 JWN Return on Assets (NYSE:TTM) data by YCharts
Nonetheless, Nordstrom's is clearly a step ahead of the other department stores. Not to mention, it may have the best head start with its off-price chain, Nordstrom Rack. In the most recent quarter, Rack sales totaled $4.5B or about 31% of total company sales. For its full-price division, e-commerce now represents about 25% of those sales. With a growing portion of its sales coming from e-commerce and its off-price chain, it looks like Nordstrom is headed in the right direction.
While Nordstrom operationally looks good compared to its peers, some may make the claim that Macy's isn't far behind in terms of return on assets and operating performance, yet it is far cheaper. Throw in the potential value of its real-estate and you may argue Macy's is the better buy.
If you look at the P/E ratio, it does in fact look like Macy's is significantly cheaper. This doesn't take into account Macy's larger debt levels though. Looking at the table, if we value the two using enterprise value ratios (either EV/EBITDA or EV/EBIT) then we see that Macy's doesn't actually look all that much cheaper than Nordstrom's. In fact, they are close to equal.
The argument for the value of Macy's real estate is one that I won't touch on. I am looking at these companies for their long-term investment prospects on the basis of their core retailing business, and while Macy's may very well be undervalued due to its real-estate, that is not my area of interest or expertise.
The debt levels are very relevant here because in an industry downturn, what matters more is the company's ability to survive than if its P/E ratio is a little higher than others. If you'll notice, Nordstrom has the highest credit rating of the group. The only difference may be a + or a -, but don't underestimate that importance. It is the only company with any wiggle room, because anything below BBB- is said considered speculative grade. With all of the listed companies on creditwatch negative, this is another advantage for Nordstrom.
If you were looking at a value play, I would say Kohl's makes more sense. Using the enterprise value ratios, Kohl's is significantly cheaper than both Macy's and Nordstrom. While it doesn't earn as high a return on its assets, it is right with Macy's in operating margin, credit rating, and sales per square foot.
Dillard's (NYSE:DDS) is also quite cheap, and it could be considered as a value play as well. However, I like Kohl's higher sales per square foot and the fact that its revenue has held up better both in the past year and past decade.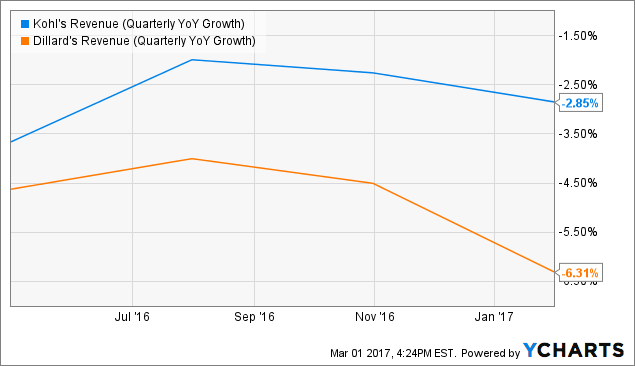 KSS Revenue (Quarterly YoY Growth) data by YCharts
I think it is also a positive for Kohl's to start carrying a strong and growing brand like Under Armour. Although UA's last earnings report was not a very good one, let's not forget the strong track record of growth they've put together over the past 15 years.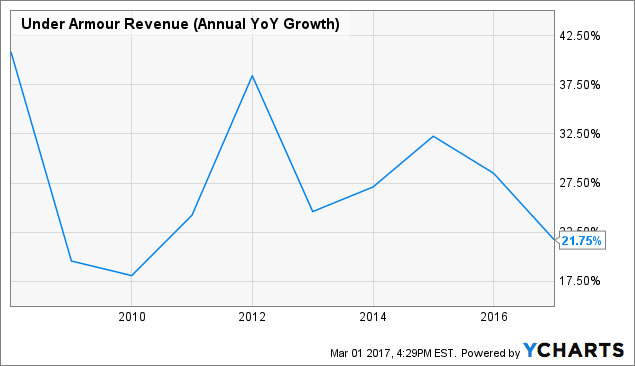 UAA Revenue (Annual YoY Growth) data by YCharts
That's an annual top-line growth rate that consistently exceeds 20%. With the exception of 2008, its net income has done much of the same: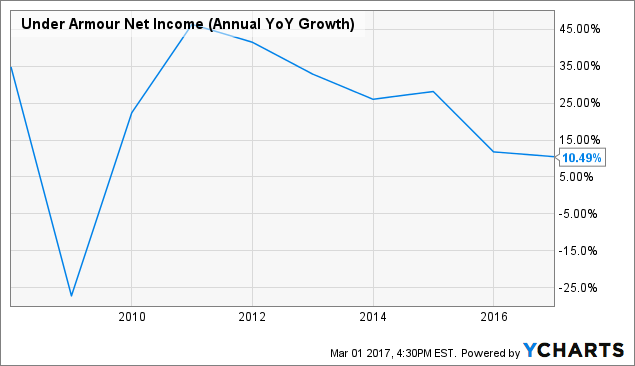 UAA Net Income (Annual YoY Growth) data by YCharts
Physical Stores Don't Have To Be Useless
Logistics costs for online retailing are a big concern among retailers. A recent Business Insider article detailing some of Nordstrom's successes with its online business mentioned that according to a recent PwC and JDA Software study, 75% of respondents said their online operating costs are increasing. This goes back to one of the main headwinds I talked about earlier.
However, you may be surprised to hear that department stores have a very helpful asset with regards to fulfilling e-commerce orders: physical retail space. The article mentions that carriers and retailers are struggling to keep up with the volume of online orders. One way retailers have dealt with that is by utilizing "Ship-from-store", a process that allows retailers to fulfill online orders using stock from their existing stores.
Closing Remarks And Conclusion
In this article, I wanted to cover a struggling part of the retail industry. The first step was to think about the multiple headwinds facing these department stores. When we do that, we can see that these headwinds together are creating a vicious cycle. More e-commerce sales and competition from discount chains are leading to less store traffic. Because clothing and apparel companies want to go wherever the consumer is going and would rather not see their products being sold with large discounts, they have started to reduce what they sell in department stores.
After considering these challenges, we go back to thinking as investors and evaluate each company individually. It is easy to group all department stores as one and as having the same fate. But when we look closely, we discover that some are better suited than others for the future.
I created a table that contained comparable metrics across five department store chains. This table shows that Nordstrom, while it is still encountering its own struggles, has a clear advantage. It has the highest valuation, but in my opinion it is more than warranted. I would gladly pay up if it meant investing in a company that is more likely to survive over the long-term than investing in one where the future is less certain.
I also argued that while Macy's is close behind in some respects, its higher debt levels keep it from being the best value play. Kohl's has been doing a solid job, and other than Nordstrom's it was the only company of the rest that increased its total sales from 2006-2015. Historical results are no guarantee of future performance, but in this case I think they can be quite helpful in showing which companies are managing the industry headwinds better.
You may not agree with the conclusions I reached from the table, but the idea of this article is to highlight potential opportunity in a very beaten-up sector. The risk is well-known, and because of this we tend to look negatively on the sector. Whether you prefer to look at sporting goods stores, department stores, restaurant chains, grocery stores, or any other brick-and-mortar companies, you can do some research to figure out whether or not some companies are more likely to survive than others.
The majority of companies you research may be value traps, but all it takes is finding one company that continues to offer a solid value-proposition to its customers but has been beaten-up because of the worry that brick-and-mortar will eventually become obsolete.
I am not very attracted to the market at these levels, because a lot of it seems based either on hope that things go a certain way or fear of missing out. Either way, most of us have learned that investing based on emotion is not a good strategy. With that said, I'm in no rush to put any money to work in a department store that would undoubtedly be affected by any stock market or economic weakness. That doesn't mean I can't prepare by identifying the names which represent the best value today, because if the market sells off, those same companies should still represent the best value.
Thank you for reading, and I look forward to writing the next article about Amazon as well as some of the brick-and-mortar discounters who are bucking the negative trend.
Disclosure: I/we have no positions in any stocks mentioned, and no plans to initiate any positions within the next 72 hours.
I wrote this article myself, and it expresses my own opinions. I am not receiving compensation for it (other than from Seeking Alpha). I have no business relationship with any company whose stock is mentioned in this article.