Thesis
Norbord Inc. (NYSE:OSB) is an unknown, under followed company. It is an excellent growth and value opportunity. There are demographic changes that will driver this company even higher. I believe investors should jump on Norbord before it gets more widely noticed.
About The Company
Norbord manufactures wood-based panel products. More specifically it produces oriented strand board (OSB get it...ha). In fact, it is the largest global producer of OSB. It has assets of $1.8B and annual sales of $1.8B yet only trades an average of 12,000 shares per day. It has 17 operations in the United States, Europe, and Canada. It listed on the NYSE February 19th of last year and since then has been largely ignored despite its outstanding gains.
OSB is mainly used as structural panels to build homes. It is used for about 70% of all floor, wall, and roof sheathing in North America. It is also used to repair and remodel homes. OSB also has industrial applications and is used in light commercial construction.
What I Like
When I was researching Norbord, the first thing I noticed was how little was out there. It didn't show up on Finviz, InsiderMonkey, or Estimize. When you consider that the share price has near doubled in the past year, it was extremely perplexing to say the least. This holds especially true when you dive into the numbers.
Despite the run up in price, Norbord has a P/E of 13 which is excellent. It has a PEG ratio of 0.3 which suggests further undervaluation. The company's price/book is in line with the materials industry average at 3.9. Norbord also trades at a substantial discount to future cash flow. This is shown in Figure 1.
Figure 1: Norbord Future Cash Flow

Source: Simply Wall St
Norbord's balance sheet leaves something to be desired. It has a debt/equity of 115%. However, the company is focusing on deleveraging its debt. This is shown in Figure 2. Diving further into the balance sheet, Norbord has repaid $200m in debt that matures in 2017. The company has an S&P credit rating of BB- and outstanding debt of $240m at 5.375% and $315m at 6.25% maturing in 2020 and 2023 respectively.
Figure 2: Norbord Leverage Metrics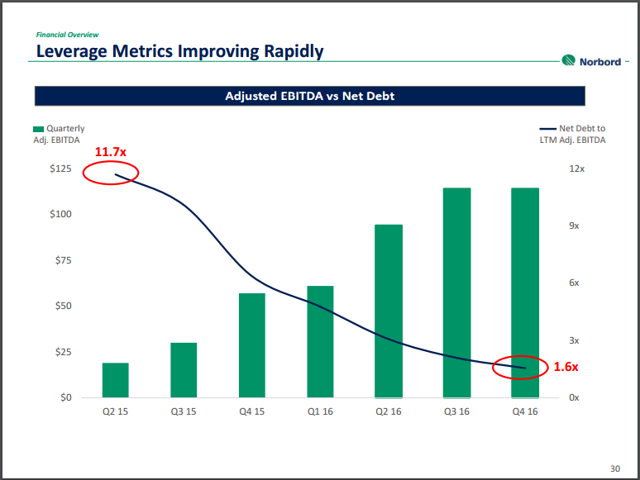 Source: Investor Presentation
The company has also demonstrated strong cash flow throughout the housing cycle. Strong cash flow is driven by high, and growing, OSB prices. Norbord also has extremely high return on equity assets and capital, much higher than the materials industry as a whole. This is shown in Figure 3.
Figure 3: Norbord ROA ROE & ROC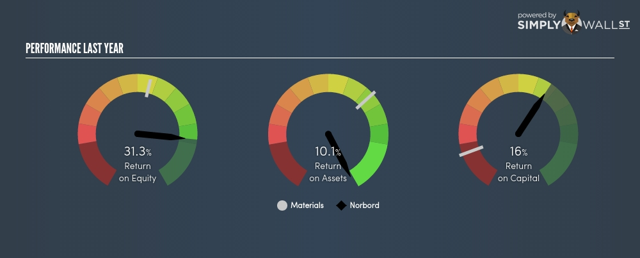 Source: Simply Wall St
It is worth noting that Norbord also pays a dividend. It rolls in at 1.03% and comes at a payout ratio of 14%. There is plenty of room for growth should the company decide that is what it wants to do with its cash.
Opportunity And Drivers
The first opportunity actually comes from how I discovered this company. I wrote an article comparing home builders, I also wrote an article on Whirlpool (NYSE:WHR) because new homes will need appliances. The obvious driver is new homes continuing to be built. Job growth is steady, unemployment is sub-5%, wages are up, and consumer confidence is at its highest level in 10 years. On a personal note, everywhere I look I see new houses going up again. This not only creates buyers for Norbord, it drives up the price of OSB.
The price of OSB is an opportunity and a risk. For every $10 per Msf of 7/16" board, Norbord's EBITDA is affected +/- $59m. This is obviously a driver as the demand for OSB increases. In 2015, Norbord expanded its OSB capacity by nearly 40%. The company also identifies superior margins and low operating costs as drivers. Norbord's slide on OSB production and housing is shown in Figure 4.
Figure 4: OSB And Housing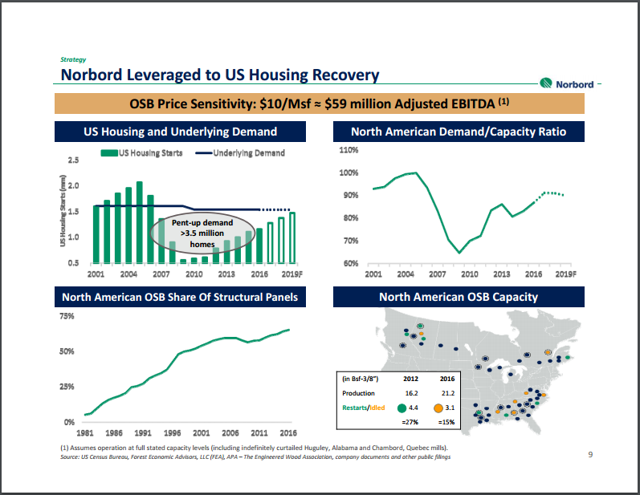 Source: Investor Presentation
A final note is Norbord's geographic diversification. The company is the number one OSB producer in North America, the UK, and the number one OSB exporter to Asia. Norbord identifies European stability and Asian exports as further drivers for sustained growth.
Risks
The price of OSB is a doubled edged sword. Should demand (and price) for OSB fall, Norbord will obviously be affected. Norbord is also sensitive to foreign currency fluctuations. The company is headquartered in Canada and does business in the UK. This leaves them open to CAD and GBP exchange rates. For every 0.01 of CAD change, EBITDA is hit +/- $3m (NYSEARCA:USD). For every 0.01 change in pounds sterling, EBITDA is hit <$1m .
Final Thoughts
I think Norbord presents an outstanding opportunity. They have strong numbers, cheap valuations, and exciting growth prospects. The fact that they are so under followed makes them even more appealing, in my opinion. I think if you want to play the housing recovery, Norbord is the company to choose.
Disclosure: I am/we are long OSB.
I wrote this article myself, and it expresses my own opinions. I am not receiving compensation for it (other than from Seeking Alpha). I have no business relationship with any company whose stock is mentioned in this article.