It may be tempting to think that helping people file their taxes is a boring and unsatisfactory business. However, the history of H&R Block (NYSE:HRB) shows otherwise. Per Chris Mayer's excellent book "100 Baggers," the shares of H&R Block have given investors a total return from 1966 through 2014 of 2,873%. That is a compound annual return of 17.6% annually! This is an amazing return over such a long time period. The business is so good that it has previously ended up in the portfolio of Berkshire Hathaway (NYSE:BRK.A) (NYSE:BRK.B) back in 2001.
H&R Block has had some set-backs in recent years that have brought the stock price down from a high of $37 in December 2015 to just about $20 today. The stock is trading at a P/E ratio on 2016 earnings of 13.3 and yields over 4.2%. The main reason for the declining stock price was a "miss" in revenues due to a decrease in taxes filed in 2016 vs. 2015. Also another recent problem has been President's Trump rhetoric about simplifying the Tax Code so that H&R Block would not be happy.
However, as we discuss below with some help from management slides, H&R Block still has much going for it and should be able to maintain excellent economics for a long time to come. In the last five years, H&R Block's new management has 1) simplified the business to focus on tax only, 2) returned lots of capital to shareholder via share repurchases and dividends, and 3) continued to invest in the future of the tax franchise. The basic model of helping people with their taxes, either in person or with software, will continue to provide shareholders very nice returns on equity for long time to come.
New management took over H&R Block in 2011 and has aggressively altered the company from a diversified financial services company into only a "tax" and "tax-plus" company. This has made the company much more focused and simpler to understand and allowed management to buy back shares at an impressive rate.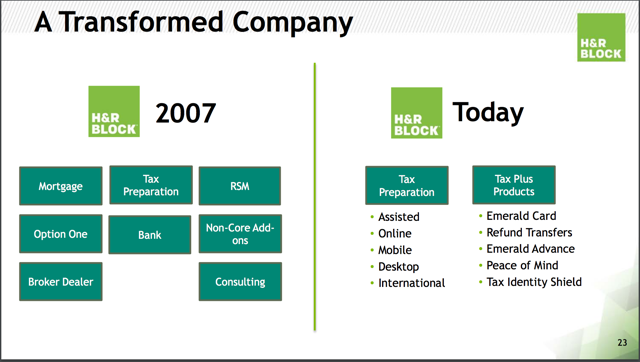 In addition to simplifying the company, management has repurchased more than 25% of the outstanding shares and raised the dividend by 33%. They have returned about 70% of the current $4.2 billion dollar market cap of the company to shareholders over the last 5 years!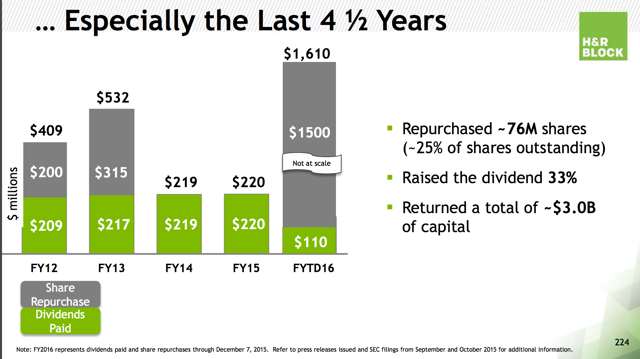 It may seem like H&R Block doesn't have much room to grow considering it has been around for such a long time and now Turbotax (NASDAQ:INTU) is a fierce competitor. However, there is still much market share for both Turbotax and H&R Block to take over the years from independent players and CPAs.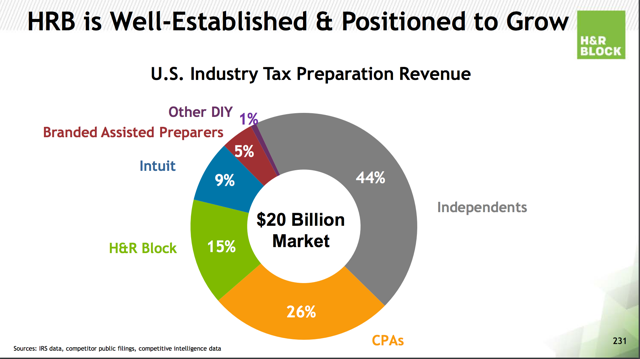 One of the more recent worries around H&R Block stock has been that President Trump plans on killing the company by simplifying the tax code. It is interesting that no matter how simple or difficult the tax code is, people still want help with it. See this slide about how the tax code has grown since H&R Block was founded, but people still wanted help when the tax code was much simpler: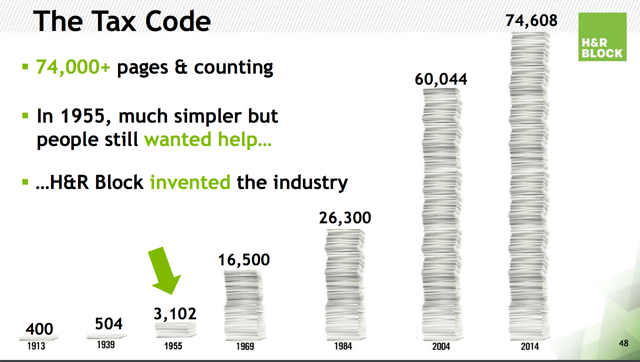 Conclusion
H&R Block is currently trading at a very reasonable price for such a stable and successful company. The company is making the right moves to focus on tax and capital allocation. Current fears over tax simplification are overblown and the company has room to grow. If the company can continue increasing its dividend and repurchasing its share as it has been, investors should see very good gains in the coming years as fears about tax reform effecting the company subside. As additional catalysts for growth, the company's recent marketing campaign featuring actor Jon Hamm (from Mad Men) and its partnership with IBM's Watson should provide some additional momentum this tax season.
Disclosure: I am/we are long HRB.
I wrote this article myself, and it expresses my own opinions. I am not receiving compensation for it (other than from Seeking Alpha). I have no business relationship with any company whose stock is mentioned in this article.