Background
The Wayfair, Inc. (NYSE:W) overvaluation story was nicely detailed back in August of 2015 by SA author The Friendly Bear, and a few weeks later, was also profiled by Citron Research - both putting forth the case that it was wildly overvalued. It's been 18 months since then and the stock has mostly trended sideways, with some occasional sharp deviations, both up and down. While getting the timing right on a short thesis is always hard, especially in a bull market, I believe the time has come for their predictions to come to fruition. We will present the case in a slightly different fashion, and also include the company's updated operating performance data through to its most recent Q4 2016 earnings report reported last week, and 10-K filed today.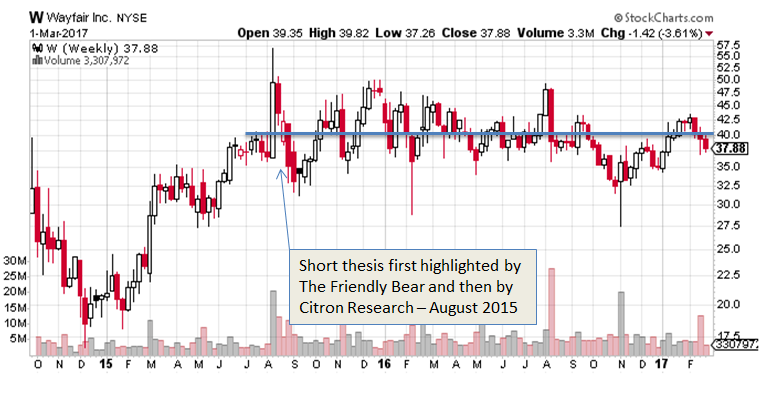 Source: StockCharts.com
Business Model
This is what Wayfair does per its 10-K:
"Wayfair is one of the world's largest online destinations for the home. Through our e-commerce business model, we offer visually inspired browsing, compelling merchandising, easy product discovery and attractive prices for over seven million products from over 7,000 suppliers across five distinct brands: Wayfair.com, Joss & Main, AllModern, DwellStudio and Birch Lane."
It's a showroom business model where you can order a product that is then shipped by the supplier. Essentially, Wayfair has created a set of online showrooms and locates products/suppliers whose products fit in with that brand image. Customers order through Wayfair's website, and the product is shipped directly from the manufacturer in most cases, although the company is beefing up its control of the delivery chain. Wayfair's skill is in creating and branding the online showrooms and in driving traffic to the showroom. It essentially receives a commission on sales generated in its online showroom. The goal is to build a large base of repeat purchasers.
Two reasons why the economics of its business model just don't work
1. The frequency of home goods purchases and high check average
Quite simple, home goods and furnishings are not like paper towels; they are an infrequent purchase that happens when people move or redecorate, or perhaps replace an item. Also being a higher ticket item, consumers are more likely to comparison price shop, which makes brand loyalty more challenging, and is a weak candidate for a repeat purchase model.
2. Relationship between cost to acquire a customer and future profit per customer
The company's cost to obtain a new customer is too high relative to the net profits from future purchases.
Wayfair spends a ton of money on advertising and marketing to get new customers, and it has been able to grow its base by spending lots of ad money. In studying Wayfair, the key factor that determines the repeat customer profitability is whether the company needs to continue spending ad dollars to stimulate additional purchases from its database of previous buyers or whether that happens organically with no additional expense. Wayfair seems to imply that it is organic and free based on its illustrative customer acquisition cost analysis (shown later), but we would argue otherwise.
My estimate is that a minimum of 15-20% allocation of its marketing dollars to generate repeat orders is realistic. To assume that once a customer purchases an item once, they will continue to make repeat purchases without any ad spend is unrealistic, especially since competitors are bombarding them with ads all the time too. Unless a company has a monopoly, most companies need to keep spending ad dollars to be on the customer's radar when they need something. Even if you are communicating with your customer via email, there is a staffing cost to generate that email. Here is another example; if you search for an item on Amazon (NASDAQ:AMZN), and don't buy it, you will start to see pop-up ads from Amazon for that item when you are browsing other sites; this is not free - Amazon pays for this (Yes, even Amazon pays for repeat purchasers). My point is that ads and the support personnel to process them all cost money. That's why I say a 15-20% minimum is reasonable. In 2016, 15% would equate to a cost of $11 in advertising per repeat order, or 5% of the order value. Even the company's own long-term projection assumes 6-8% ad spend, excluding payroll, so I think 15% which includes payroll is very conservative.
Let me explain the trade-off between how you allocate advertising and marketing to new versus existing customers. The detailed spreadsheet is further down, but we highlight the key output below. If you assume zero allocation to repeat customers, then all the ad spend is allocated to new customers, which pushes the cost of acquiring a new customer up to $73, but keeps the profit per repeat order at the high end, which is $24 (that represents an 11% pre-tax margin, best case, assuming they don't have to spend a dime on marketing to repeat customers). If we assume that 30% of ad spend is needed to keep repeat customers purchasing, then the cost per new customer goes down to $44, but the profit per repeat customer order goes down to $2.15. This relationship is shown in the table below, which shows the cost of a new customer, the profit per repeat customer, and the number of repeat purchases required to break even on a new customer, all against various assumed levels of marketing/ad spend, in green, which is allocated to repeat customers.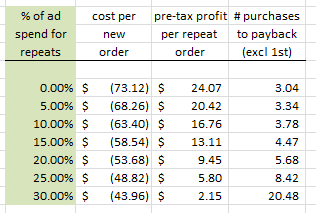 Source: Author using output from spreadsheet below
In a best-case scenario that doesn't require any additional ad spend, the net profit per repeat transaction we estimate is $24 and means a customer has a three repeat purchase required to break even on the initial order, which cost $73, for a total of four purchases to break even, an $880 spend. At the other end, the number of repeat purchases required to break even is 20.48. Remember that this is furniture/home goods that we are talking about, with an average cart checkout of $220, so the repeat purchase frequency is not like paper towels - it's a much more infrequent purchase. I have a hard time even visualizing someone coming back the three times that it would take under a best-case scenario just to break even on a customer. On the other hand, coming back 20 times is unrealistic, but that doesn't even matter, because who want to own a business that only makes $2.15 per transaction on a $220 order.
At our estimate of 15% marketing allocation to repeat purchases, the net profit per repeat purchase is $13.11 and the breakeven number of purchase visits is 4.47 plus the original purchase, so say five purchases, or $1,100. So after a customer has purchased five times and spent $1,100, Wayfair gets to break even on that customer. That's a tall order to fulfill. How many people do you know that engage in that type of spending behavior?
This is the gist of the Wayfair story. Regardless of how much it can grow revenue by "buying" new customers, the economics of getting that customer to the point of contributing to a return on investment are just too difficult. The cost of acquiring new customers is too high relative to the future contributions from those customers, i.e. the business model does not work, unless it can somehow reduce the cost of acquiring new customers or improve its gross margins on the products sold. Eventually, you run out of cash to buy new customers because the previous ones are not contributing enough, and I believe we are approaching that point imminently - details further down.
Our detailed analysis of its operations
The following spreadsheet is a detailed analysis of its operation for those who want to spend a bit more time understanding it better. It shows four years of historical quarterly data, with the key assumptions highlighted in green and the key outputs highlighted in yellow. The formulas for various line items are shown in red, and footnoted items are numbered in blue. The key output is the table above, but this spreadsheet shows how we get there. Skip over it or come back to it later if you like.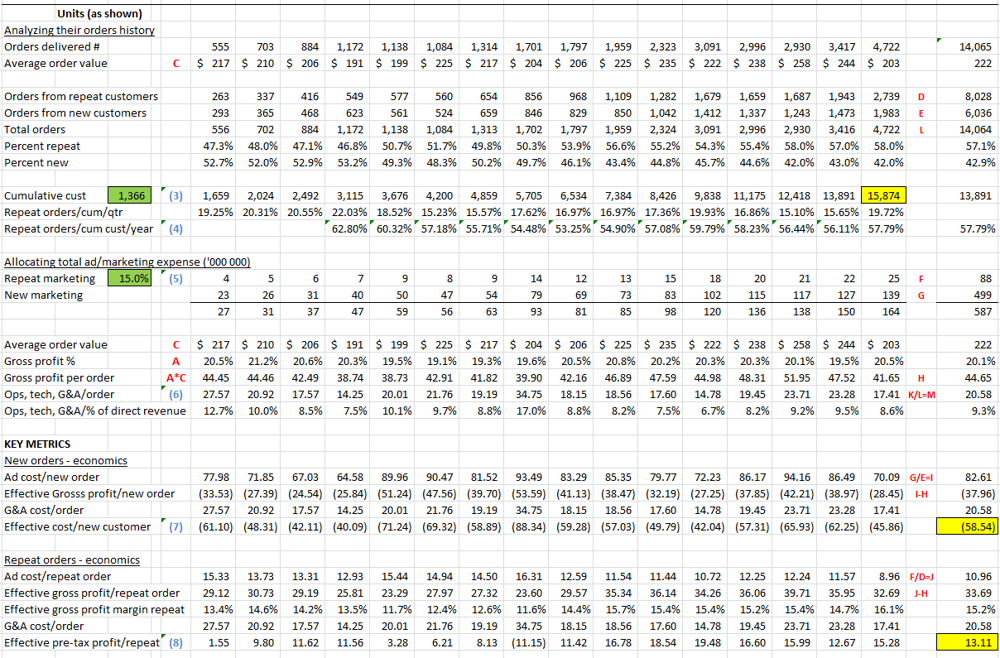 Source: Author using data from company SEC filings (10-K, 10-Q) and Investor Presentations.
Spreadsheet Footnotes
(A) On a technical note, the gross profit looks like it has been consistent at about 20% for four years, but it has actually improved; the reason it doesn't show is due to the way in which it accounts for commissions paid to retail partners, which is now a much smaller percentage of its revenue than it was in 2013. Those commissions are classified as advertising, but they are really a cost of goods sold, so if they were accounted for in cost of goods sold, then gross margins would be less by 2.8%, 1.8%, 0.9% and 0.4% in years 2013, 2014, 2015 and 2016, respectively. Considering this, gross margins have actually been getting better, but it does not show because of the way these commissions are accounted for.
(1) The company shows this below the gross margin line, but it is a direct variable of revenue and should be included when calculating gross margin. The company actually does account for it properly in its Long-Term projection slide shown below.
(2) Includes commissions referred to in (A) above. In 2016 they only amount to 0.4%, so no longer significant.
(3) We assume cumulative new customers at the end of Q4 2012 were 1,366 based roughly on the number of active customers in Q1 2013. This assumption results in an accurate percentage of repeat customers at the end of 2016, so we are comfortable with it.
(4) The formula for this is the last four quarters repeat orders divided by the lagged one-quarter cumulative new customers.
(5) This spreadsheet assumes 15% of total marketing/ad spend is for repeat buyers, but we showed the sensitivity analysis in our first table.
(6) So far in the four years shown here, G&A expenses as a percent of revenue do not scale as revenue increases. There is some variability, but it's around 9% of sales annually, regardless of the level of sales. Normally G&A is somewhat fixed and provides operating leverage when sales go up, but this is not the case with Wayfair. For this reason, we treat it as a variable expense of each order for our model, which we determine by dividing the total G&A expense by the total number of orders.
(7) Key output; effective cost per new customer = gross profit on order - marketing/ad cost (new) - allocated G&A.
(8) Key output; effective pre-tax profit per repeat order = gross profit on order - marketing/ad cost (repeat) - allocated G&A.
Even the company's own wishful long-term target does not make economic sense
In its November 2016 Investor Presentation, the company includes a slide describing its Long-Term Target Model. The same slide was used in a January 2016 presentation, but it included an important little footnote that seems to have been omitted from the November 2016 presentation, so we show the slide from the January presentation with the footnote circled in red. The footnote reflects the fact that its projections do not include stock-based compensation and depreciation expenses
Its long-term target shows an adjusted EBITDA of 8-10%, but does not include stock-based compensation and depreciation expenses. These are real expenses and need to be included - don't be misled into thinking that they don't affect the equity value because they are non-cash expenses. The actual 2016 results column does include them and is merely shown for reference, just to show how generous we are being in our adjusted long-term target relative to where it is at present. Our adjusted long-term target basically takes the 2016 actuals and makes similar adjustments to what the company has assumed in its long-term target relative to Q3 2015; for example, it projects advertising to come down from 11.9% to 6-8%, so a 5% reduction, and we similarly allow for a 5% reduction from the 2016 percentage.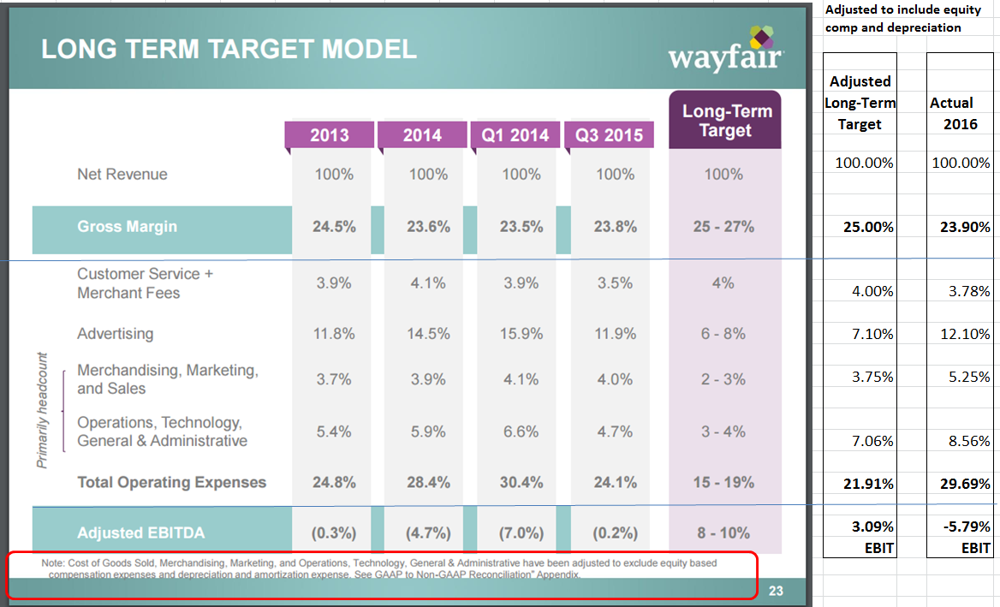 Source: Company Investor Presentation January 2016, and author using data from spreadsheet above.
The result, as you can see, leaves a pre-tax and interest profit margin of 3.09%, so perhaps a net profit margin after-tax of 2%, essentially using its own numbers. That is paper thin for a retailer selling infrequent, higher dollar items, and of course, it requires a big leap of faith to get there. What is long term by the way? 10 years? 20 years?
As they say on Shark Tank, "I'm out."
Not enough cash to keep growing revenue
A quick definition of the current ratio from the YCharts Financial Glossary Index - emphasis mine:
"The current ratio measures a company's ability to pay short-term debts and other current liabilities (financial obligations lasting less than one year) by comparing current assets to current liabilities. The ratio illustrates a company's ability to remain solvent.

A current ratio of one means that book value of current assets is exactly the same as book value of current liabilities. In general, investors look for a company with a current ratio of 2:1, meaning current assets twice as large as current liabilities. A current ratio less than one indicates the company might have problems meeting short-term financial obligations."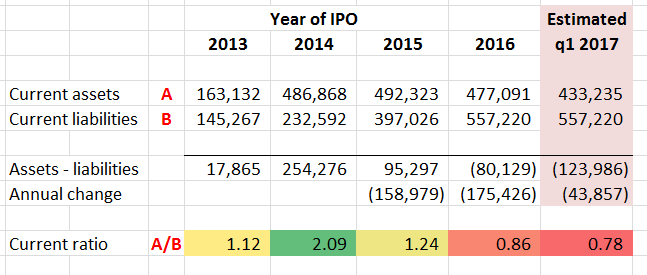 Source: Author using data from company Q4 2016 earnings press release.
When Wayfair did its IPO in 2014, it started out with a healthy current ratio at year-end of 2.09. That deteriorated in 2015 to 1.24 and in 2016 to 0.86. We estimate that by the end of Q1 2017, it will be 0.78. The company collects cash right away and has about 40 days to pay its suppliers, but 40 days is not a lot of time!
There may be some ability to play a little with the allowance it has for deferred revenue of $66 million (a current liability arising from its Rewards Program), but it depends on when those rewards get redeemed. Regardless, the current ratio is now at what I would describe as an irresponsibly low level, and I believe the company will need to access the capital markets in one form or another to raise cash within the next 120 days.
On the Q4 2016 earnings call, CFO Michael Fleisher said (emphasis is mine):
"As of December 31, 2016, we had approximately $380 million of cash, cash equivalents and short and long-term investments. Our near-term goal remains running the business at free cash flow breakeven to positive so that we will continue to be self-funding."
The question is what is near term? 90 days? Six months? Two years? It could be any of them, but my guess is "very soon." My guess is that the company will do another secondary, and it will present it in the light of needing to raise additional cash to support its continued strong growth, but as we have shown, the growth is all for naught.
Like I said earlier, "I'm out."
Company's illustrative customer acquisition cost needs explanation
The last page of its investor presentation includes this calculation for an illustrative customer acquisition cost. I have added my comments in red. The detailed spreadsheet above is a more comprehensive analysis of the true customer acquisition cost and the contribution from repeat customers.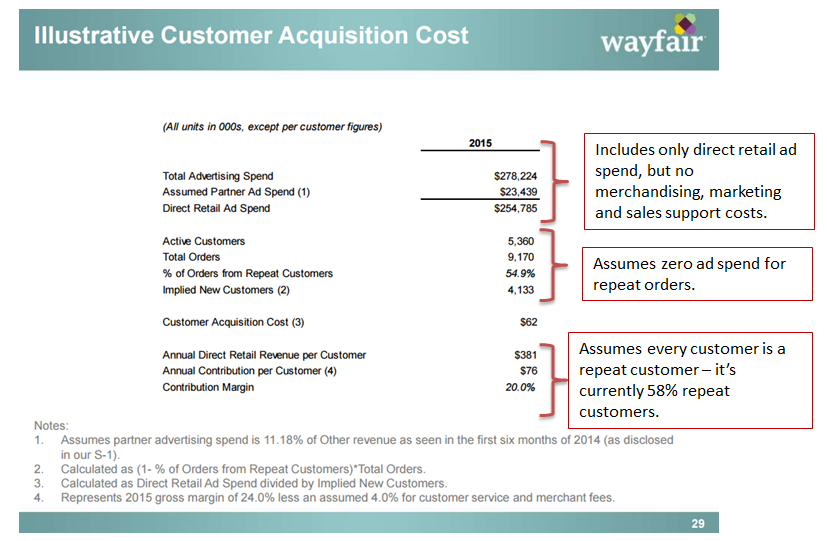 Source: Company Investor Presentation November 2016, and notations by author.
International expansion
Beginning the fourth quarter of 2016, the company changed its operating and reportable segments to U.S. and International, and it is claiming that the international expansion is the primary driver of its losses.
From its 2016 10-K just released today - emphasis mine:
"Because of the large market opportunity we see in front of us, we are currently investing in several areas across our business. Over the last few years, we have invested in expanding our international business in Canada, the United Kingdom and Germany by building our international infrastructure, developing deeper country-specific knowledge, growing our international supplier networks and establishing our brand presence in select countries. Accordingly, our consolidated net loss of $194.4 million in the year ended December 31, 2016, is primarily driven by our international expansion."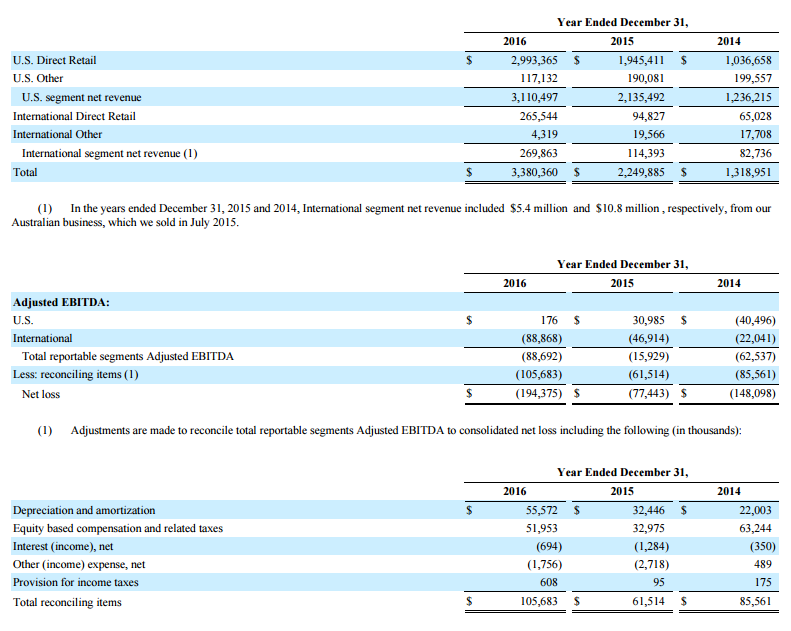 Source: Company 2016 10-K.
A few points on this:
First off, when we add back the reconciling items in the bottom table, the US is still losing most of the money.
In my opinion, it is a bad strategy to be trying to stretch its wings overseas when it has yet to prove it has a viable business model in the approximately $270 billion annual U.S. market - especially when the company no longer has the cash needed to grow.
The international revenue represents less than 10% of Wayfair's revenue, yet it is portraying it as the primary driver of losses (by the way, the allocation of expenses to international is a subjective assessment on its part).
The implied expenses/resources devoted to international represents at least $358 million ($269 million in revenue + $89 million in EBITDA losses + whatever is allocated from the $105 million in reconciling items) out of its total operating expenses of $876 million, or a minimum of 40% - a huge absolute amount as well as an eye-popping disproportionate percentage relative to the 90/10 revenue split.
Different ways to think about the valuation
If you are wondering how to place a value on a company like this, it's not easy simply because there is almost no visibility to ever being profitable.
1) Earnings-based evaluation
Even if the company got to our adjusted long-term target where it was generating 2% net profit after tax, we know already that will lead to a very low valuation. Barring some extreme improvements in marketing/ad efficiency, operating leverage, or cost of goods sold, there is not much earnings-based value.
2) Current valuation per total customers ever purchasing and per active customer
The company currently has an enterprise value of $3.05 billion and a market cap of $3.37 billion. It has only $28 million in debt, and has $380 million in cash, but because none of the cash is excess cash (it's absolutely all needed for the day-to-day operations) the actual enterprise value is $3.33 billion ($3.05 billion + $28 million). The total cumulative new customers in its database are estimated at 15,874, which implies a value per customer attained, even if they are not a continuing customer, of $208. If we instead use only the number of active customers in the past 12 months of 8,250, that would imply a value per active customer of $400. Both seem too high.
Conclusion
If I was forced to place a value on this, I would say perhaps $8. That would imply a market cap of about $700 million and a value per active customer of about $84. But then I ask myself, would I even want to own this at $8, and the answer is NO or WHY? The company's best hope is probably to do something with a strategic partner or acquirer.
This does not appear to be a business model that can work. The whole expansion into other countries is also a futile exercise and will help to drain the cash a little faster. Wayfair is very close to needing more cash, and we believe will need to tap the public markets for either debt or more likely an additional secondary. Either way, it's not going to pretty for the existing equity.
There is an extremely large short interest in this name already, so a lot of folks are obviously seeing the same thing I am. I think they will be proven correct in short order.
Disclosure: I am/we are short W.
I wrote this article myself, and it expresses my own opinions. I am not receiving compensation for it (other than from Seeking Alpha). I have no business relationship with any company whose stock is mentioned in this article.
Additional disclosure: I am long put options on Wayfair