The so-called drop-down transaction - where a sponsor sells an asset to its associated master limited partnership (MLP) - has a long history (dating back to 1983) as a strategy for energy companies to monetize their midstream (pipelines and processing) assets.
Not only does this approach unlock the value of midstream assets that a refiner or upstream operator may not have run for a profit, but the parent also retains control of this critical infrastructure and garners a growing stream of cash flow via their incentive distribution rights.
The number and total value of drop-down transactions announced surged in 2010 and continued to climb in subsequent years, peaking in 2015. Deal flow slowed considerably in 2016, but remained elevated relative to historical norms.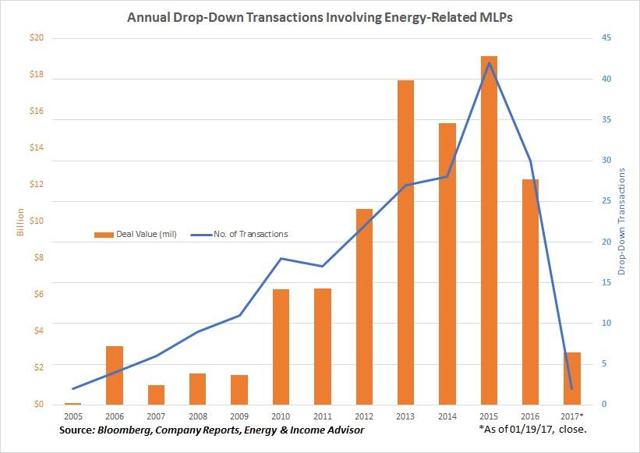 The upsurge in asset drop-downs from 2010 through 2015 reflects robust demand for midstream MLPs among investors seeking above-average yields and leverage to the US shale oil and gas revolution. Over this period, the number of fund products offering significant exposure to publicly-traded partnerships increased exponentially.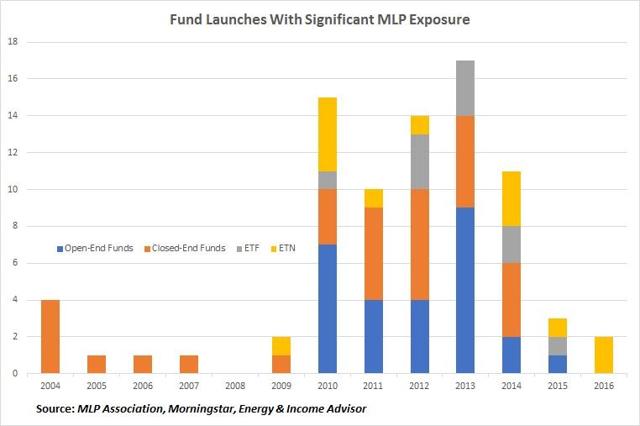 Robust investor demand and elevated valuations ensured that most energy-focused MLPs encountered few problems issuing equity to raise capital for growth projects and acquisitions.
Not surprisingly, this sanguine environment brought a boom in MLP initial public offerings, many of which offered exposure to growth stories that involved a significant drop-down component.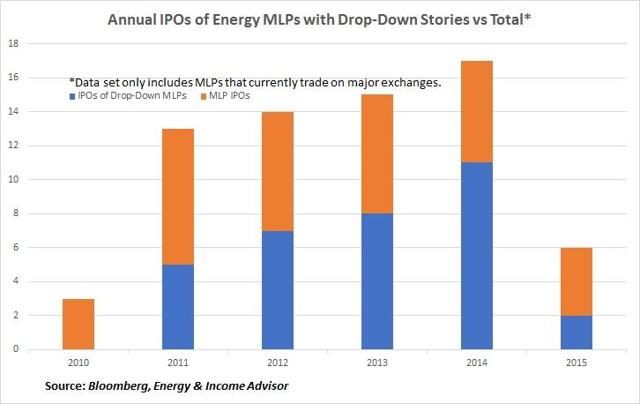 Over this period, the universe of energy-focused publicly-traded partnerships also expanded to include businesses outside the midstream category. New entrants ranged from petrochemical firms to contract drillers and producers of the crush-resistant silica sands used in hydraulic fracturing.
MLPs with highly visible drop-down pipelines also tended to deliver massive outperformance after their initial public offerings (IPOs), as investors piled into these names for outsized distribution growth. From 2011 to 2015, many of these stocks - highlighted in green - appeared among the top 10 performers by total return.

This strength was particularly pronounced in 2014 and 2015, when weakness in oil prices prompted investors to gravitate toward safety-first fare. Our investment strategy also veered in this direction, with a handful of drop-down stories joining the MLP portfolio over this period.
Although this overweight position worked for a time, and these stocks held their value reasonably well during the down-cycle, MLPs that rely heavily on drop-down strategies have underperformed since the start of 2016.
Over this period, the Alerian MLP Index has rallied 8.7 percent while the Energy & Income Advisor Drop-Down MLP Index - an equal-weighted basket of partnerships that expect to generate the bulk of their cash flow growth through asset acquisitions - has gained only 1.5 percent. Both return figures exclude distributions.
Several factors contributed to this underperformance.
On the one hand, the divergence between the Alerian MLP Index and Energy & Income Advisor Drop-Down MLP Index reflects investors rotating out of safety-first names and into beaten-down stocks that offer deep value and leveraged exposure to a cyclical recovery in US oil and gas production.
At the same time, the sharp selloff in MLPs that occurred in late 2015 and early 2016 served as a reminder that many of these structured growth stories depend on a partnership's ability to access capital at favorable rates. With bond and equity yields surging, some drop-down MLPs' growth stories ground to a halt. Fortunately, narrowing discounts on recent overnight equity issuance underscore the extent to which the market has improved since these dark days.
Investors also chafed at some MLPs' willingness to issue equity publicly to fund asset deals; the market regarded these transactions not as a show of strength during a period of turmoil, but as a sign that the sponsor's goals may not be aligned with the partnership's unitholders.
The value proposition associated with drop-down transactions has also changed dramatically over the past decade, with assets selling for higher valuations today and, in some instances, offering fewer near-term opportunities for organic growth.
For example, Western Gas Partners, LP (NYSE:WES) paid 8.2 times operating cash flow when it purchased the Kerr-McGee Gathering from its sponsor, Anadarko Petroleum Corp. (NYSE:APC) in August 2010. This valuation may be in line with current rates, but the deal metrics look even more appealing when you consider the extent to which the MLP's gas-gathering and -processing volumes have grown in the Rockies.
And this system should continue to benefit from Anadarko Petroleum's favorable economics in the Niobrara Shale, where the exploration and production company owns the underlying mineral rights. Management expects the company to drill 90 more wells than expected in the Niobrara Shale and complete an additional 50 wells that had accumulated in its inventory. These trends bode well for throughput volumes on Western Gas Partners' systems in the fourth quarter of 2016 and in 2017.
Or consider Holly Energy Partners, LP's (NYSE:HEP) history of drop-down transactions. In 2009, the long-running refining-logistics MLP paid 5.05 times operating cash flow to purchase the Roadrunner pipeline from its sponsor Holly Corp., now HollyFrontier Corp. (NYSE:HFC).
Fast-forward to September 2016, when Holly Energy Partners agreed to acquire crude, fluid catalytic cracking and polymerization units at its sponsor's Woods Cross refinery for 8.5 times operating cash flow. These assets will operate under 15-year tolling agreements that include minimum throughput requirements.
Although these transactions involve vastly different assets, both the pipeline and refinery assets generate relatively stable cash flow and offer limited upside potential.
The recent underperformance of the Energy & Income Advisor Drop-Down MLP Index suggests that investors have become more discerning about these stories and less willing to pay a premium for financially engineered cash flow growth.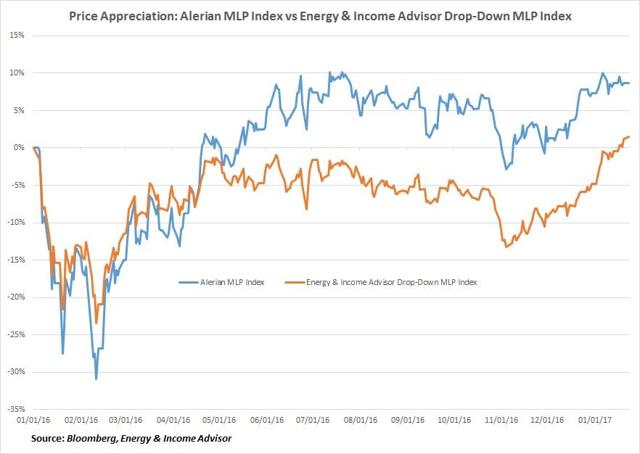 Not all drop-down stories are created equal. Midstream operators associated with high-quality oil and gas producers often combine the visibility of regular drop-down transactions with exposure to organic growth opportunities.
Western Gas Partners, for example, still stands to benefit from the eventual drop-down of Anadarko Petroleum's interests in the Panola and Saddlehorn crude-oil pipelines, but also offers leveraged exposure to its sponsor's growth plans in the Permian Basin and Niobrara Shale. Western Gas Partners, LP rates a buy up to $64 per unit.
Although midstream operators partnered with high-quality oil and gas producers can make the transition from drop-down story to organic growth relatively seamlessly over time, this move can be harder for logistics MLPs spun off from independent refiners.
Consider Holly Energy Partners, which debuted on the New York Stock Exchange in 2004 and completed a steady stream of drop-down transactions through 2012 when HollyFrontier's well of traditional assets dried up. The deal flow resumed in 2015, primarily because of its sponsor's creative contracting on some of its refinery units that provide the cash flow visibility MLP investors (usually) demand.
MPLX LP (NYSE:MPLX), a vehicle created by Marathon Petroleum Corp. (NYSE:MPC) to monetize the logistics assets serving its refineries, in July 2015 addressed this issue with its $13.6 billion acquisition of MarkWest Energy Partners, LP, the leading gas processor in the Marcellus Shale.
The market didn't react kindly to the move, citing the deal's valuation and the shift in MPLX's growth story from the highly visible cash flow associated with asset drop-downs to one that also offers upside exposure to long-term production growth in the Marcellus Shale. Meanwhile, MarkWest Energy Partners' unitholders bristled at their stealth distribution cut.
More recently, Marathon Petroleum Corp. announced plans to accelerate plans to drop down its remaining MLP-qualifying assets to MPLX.
The first transaction, expected to be completed in the first quarter of 2017, will involve MLP-qualifying assets that generate $250 million in annual operating cash flow. Management emphasized that Marathon Petroleum would also acquire a sizable slug of any equity issued to reduce the number of common units hitting the public market.
By year-end, Marathon Petroleum would drop down assets generating another $350 million in operating cash flow. A final transaction involving $600 million in operating cash flow related to wholesale fuel distribution and another $250 million in midstream cash flow would take place in the first quarter of 2018.
In conjunction with this last deal, MPLX would acquire Marathon Petroleum's general partner interest in the MLP, removing the burden of incentive distribution rights. Management estimated that the multiple associated with this buyout at 15 to 20 times cash flow and indicated that the transaction would be funded by equity issued to Marathon Petroleum.
At the end of this process, MPLX will have a better cost of capital and a cash flow mix that's split roughly 50-50 between gathering and processing and refinery logistics. Marathon Petroleum will receive a significant slug of cash and own an equity marker that makes it easier for the market to value its interest in MPLX. The sponsor also reiterated its commitment to helping MPLX grow and maintaining its position in the partnership.
MPLX reaffirmed its guidance for double-digit distribution growth in 2017 and 2018, and estimated that these transactions would result in a leverage ratio of about 4 times operating cash flow.
We would have preferred that the general partner buyout take place before Marathon Petroleum increases the value of its incentive distribution rights by dropping down $600 million in incremental cash flow to MPLX.
That said, we continue to like the long-term growth opportunities associated with MPLX's leading processing footprint in the Marcellus Shale and management's commitment to lower the MLP's cost of capital. MPLX LP rates a buy up to $36 per unit.
Tesoro Logistics, LP (TLLP) has tackled similar challenges by acquiring QEP Midstream Partners LP, pursuing gathering projects in the Bakken Shale and acquiring Whiting Petroleum Corp.'s (NYSE:WLL) North Dakota gathering assets in the fourth quarter of 2016.
These efforts hadn't entirely panned as of the third quarter of last year. Reduced drilling and completion activity in the Bakken Shale and the Rockies weighed on the MLP's third-quarter results, with gas-gathering and -processing volumes declining to 887,000 million British thermal units (mmBtu) per day from more than 1 mmBtu per day a year ago.
However, a recovery in activity levels led to a sequential improvement in volumes. The eventual start-up of the Dakota Access Pipeline could also improve the Bakken Shale's competitiveness while producers in the region would also benefit if the Trump administration were to do away with federal rules on methane flaring and venting.
During Tesoro Logistics Partners' third-quarter earnings call, management indicated that the MLP and its sponsor planned to "look for ways to optimize TLLP's cost of capital," a process that could include a reset of its incentive distribution rights (IDRs) or their elimination in exchange for equity.
Management also highlighted an interest in acquiring midstream assets in the Permian Basin from private-equity outfits and/or producers. In mid-November, Tesoro Corp. (TSO) announced an agreement to acquire Western Refining (NYSE:WNR), a Midcontinent refiner that also serves as the general partner of Western Refining Logistics, LP (NYSE:WNRL), which owns logistics assets in the Permian Basin.
Whether Western Refining Logistics and Tesoro Logistics Partners ultimately merge remains to be seen, the sponsor may prefer to keep Western Refining Logistics independent to serve as a focused platform for expansion in the Permian Basin.
Western Refining Logistics, LP would likely benefit in either scenario - which explains why insider buying has increased significantly since mid-2016 - and rates a buy on pullbacks to less than $23 per unit.
Disclosure: I am/we are long MPLX, WES, APC.
I wrote this article myself, and it expresses my own opinions. I am not receiving compensation for it (other than from Seeking Alpha). I have no business relationship with any company whose stock is mentioned in this article.