A few days ago, I wrote an article under the name: Hannon Armstrong: Ignore The Noise. In that article I explained that the conceived threats for Hannon Armstrong (NYSE:HASI) were in fact mere noise. I repeat my conclusion here:
I think all three perceived risks for HASI are just noise, not news:

The first problem (Trump) is more a problem of perception than of reality. Higher investments, lower costs and technological progress cannot be stopped completely.
The second problem (HASI as a REIT) is formulated by someone who can make money by trying to bring down the company because he shorts it and even if that person would be right, the consequences for the company and its investors will be very small.
The third problem, rising interest rates, has already been acknowledged and it is taken care of. The executives of the company have chosen for a high percentage of fixed rate debt and the company is looking to even increase it. If rates rise, it could also benefit from higher spreads (the difference of what a company pays to loan money and what it charges to lend money to its costumers).
I also said that I had doubled down on the stock. In this article I explain why I have done that.
HASI's IPO was in 2013. This is its price history: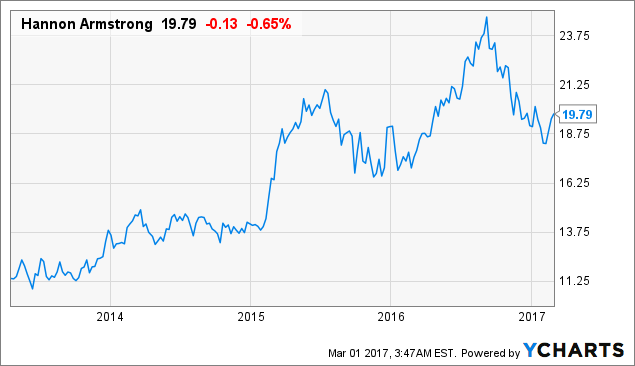 As you can see, the price has gone up considerably. Usually the price tends to follow earnings in the stock market. Or at least, that is how it should be. For a REIT FFO (funds from operations) is a better criterion than EPS. You can read why here. Let's look at HASI's FFO.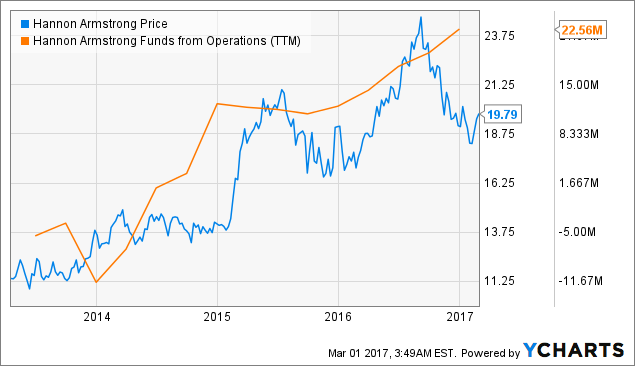 This YChart shows that Hannon Armstrong's FFO went up from negative territory in the first year after its IPO to $22.56M now.
The company has grown its full FY GAAP EPS by 52% in 2016 and the core EPS growth grew by a healthy 15%. Finviz.com expects HASI's EPS growth over the next 5 year at 12.35%. That probably means that the dividend can be increased by double digits in the coming years. This was the case with the last increase as well: from $0.30 to $0.33 quarterly (or f$1.32 annually), an increase of 10%, which is a lot for a REIT, especially for one yielding 6.6% already. That spells opportunity to me. If this dividend would grow 10% every year in the next five years, you would get a dividend of $2.13 per share over five years, or a YOC (yield on capital) of 10.7%. Not too shabby.
At this moment, HASI has grown its balance sheet to $1.7B with a total of 130 projects. But what is even more important is that the pipeline is filled with diversified projects for a total amount of $2.5B. And a lot of the clients HASI has, are first tier. Their client list already includes blue chip companies as Honeywell (NYSE:HON), Johnson Controls (NYSE:JCI), United Technology (NYSE:UTX), Southern Company (NYSE:SO), Siemens (OTCPK:SIEGY) etc. This too gives confidence to shareholders of HASI.
As I am a long-term investor, which means that my investing horizon is a few decades, not a few years, I try to invest in stocks of which I am convinced that they will have a tailwind for years or decades to come. Hannon Armstrong has future written all over it. Not just because it focuses on green energy, which will grow faster than any source of energy in the next decades, but also because it couples ecology and economy. Companies like Honeywell and the others are not working with Hannon Armstrong because they are green, but because they are focused on energy efficiency, which also means money efficiency.
HASI is also probably the safest clean energy stock. I have used the Nasdaq risk assessment tool and Hannon Armstrong is safer than the other two big 'alternative energy' plays Tesla (NASDAQ:TSLA) and First Solar (NASDAQ:FSLR). Other green energy stocks are even much more risky.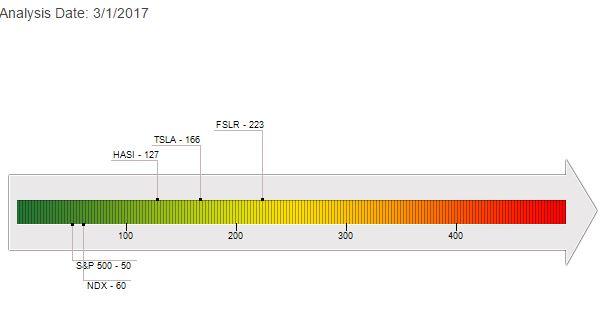 The green is safe, yellow is speculative, red is dangerous. You can see that HASI is the most green of the three.
And with a high, sustainable and growing dividend, which can be used to DRIP and build out the position, HASI is a great long-term holding in that respect too.
All this reasons led me to doubling down on my position in this stock with the recent drop. My cost base is $18.6 now, which means I have a YOC of more than 7%. I will use the dividends to save them for the next dip in the stock.
IF you like articles that have a long-term perspective and/or if you don't want to miss my updates on HASI, feel free to hit the "Follow" button next to my name.
In the meantime: keep growing!
Disclosure: I am/we are long HASI.
I wrote this article myself, and it expresses my own opinions. I am not receiving compensation for it (other than from Seeking Alpha). I have no business relationship with any company whose stock is mentioned in this article.