Prairie Provident Resources (OTC:PRPRF) is the latest name for Lone Pine Resources after the company combined with Arsenal Energy (OTCQX:AEYIF). The surviving company quickly went to work cutting costs and increasing production. The combined company exited the year with 5,550 BOED of production. The average production for the year was 3,680 BOED, so the company has made considerable production progress throughout the year excluding the business combination. Arsenal Energy added less than 1,000 BOED but has some attractive acreage. The new company had a C$55 million line of credit that was virtually unused and immediately went hunting for some deals.
The following quotes from the press release summarize the highlights of the acquistion:
[The company] entered into an agreement to acquire strategic assets in the Greater Red Earth area of northern Alberta (the "Assets") for cash consideration of $41 million, subject to customary adjustments (the "Acquisition"). The Assets include high quality and low decline oil production which is highly complementary to Prairie Provident's existing operations at Evi in the Peace River Arch area of northern Alberta and further enhances the Company's size and competitive position. The Acquisition represents a continuation of Prairie Provident's strategy to maintain a balanced asset base that generates steady cash flows to fund its growth-oriented development in Wheatland and Princess, while maintaining financial flexibility.

The Acquisition reinforces Prairie Provident's growth profile by adding a stable and predictable base cash flow that is capable of funding repeatable growth. Pro forma the Acquisition, Prairie Provident's production will be approximately 6,500 boe/d (64% oil and liquids). A mechanical update was internally prepared by Prairie Provident for the Assets' proved developed producing ("PDP") and total proved plus probable developed producing ("2PDP") reserves using the reserves report prepared by Sproule Associates Limited ("Sproule") as of December 31, 2015, adjusted for production and applying the Company's area operating costs and Sproule's January 1, 2017 forecast price deck, all effective March 1, 2017. Based on this update, the Acquisition is expected to increase Prairie Provident's 2PDP reserves by 3.8 MMboe, or 40%.

The Company's working interest ownership and operatorship in Evi are consolidated through the Acquisition which is also expected to create synergistic opportunities to reduce area operating costs.
The acquisition combined with the expenditures in the previous fiscal year already has increased production (from over 3,500 BOED average) to a projected 6,500 BOED. A few wells in the current capital budget will lead to a 100% production increase. Combine that with some operational improvements and all kinds of positive projections become realistic.
But there is more in that the company anticipates that the acquisition will add C$12 million in cash flow. That is about triple the nine month cash flow from operations of C$4.5 million figure posted by the company. C$2 million of that cash flow from operations arrived in the latest quarter. Though all of the cash flow came from a change in non-working capital accounts in the latest quarter. So this acquisition is sorely needed. Many of the current expenses are cost cutting expenses that will benefit future periods, so the cash flow from operations should increase sharply next year. The new production at higher IRR's will also aid that cash flow growth. The acquisition notice also listed potential savings listed of C$2 BOE immediately available with other possibilities that will be more slowly realized.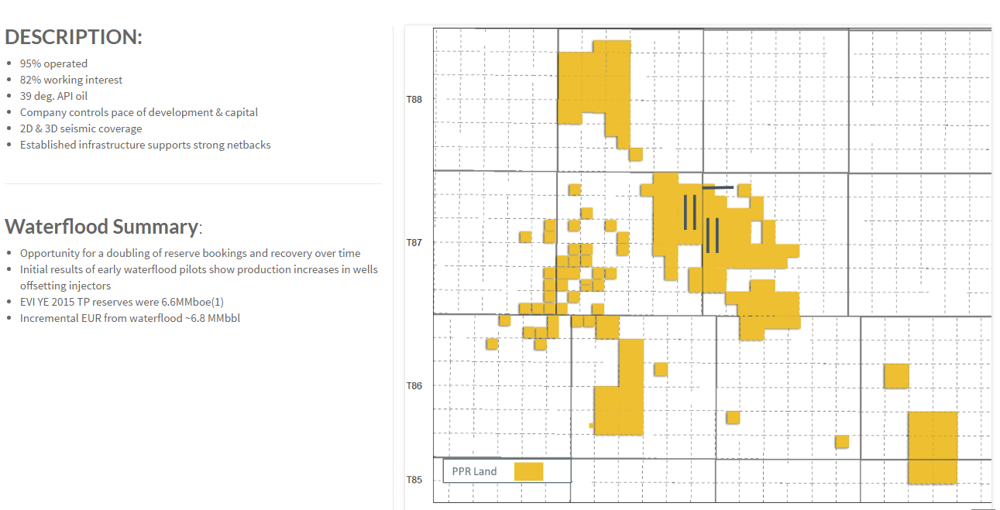 The EVI properties described in the notice are already a core operation. So this acquisition may well be considered "bolt on" enough to offer synergies not yet publicly forecast. The map above shows the company operated leases before the acquisition. The company has not yet posted a picture of the new acquisition leases. The new properties have a C$30 BOE netback which is considerably above the company average. They also aid the company's transition to a higher liquid and more profitable production mix.
The company has high hopes for an emerging water flood strategy that could triple expected commodity recoveries. That would make this deal even better. Many of the management suggestions for cost improvements have been implemented by neighboring operators, so the cost improvements are not that far fetched. Since the company name is unfamiliar, and is the result of a business combination, the market is waiting for reported results to correspond to the projections. A quick perusal of the board of directors and senior managers reveals a lot of industry experience building, selling companies, and raising capital for growing companies. All that will come in very handy beginning now.
(All dollars are Canadian dollars unless otherwise noted.)
This acquisition enhances the company presence in Alberta and allows the company to continue to specialize in the area. These types of acquisitions have a higher than average rate of success. Management is acquiring in an area that it has some expertise. The wells are fairly cheap and the rates of returns appear to be decent. Although management is currently updating its numbers. Several areas are experiencing relatively low decline rates.
The NPV shown above before the acquisition is about triple the current market value. With the latest acquisition expected to increase reserves about 40%, this deal is only going to get better. The company had already decreased the drilling days down to 8.5 from more than 13 days. The corresponding well costs decreased to C$1.65 million. With initial flow rates reported between 100 BOED and more than 200 BOED, the new wells appear very attractive. Mr. Market, however, wants to see actual operated results.
The total purchase price for this acquisition is C$41 million and will be financed with the bank credit line. Management very reasonably expects that the bank will examine the acquisition and offer the company a significantly increased credit line.
The company sold about 10 million shares to raise C$8.5 million in connection with this deal.
Upon closing of the Acquisition and taking into effect the equity financing, Prairie Provident's debt to 12-month forward adjusted EBITDAX ratio is expected to be approximately 1.3 times, and the Company plans to reduce that ratio to approximately 1.0 time in the second half of 2017.
The balance sheet had about C$2 million in debt before the deal. That will rise to at most C$45 million. This is a fairly conservative level for a company with more than 6,000 BOED. That cash raise will help with the working capital deficit of more than C$14 million. The company had raised another C$5 million in December through the sale of about 6 million shares. So the outstanding share count is approaching 115 million. With the closing price on March 1, 2017 at $.50 per share, the market value of the common stock in the United States is about $57 million.
The EBIDAX ratio listed above implies a cash flow rate of about C$35 million. Last year, management undertook a lot of cost cutting measures to benefit future periods. The cash flow projection assumes that those benefits will happen as scheduled. In addition there are some remaining behind pipe production projects and other cheap production increase proposals to be executed. In addition, the company has obviously brought on a lot of hopefully much lower cost production as the fiscal year closed. The effects of that new production will be fully felt in the new fiscal year.
In addition, management is proposing to spend about C$35 million this year as a starting capital budget. That figure is extremely flexible as it depends upon results, market conditions, and potential accretive deals. The management goal to significantly lower costs could result in an upward revision to this number, especially if cash flow exceeds expectations as production has begun to exceed initial forecasts.
Taking into account the exchange rate of roughly C$.75 for US$1 yields an extremely attractive cash flow rate of about $26 million. So this stock is priced a little more than 2 times the projected cash flow for this year. Management has a capital budget of about C$35 million. When combined with the cost improvement projects of last year, this year's expenditures should cause operational cash flows to leap forward.
Summary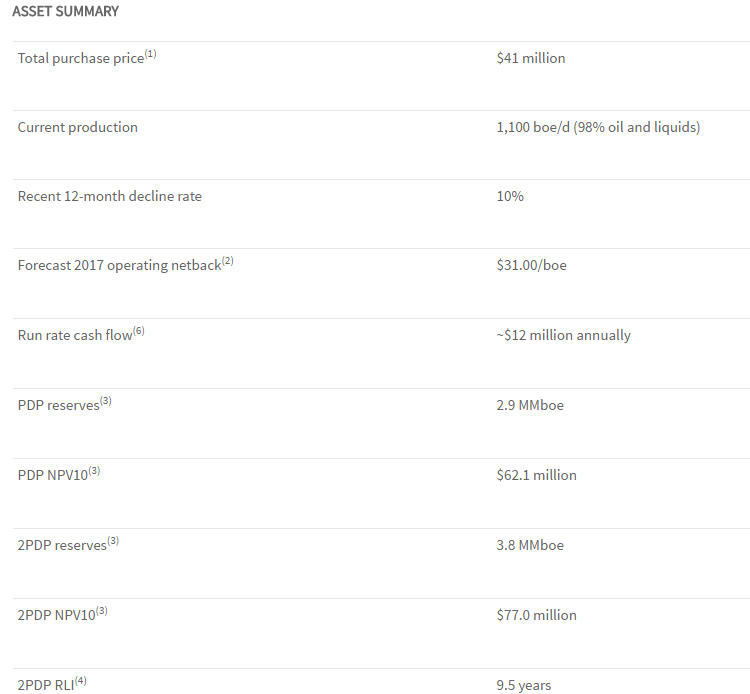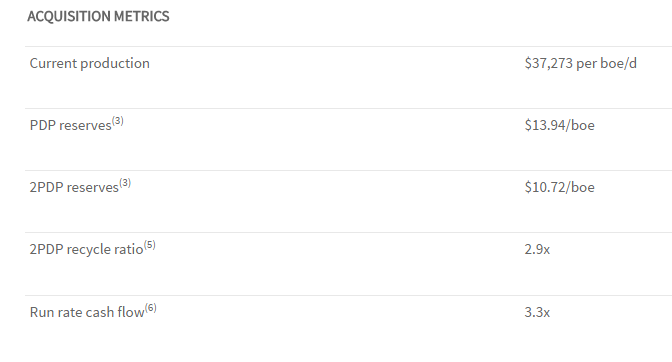 This acquisition has metrics to be a game changer for the company. The company is relatively unknown under its new name, but the company has been around for awhile. Top management and the board has experience growing companies and selling them to others. So this is not the first time senior management and the board has built a company. That adds some safety to the investment. Once projected improvements begin to be reported quarterly, investors can expect this stock to rise accordingly. A regular multiple of 8 times projected cash flow would provide a quadruple from the current price. This may take a little time as the stock is not considered "seasoned" but this management has the experience to make things happen. Investors can expect more accretive deals like this one to add to the already rapid growth rate.
The wild card would be the vast Quebec acreage. The company took a charge on this acreage when Quebec imposed a moratorium. Subject to the usual political uncertainties and fickleness, it now appears that Quebec may allow some drilling activity at currently economic costs. If that is the case, some of the initial charges may be reversed under Canadian accounting rules. This would not be the case in the United States. Plus, the company moved the properties into a non-core status, and may also revisit that decision. A knowledgeable partner involved in a joint venture with these properties could lead to further significant corporate growth.
Disclaimer: I am not an investment advisor and this is not a recommendation to buy or sell a security. Investors are recommended to read all of the company's filings and press releases as well as do their own research to determine if the company fits their own investment objectives and risk portfolios.
Disclosure: I/we have no positions in any stocks mentioned, but may initiate a long position in PRPRF over the next 72 hours.
I wrote this article myself, and it expresses my own opinions. I am not receiving compensation for it (other than from Seeking Alpha). I have no business relationship with any company whose stock is mentioned in this article.
Editor's Note: This article discusses one or more securities that do not trade on a major U.S. exchange. Please be aware of the risks associated with these stocks.