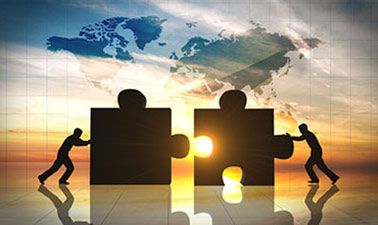 Executive Summary
Gilead (NASDAQ:GILD) has a pipeline that won't see real read-outs for years. Thus, investors are antsy and pushing for M&A. Gilead seems most content with its NASH and HBV internal efforts, but may be interested in inflammation or oncology acquisitions. In inflammation, Gilead has stated it is more interested in late-stage assets that will bring revenue sooner rather than later (maybe it does listen to us antsy investors).
In oncology, Gilead has stated in almost every conference and earnings call for the last year that it is interested in building its franchise with external opportunities. It seems the focus is on finding a best-in-class cornerstone drug that will set Gilead apart as it has in HCV and HIV. So while Wall Street expects a string-of-pearls strategy, can we really see a drug of that stature coming cheap? CEO John Milligan has stated the string-of-pearls strategy often yields only one pearl that makes all the rest worth it, suggesting he prefers selectiveness over a scattershot of acquisitions. Either way, you're in for a ride because Gilead may be one of the few stocks that goes up when it announces an acquisition of any variety.
Overview
Gilead has had its fair share of pipeline disappointments recently. Whether it is momelotinib in myelofibrosis, simtuzumab in NASH, or Zydelig's safety profile, there has been no shortage of bad news. Even CEO John Milligan has admitted to the weakness in the pipeline, mentioning that there are few meaningful launches in the near-term aside from bictegravir for HIV (excluded from this article as I discussed it last week). There are four main areas of focus in the pipeline and M&A for Gilead:
NASH
Hepatitis B (HBV)
Inflammation
Oncology
Of these fields, NASH and Inflammation are doing the best internally. Oncology will need some assistance from external opportunities while HBV efforts are too early stage to meaningfully contribute to the company's valuation. Let's discuss each area individually.
NASH - The Darling Child
Out of the four areas spoken about above, NASH certainly seems to get the most love from investors (albeit not nearly enough to offset HCV discomforts). This is because Gilead has several compounds in development for NASH and has illustrated competency in liver diseases. The chart below illustrates how many people in the US live with NASH: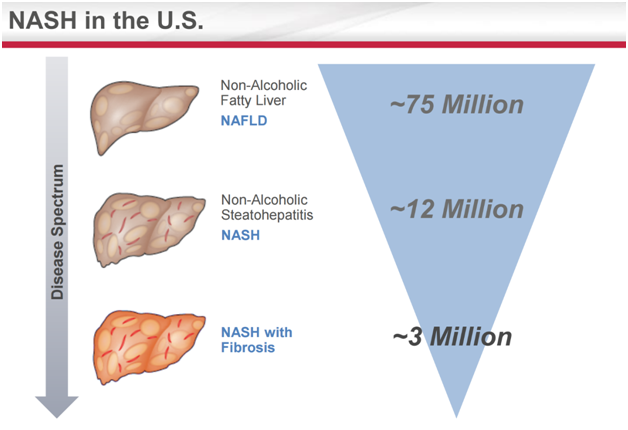 As Dr. Bischofberger has said many times, NASH will become the leading reason for liver transplants over HCV by 2020. It's a serious disease, especially when you consider the danger posed to F4 patients (16% of patients). Gilead has expressed in numerous conferences that it is focused on the population of F3 and F4 patients (25% of patients) given the severity of their condition: F4 patients with NASH have a median survival rate of around five years. Gilead proposes that by focusing on F3 and F4 patients, it will be able to encourage adoption by payers for a marketable drug that helps reverse fibrosis or reduce fibrosis progression for these patients. This brings us to our first major candidate in NASH: Selonsertib, or the ASK-1 inhibitor.
From the ashes of simtuzumab rises selonsertib, an ASK-1 inhibitor that has shown surprisingly strong results in a small Phase 2 trial. The results of this trial were presented at AASLD 2016, and are summarized in the table below: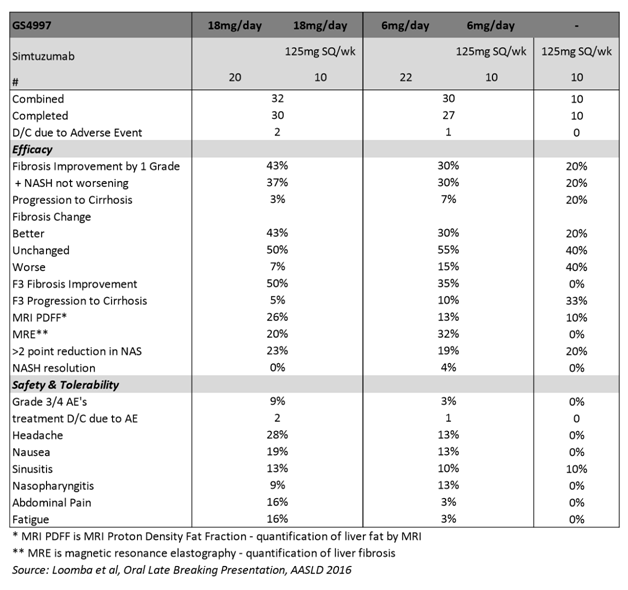 Source: Leerink Partner Equity Research Report
Gilead saw this data and rushed into Phase 3 as soon as possible. There are two main valid criticisms of this move:
There was no true control group

- simtuzumab was used instead

The trial size was small
Gilead found simtuzumab has no meaningful efficacy in NASH, but it didn't want to do another trial with a proper control group for selonsertib. Any delay in NASH drug development is harmful as it is currently a race to market, and hence Gilead chose to use simtuzumab as the control group instead. While simtuzumab may not work as a standalone agent, there is always a chance it works slightly better with selonsertib. The chance of this is low, but it is an important risk to understand.
The other criticism, as is usual with these Phase 2 positive results, is the size of the trial. Only 30 patients were in the highest dosing arm, hardly enough to come to any statistical conclusions. We can, however, see some evidence the drug works well: fibrosis improvement and slowing progression were better in the higher dosage arms than the lower dosage arms. It's rare to see fibrosis improvements in as short a time frame as 24 weeks. We also see MRI lipid deposits improving in a dose dependent fashion as well. On a less positive note, it seems side effects also increased in a dose dependent fashion, suggesting some potential safety profile concerns for the ASK-1 inhibitor as these side effects did not exist in the simtuzumab arm.
Following this data, Gilead has moved into two Phase 3 trials: one in F3 patients and one in F4 patients. While F4 patients weren't tested in the Phase 2 trial, the F3 patients saw greater improvements in fibrosis measures than F2 patients, suggesting the trend may continue for F4 patients. The endpoints will be reversal of fibrosis with no worsening in steatosis or ballooning at 48 weeks, and there will be an interim futility analysis. Ideally, the Phase 2 results will carry through into Phase 3. If this happens, we could see accelerated approval given the unmet need in F4 patients.
Moving on, the other two compounds Gilead has for NASH are its FXR agonist and the ACC inhibitor it acquired last year from Nimbus. These assets are in earlier Phase 2 studies that won't read out until around mid-2017 to early 2018. Briefly on the FXR agonist, Gilead recently released data from a small study in healthy patients which illustrated activity against markers of NASH disease such as FGF19 and serum C4. Essentially, the drug is doing what it is supposed to do. There are some concerns associated with FXR agonists, which is the most explored mechanism in NASH, mainly related to the side effects. Gilead suggests that by being gut restricted, there should be minimal systemic absorption to reduce side effects relative to other FXR agonists.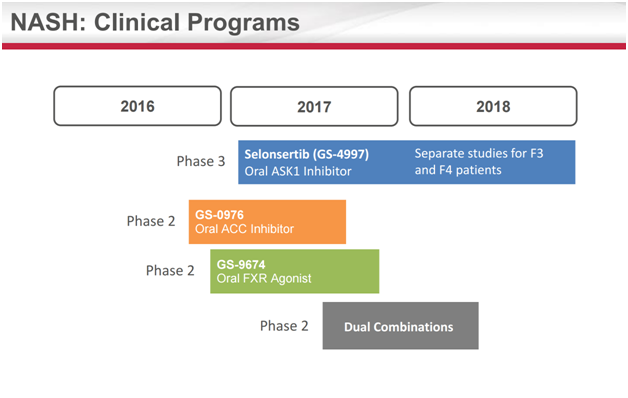 As can be seen above, Gilead intends to test these drugs in combination with one another. In order to do so, there must be some proof of single-agent effectiveness. Once this is illustrated, Gilead will proceed to test all combinations of its drugs to ideally improve fibrosis reductions from 40% with monotherapy to around 60-70%. Credit Suisse mentioned in an equity research report that ASK-1 is in the apoptosis pathway while FXR works via the bile acid/lipid synthesis pathway, suggesting the possibility of successful combination due to these pathways being independent of one another. Combination therapy is where NASH treatment is headed, and Gilead could be well positioned with its myriad of compounds.
Here's the question: Will Gilead engage in further M&A for NASH? Originally, I thought it would. But as I've read through conferences and a variety of other materials, I've found Gilead is rather satisfied with its NASH pipeline. Granted, much of its comments on this topic are prior to the failure of simtuzumab, but Dr. Bischofberger noted he did not have high expectations of simtuzumab anyway. Here's CEO Milligan on the topic of M&A in NASH:
John Milligan

Well Matt, I think NASH is an area where I think we have most of the assets that we need. I wouldn't tell you we'll never do a deal again, but we've got some really interesting data.
This stance has been reasserted in several conferences and therefore, I doubt we'll see any action in NASH. There is a slight chance Gilead may wish to replace simtuzumab, but more likely is that Gilead will wait until further readouts on the FXR agonist and ACC inhibitor prior to making any moves in the field.
Hepatitis B - Too Early
Let's briefly discuss the prevalence of HBV. Around 240 million people are chronically infected with the virus worldwide and an estimated 686,000 people die yearly because of the virus (3,000 in the US). There are vaccines available for HBV which have come a long way towards reducing infections. Most cases of HBV are acute, meaning the body adequately fights off the virus in six months. However, some cases evolve into chronic HBV (more than six months) and are active (evidence of viral replication, ALT elevations or HBsAg positive). Current treatments are designed to reduce viral load, like HIV medications, as discussed in prior articles. However, there is no clinical or functional cure.
GS-9620 is Gilead's TLR-7 agonist for the treatment of HBV. This behaves as an indirect acting treatment that targets toll-like receptors (TLRs), which are basically sensors that tell the body to defend itself. In other words, the drug is designed to "wake up" our immune system for fighting against HBV.
There are eight drugs on the market right now for the treatment of active chronic HBV and they all work in a similar way (nucleoside analogs aside from the injections which are immune modulators). This causes some serious problems. First, there are a limited number of options if a patient is resistant to one treatment. Worse than this, however, is if a patient is resistant to the mechanism these drugs use for fighting HBV. In these cases, treatment experienced patients do not have effective alternative treatments to turn to. For reference, here is a list of drugs currently available: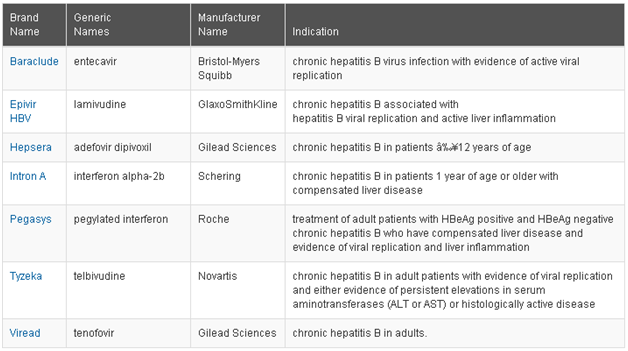 Note: The missing drug is Vemildy, or Tenofovir Alafenamide (TAF), which was approved on November 10th, 2016.
The drugs on the market right now only work in around half of the infected populous. Interferons have many unpleasant side effects that act as a barrier to treatment. Additionally, even in patients where the treatment works, there is a problem the current treatments can't solve: covalently closed circular DNA (cccDNA). Essentially, this DNA from the virus stays in the hepatocytes (liver cells) even in patients with effective therapy and will cause eventual rebound after treatment is stopped.
With a cure being discovered for HCV, the race is on to improve the current treatments available for HBV. This is evidenced in the current R&D focus on the virus: There are over 30 drugs in the pipeline right now for the treatment of HBV. How does Gilead fare against other drugs in development?
The truth is, while there are many drugs in development for treating HBV, the competition isn't fierce. This sounds counter-intuitive, but it is primarily due to the many different mechanisms by which these drugs fight HBV. Some of these are direct acting, meaning they attack the virus's life cycle directly. Other drugs are indirect acting, meaning they target the host (the human who is infected) to get the body to appropriately respond to the virus. Even among direct and indirect acting treatments, there are a variety of drug classes. The reality is that a functional cure will likely be the product of some direct and indirect acting drugs combined, or a combination of different drug classes.
Only Roche (OTCQX:RHHBY) is producing a drug with a similar mechanism to Gilead's GS-9620. Other drug manufacturers are focused on a variety of methods which could be supportive when used in combination with GS-9620. More information on the drug is expected to be released from Phase 2 clinical trial results in Q1'17. It's important to note from AASLD abstracts (Abstract 1851) and earlier clinical trial results (page 11) that there is not much evidence of efficacy at this point in time.
Gilead has stated explicitly at several conferences and on conference calls that the R&D focus is on Hepatitis B. The market potential is large even on a dollar size amount (~$3-4b), and a cure could cause the market size to explode. Don't get your hopes up, however, as Bischofberger has made clear that HBV isn't likely to see a drug as effective as Harvoni. Overall, GS-9620 is not a product projected for large market potential due to its current lackluster results, but it illustrates Gilead's interest in HBV.
However, there is more to Gilead's research in HBV than what is shown in the clinical pipeline. Gilead often talks about the three ways it'll tackle HBV:
Adding another mechanism to existing nucleoside treatments thereby reducing viral replication to zero and hoping that cccDNA slowly disappears
Sometimes chronic HBV spontaneously resolves by an immune mechanism - hence, try and activate the immune system
Going directly after the cccDNA, which is the most difficult method by far
Most of Gilead's research is preclinical, and it's mentioned on a few occasions that everyone who worked on HCV is now working on HBV. Part of me wonders if the reason the relative spend on HBV is so high is because it didn't want to restructure or lay off existing workers as HCV research died down. Either way, while Gilead is highly focused in this area, I would not anticipate any M&A action here any time soon given how far we are from a cure. Additionally, Gilead will want to find differentiated assets it fully understands before pulling the trigger.
Inflammation
In this area, it's almost entirely about filgotinib. Gilead occasionally talks about some of its other compounds, such as the MMP9 antibody (recently discontinued in ulcerative colitis and Crohn's disease), but the focus is on filgotinib. Filgotinib is a highly selective JAK1 inhibitor which Gilead is developing in collaboration with Galapagos (NASDAQ:GLPG). Filgotinib stands out from competitors primarily due to its safety profile. It is strong in hemoglobin and lipid parameters, has lower infection rates, and there is a low risk of drug-drug interactions.
While Gilead has expressed interest in filgotinib for rheumatoid arthritis (RA), it acknowledges the field is highly competitive (if you'd like a primer of RA, check out this article). We know from Xeljanz (another JAK inhibitor that has been approved for RA already) that the potential for changing prescriber habits from Humira and other anti-TNF biologics is rather low. So filgotinib will likely be hanging out in the land of third-line treatment, which is still a sizable market opportunity.
But perhaps the best opportunity for filgotinib will be in the treatment of inflammatory bowel diseases (IBDs), specifically Crohn's disease (CD) and ulcerative colitis (UC). Filgotinib had a pronounced effect for CD in a phase 2 trial which led Gilead to go right into Phase 3 trials for the indication. Filgotinib could be the first and second oral medication approved for CD and UC respectively, along with being potentially the first JAK inhibitor in both indications. Interim analysis for filgotinib in UC should be in H1'18.
Gilead is also considering combining filgotinib with its SYK and BTK inhibitors as well as its MMP9 antibody in a variety of inflammatory conditions. In RA, Gilead seeks to raise ACR70 response with these combination therapies. Filgotinib is a relatively de-risked asset and hence doesn't require success in these combination studies, but an improvement in ACR70 response for RA may make a commercial difference.
Lastly, Gilead is testing filgotinib in a variety of inflammatory conditions through a bunch of Phase 2 trials (10-12). These trials will test in indications such as psoriasis, psoriatic arthritis, ankylosing spondylitis, and lupus. If filgotinib does well in these indications, and some analysts feel it will, then this could lead to upside that is not reflected in the market. But of course, the timeline to approval is years, not months.
Let's ask the M&A question again: Will we see it in inflammation?
Kevin Young

Inflammation, we've got both monotherapy with Filgotinib and we got the potential to combine Filgotinib with I think three other compounds that we have. So that's, I think that's again a good array of options.

John Milligan

So it's a really interesting collection of inflammatory molecules. Would we want others, I think that's your original question. And the answer is we would continue to look for things that could round out this area, especially, I think it bring revenues sooner rather than later.
So… Maybe? Two somewhat contradictory quotes, but it gives us a general sense of direction. It seems Gilead is not prioritizing any acquisitions or collaborations in this space beyond what it has, but it will consider going after later, de-risked assets.
Oncology - The Area Gilead Loves… For Some Reason
Sometimes I wonder if Gilead's fascination with moving into oncology is the fact it is the fastest growing area in terms of market size. It certainly isn't because Gilead has had booming success in the area. That said, the recent hire of Dr. Alessandro Riva as the oncology area head is a huge step in the right direction. During his 12-year tenure at Novartis (NYSE:NVS), Dr. Riva oversaw the development of over 20 cancer compounds and has worked with many important players in the field.
All of Gilead's assets in oncology are relatively early stage (aside from the MMP9 antibody which, despite being phase 3, still has a while to go in gastric cancer). The most exciting early-stage asset is entospletinib in AML, which showed impressive Phase I data at ASH '16. In a small AML trial with a monotherapy run-in, 100% complete remissions (CRs) were observed. The kicker? It's 10 patients: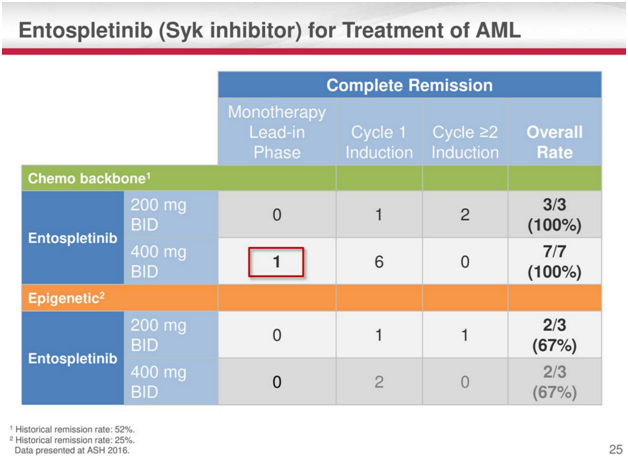 Source: JPMorgan Conference Slides
Even without the fact that it is only 10 patients, I find it a little disappointing that we are highlighting Phase 1 data when it comes to oncology. That said, if this data could be replicated in Phase 2, then we could see a fast regulatory pathway for entospletinib and it could become the standard of care for AML. That's a few too many "coulds" for me though, so I'll be patient and wait for the data readout in Q3'17.
Gilead also has a few different inhibitors targeting different signaling pathways. These inhibitors are: PI3K (idelalisib), SYK (entospletinib), BET (GS-5829), and BTK (GS-4059). It is attempting to find combinations of these by running several small dosing combination studies. Historically, it took PI3 kinase inhibitors and put it together with a SYK inhibitor for patients with CLL and NHL. While it worked well, the additivity of the toxicity was higher than predicted. Hence, Gilead is taking a more calculated approach now in finding appropriate combinations rather than throwing darts. Unfortunately, much of this is too early to tell. Here's a look into the pipeline timelines:

As you can see, the timeline for oncology is slow-paced (seems to be a recurring theme with the pipeline). But perhaps more importantly, Gilead has stated on several occasions that it is missing a cornerstone drug in the area. Here is a compilation of quotes from Gilead related to oncology M&A (feel free to skip - the amount of quotes is for emphasis):
Norbert W. Bischofberger - Goldman Sachs Healthcare Conference 6/8/16

The biggest need I would say or the need where we are looking into is in oncology because I think we have to fully build out the oncology branch as we need a few more development programs or products.

Robin Washington - Jefferies Healthcare Conference 6/10/16

I would say oncology is a key area of focus for us and one where admittedly we don't necessarily have the core compound or backbone that we have in other areas.

Kevin Young - Wells Fargo Healthcare Conference 9/8/16

I think we feel pretty good about NASH… Inflammation, we've got both monotherapy with Filgotinib and we got the potential to combine Filgotinib with I think three other compounds that we have. So that's, I think that's again a good array of options. I think we would add to oncology if we saw the right company or the right assets…

John Milligan - Morgan Stanley Healthcare Conference 9/12/16

And potentially into oncology where we have really interesting early data, but not really the core franchise of products that we want.

John F. Milligan - Q4'15 Earnings Conference Call

In oncology, Zydelig has been a good start for us. We really need to continue to try to ramp up our efforts in this area and to continue to broaden the areas we want to work in. It's pretty clear we have to do additional partnerships or find other avenues to broaden the revenue stream there for the future.

Norbert Bischofberger - Q1'16 Earnings Conference Call

As John said, Zydelig has not only not decreased our appetite, it has increased our appetite to do more in oncology.

John F. Milligan - Q2'16 Earnings Conference Call

I'd just follow up with Norbert's comment by saying, we are committed to oncology. We continue to be interested in assets, collaborations, and partnerships where we could enhance our ability to continue to sell these products.

John F. Milligan - Q3'16 Earnings Conference Call

As you know, we are also focused on augmenting our portfolio with external opportunities, particularly in the field of oncology.
Need Gilead say more? In all seriousness, Gilead is most interested in making an acquisition in oncology. To add to this already long list, Credit Suisse also mentioned that Gilead's R&D head noted that oncology is where the big effort is going. Gilead stated it isn't as interested in platform deals as they are generally disappointing.
Hence, Wall Street expects we'll see a string-of-pearls strategy and collaborations rather than large, transformative deals. Regardless though, the bulk of M&A effort will likely go into oncology this year. With large, transformative deals being less likely, Incyte (NASDAQ:INCY) has declined in its prospects as an acquisition target. Management is also interested in talent acquisition, not just assets, so we'll see how it moves forward. Either way, we can be certain it will likely be in oncology.
If you found this analysis useful, consider throwing me a follow by clicking on the follow button at the top/bottom of the article or on my profile page. This will help you stay notified when I publish new analysis. I look forward to your thoughts in the comments. Thank you for reading.
Disclosure: I am/we are long GILD.
I wrote this article myself, and it expresses my own opinions. I am not receiving compensation for it (other than from Seeking Alpha). I have no business relationship with any company whose stock is mentioned in this article.
Additional disclosure: I'm not a hepatologist, oncologist, or other type of medical professional. The analysis contained within this article is my own opinion supported by many other sources.
Editor's Note: This article discusses one or more securities that do not trade on a major U.S. exchange. Please be aware of the risks associated with these stocks.