DineEquity (NYSE:DIN) has obvious problems. The focal point is Applebee's, a restaurant chain that might ultimately fail. The corporation's other franchise, International House of Pancakes (IHOP), is not doing well either. As a result, the stock has been punished - but it still pays the same dividend so its yield is enticing.
Could the high percentage payment be a sign that it is not sustainable? You might hear broadcast commentary describing a similar 7% payout as a "Red flag." It could apply here.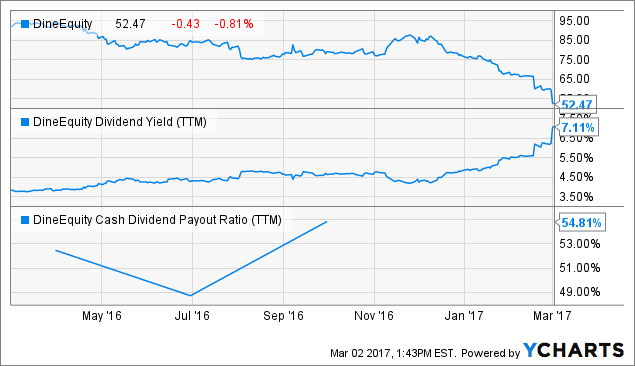 DIN data by YCharts
On the other hand, everyone knows the mantra "Buy low, sell high." Fewer are aware that one of the top stock pickers that publicly-traded markets have ever witnessed, Sir John Templeton, is known for buying when pessimism was at its maximum. Templeton, and his philanthropic foundation, must be inspirational to fellow attorneys, at least any who work on behalf of charity but might be outgunned by low-cost index funds. If nothing else, the DineEquity situation seems to be a high-pessimism one.
The CEO is stepping down, and a director is now serving as the interim replacement. There is a search for an Applebee's president who should assume office prior to a new DineEquity CEO. Per the hyperlinked press release:
While a turnaround of Applebee's will not happen immediately…we have a go forward plan to improve performance, and have worked with the same firm to validate our initiatives and identify additional creative strategies to expeditiously return Applebee's to growth.
While the specifics of online marketing strategy are unknown, there has been new advertising on the internet. It makes sense that an effective campaign could hold the most promise. Evidently the strategy includes television space for IHOP: with TV spots emphasizing quality and a focus on our popular all-you-can-eat pancakes promotion for maximum frequency to drive traffic.
Here are some other reported tactics intended to support IHOP:
300 remodeled restaurants under the Rise and Shine remodel program, with the goal of completing another 300 remodels this year.
On National Pancake Day, together with our franchisees, raised a record $4 million to support the Children's Miracle Network, Leukemia and Lymphoma Society, and the Shriners.
A meals-to-go program, which includes proprietary packaging technology and online ordering.
While improvement at IHOP is sorely needed, Applebee's is the worry. It makes sense that quick serve restaurants, such as Chipotle Mexican Grill (NYSE:CMG) or Panera Bread (NASDAQ:PNRA), are drawing away customers throughout casual dining. Consequently, the initiative to offer inexpensive wood-grilled steaks has not been sufficiently popular and differentiating. The franchise's new identity is as an "affordable destination with a very strong position in both the happy hour and late night." So, it sounds like prospects are there.
How bad is it at Applebee's? Comparable sales were down 7.2% in Q4, 46 stores closed last year, and another 50 are projected to close in 2017. There is a question on the conference call about franchisee leases that are guaranteed by DineEquity; but it does not sound like an imminent concern.
Guidance is for a 0 to 3% comp at IHOP and -4% to -8% at Applebee's.
Management reports DineEquity's adjusted free cash flow of approximately $123 million in 2016. Guidance is to "a range of approximately $96 million to $106 million." The dividend, at $0.97 / quarter, might continue to be covered, and, at the least, has been declared for stockholders as of the close on March 15th. Diluted shares outstanding are reported to be 17.9 million, if you add compensation for a new president and also a CEO, then about $18 million per quarter, or $72 million a year, should cover it.
Here is a relevant statement recorded in the conference call transcript:
The benefit of our nearly 100% franchised model is that DineEquity's free cash flow variability is well insulated against changes in same-restaurant sales growth. At the midpoint of our guidance range, we still expect to generate approximately $101 million in free cash flow. Finally, our dividend. Our cumulative dividend of approximately $67 million paid in 2016 can continue to be supported with our current and guided free cash flow.
Consequently, if there is future information that franchisees are giving up, the stock could experience pressure. Until then, with the dividend still being paid, problems could be priced in. Cutting the dividend should done only when other alternatives fail, and there is still time to work through the issues while paying it.
My own trade, which might have been rashly conservative, during yesterday's 12% fall, is to buy 100 shares, sell an April $50 call option and buy an April $45 put (March options might work better, but the stock could be called away if it bounces higher). The total cost after commission is under $50 per share, making it hard to lose. The trade is Theta-positive, meaning it gains as the options' time value elapses. The maximum loss would be nearly $500, but that does not include a $97 dividend, any residual value of the put option, or the possibility that the stock can recover.
DineEquity has problems and the market has assigned a pessimistic perspective. On the other hand, it could be that Applebee's franchisees ultimately need to pursue other opportunities and then the corporation would be responsible for some leasing obligations. In the near term, the next dividend is declared, and shareholders may continue to be paid indefinitely. The stock can find support, while derivatives can be traded as insurance in the event that it occurs at under $50 per share.
Disclosure: I am/we are long DIN.
I wrote this article myself, and it expresses my own opinions. I am not receiving compensation for it (other than from Seeking Alpha). I have no business relationship with any company whose stock is mentioned in this article.
Additional disclosure: My position is as described above