Wheeler REIT (NASDAQ:WHLR) has been a disaster since IPO. Initial investors have seen their dividend cut in half, their capital value crash and now their monthly dividends converted to quarterly. Anyone who bought early and is still clinging on has a stronger stomach and more patience than I do.
The most recent earnings report was huge for long-term holdersand those who bought the crash hoping to profit on a large rebound. Among the major announcements, WHLR is finally covering their dividend - at least in theory, on the pro forma. WHLR will perform a 1 for 8 reverse split and WHLR will convert their monthly dividends to quarterly.
There is certainly a lot for investors to absorb, and that makes it very hard to predict how investors will react. In the short term, WHLR seems to have had a modest 5.9% bump and appears to be sticking there.
In the interest of full disclosure, I have been in and out of WHLR many times the last several months, buying in the $1.60s and selling in the $1.70s while collecting the occasional dividend. Since closing out my position at $1.78, I have only observed.
The Dividend Is Covered (Maybe)
Since the pro forma was released a month early, it was not really news that the run rate would be high enough to cover the dividend, if just barely. For a company that has never covered their dividend, it is certainly a step in the right direction.
However, before investors get too secure in their double-digit yield, it must be remembered that pro forma calculations do not always translate into real world results. The pro forma calculations are based on the assumption that all of 2016's acquisitions occurred on January 1st, 2016 and that all of their tenants paid rent as expected, with nothing going wrong the entire year.
In the real world, things go wrong. Tenants default, vacancy rates go higher than predicted, unexpected capital expenses crop up and interest rates are higher than expected. With WHLR's pro forma just barely covering the dividend, even small issues can make the difference between covering the dividend and having to borrow more.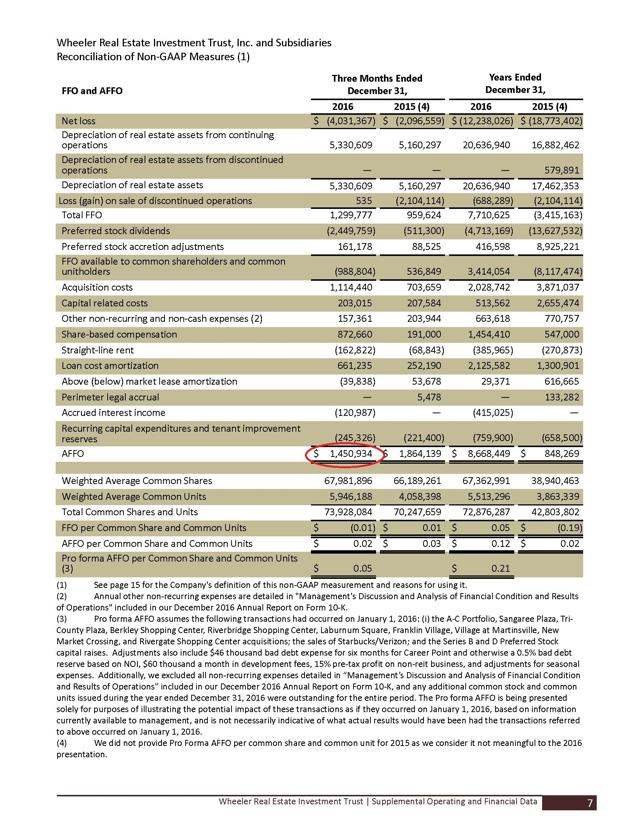 (WHLR Fourth Quarter Supplemental page 7)
Pro forma statements should always be taken with a grain of salt. The reality is that in the fourth quarter, WHLR had AFFO of $1.45 million and paid $3.88 million in dividends. The pro forma may be an indication of light at the end of the tunnel, but a lot will need to go right in 2017 if the dividend is going to be covered.
Limited Growth
One way WHLR could help make sure the dividend is covered in 2017 despite headwinds such as rising LIBOR rates or any unexpected tenant issues, is by purchasing more property. Any accretive acquisitions would provide a safety cushion for anything that goes wrong.
Unfortunately, that option does not appear to be available for WHLR. During their acquisition spree in 2016, WHLR increase their debt YoY from $184 million to $315 million. Additionally, they issued a significant amount of preferred stock. With yields north of 9%, that is a rather expensive means of financing.
The result is that WHLR is already highly leveraged and adding more is inviting disaster. In response to a question from Larry Raiman about 2017 acquisitions, Jon Wheeler said,
"Last year was about maximizing shareholder value through to capital raise and the acquisitions that we did. We've exhausted that capital; we have a stabilized portfolio with upside potential to releasing and operations. Our focus this year is on maximizing shareholders value throughout the operations of our portfolio. Hopefully, we're lowering our cost of capital via that same method. As Dave said, we continue to see attractive, product out there, but are focus this year is on the current portfolio and the current associates that we have."
Clearly the indication is that there will not be any significant acquisitions in 2017. Growth will have to come through the current portfolio. There are some opportunities, though it is far from easy, let alone a sure thing.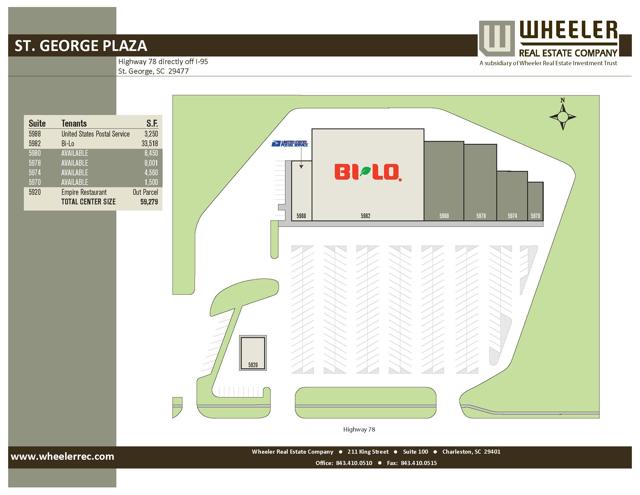 (With 22,500+ vacant square feet, St. George Plaza one example of an opportunity for internal growth. Source: whlr.us)
With an occupancy rate of 94%, there is room for leasing up. WHLR also has 112 leases expiring in 2017 that add up to slightly over 9% of their base rent.
This presents both a risk and an opportunity for WHLR. It will be critical for WHLR to renew those leases at higher rents. In the conference call, management indicated they expect a retention rate around 90%.
Reverse!
In an effort to increase stock price to a level that is more appealing to institutions, WHLR is performing a reverse split. While reverse splits often get a negative connotation since the move is often made in desperation by penny stocks attempting to remain listed, I do not consider it to necessarily be a bad thing.
Clearly, WHLR was not in immediate danger of delisting. Attracting more institutional ownership could provide some much needed stability. The dream is that institutional demand will result in a healthier share price.
As I discussed above, WHLR is highly leveraged, and with their tight balance sheet does not have a lot of great options to fund future acquisitions. As long as the dividend yield is in the double digits, issuing common stock would be suicide.
Yet, for the foreseeable future, any acquisitions will need to be paid for, at least in part, by further preferred or common stock issuances. Reducing the number of shares available while increasing demand, may have a positive effect on share price.
There is no doubt in my mind that a secondary offering will be made when management believes the share price has increased enough to make acquisitions accretive. Having fewer shares at a higher price point makes that easier, especially if WHLR has attracted institutions to buy up the offering.
If the timing is right, it could provide a path for growth and deleveraging. For current investors, the big question that needs to be evaluated is whether management can be trusted to judge when a secondary will be accretive and avoid the temptation to pull the trigger too early.
Goodbye Monthly
Retail investors love monthly dividends. Getting paid sooner is always better than getting paid later. Not only is it psychologically pleasing to see the dividends add up in your account more frequently, but it also allows investors to put the money to work more quickly and enjoy the magic of compounding. No doubt, many retail investors are disappointed at the conversion to quarterly dividends.
From a financial aspect, I think this move is extremely overdue. With a balance sheet as tight as WHLR's and a dividend that was not covered, paying monthly dividends was foolish. The flexibility that quarterly payments offers WHLR is far more important than the appeal to retail investors.
The loss of the monthly dividend may slightly reduce retail demand, but the improvements to cash flow management outweighs any negatives. Long term investors should not let this change impact their overall view of the company.
Conclusion
WHLR continues to offer a tempting double-digit yield. This yield is much safer than it has been the last few years, however investors should not put too much faith in the pro forma numbers. The reality is that WHLR's growth options are severely limited in the near term.
With only 65 developed properties, an issue with one of them can have a material impact on the company. Macro factors such as rising interest rates and struggling retailers will also pressure the company.
With convertible preferreds and the likelihood of secondary offerings if the share price increases, upside for the common stock is limited. WHLR common remains a speculative stock for aggressive investors.
It is becoming more likely that WHLR is going to survive, but being able to maintain the common dividend is still in doubt. WHLRD is a great option for investors who want exposure to upside, but protection should WHLR ultimately fail to cover the common dividend.
Richard Lejeune has covered WHLR's preferred shares extensively, and I would refer anyone interested in them to read his work.
Sources: WHLR SEC Filings
Disclosure: I/we have no positions in any stocks mentioned, and no plans to initiate any positions within the next 72 hours.
I wrote this article myself, and it expresses my own opinions. I am not receiving compensation for it (other than from Seeking Alpha). I have no business relationship with any company whose stock is mentioned in this article.