Welcome to the latest issue of the PRO Weekly Digest in which we publish highlights from our PRO coverage. Comment below or email us at pro-editors at seekingalpha.com to let us know what you think. Find past editions here. PRO subscribers can access interviews by following the SA Interviews account and view past interviews under the same account.
Click here to read the interview with John Huber.
PRO idea playing out
Grana y Montero (NYSE:GRAM-OLD) dropped ~70% through the end of last month since Sebastian Grimberg called it an asymmetric short in July 2016, as retail investors looking for exposure to Peru's growing economy ignored the numerous accounting/financial red flags and high leverage. Last month, the stock dropped >50% over two days due to a growing graft scandal involving its partner Odebrecht. In an update earlier this month, Sebastian said to cover following the significant drop and advised against trying to catch the falling knife.
Call from the archive - DDC
Dominion Diamond (NYSE:DDC) is down ~5% since Robert Bezede shared his bullish thesis in October 2016 with the weakness most likely due to the CEO announcing his resignation for family reasons and the strengthening USD. However, the positive long-term growth story appears intact as diamond prices have recovered due to improved U.S. demand and lower production from De Beers and Alrosa, DDC's fiscal 2018 mine plan for Ekati (the primary cash flow driver) calls for a 20-35% increase in carat production, the impact of demonetization on the Indian retail market should lessen in 2H17 and the corporate office relocation (which resulted in the CEO stepping down) is expected to generate 19M CAD in savings. If the 20% pullback over the past two weeks is extended, it may attract the interest of Rio Tinto (NYSE:RIO), which is expanding its diamond business and may attempt to buy the 40% of the Diavik mine from DDC it does not already own. With 75%+ upside, the recent pullback may provide an attractive entry point.
Noteworthy PRO articles
In addition to the top idea we published this week, we wanted to highlight a few of our PRO editors' favorite PRO ideas this week:
SA Editor Jeffrey Fischer, CFA: As investors dump shares of GNC Holdings (NYSE:GNC), FitLife Brands (OTCPK:FTLF) shares have fallen in concert. Lares Capital argues that the smaller company is likely stronger, and that current investor pessimism is worse than it should be.
SA Editor John Leonard, CFA: Ivan K. Wu highlights Linamar (OTCPK:LIMAF), an auto parts supplier trading at a distressed multiple as irrational fears over peak auto, turmoil in Europe and a border tax overshadow the trend towards outsourcing, market share expansion, strong FCF and an "owner/operator" management with interests wholly aligned with shareholders. For further coverage on Linamar, see Heartland Advisors' article.
Idea screen of the week
Each week, we use the PRO Idea Filter to find potential ideas based on a recent news event. PRO Editor Jeffrey Fischer, CFA, takes a look at possible Infrastructure plays following Trump's address to Congress.
President Trump's address to Congress was generally well received. Could this increase support for his policy initiatives, including a possible $1 trillion infrastructure fund? To evaluate possible opportunities that would benefit from a significant boost in infrastructure spending, I ran the following Idea Filter. I screened for "Heavy Construction," "Cement," "General Building Materials," "Industrial Equipment and Components," and "Metal Fabrication" long ideas across all market caps from the past six months. I left the "PRO only" quality filter on.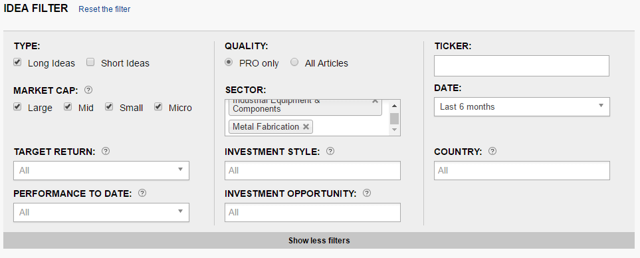 2 ideas turned up that might be of interest (prices as of March 2 close):
Monarch Cement (OTCPK:MCEM) by Safety In Value: Published on February 9, 2017, market cap of $178M, author's price target offers ~20% upside. This is a dividend-paying OTC stock in the micro-cap space that may offer opportunity from undercoverage. Shares of MCEM are actually slightly lower since publication, but are higher by 15%+ since the U.S. Election. Monarch has a strategically located large plant in Kansas, sells to 6 States, and is part of a duopoly in the regional market. With high fixed costs, the company might benefit significantly from operating leverage from new roadway and general construction spending.
Great Lakes Dredge & Dock (NASDAQ:GLDD) provides dredging and construction services (market cap $277M), and was recently highlighted in a Top Idea article by GS Analytics on January 12, 2017 with a projected upside of ~70%. Shares are approximately flat since publication of that article, and the stock has languished for several years. GS Analytics has envisioned a turnaround in the company's Environmental and Infrastructure division. Activist Investors have also taken a seat at the table.
About the PRO Weekly Digest
PRO members automatically receive the Weekly Digest and other PRO content in their inbox. If you are not a PRO member and would like to be notified of this, click follow at the top of this article to follow the SA PRO Editors account, or click to subscribe to the free newsletter below to receive these in your inbox. You can view all past PRO Weekly Digests here. And if you're interested in SA PRO, check out the details here to sign up or learn more.
Disclosure: I/we have no positions in any stocks mentioned, and no plans to initiate any positions within the next 72 hours. I wrote this article myself, and it expresses my own opinions. I am not receiving compensation for it (other than from Seeking Alpha). I have no business relationship with any company whose stock is mentioned in this article.
Additional disclosure: Check with individual articles or authors mentioned for their positions.