The EIA reported a storage injection of 7 Bcf, bringing the total storage number to 2.363 Tcf. This compares to the -67 Bcf draw last year and the -132 Bcf draw for the five-year average.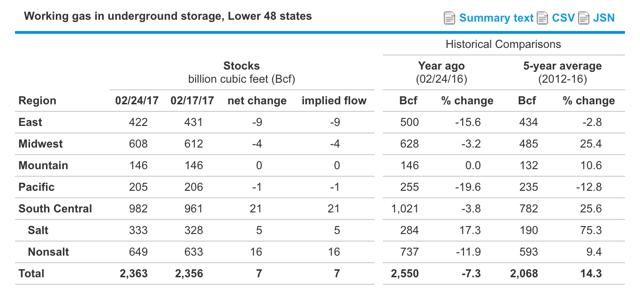 Source: EIA
Going into this report, a Reuters survey of 24 traders and analysts pegged the average at -4 Bcf, with a range between -22 Bcf and +12 Bcf. We expected zero Bcf and were higher than the consensus. We were off by 7 Bcf on this storage report.

A combination of higher wind power generation, a federal holiday that reduced demand, and extremely bearish heating demand resulted in a historic EIA natural gas (NYSEARCA:UNG) report where it showed a week over week injection versus the normal seasonal draw.
The initial reaction to this report was a sell-off in natural gas prices, but prices soon recovered most of its losses and ended the day on a positive note. We had said going into this storage report that the bearish implications of the report were likely priced in. Consensus estimates weren't exactly sure whether EIA would report a draw or injection as indicated by the wide range in the Reuters survey. Most traders are starting to focus on the daily natural gas fundamentals, which have been trending quite bullish. US natural gas production is down, while structural demands improve.
Our view on natural gas continues to be bullish with our time horizon set for the next 12-18 months. Natural gas E&Ps are selling off today on the bearish price action in crude oil (NYSEARCA:USO) which has brought down the whole energy complex, and we look to find what we think will be the best set of US natural gas companies in our premium weekly this weekend.
Be sure to read our natural gas storage estimate for next week tomorrow!
If you want to read more in-depth natural gas research, you should consider signing up for HFI Research premium. For more info on premium, you can read this.
Disclosure: I/we have no positions in any stocks mentioned, and no plans to initiate any positions within the next 72 hours. I wrote this article myself, and it expresses my own opinions. I am not receiving compensation for it (other than from Seeking Alpha). I have no business relationship with any company whose stock is mentioned in this article.