Recently, the famed investor Warren Buffett was on CNBC with Becky Quick and was asked about his thoughts about the valuation of the stock market. Warren knows that he has the power to move markets and, as such, answered very cleverly when he stated:
"Measured against interest rates, stocks actually are on the cheap side compared to historic valuations. But the risk always is, is that interest rates go up a lot, and that brings stocks down. But I would say this, if the ten-year stays at 230, and they would stay there for ten years, you would regret very much not having bought stocks now."
Now that the greatest investor of our time states that stocks are cheap, it's time to put in those buy orders, right? Not so fast, we need to think about the context of what he actually said: IF interest rates stay this low, stocks are cheap. Let's take a peek at the historical 10-year Treasury yields: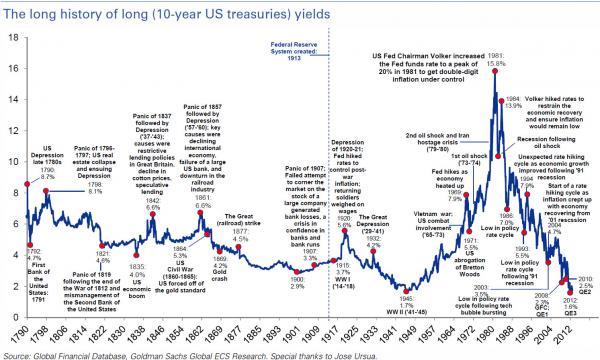 This chart shows us that the 10-year Treasury bond is at or near all-time lows (currently sitting at 2.49% as I write this). The only other time it was near these levels was in 1945 during WWII. I'm not smart enough to know whether rates will rise in the short or medium term, but being a betting man, I would wager that over the long term, 10-year Treasury rates will meander towards its long-term average, which YCharts lists at 6.31%, and from the above chart appears to be certainly above 4%. Treasury yields rising would obviously have an inverse impact upon the stock market.
Given the current P/E multiple of the stock market (26.77), implying a 3.73% earnings yield, the value of the stock market could obviously take a beating if federally guaranteed bonds start to trend to historical yields. But with all the artificial demand, it may take a long time to get back to Treasury yields to get back to "normal."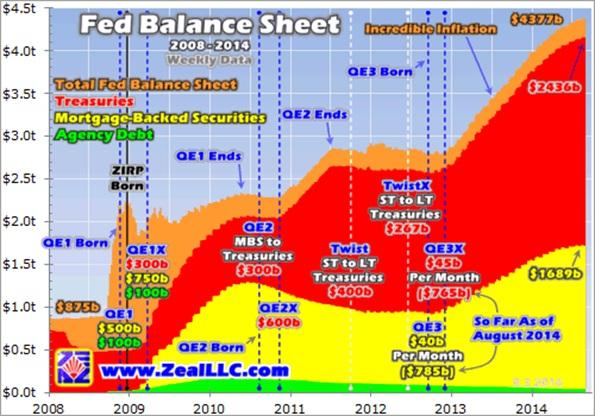 So, given all this information, what's an investor to do? I would be extremely cautious about any stock or bond purchases. My opinion is that stock market valuation is being distorted by factors outside investors' control. The main culprit is the Federal Reserve which has a balance sheet that has gone from $1 trillion in assets to $4 trillion in the matter of a few years.
Now again, I have no clue what will happen in the future, but I have trouble believing that interest rates can go lower. I also have trouble believing that Warren Buffett believes interest rates will stay this low considering he also stated in his recent CNBC interview that:
"It absolutely baffles me who buys a 30-year bond. I just don't understand it. And they sell a lot of them so clearly, there's somebody out there buying them... But the idea of committing your money, you know, at roughly 3 percent for 30 years."
So if Warren Buffett, arguably the greatest investor of all time, comments that the stock market is undervalued (if rates stay low), but he also believes its baffling to buy a 30-year bond yielding 3%, why would anybody believe the stock market is undervalued just because he stated it is IF interest rates stay at this level. Each of us should use our own intellect and figure out what the greatest investor ever is trying to say.
Yes, the stock market is overvalued unless you believe bond yields can stay this low forever due to government intervention.
Yes, Warren's own favorite method of valuing the stock market, Market Cap to GDP, is currently sitting at 132%, which shows an overvalued market (GuruFocus).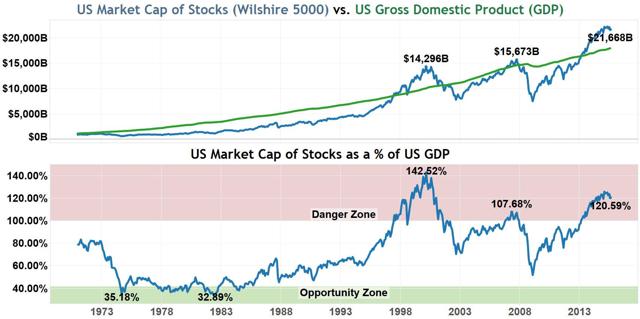 So all this brings us to what an investor today can do. I would do what Warren Buffett does, which is hold extra cash and wait for a better opportunity (see below chart). Or if you are younger, feel free to take his other advice and buy low-cost index funds that mimic the results of the S&P 500 and add funds at regular intervals.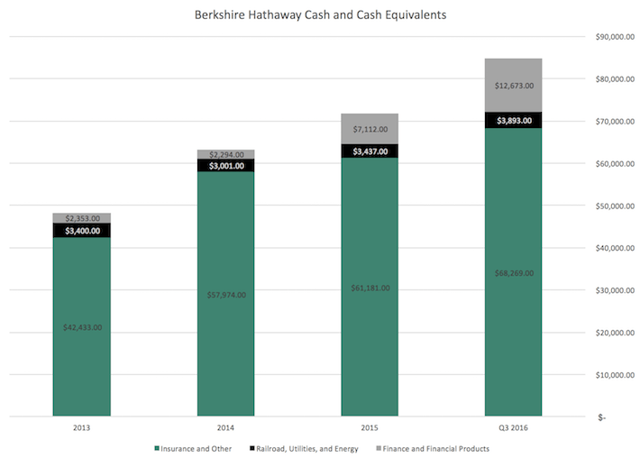 Disclosure: I/we have no positions in any stocks mentioned, and no plans to initiate any positions within the next 72 hours.
I wrote this article myself, and it expresses my own opinions. I am not receiving compensation for it (other than from Seeking Alpha). I have no business relationship with any company whose stock is mentioned in this article.