The BDC sector is lagging the big financial institutions' rally and still has not felt any Trump effect. I don't know if the sector will continue to underperform, but in this article I will try to find the best and easiest way for us to participate in a possible BDC rally.
BDC sector "alpha"
I call business development companies (BDCs) "the better banks," not because they outperform banks but because they have by definition more credit risk in their portfolios, compared to less leverage risk by regulation. They have to do a better job than banks in finding misvalued debt. And indeed if a BDC company constantly manages to generate "alpha" by taking risks that the general public overvalues, its long-term return on assets should outperform the heavily diversified bank credit portfolios (which are more likely to produce average returns) both in total return and in real risk-adjusted return. Another important feature of the sector is that these companies do not retain capital and distribute what they earn. This makes them preferable to the income-seeking investors, but this comes at a price. BDCs are more sensitive to economic shocks and the only way for them to raise capital is by constantly diluting.
The BDC sector by the numbers
This is the best database I know about BDC companies. The sector market capitalization is 7 times smaller than Bank of America (NYSE:BAC) alone with less than USD 40 bln. The assets number is not far greater due to the average leverage of just around 40%. More than 50% of the BDC assets are shared in the top 10 companies, and the top 3 companies represent about 1/3 of the sector. This is definitely a place to seek alpha, especially in a rising rate environment. 71% is the average part of variable debt in the BDC sector assets. On top of that, the market is crazy about Trump, and now we all believe that business will be great and credit ratings will improve for the whole economy, with the financial sector being among the best expected performers. This is supposed to put the whole sector in a better position.
How to get exposure to the BDC sector
You can either invest in a self-built portfolio, buy an ETF such as UBS AG Exchange Traded Access Securities (E TRACS) Linked to the Wells Fargo Business Development Company Index (NYSEARCA:BDCS) due April 26, 2041, or take your chance with the volatile First Trust Specialty Finance and Financial Opportunities Fund (NYSE:FGB). This article will try to present the appropriate premium/discount levels to buy FGB in comparison with its alternative ETF BDCS.
Portfolio comparison of BDCS and FGB
In simple words, the two funds invest primarily in BDC companies, but FGB also has some REITs in its portfolio:

Source: Morningstar and Fidelity
FGB is slightly more diversified and has 32 holdings with 63% concentration in top 10, while BDCS has 24 holdings with 70% in its top 10 holdings. FGB uses around 20% leverage to boost its performance and has an expense ratio of 1.5% while BDCS has an expense ratio of 0.85% and uses no leverage. FGB is a closed-end fund and the price is very likely to have a higher deviation around its NAV, while BDCS is expected to trade with very low deviation in relation to its NAV. This means that in most of my further calculations I will use BDCS and its NAV as substitutes while I will separate FGB and its NAV.
Returns comparison
We have to determine which is the better performer so we can value the funds properly. In this picture you can see the annualized returns for the two funds and how FGB NAV compares to BDCS returns for the last 5 years: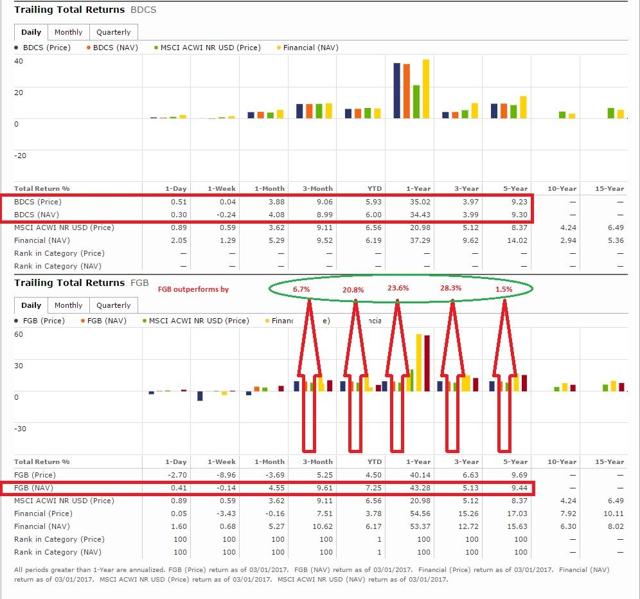 FGB NAV is a constant outperformer for the last 5 years and in the last 3 years seems to be the better alternative. I was very interested if this behavior for the last 3 years was due to the CEF leverage. If this extra return is generated by taking more risk, FGB should not be considered as an outperformer, so I made my personal calculations and added 20% leverage to BDCS at the same rate FGB borrows. This is how the 4 alternatives (FGB, FGB NAV, BDCS, 20% leveraged BDCS) look like in terms of cumulative returns for a 3-year period ending on 2/17/2017 (this is when I started preparing my short thesis on FGB):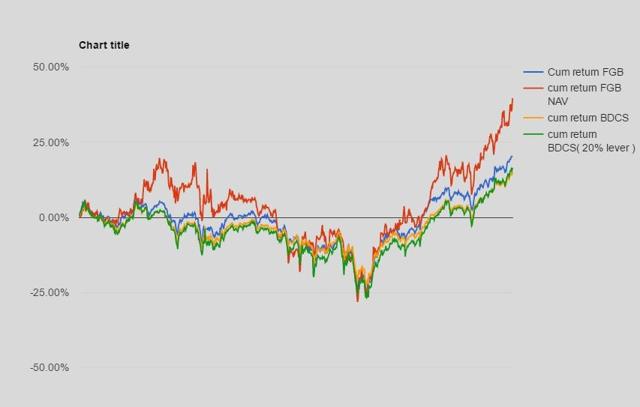 You can see how the blue line is slightly above BDCS. This small spread seen in the chart is actually 20%. This is a very serious number. Remember the red chart which represents FGB itself so you later have an idea of what is your best case scenario. This fund just loves to deviate to the upside. For the fundamental model we will use FGB NAV and a 20% leveraged BDCS: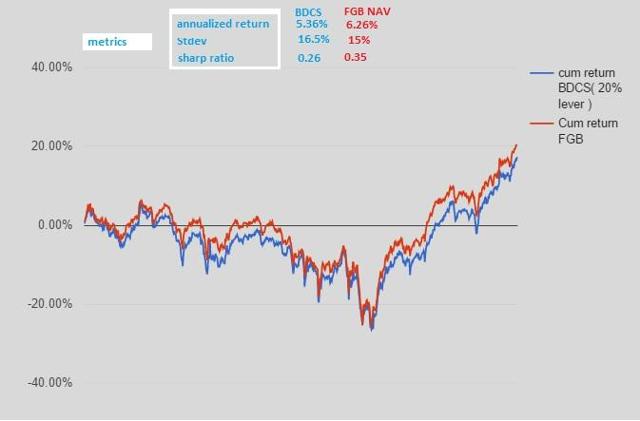 For some reason FGB NAV outperforms on all metrics. Remember that it is more diversified but still manages to generate higher returns. The only problem with this is that it has no certain predictive value. Any way the market has simplistic thinking, so we can simply conclude that FGB NAV is an outperformer.
Statistical check
The fact that BDCS and FGB NAV are correlated is out of the question. Even if the co-integration tests don't pass, I still find their deviations to mean revert and am ready to pair trade them on any significant short-term deviation. FGB's price is what we can trade, and fortunately it is the one that gives us the opportunities to buy at appropriate levels and to sell when the fund becomes overvalued. In the following picture you will see how the results of FGB and BDCS deviate to each other for the last 1000 days. The dollar value used in the example is such that the cumulative results of the two funds have the least deviation to each other.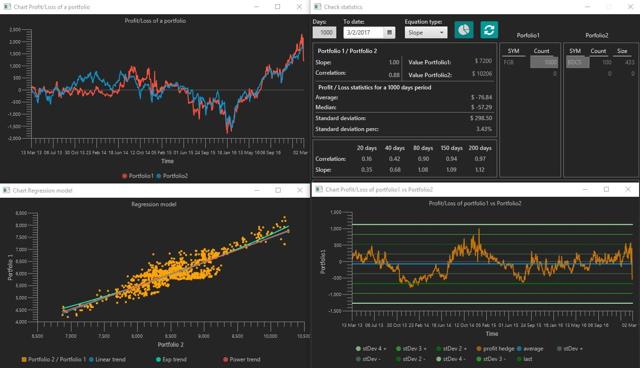 Source: author's software
In the last year the pair is mean reverting and has given a lot of successful pair trades. The statistical model is not that strong but we have a very strong fundamental model that adds extra certainty to pair traders. Not so long ago FGB was overvalued and was trading at a double-digit premium: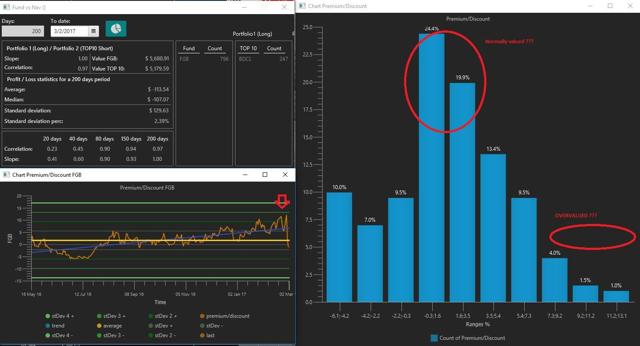 It went from 12% premium to -2% discount in 3 days after it paid its distribution. The short opportunity is now gone, but this volatility has to give us some entry point and some money making opportunities on the long side as well. Based on FGB behavior relative to its premium discount, I can conclude that it is just normally valued at -2% discount and has just mean reverted. Keep in mind that 7 cents price move in FGB while BDCL is flat is 1% change in premium/discount. This means that another 30 cents deviation will bring FGB to the "buy zone" even statistically.
Fair value of premium/discount for FGB
Statistically FGB is not a bargain at current price, but the fact that it constantly outperforms BDCS in the last 3 years might mean that it deserves a higher relative valuation. If you remember the returns comparison, FGB NAV was outperforming by more than 20% while having lower standard deviation compared to the 20% leveraged BDCS. If this behavior is expected to be constant in the future, FGB may have already entered the bargain zone. I use a simplistic approach of comparing the future cash flows of BDCS and FGB. The two main variables that determine the premium/discount level are expected return on assets and how much you expect FGB to outperform BDCS. If you expect FGB NAV to constantly outperform BDCS by 22% in the future and an 8% rate of return for the BDC sector, taking into consideration the current expense ratios and giving them equal financing costs you can expect these cash flows:

In this scenario based on arbitrage theory, you will be ready to pay up to 21% premium for owning FGB in comparison to BDCS. That is correct 21% premium. But let's not be so harsh on the ETF. On the next chart you can see what the premium discount has to be on the same logic, but with random future returns in the range (6-8%) and a fund outperformance of (10-15%):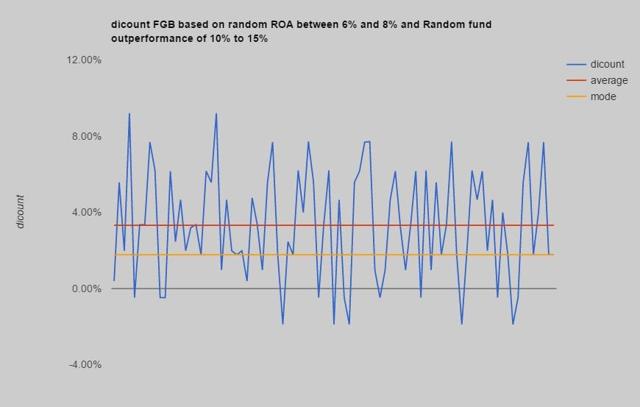 This calculation takes the 2 parameters that are most significant for determining the premium/discount level and randomizes them. If these predictions turn out to be correct, FGB is expected to deviate around the 4% premium level. It is very hard to predict the future of these 2 parameters, but at least you know what your prediction is. The higher the expected return on assets and the higher the expected outperformance of FGB, the higher the premium you are ready to pay for the closed-end fund. With the current rally in the financial sector, which the BDC sector is lagging, one can assume higher returns are most probable, which is an extra positive for FGB.
Any reader is welcome to share his expectation for return on assets in the sector and how much you expect FGB to outperform, and I will reply with the fair premium/discount level based on the model.
Why I bought FGB and will continue to buy it
In my trading, the most important concept is to have a hedging reaction and to have a small arbitrage opportunity. FGB presents such a case and it has one very special feature. If you remember the third picture in the article and the behavior of FGB's price you have noticed that for some reason this fund tends to have periods when it significantly deviates from its NAV. Even though there might be absolutely no fundamental logic behind this, statistically this happens. If this happens again in the future, I will be able to gain on irrationality, which is just splendid.
My trading plan based on premium discount levels:
Whenever we have the same relative ratios between FGB and BDCS as they are now:
I would start buying FGB every time it crosses the 0% discount level and will be buying more of it while the discount widens. At 4% premium is where I would start covering my position and by 8% premium I would have covered it all. At 15% premium I would start shorting the fund. At any moment of time I may implement a pair trade with BDCS to boost my returns.
Conclusion
If you are bullish on the BDC sector and consider to build a portfolio, take a look at FGB. The portfolio has already been built and it outperforms its most closely related ETF. At its current valuation of almost 2% discount, the fund has to significantly outperform its ETF competition if the managers continue to generate the "alpha" seen in the last 3 years. If you are interested in pair trading, you can try to construct one by going long FGB and shorting BDCS.
Disclosure: I am/we are long FGB.
I wrote this article myself, and it expresses my own opinions. I am not receiving compensation for it (other than from Seeking Alpha). I have no business relationship with any company whose stock is mentioned in this article.
Additional disclosure: I am short BDCL