Remember that article Warren Buffett wrote for Fortune magazine in 2003 titled, "America's Growing Trade Deficit Is Selling The Nation Out From Under Us. Here's A Way To Fix The Problem - And We Need To Do It Now."
It was the story about two side-by-side islands of equal size, Thriftville and Squanderville.
It's the kind of story you never forget because every year, we are reminded that we live on Squanderville, the island that consumes more than it produces, mainly via our trade imbalance.
Here is a YouTube video of Warren Buffett talking about that article that's worth watching:
In the video, Warren Buffett says:
If you own a lot of property, you can trade it off for the things you eat and consume everyday, and you can do that for a long time. But eventually, you run out of property and you have to work a whole lot harder to provide your own needs but also to pay back for the debt you've incurred."

Trade has been good for us, but what has not been good is the imbalance between imports and exports. The rest of the world is buying more and more of our goods all the time, but at an even greater rate, we're buying more and more of theirs, that's not good."

More trade overall is good as long as it's true trade. If it's pseudo trade, where we're buying but not selling, I do not think that's good over time."
Note To America: We Live In Squanderville
Here is a chart of the balance of trade on goods. This is where we are most getting killed on trade, the "goods" side of trade.

If we look at the chart of Balance on Current Account (below), which includes both goods and services, the degree of our trade deficit is not as bad.
An example of services is higher education. The Chinese are sending far more of their kids to our universities than we are sending to theirs. We're doing much better on the services side of international trade.
The problem is we're still getting killed on trade overall.

For another perspective, here is a chart of our trade balance as a percent of our GDP:

The ultimate effect of having become Squanderville is that foreigners have more of our money to buy goods and services. They are using those dollars to buy our assets.
This is shown in what's known as Net International Investment Position or NIIP.
As of the end of the 3rd quarter in 2016, our NIIP stood at -$7,781 billion.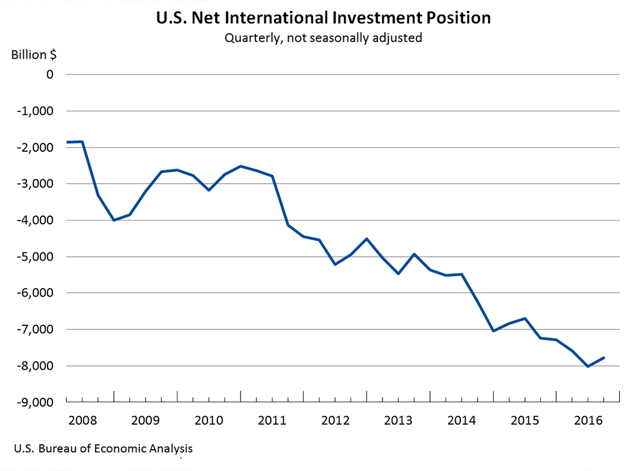 Here is a longer term chart of our net international investment position from wikipedia: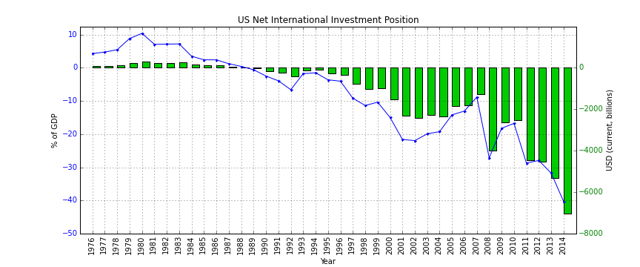 Heeding The Warnings
Buffett was smart to say, with regards to being a wealthy country, you can trade away your wealth for the things you eat and consume for a very long time. After all, it was 14 years ago that he wrote his article with his own warnings.
In the article story of Thriftville and Squanderville, he writes:
Over time Thriftville accumulates an enormous amount of these bonds, which at their core represent claim checks on the future output of Squanderville. A few pundits in Squanderville smell trouble coming. They foresee that for the Squanders both to eat and to pay off--or simply service--the debt they're piling up will eventually require them to work more than eight hours a day. But the residents of Squanderville are in no mood to listen to such doomsaying.
The end consequence of Squanderville in Buffett's story was as follows:
At that point, the Squanders are forced to deal with an ugly equation: They must now not only return to working eight hours a day in order to eat--they have nothing left to trade--but must also work additional hours to service their debt and pay Thriftville rent on the land so imprudently sold. In effect, Squanderville has been colonized by purchase rather than conquest.
Trump Administration To Address
Trump campaigned hard on our trade deficits, blaming bad trade deals from NAFTA to our dealings with China as some of the reasons.
Our trade imbalance with China alone in 2016 was -$347 billion.
Trump has touted "fair trade" versus what we have now. Buffett referred to it in his video as pseudo trade or fake trade as instead of us giving our foreign trading partners our goods or services, we're giving them IOUs instead.
Both Buffett and Trump are in full agreement: We need to address our trade imbalance and steer us off Squanderville Island.
Whatever the policy is to help fix our trade deficits, from border taxes to simply making America more business-friendly, it's going to be a painful process. Goods will cost more and we're going to have to work more, but it's what we need to do to get us back to being Thriftville again.
Legendary football coach Vince Lombardi had it right when he said, "The only place success comes before work is in the dictionary."
Renewed Confidence
The ultimate result of putting America back on the right track in terms of our global trade balance and boosting our domestic manufacturing base is a renewal in the confidence in the US economy.
Renewed confidence should help the following:
- Strong Dollar
- Keep our government debt rating high and interest rates low
- Encourage domestic spending and investment
- Those of us that are aware of this deficit will start to sleep better at night knowing we are finally addressing it.
Perhaps all this renewed confidence is also helping to contribute to the stock market's exuberance.
Disclosure: I/we have no positions in any stocks mentioned, and no plans to initiate any positions within the next 72 hours. I wrote this article myself, and it expresses my own opinions. I am not receiving compensation for it (other than from Seeking Alpha). I have no business relationship with any company whose stock is mentioned in this article.