The U.S. Household and Government Credit Markets - Trends, Characteristics & Outlook
The USA, with a GDP of $18.56 BLN in 2016, is by far the world's largest economy. At the same time, it is also a large debtor, with combined private and public sector liabilities totaling $47.0 TLN at the end of the third quarter of 2016, of which household debt was $14.6 TLN, non-financial business debt was $13.4 TLN and total government debt was $19.0 TLN.
Because of the magnitude of US debt balances, studying their trends is of fundamental importance to understand the performance of the US economy and by consequence its global implications. The following is an analysis of the composition, trends, trajectory and outlook of the American credit market. The subdivision is made according to 2 main macro-categories, namely 1) private households 2) the U.S. government.
The U.S. Household Sector Debt
In December 2016, U.S. consumer debt rose 4.5% Y-O-Y to $3.76 TLN. Of this, $2.767 TLN was revolving loans (i.e. credit card debt), which rose 5.1%. Total American private household debt increased in Q4 2016 driven by increases in credit card debt, auto loans, student loans and mortgage originations. The figure as of December 31, 2016, stood at $12.58 TLN, a $226 BLN (1.8%) increase over Q3 2016. For the entire year 2016, total household debt rose by $460 BLN, the fastest annual increase since 2006: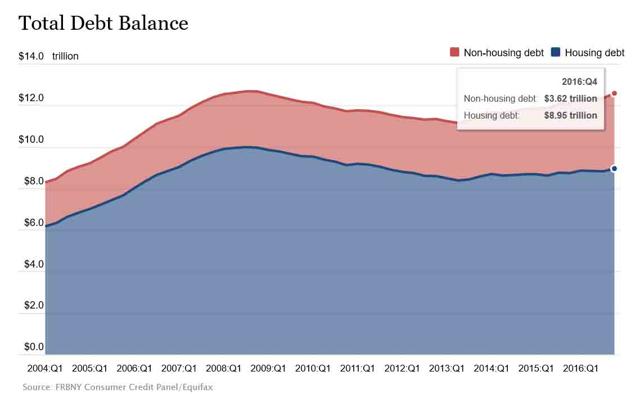 From a post-financial crisis nadir reached in Q2 2013, total household debt has since risen by 12.8% and is now $99 BLN away from its all-time peak of $12.7 TLN set in Q3 2008. If a similar Q-O-Q gain to that of Q4 2016 is registered in Q1 2017, the record will be surpassed. Debt balances increased across all categories, led by a 4.3% increase in total credit card debt, a 2.4% increase in student loans, 1.9% increase in automotive loans and a 1.6% increase in mortgage debt. Household debt can be separated into different components which more precisely indicate where the bulk of the growth is occurring:
Automotive Loans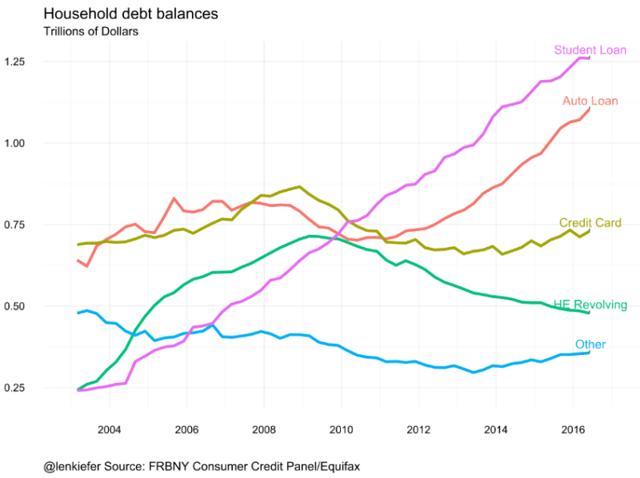 Automotive debt has continued to grow buoyantly in 2016. Originations reaching an all-time high figure of $142 BLN in Q4, with the balance reaching also an all-time high of $1.11 TLN: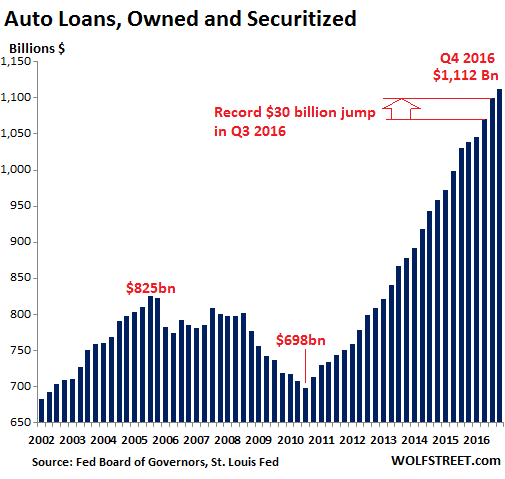 Auto loan balances grew by $93 BLN in 2016 and $22 BLN only in Q4. The average debt of auto loan debtors has now reached an all-time high of $18,400: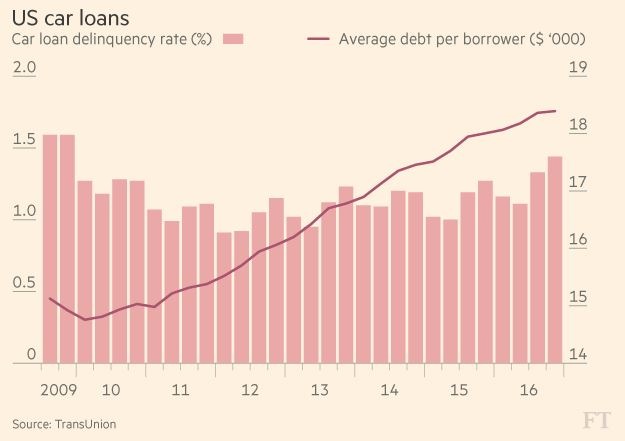 At the end of 2016, the auto default rate was 1.03% - down from 1.04% in 2015. However, auto loan delinquencies perked up to the highest level in 4 years at 3.8% in Q4 2016: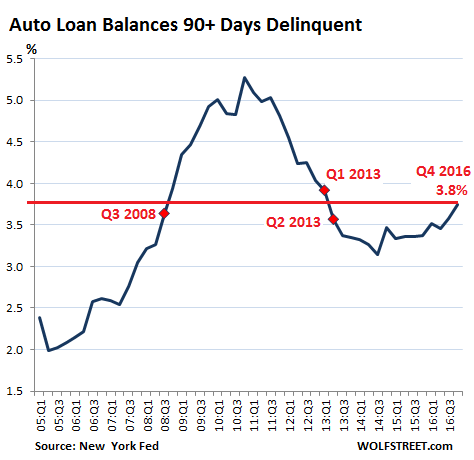 The delinquency rate of the automotive subprime loan segment has also increased, in the case of General Motor loans almost trebling from a February 2012 low of 0.6% to a 7-year high of 2.7%: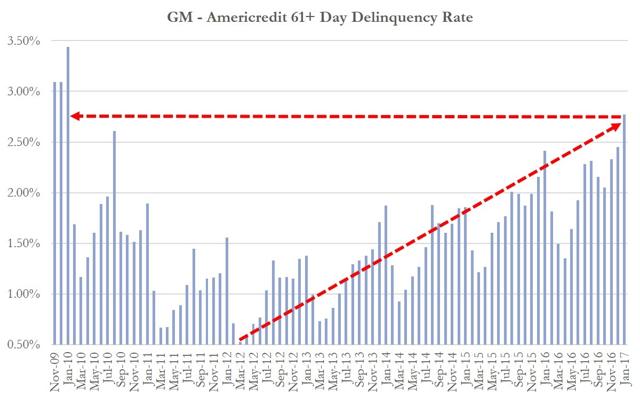 Auto loans delinquent by 30 days or more grew to $23.3 BLN, the most since the $23.5 BLN figure of Q3 2008.
Student Loans
Outstanding student loan balances stood at $1.4 TLN as of December 31, 2016, an all-time high:
Total student debt at the end of Q4 2016 was up $31 BLN Q-O-Q. A total of 11.2% of aggregate student loan debt was 90+ days delinquent or in default in Q4 2016, on a par with the levels seen since early 2013 (red line), but still significantly higher than the 6% levels of 2003-2005: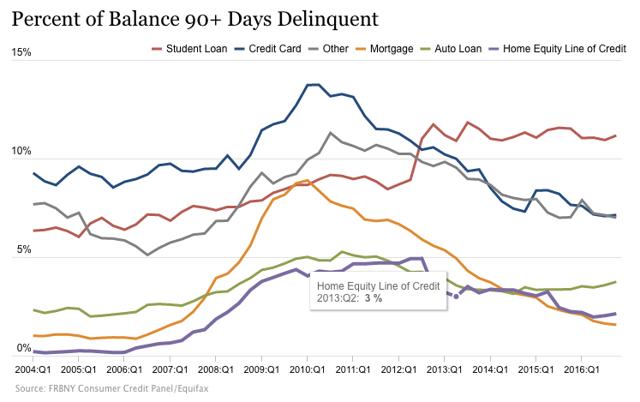 Student debt has shown the highest percentage increase than any category since early 2009, double from $700 BLN during that period. The average student graduating in 2016 has $37,172 in student loan debt, with a total of 44.2 MLN borrowers nationwide owing student debt.
Credit Card, Personal Loans & Other Revolving Debt
In December 2016 revolving consumer debt totaled $992.4 BLN, an increase of 13.5% Y-O-Y. Of this $779 BLN was constituted by credit card debt, which rose $32 BLN during the quarter. The overall figure is now nearing the all-time peak of $1.028 TLN in July 2008: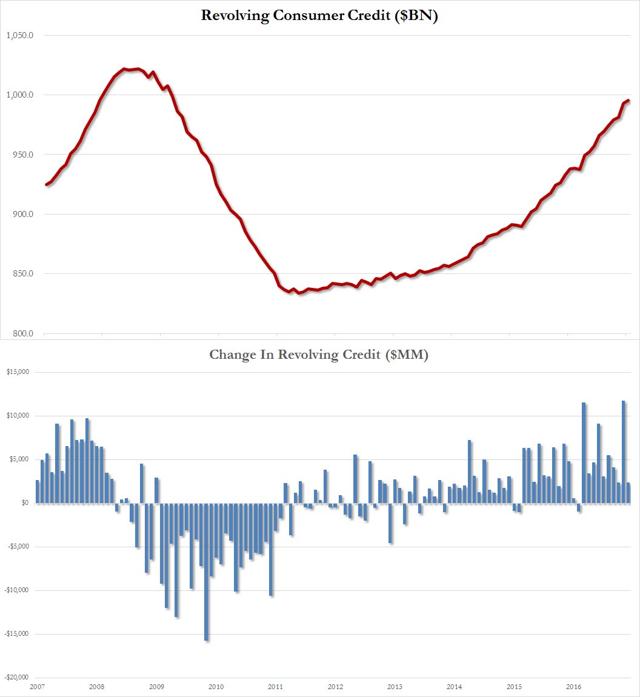 Thirty-day credit card delinquencies have slightly edged upward in 2016:

At the same time, 90+ credit card delinquency rates were unchanged at 7.1% Q-O-Q. The average American cardholder now has $5,323 in debt, compared to a high of $6,276 in mid-2008. Banks are eager to continue to increase lending, with the cumulative credit card limit increasing for the 16th consecutive quarter, up 2.3% Q-O-Q in Q4 2016. Personal loans reached a new record by the end of 2016 at $102 BLN, up $14 BLN (up 15.9% Y-O-Y) and exceeding the $100 BLN threshold for the first time. The personal loan delinquency rate was 3.83% in Q4 2016, the highest Q4 reading since Q4 2013 and up from 3.62% in Q4 2015. Originations in Q3 2016 declined 5.7% from 3.75 MLN in Q3 2015 to 3.54 MLN.
Mortgage Loans
The mortgage market has seen the most significant percentage gains in 2016 than any other category. This is on the back of strong growth in originations (newly issued mortgages), which has reached $617 BLN in Q4 2016, the highest level since Q3 2007: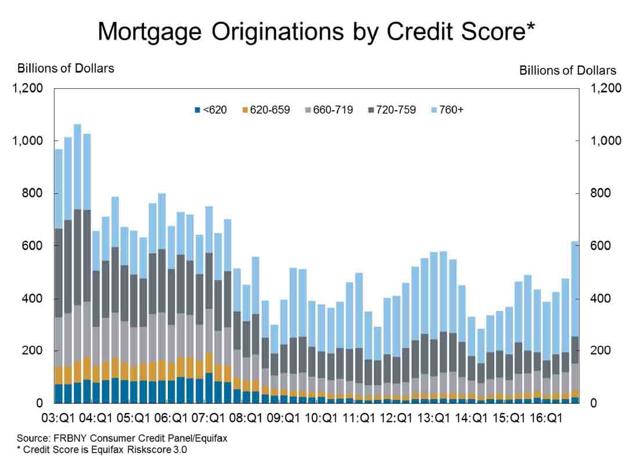 The quality of mortgage borrowers, determined by credit scores, unlike in 2005-2007 has, however, remained steady since the financial crisis:
Approximately 58% of new mortgages were issued to borrowers with the top credit ratings (above 760) in 2016, compared to a figure of 54% in 2015. While mortgages and home equity still make up an absolute majority of total household debt, the share has declined from its 79% peak in 2008 to 71% currently: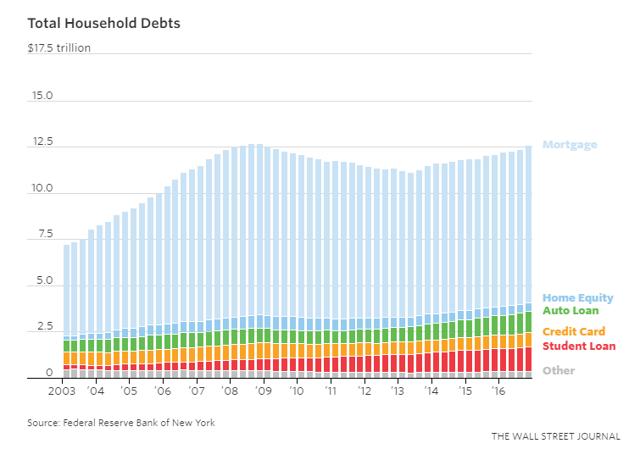 Households have reduced their mortgage liabilities by $1.5 TLN between 2008 and 2013 through debt repayment and defaults, while other personal debts categories have risen. The increase in quality of borrowers is reflected in overall delinquency rates, with only 1.6% of mortgage balances 90 or more days delinquent at the end of Q4 2016: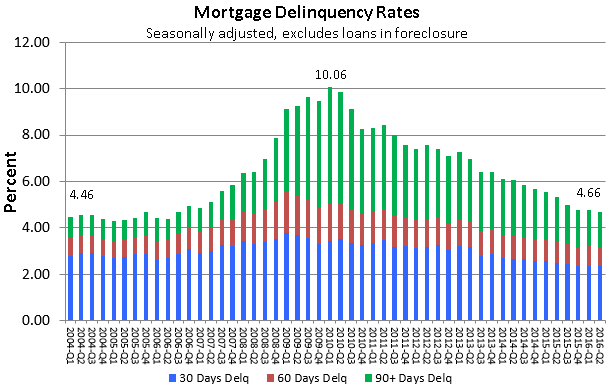 Foreclosures have similarly fallen below the 1 MLN unit annual level in 2016, down from almost 3 MLN in 2010: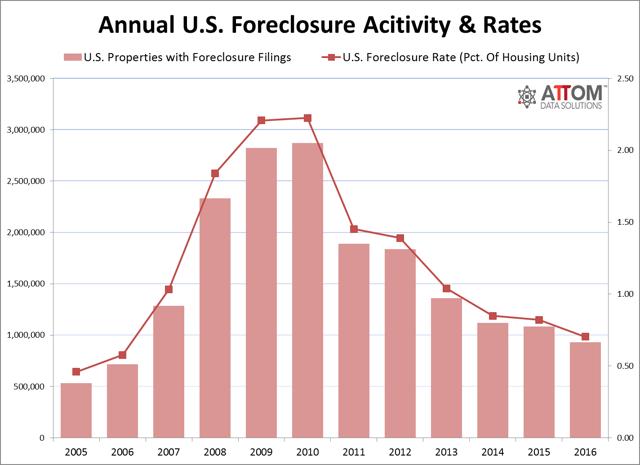 The U.S. Government Sector Debt
The year 2008 marked a temporary turning point in the USA's consumer credit markets, whose growth stalled and temporarily receded from its prior peaks. The U.S. government instead continued to increase its liabilities, compensating for the deleveraging of the private sector. US government debt reached a record $19.95 TLN at the end of January 2017, up from $18.12 TLN in January 2016 (a 10% gain Y-O-Y):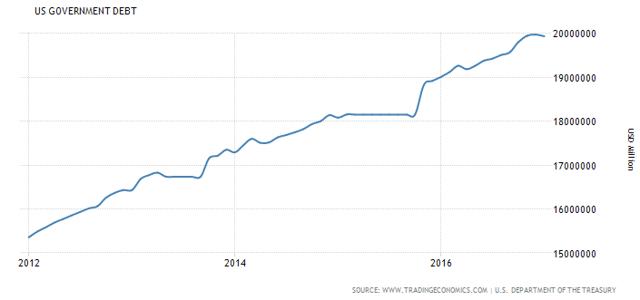 The debt has therefore almost doubled since the beginning of the first Obama presidency in January 2009, when it stood at $10.6 TLN. Debt growth has outstripped GDP growth since, moving the debt-GDP ratio from 76% in 2008 to 104.2%, a 60-year high: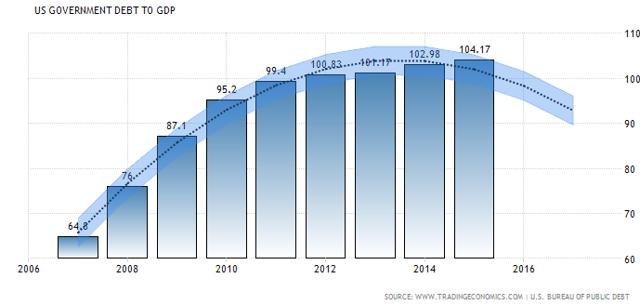 With the Federal Reserve pursuing a low-interest rate policy post-2008, debt repayments as a percentage of GDP have however remained close to levels last seen in the mid-1970s, at 1.2%.
Debt repayments as a percentage of the Federal Budget outlays also remain close to 40-year lows.
Interest repayments were $215 BLN in 2016, down from $223 BLN in 2015 and constituting 6% of the federal budget.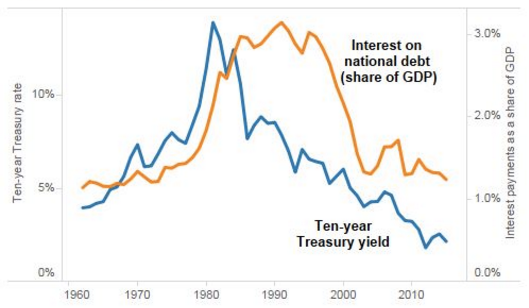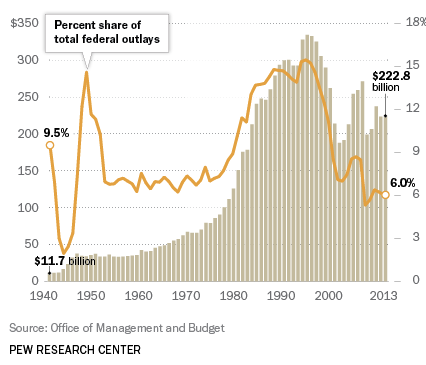 This is a similar figure to the 2008 interest repayments of $255.7 BLN. However, in 2008 this represented a larger 8% of federal outlays, due to a combination of higher interest rates at the time and a budget smaller than today's ($3.02 TLN vs. $3.54 TLN).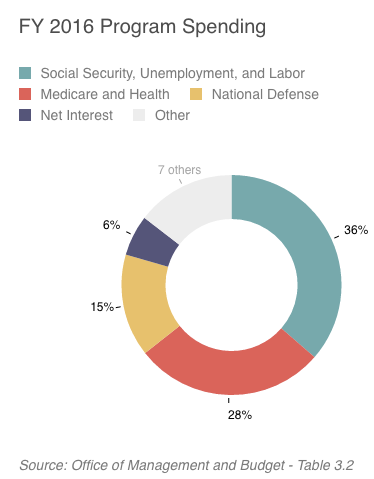 Commentary, Outlook and Trends
The main take from the data is that:
The government sector continues to add liabilities at a faster rate to GDP growth, while taking advantage of a favourable low interest-rate environment.
The government has taken the slack from the household and corporate sector, adding almost $10 TLN in liabilities to its balance sheet over 9 years.
Forecasts by the Congressional Budget Office see interest repayments as a percentage of GDP doubling by 2026 as interests normalize upwards (10-year treasuries are predicted to yield 3.5% by 2023, compared to 2.43% presently), with total debt increasing to $25 TLN.
Household debt is increasing but the burden seems to be sustainable. While at its peak in 2008 total household debt represented 85% of GDP, today the figure is 67%.
Data support the thesis, as 200,000 consumers had a bankruptcy added to their credit report in Q4 2016, a 4% drop from Q4 2015. Taking US consumer debt as a whole, just 4.8% of loan balances were in delinquency in Q4 2016, the lowest level in more than a decade and down from a high of 11.9% in 2009.
Mortgage debt remains orientated to more creditworthy borrowers, limiting delinquencies and foreclosures for the time being.
Student loans and automotive loans continue to grow robustly, but debtors are showing signs of distress. Especially of concern is the increment in delinquencies in the subprime segment of the automotive market, marking a deterioration in the quality of borrowing.
Credit card debt, while not growing as dynamically, is also exhibiting initial signs of distress.
The major risk factors that could impact these trends in 2017 and beyond are:
A more restrictive Fed Monetary Policy and rising interest rates. Analysts are on average expecting 2.5 rate hikes in 2017, moving rates up to 1.25-1.5% from the current 0.5-0.75% level. With automotive and credit cards already showing deterioration in repayments, this trend could accelerate.
If the estimated $6 TLN infrastructure spending plans of the Trump administration materialize, the spending would boost interest repayments by $2.5 TLN over the 2016-2026 period. Without these plans, the Congressional Budget Office still foresees debt repayments to almost quadruple by 2026, from $223 BLN to $850 BLN, bringing total interest repayment to $5.8 BLN for 2016-2026.
A slackening of economic growth and weak employment figures. Despite a very robust non-farm payrolls number for January 2017 (227,000 vs. 165,000 expected), the US unemployment rate rose to 4.8% in January 2017 from 4.7% in December 2016. For the 18-34 age cohort, the rise was from 4.7% to 4.9%. Furthermore, average hourly earnings edged up only 0.1% in January, below expectations of 0.3%, and the December figure of 0.4% was revised downwards to 0.2%. If wages and employment remain soft, consumers will be facing mounting problems in servicing their debts.
Disclosure: I/we have no positions in any stocks mentioned, and no plans to initiate any positions within the next 72 hours.
I wrote this article myself, and it expresses my own opinions. I am not receiving compensation for it (other than from Seeking Alpha). I have no business relationship with any company whose stock is mentioned in this article.
Additional disclosure: The use of this article is for educational and informational purposes only. NOT investment advice.
None of the material presented in this article should be construed as investment advice (neither direct, explicit, or implied). It is strongly suggested and recommend that you do your own due diligence and/or consult a qualified financial advisor for any investment advice based on your situation.