Snap (NYSE:SNAP) had a very good first day on Wall Street, opening to the public 40% higher than its IPO price. While there has been lots of excitement surrounding this IPO, we believe Snap draws eerie similarities to prior IPOs which popped and then dropped. We think investors should stay away from SNAP.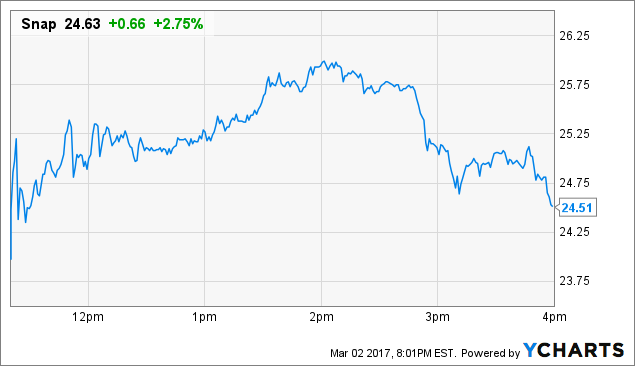 SNAP Price data by YCharts
There are many reasons to avoid Snap here, but we have identified two which are most important:
Early trading suggests Snap is shaping up to follow in the footsteps of recent major IPOs, which were characterized by "pump-and-dump" trajectories. It doesn't help that Snap has strong similarities with several of these companies.
Snap features unattractive fundamentals, including unimpressive recent growth trends, a bleak growth trajectory, and an ultra-rich valuation.
The market is currently valuing Snap at $28 billion. That is about 26x this year's revenue estimate. We do not think the company has enough of a realizable growth opportunity ahead of it to warrant that type of valuation. We think Snap is worth around $12 billion, implying significant downside from current levels.
Too Much Hype?
Snap had a fairly successful first day on Wall Street. Shares popped more than 40% to $24 and change from a $17 IPO price. That isn't great by historical standards. As seen in the chart below, a 40% price to open gain is far off from being a top-10 gain since 2012. It is, however, still very good and indicative that there was a good amount of excitement for the IPO.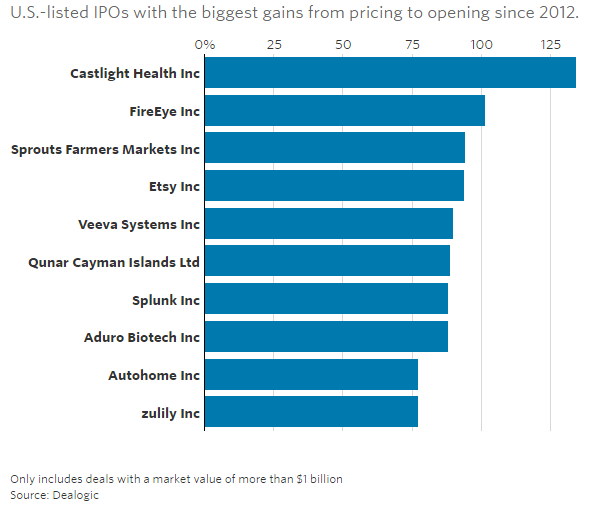 (Source: Wall Street Journal)
But was there too much hype? It seems the question everyone has been asking is whether Snap will be the next Twitter (NYSE:TWTR) or Facebook (NASDAQ:FB)? The first day of trading puts Snap more in Twitter's footsteps. Interestingly, Facebook struggled to close above its $38 IPO price on its first day of trading back in May 2012. Twitter, though, surged 73% in its first day of trading to $26 per share.
Today, Facebook trades north of $136. Twitter trades under $16 per share.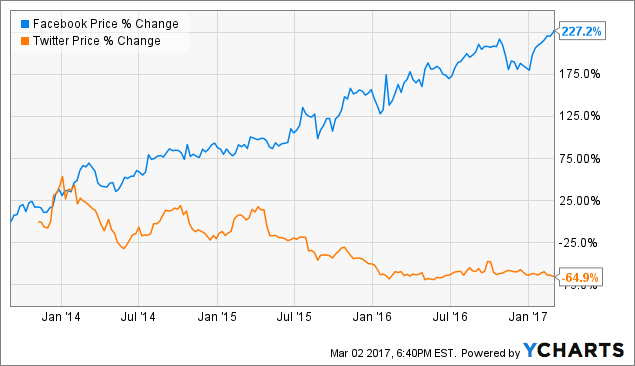 The recent IPO environment isn't all that comforting, either. Twilio (NYSE:TWLO), which was arguably the most hyped tech IPO of 2016, surged 90% on its first day of public trading. The stock continued to roar throughout most of 2016 and a touched a high near $70 per share in September 2016. But then Q3 results rolled in, and they were accompanied by the announcement of a secondary offering. Shares tanked and are now just above $31.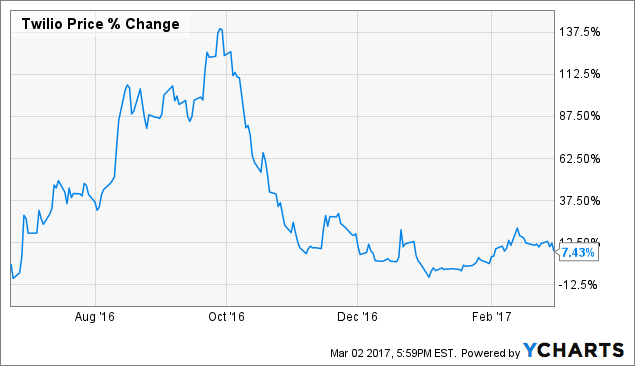 Up from its IPO price, TWLO has done much better than other recent big IPOs. Anyone remember GoPro (NASDAQ:GPRO)? On the idea it was a revolutionary media company, GPRO surged 30% on its first day of trading and doubled within a week. Shares continued higher in the near-term to almost $100. But then earnings rolled in, and with them came the understanding that GPRO was not a revolutionary media company. Rather, it was a fad hardware company with a niche audience. Consequently, the stock now trades under $10 per share.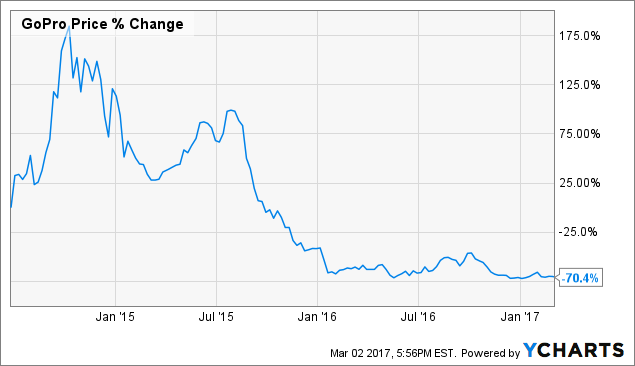 And then there is Fitbit (NYSE:FIT), the tech company which was pioneering a new era of wearable technology. It, too, surged on its first day of trading and headed significantly higher in the weeks following its IPO. It turned out, though, that the wearables market was quite crowded, and that FIT had some big competition. On top of that, demand for wearables began to wane after a hot start. Now, FIT is right around all-time lows while competitor Garmin (NASDAQ:GRMN) is showing significant signs of strength.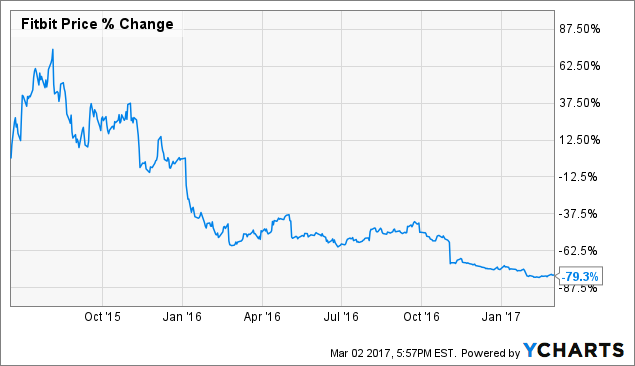 Etsy (NASDAQ:ETSY) had one of the more exciting first days on Wall Street. The online crafts marketplace had a price to open surge of 88% to $30 per share on its first day, but had some shaky days thereafter. Yet again, though, the real wake-up call was the first earnings report, which had shares down big and making new post-IPO lows. The plunge continued and today, shares trade at $10 and big change.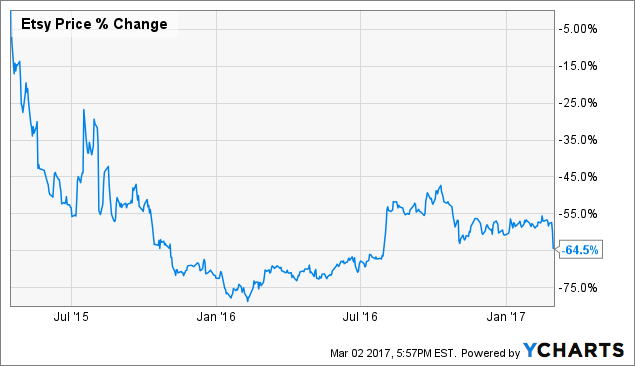 How about Shake Shack (NYSE:SHAK)? Shares of SHAK doubled in their first day of trading to close at nearly $46. It was a new burger concept that found itself on the right side of the health trend and had blistering comps. Shares soared as high as $90 in May of 2015. But then comps came down, questions arose about the ability to expand and preserve sales volumes, and the stock fell. Today, SHAK trades around $35 per share.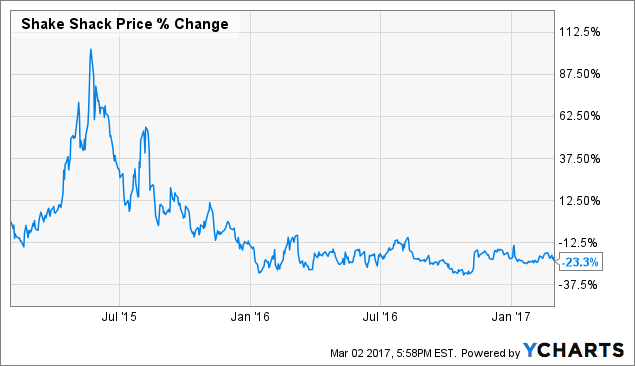 In all of these examples, there is a common playbook. A richly valued company pops on its first day of trading. There is a big hype story about the potential growth trajectory of the company, and this supports the rich valuation in a near-term window. Shares head higher. Then reality hits (i.e. the first earnings report), and investors start to question the big hype story which supports the lofty valuation. Each subsequent ER serves to undermine that hype story. Eventually, the hype story is lost as yesterday's news, and the stock sells off sharply.
Snap seems to fit that mold perfectly. For months, and even years, Snap has quickly been growing in popularity. It has stolen the attention of teens from Facebook, and according to many surveys, is the most used app by teens. Revenues grew by nearly 7x last year, and the projection is for a more than 2x increase this year. The app is trendy, cool, and hip, and so is the stock so far. The Street is awarding it a 26x projected revenue multiple, and a near 70x trailing revenue multiple. Investors seem to think that the Snap growth story is just getting started.
The truth, though, seems far from that.
Fundamental Concerns
We have pointed out our fundamental concerns before in our article regarding why Facebook investors shouldn't worry about Snap, but let us recap here.
Over the past 3 years, Snapchat's nominal user growth in North America has outpaced Facebook's nominal user growth in North America by only 1m DAUs per quarter. This is despite Facebook's underlying user base in North America being nearly 3x the size of Snapchat's underlying user base in North America.
Snapchat's features are easily replicated, as evidenced by Instagram Live, Facebook Live, Instagram Stories, and Messenger Filters. When these replications began in 2016 (namely the launch of Instagram Stories in August), Snapchat's user growth more-or-less flat-lined.
When Facebook was Snapchat's size (in terms of DAUs), it was growing much more quickly. From March 2009 through the subsequent 8 quarters, Facebook added roughly 9m DAUs per quarter to its North America DAU base. Snapchat is adding only 4m DAUs per quarter to its North America DAU base.
Facebook grew its ARPU more quickly on a sequential basis than Snapchat did last quarter (again, despite Facebook's ARPU being much larger). This strongly implies an advertiser dollar preference for Facebook.
Snapchat has a limited international audience. Facebook's ecosystem has significant international reach, and new features such as Instagram Stories are rolling out internationally. This puts Snapchat at a significant disadvantage in terms of growing the international user base.
All this considered, the growth outlook for SNAP isn't all that rosy from either a user base or monetization standpoint. The North American user base appears to be nearing saturation at an unexpectedly small number, while the international growth trajectory will be challenged by Facebook. ARPU does have some room to expand, but relative to Facebook's ARPU growth, it looks like Snap is going to have a hard time attracting top-tier ad dollars.
At a $28 billion market cap, though, the stock trades at nearly 26x this year's revenue estimate. A 26x PSR multiple for a stock with negative operating income, negative EBITDA, negative earnings, negative cash flow, no clear guide to profitability, and a bleak revenue outlook feels significantly stretched. Even under aggressive growth assumptions for revenue to top $1 billion this year, $2 billion next year, and grow at a 30% CAGR over the next 10 years, we still only think the company is worth $12 billion today.
Bottom Line
The Snap IPO feels a lot like Fitbit, GoPro, and others. As a company, Snap is trendy like Fitbit and GoPro were. All 3 target a younger, more connected, and more fickle demographic. All 3 pioneered new technologies, but face intense competition. All 3 have had tremendous revenue growth quarters, but all 3 have also had profitability and margin concerns. All 3 had strong first days on Wall Street.
It remains to be seen whether or not all 3 will ultimately be sub-$10 stocks, but our bet is that they will. It may take some time for the Snap hype bubble to pop (the stock may very well go significantly higher before it tumbles), but we think its only a matter of time.
Disclosure: I am/we are long FB.
I wrote this article myself, and it expresses my own opinions. I am not receiving compensation for it (other than from Seeking Alpha). I have no business relationship with any company whose stock is mentioned in this article.