The S&P 500's 1.37% gain Wednesday was the sixth best start to March (1st trading day of the month) in the index's history. Below is a quick table highlighting all 1%+ gains on the first trading day of March for the S&P 500 since 1928.
You might not remember, but stocks started off last March with a bang as well. The S&P was up 2.39% to start March 2016, and the index went on to gain another 4.11% for the remainder of the month. Prior to last year, 2010 was the last time the S&P gained more than 1% to start March, and just like 2016, the S&P gained another 4%+ for the remainder of the month. Including this year, the S&P has seen gains of 1%+ on the first trading day of March thirteen times (out of 90 years total). In the prior 12 years, the S&P averaged a decline of 0.15% for the remainder of the month. But that average decline is significantly impacted by the 25.8% decline seen for the remainder of March 1938. If you take the median instead of the average, the rest-of-month change is +1.38%. In the 77 other years where the S&P didn't start March with a 1%+ gain, the index has seen a median rest-of-month gain of 1%.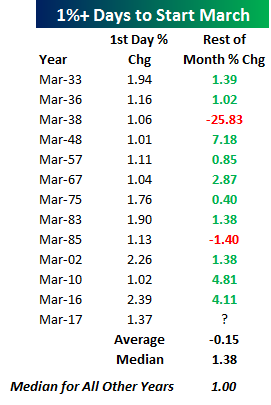 Thanks for reading the article. Follow our account to get our articles as soon as they're posted to Seeking Alpha. To get our full newsletter, sign up for Bespoke Newsletter PRO. Subscribers to that service get access to Bespoke's model stock portfolios, actionable data-driven insights, and in-depth analysis of everything that drives the markets, among other things.