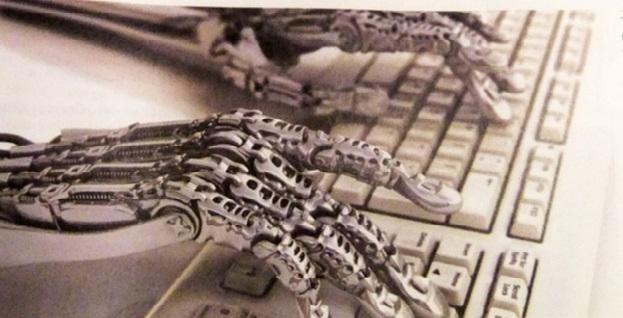 Earlier this week, Salesforce (NYSE: CRM) reported its quarterly results, surpassing market expectations. For a while now, Salesforce has been targeting to become the first $10 billion cloud services company. Recent outlook reveals that the milestone may not be too far off now.
Salesforce's Financials
For the final quarter of 2016, Salesforce's revenue grew 27% over the year to $2.29 billion, above analyst projections of $2.28 billion. EPS of $0.28 was also significantly ahead of the market's forecast of $0.25 for the quarter.
By segment, subscription and support revenues grew 25% to $2.11 billion and professional services and other revenues grew 45% to $183 million. For the quarter, unbilled deferred revenue, the amount of business booked but not yet recognized, grew 27% to $9 billion.
Salesforce ended the year with revenues growing 26% to $8.39 billion. Subscription and support revenues increased 25% to $7.76 billion and professional services and other revenues grew 38% to $636 million. For the full fiscal year, it reported an EPS of $0.26.
For the current year, Salesforce expects revenues of $2.34-$2.35 billion with an EPS of $0.25-$0.26. The market was looking for revenues of $2.365 billion and an EPS of $0.30. Salesforce expects to end the current year with revenues of $10.15-$10.2 billion and an EPS of $1.27-$1.29, thus achieving its goal of becoming the first $10 billion cloud services company. The Street had forecast revenues of $10.18 billion for the year with an EPS of $1.28.
Salesforce's AI Growth
Salesforece believes that the next round of growth will be in the artificial intelligence (AI) space, and it is focusing on the segment. Salesforce is not the only tech giant to recognize the importance of AI. For instance, IBM (IBM) has its Watson and Microsoft (MSFT) is also improving its AI capabilities. Last year, Salesforce announced plans to release its AI offering Einstein to users. Einstein is being developed as an integral part of Salesforce's core platform and not as a standalone product, so that all Salesforce users will be able to access its benefits.
Salesforce already has some predictive capabilities built into its platforms and those features are delivering impressive results. Within the Salesforce Marketing Cloud, its predictive audiences feature is helping marketers target high-value outreach and connect with users who are more likely to unsubscribe. Reports reveal that the technology has resulted in an increase of 25% average lift in clicks and opens. Similarly, Salesforce's Sales Cloud customers have seen 300% increase in conversions from leads to opportunities with predictive lead scoring and customers of Commerce Cloud have witnessed a 7-15% increase in revenue per site visitor.
Einstein will be used to reduce the need for customers to employ data scientists and instead will be using AI to automatically discover relevant insights, predict behavior, and proactively recommend the next best action. By building it within the platform, Einstein will rely on customer data from multiple media including Chatter, email, calendar, e-commerce, and other social data streams to continue to add to AI's Big Data-based learning. AI models will be customized automatically for customers and the administrators will be able to include Einstein-powered fields in any object, page layout, or workflow.
The market is split between how successful Salesforce's Einstein will be in comparison to its other competitors. Some believe that since Salesforce is building Einstein on its own platform, it will do well in the sales and marketing business applications, but may flounder in other business applications. Further, since the technology is aimed at becoming complementary to its core business, it may continue to lack the benefits of a standalone AI tool. Critics believe that even in its current state, Einstein may take at least another year-and-a-half to become a substantial product.
It is also adding more arsenal to the AI portfolio through acquisitions. Last quarter, it bought mobile startup Twin Prime for an undisclosed sum. Founded in 2013, Redwood, CA-based Twin Prime helps mobile apps perform better. It has raised $12.5 million and was last valued at $25 million. Salesforce expects to leverage Twin Prime's machine learning capabilities that analyze network data in real time.
I think it should also look at acquiring marketing automation leader Marketo (MKTO). At $1.8 billion valuation, Marketo will be a big ticket spend for Salesforce, but it will forge it ahead within the segment to pole position. Marketo has more than 30% of the market, followed by Oracle (ORCL) at 16%.
Salesforce's stock is currently trading at $83.81 with a market capitalization of $60.16 billion. It touched a 52-week high of $84.48 in May last year. It has recovered from the 52-week low of $66.43 it had fallen to in December last year.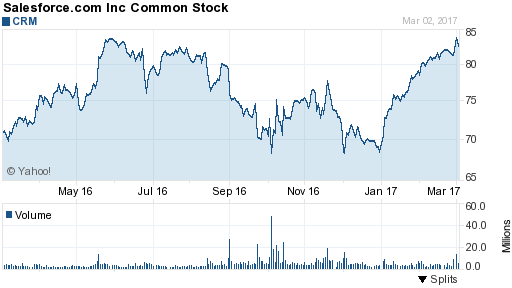 Photo credit: Gwydion M Williams/Flickr.com.