This article covers recent results and outlook for the Bank of Nova Scotia (NYSE:BNS). The first in the series was on the Royal Bank of Canada (NYSE:RY) and can be found here.
BNS is one of the 5 largest banks in Canada, along with RY, Toronto-Dominion Bank (NYSE:TD), The Canadian Imperial Bank of Commerce (NYSE:CM), and the Bank of Montreal (NYSE:BMO). BNS is unique due to its international exposure, namely in Latin America. I believe that, based on the projected growth and current valuation, BNS represents an attractive option for investment at this time.
After the bank's most recent quarterly results, the stock has sold off close to 7% from its recent highs. As I discussed in my last article, energy exposure dragged BNS down significantly near the beginning of last year, and it is trading now 45% off the 52-week low. The quarter was a good one for the bank, with net income growth of 11%, EPS growth of 10%, and revenue growth of 8%. Not bad for a high-yielding, stodgy bank. Operating leverage improved by 4.5%, and expenses grew by 3%, most of which came from initiatives to bring the bank forward technologically.
Investments into fintech and digitizing the bank as well as cost-cutting initiatives are continuing to pay dividends in the results. President and CEO Brian Porter had this to say during their earnings call:
We aspire to be a leader in customer experience across our five key markets, as measured by our Net Promoter Score. We have also set goals of having at least 70% digital adoption by our customers. At least 50% digital retail sales, and less than 10% of transactions completed in branch. These digital goals taken together with other efficiency-related efforts will allow Scotiabank to continue improving its leading all-bank productivity ratio to be at 50% or better by 2021. Overall, we believe the Bank is well positioned to become a digital leader.
It is good to see that BNS is pushing hard to improve the customer experience. Convenience in banking is one of the keys to bringing in new deposits, especially among the younger demographics. BNS was able to drive 5% deposit growth in Canada with 3% loan growth. This is not quite at par with the 8% deposit growth seen over at RY, but shows that BNS is capable of holding its own. Deposits grew in international markets by 5%, as well, with loans flat. However, adjusting for currency, loans increased 5% and deposits were up 10%. These are strong results, and continue to prove that the bank was smart to push foreign investment.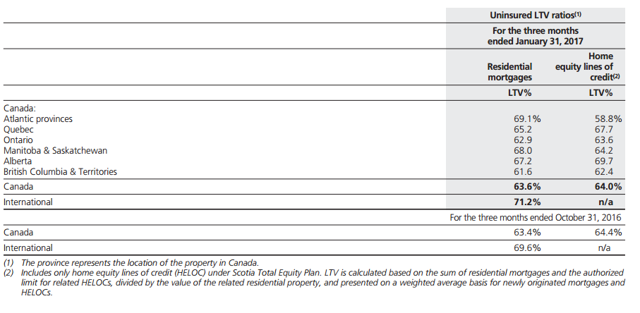 Source: Company Filing
Loan-to-value is the ratio of the mortgage balance to the appraised value of the real estate. I included a table below from the other banks' most recent filings. BNS shows 2 numbers, 1 being for their Canadian portfolio and the other being the international figure. It is noteworthy that BNS carries the highest (least conservative) of the major Canadian banks, and by a sizeable margin. This is not something that would put me off of an investment with the bank, especially considering a LTV under 80% is considered conservative. However, it is something to keep an eye on going forward. The bank's significant presence in the developing markets definitely increases the risk, and likely the potential reward when compared to its peers.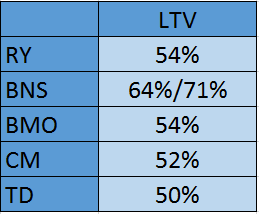 Source: Company Filings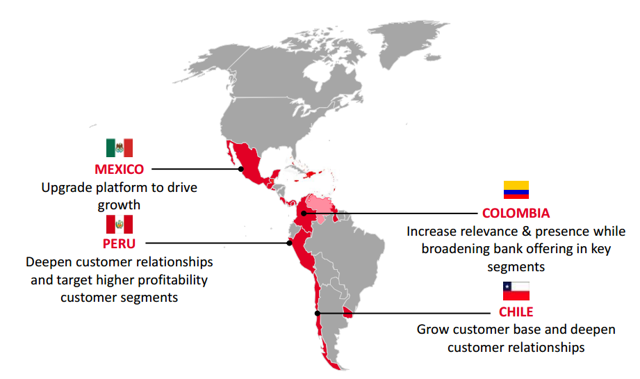 Source: Analyst Presentation
The bank's position as 'Canada's International Bank' provides a different risk/reward profile than the other majors. Positioning in key developing markets, namely the Pacific Alliance, will likely lead to BNS becoming less and less of a Canadian bank over time. The growth rates in these countries are such that an increasing proportion of revenues and earnings are being generated there. These countries carry more risk, certainly, but they also have lower penetration overall in terms of people having checking accounts. Additionally, the middle class is growing, and the median age is significantly lower, often less than 30. All of these demographics, in concert with higher GDP growth on average, leads to BNS having an interesting growth runway ahead of it going forward. Looking at results, growth has been good, and the net interest margin is nearly double, meaning more bang for the buck on money moving through the bank.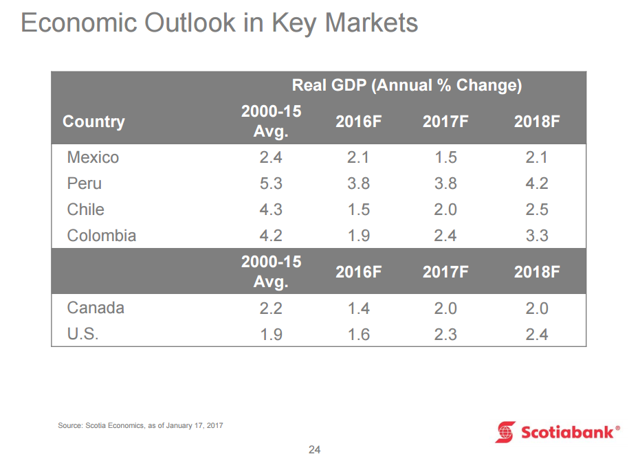 Source: Analyst Presentation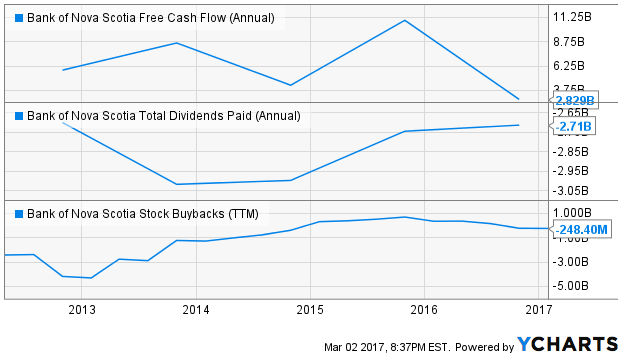 The bank covered its dividend with free cash flow, and just increased it by 2.7%. At a current yield of 3.74%, a lower hike is fine, but the payout ratio stands at 49.6% and it would be nice to see higher growth. With debt/equity of 0.14, BNS has an excellent balance sheet and room to grow the dividend. Buybacks maintained the share count YOY, which I stated in a previous article is fine so long as the company continues to see strong prospects for internal investment. The bank's ROE of 13.3% is excellent and shows strong profitability.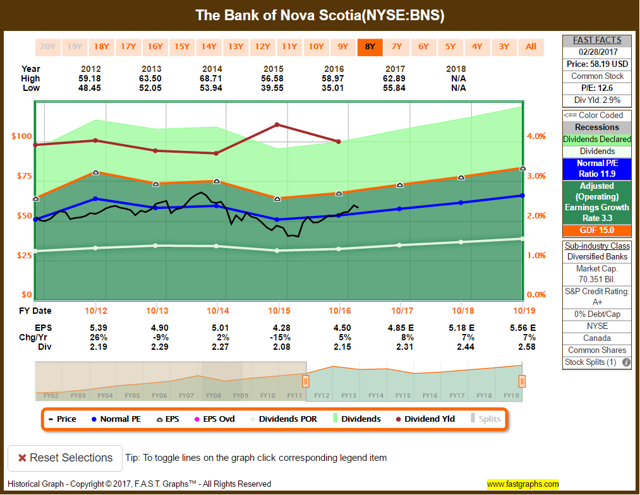 BNS looks slightly overvalued based on its average P/E over the last several years. The entire financial sector has experienced a run-up, and the Canadian banks have gone right along with it. Howver, with a yield still close to 4%, and a P/E ratio less than 13X, I don't see BNS as absolutely overvalued, just relatively.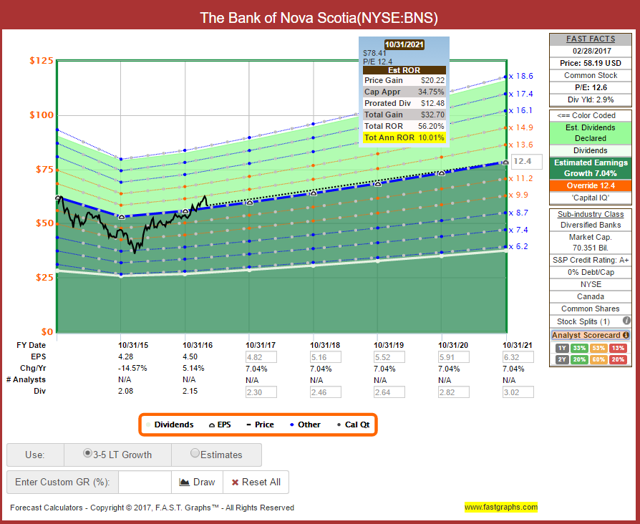 S&P Capital has a FV for BNS of $67, which gives the bank ~15% upside. Looking above, the rate of return if the bank were to stay at its long-term P/E ratio would be 10% annualized, based on analyst estimates. This is why I see BNS as a strong candidate for investment today. The conservative nature of the Canadian banks combined with above-average growth prospects and a fair valuation should lead to strong returns.
If you liked this article, and would like to read more like it, please click the "Follow" button next to my picture at the top and select Real-time alerts. Thanks for reading.
Financial statistics were sourced from Morningstar, with the charts and tables created by the author, unless otherwise stated. This article is for informational purposes only and represents the author's own opinions. It is not a formal recommendation to buy or sell any stock, as the author is not a registered investment advisor. Please do your own due diligence and/or consult a financial professional prior to making investment decisions. All investments carry risk, including loss of principal.
Disclosure: I am/we are long CM.
I wrote this article myself, and it expresses my own opinions. I am not receiving compensation for it (other than from Seeking Alpha). I have no business relationship with any company whose stock is mentioned in this article.
Additional disclosure: I may initiate a long position in BNS in the next week.