This post was written by Hamish Kumar for Integer Investments.
Business overview
In accordance with Yahoo Finance:
"GNC Holdings, Inc., together with its subsidiaries, operates as a specialty retailer of health, wellness, and performance products. Its products include protein, performance supplements, weight management supplements, vitamins, herbs and greens, wellness supplements, health and beauty, food and drink, and other general merchandise. The company sells its products under the GNC proprietary brands, as well as under third-party brands. It operates a network of approximately 9,000 locations under the GNC brand worldwide. The company sells its products through company-owned retail stores; Websites, including GNC.com and LuckyVitamin.com, as well as Drugstore.com; domestic and international franchise activities; and third-party contract manufacturing. GNC Holdings, Inc. was founded in 1935 and is headquartered in Pittsburgh, Pennsylvania."
As of December 31, 2016, there were 9022 owned or franchised NYSE:GNC stores worldwide. A divisional breakdown of these stores can be seen below.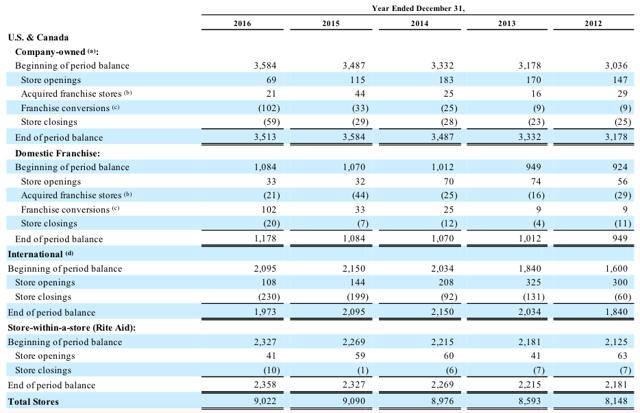 The international stores franchise has been the fastest-growing segment in terms of store numbers. This is because GNC's international franchise system has allowed the company to expand internationally with very little investment required. Store numbers have expanded from 1307 international store franchises in 2009 to 1973 locations as of December 31, 2016. Despite this, international sales have been underperforming, with 230 stores closing in the 2016 fiscal year. Sales also decreased 12.2% compared to the prior year.
Results summary
Last week, GNC released its annual results for the period ending 12/31/16. The results were largely disappointing, with the stock plummeting 5.3% that day. Sales decreased 5.4%, and same-store sales growth decreased 8.5%. Gross margins also took a hit. Gross margins for the 2016 fiscal year was 33.9%, compared to 36.7% the prior year. Poor business performance and goodwill impairments valuing $476.5 million led to a net loss of $286.25 million, down from a net profit of $219.23 million the previous year.
The news continued to get worse for GNC shareholders, however, as interim CEO Robert Moran announced that the business would suspend its $0.20 dividend per share as fears rose over the company's potential debt crisis. GNC is typically known as a highly yield stock, and the suspension of this dividend caused many investors to simply pull out. It currently has $1.57 billion in long-term debt, with 73.4% of this debt due in 2019. The business generated only $208.2 million in cash through operations over the last 12 months, and there was only $34.5 million in the cash and cash equivalents account as of 31/12/17. These results, combined with decreased revenue and profits, could cause difficulties in: 1) re-financing its debt, and 2) paying down debt.
Signs of a management-driven turnaround?
Despite deep issues that are apparent for the business, management have been proactive, rather than reactive, in fixing these matters. Listed below are three key strategies that GNC has implemented to hopefully turn the business around.
1) Membership and Loyalty Program
The company's Membership and Loyalty plan was a key contributor to the poor performance of the business over the last year. The loyalty program disgruntled many customers, who had to pay a large fee to receive discounts. This was not economical for one-off customers, and therefore, lost plenty of business to competitors as a result. The loyalty program also caused complex pricing structures that were often expensive for individuals.
Management realised this issue, and has now scrapped the old loyalty program for a new one. The new loyalty program (MyGNC) is free, and provides a simpler and cheaper pricing strategy for customers to enjoy. Although this may negatively impact gross margins, this can be recouped through increased sales volume and larger basket size. This new strategy isn't one to become the cheapest provider of nutrition, but instead, to remain competitive on core products that have significant effects on the business. Early signs for MyGNC have been promising, with transactions up 7% for company-owned stores. Other benefits to the improved loyalty program include an email confirmation to verify membership. This allows GNC to leverage its CRM systems to better reach out to customers and improve offerings by tailoring advertisements and customer service to the requirements of the individual.
2) Rebranding and Enhanced Sales Channels
GNC recently underwent significant rebranding and released effective advertising to promote this. In accordance to the transcript of the earnings call hosted by the company, consumers have responded to these rebranding and advertising initiatives in a positive manner thus far. GNC also launched on Amazon.com on January 12th. Sales through Amazon.com have been exceptional so far, indicated by the many reviews the company's products have received. Management is very excited about the potential of this new channel of sales as the firm further focuses on enhancing its e-commerce divisional sales.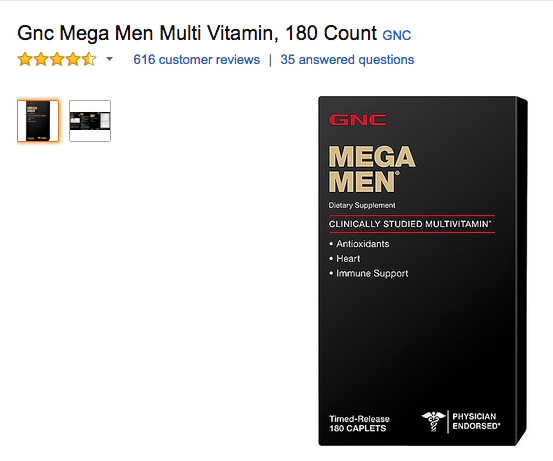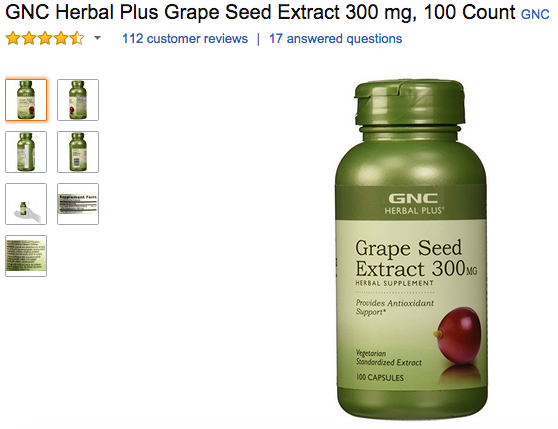 3) Exiting Leases
The business will slow its company-owned store development and will be exiting approximately 100 leases in 2017 as they come up for renewal. According to management, this is because:
"These are locations that frankly, we just felt like for a number of reasons on each and every one of them, it was better for us as an organization to not continue to have sales in those. They may not necessarily have been performing poorly, but it may not have been in the right real estate location or presenting a brand image that we were comfortable with, and we'll continue to look at those."
Overall, management has a clear plan in place to address GNC's key business issues. Suspending the $0.20 dividend per share is actually good news for the company, as it shows that management is committed to turning the business around and has taken a defensive approach to save the business. Yes, this may have caused a significant decrease in the share price, but it is a positive step in saving the company in the long term. There is also no evidence to suggest this suspension of dividends is due to breaking any debt covenants that GNC may have. Management is also bullish about the future performance of GNC, with Interim CEO Robert Moran purchasing approximately $5 million worth of stock and Director Michael Hines purchasing approximately $1 million worth of stock after earnings were announced. It is also important to note that 2016 results were skewed by several one-off costs, much of which didn't affect FCF. The impairment of intangible assets ($476.5 million) and costs associated with rebranding ($10 million) significantly affected the income statement and are not expected to arise again this year.
Valuation
We have done a simple multiples analysis to justify our investment. We understand that a multiples analysis can be inherently flawed, as certain companies may justifiably be over- or undervalued according to this method. Nonetheless, with our positive view on the future performance of GNC, we deem this valuation method appropriate. We used an EV/FCF per share valuation metric to value the business. We used EV because GNC is highly geared, stripping away any effects this may have on our valuation. We also used FCF because many non-cash (also non-recurring) items heavily affected the company's financial statements for FY2016. Other valuation metrics would therefore skew our valuation upwards.
We see that GNC is undervalued by 12%, based on this metric. We are also confident that GNC can refinance its debt. This is because the company still generated $149 million of FCF in 2016, despite its large net loss of $286.25 million for the year. We also assume that this FCF will increase as the company recovers and one-off costs are removed from the equation.
| | | | | | |
| --- | --- | --- | --- | --- | --- |
| Company | Weighting | EV | FCF ($m) | EV/FCF | P/E Ratio |
| GNC | - | 2050 | 149 | 13.76 | N/A |
| Vitamin Shoppe (VSI) | 50% | 647 | 41 | 15.79 | 12.64 |
| Walgreens (WBA) | 25% | 103269 | 6277 | 16.45 | 23.01 |
| CVS Health Corp. (CVS) | 25% | 107518 | 7485 | 14.36 | 16.57 |
| Implied Value | | | | 15.60 | 16.22 |
| Implied Undervaluation | | | | 12% | N/A |
The company is also trading at close to its 52-week range low, at a current share price of $7.96. This is at a 78% discount to its 52-week high.

Conclusion
Despite GNC posting disappointing results, management has a clear plan to address many of the issues the company has faced over the past year. Many strategies have already been implemented by the business, and early signs show a positive turnaround thus far. The big question is whether management can continue to drive this improvement and restore the business to where it once was.
Turnarounds pose significant risks, and GNC is no different. Plenty of faith must be placed in management to turn this business around - a task that is not very easy, particularly in the dynamic retail industry we live in today. Integer Investments recognises this risk, but is optimistic about the future performance of this business. We therefore see investing in GNC as an excellent, but risky, BUY opportunity given the business's current share price.
As always, thank you for reading. If you wish to follow our future articles, just click the "Follow" button next to our name at the top. If you would like us to cover a company, please let us know in the comments. For information about Integer Investments, visit our website. Thank you for reading.