While equities are currently extended by just about any measure, one indicator of breadth is showing a more neutral picture. The 10-day advance/decline line is an indicator that takes the net number of rising stocks for a given day and adds them all together on a 10-day rolling basis. In the chart below, readings in and above the red-zone indicate that the market is overbought in the short term, while readings in and below the green zone indicate a market that is oversold.
After recently hitting its most overbought levels since the rally following Brexit, the S&P 500's current 10-day A/D line has seen quite a significant pullback in the last several days - moving into neutral territory. One reason for the decline is due to breadth being relatively narrow in recent days. Take Wednesday for example - even though the S&P 500 had its best day since the day before the election, breadth came in a +323 for the index. Since the election, there have been three other days where the market was up less, but breadth was stronger. Additionally, during the current bull market, on days when the S&P 500 rose 1% or more (as it did on Wednesday), the average daily A/D reading was +394. So while the market continues to sit at or right near all-time highs, breadth has come in a bit.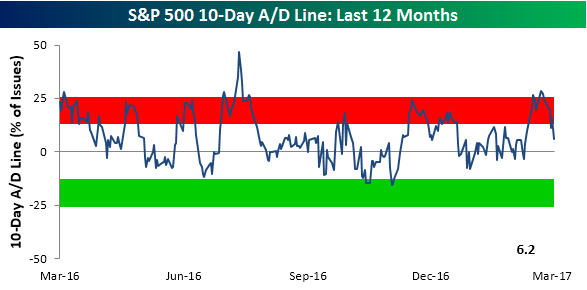 Thanks for reading the article. Follow our account to get our articles as soon as they're posted to Seeking Alpha. To get our full newsletter, sign up for Bespoke Newsletter PRO. Subscribers to that service get access to Bespoke's model stock portfolios, actionable data-driven insights, and in-depth analysis of everything that drives the markets, among other things.