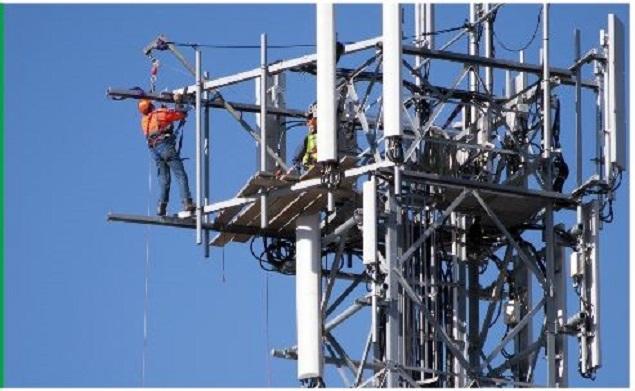 Source: SBA Communications
The wireless tower business is a bit of a hybrid, operating at the crossroads where technology meets real estate. That puts wireless tower landlord SBA Communications (NASDAQ:SBAC) in my wheelhouse.
SBAC shares historically have been more attractive to tech-oriented telecom investors than income-focused REIT investors. The lack of a regular dividend has kept the stock off most REIT investor radar screens.
However, that is about to change, as SBAC plans to join peers American Tower (NYSE:AMT) and Crown Castle International (NYSE:CCI) as a REIT in the near future.
Wireless Tower Model - Secret Sauce
The graphic below represents the Holy Grail for SBA Communications and its peers; a macro tower is pictured, with transmitting equipment colocated from three or more wireless carriers.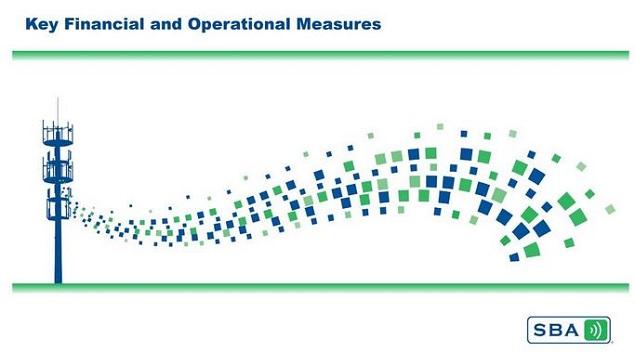 Source: SBAC - Q4 2016 Supplemental (all slides)
In a nutshell, here's how the magic works. Initial returns for just a single tenant on a tower are in the mid-single digits. However, the second tenant typically bumps up the ROI to the mid-teens, and a third tenant transforms the site into a cash cow, generating 18%-plus returns.
If you are not familiar with the third-party wireless tower business model, there are useful exhibits and background information contained in my recent SA focus articles on SBA Communications' REIT sector rivals AMT and CCI:
Tale Of The Tape - Nice Chart
Over the past five years, SBAC has outperformed both the S&P 500 and the broad equity REIT sector.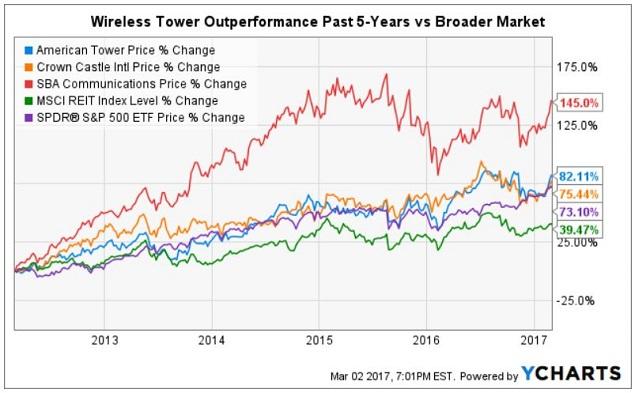 Shares have recently been on a tear, up over 11.6% since the beginning of 2017.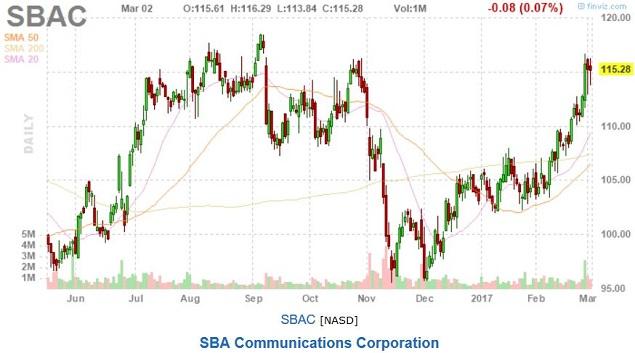 During the past 52 weeks, SBAC shares have traded in a range of $91.06-118.57, and are now trading just 2.77% off of all-time highs.
It's time to take a deep dive into SBA Communications' latest results and 2017 outlook, in order to determine whether shares are attractive at current levels.
2017 Initial Outlook
This outlook could be viewed as conservative, as it only counts sites already under contract in the guidance for full-year 2017.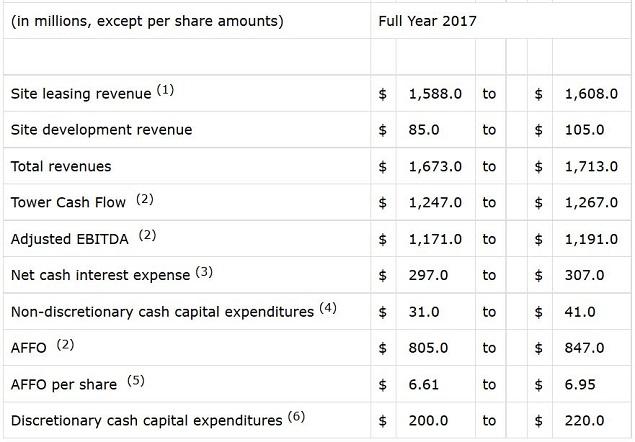 AFFO per share guidance of $6.78 at the midpoint represents an 11.5% increase over 2016 AFFO per share of $6.08 (and 14.5% higher than $5.95 per share AFFO, net of an Oi reserve booked in Q2'16).
This initial guidance does not contemplate any new financing or any additional repurchases of SBAC common shares during 2017. However, it might also be a conservative assumption
"On January 12, 2017, the Board of Directors approved the authorization of a new $1.0 billion stock repurchase plan replacing the prior plan which had a remaining authorization of $150.0 million."
Per the Q4 earnings release, the entire $1 billion remains available under this new plan. There were 112 million SBAC common shares outstanding as of December 31, 2016, compared with 125.7 million shares a year earlier. Management returned $550 million during the year to shareholders through buybacks (with the majority of these coming in the fourth quarter).
Q4 Earnings Call Highlights
CFO Brendan Cavanagh emphasized during his opening remarks:
"The historical churn disclosure reflects the steady level of regular non-Metro, Leap and Clearwire churn over the last couple of years as well as the recent increase in the consolidation churn from these customers."

"Regardless of the timing, the total amount of this consolidation churn continues to be as expected and is not anticipated to impact our long-term goal of producing $10 or more of AFFO per share in 2020."
This forecast of a 16.1% AFFO per share CAGR paints a very attractive picture regarding where the puck is headed.
"In the fourth quarter, we acquired 215 communication sites for $73.5 million in cash. We also built 118 sites during the fourth quarter, moving our total site count to over 26,000. These additional sites are located in both domestic and international markets. We continue to invest in the land under our sites as this is both strategically beneficial and almost always immediately accretive."
SBAC either owns or has a long-term ground lease for over 72% of its tower sites.
"Approximately 70% of incremental domestic leasing revenue added came from amendment and the big four carriers represented 88% of total incremental domestic leasing revenue added during the quarter."
These figures reinforce both the tenant concentration and consistency of revenue streams in the third-party tower leasing business.
CEO Jeff Stoops detailed in his opening remarks:
"Organic leasing activity in 2016 was primarily from the re-farming of 2G and 3G spectrum to LTE as well as some AWS-1 and 700 megahertz deployments."
Looking to 2017 and beyond, Stoops mentioned:
"... opportunities include the increased deployment of new spectrum bands such as AWS-3, WCS and 2.5 gigahertz and even longer-term 600 megahertz. At some point, we will also see the deployment of Dish spectrum as well as the commencement of the FirstNet rollout."

"In addition, potential regulatory changes such as a rollback of net neutrality and corporate tax reform would positively impact our customers improving their net cash flow and therefore their ability to materially further invest in their wireless networks."
He also clarified saying, "We continue to expect all of our Oi leases to be reaffirmed."
Regarding a REIT status update, the CEO shared:
"Our progression toward electing REIT status continues to be on track. In January, we completed the merger of SBA Communications Corporation into a wholly owned subsidiary in order to facilitate our compliance with certain REIT rules. This merger allowed us to adopt certain charter provisions that implement standard REIT ownership limitations and transfer restrictions related to our stock. Our only remaining step now is to formally elect REIT status when we file our 2016 tax return. Because we have been functionally operating as a REIT since prior to 2016, we expect our election to be nothing more than a formality with the operations of the company continuing as business as usual."
The SBAC Q4'16 and full-year results can be found here, and the link to the SA earnings call transcript is found here.
Cash Flow - Where The Rubber Hits The Road
The slides included in the SBAC Q4'16 Supplemental highlight some of the trends which underpin SBAC's business model: minimal churn, high EBITDA margins, ROIC of just under 10% for the past five years, and above all, plenty of free cash flow after debt service.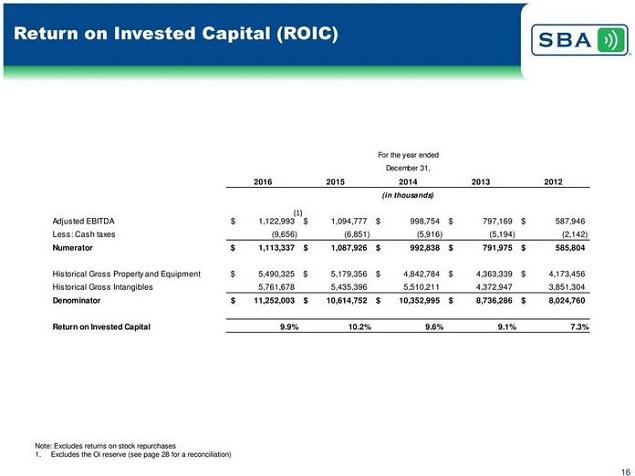 The consistency and efficacy of the wireless tower REIT business model is underscored by the ~10% ROIC being achieved in the last few years.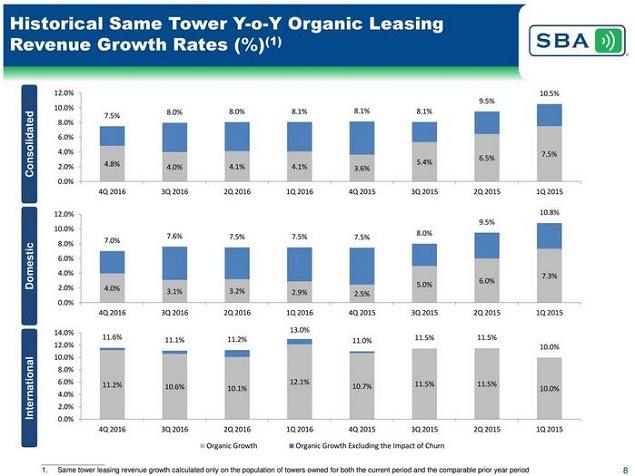 Same-tower organic leasing revenue growth is in the low-double digits internationally, which helps to boost the consolidated numbers which reflect a more mature US market. There are very few commercial real estate sectors which consistently rack up these kinds of same-store organic growth numbers.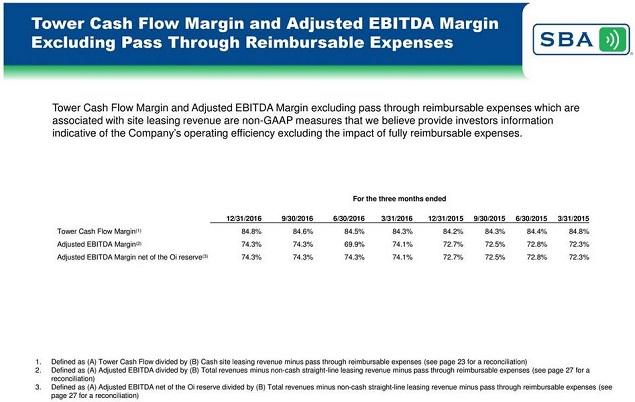 The SBAC adjusted EBITDA margins continue to be at the high end for the sector.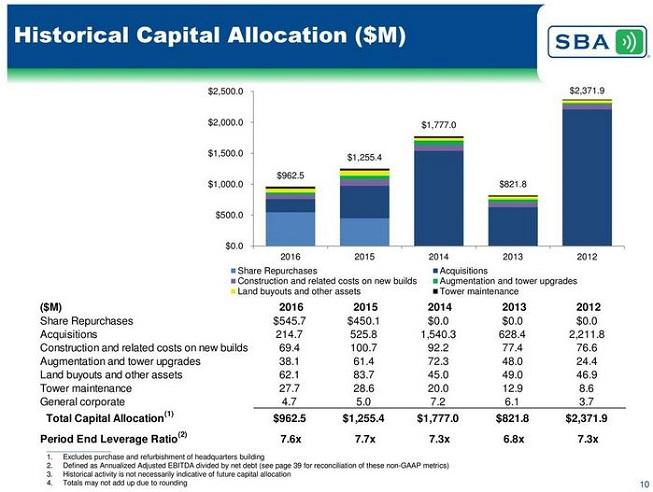 The pace of acquisitions has slowed over the past few years, and the capital returned to shareholders has increased. Assuming no radical changes to the US corporate tax code (which must be watched carefully), this seems like a natural inflection point for conversion over to a REIT.
Risk Factors To Consider
Tenant concentration is baked into the cake of the third-party wireless tower colocation business model. SBAC's significant customer exposure is listed below: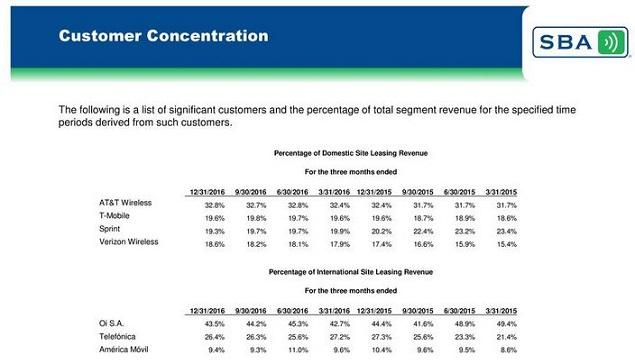 Having just a handful of key tenants exposes landlords to rumors and headlines regarding these carriers. The Oi reserve was booked in the quarter ended June 30, 2016, impacting AFFO per share by (-$0.13) per share.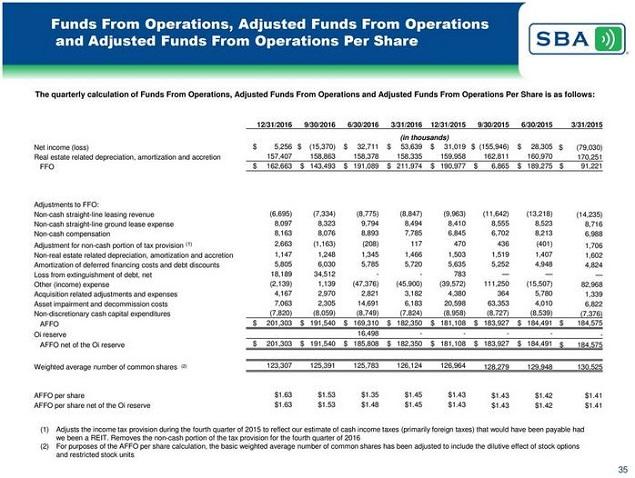 Foreign exchange headwinds from a strong dollar can impact AFFO per share, or funds available for distribution. AFFO is a non-GAAP measure of REIT cash flow, which is reported by SBAC to make peer comparisons easier (especially for REIT investors).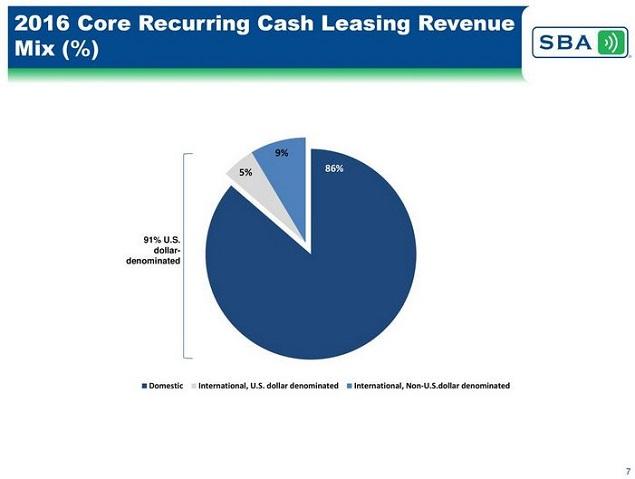 However, over 90% of revenues are US dollar-denominated, which minimizes that risk factor. The FX rates in the initial guidance also appeared to be on the conservative side versus current spot rates.
Bottom Line: AFFO per Share
SBAC management has reported non-GAAP AFFO per share results over the past few years, calculated "as if" the company were a REIT.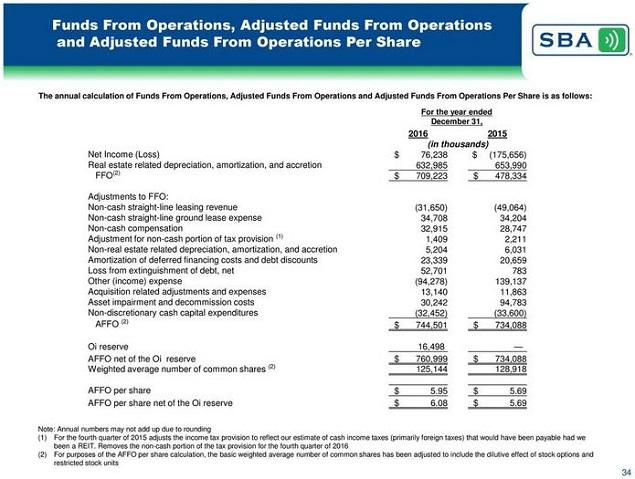 Notably, AFFO per share for FY 2016 only grew by +6.85% (or +4.57% net of Oi reserve taken in Q2'16).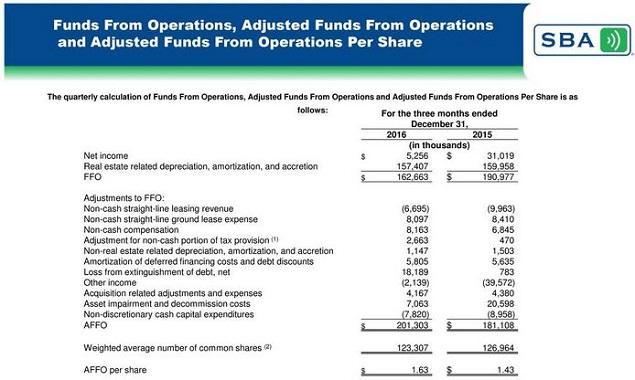 However, the SBAC results for Q4'16 of ~14% AFFO per share growth year over year in constant currency compares favorably to American Tower and are far "growthier" than the 100% US market-focused Crown Castle growing at a steady ~7% per year.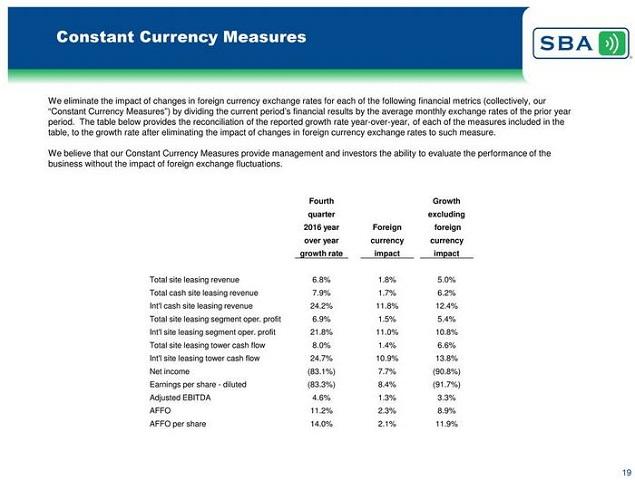 CEO Jeff Stoops mantra on the earnings call boiled down to this:
"We produced 14% year-over-year growth in AFFO per share positively contributing to achieving our goal of at least $10 of AFFO per share by 2020. Our strong growth in AFFO per share was favorably impacted and will continue to be impacted by solid organic leasing growth, sound capital allocation and optimal management of our capital structure."
Management is clearly confident in the longer-term trends for the business.
Balance Sheet
SBAC continues to operate at higher leverage than its REIT peer group. However, the 7.6x net debt-to-EBITDA is consistent with the run rate management feels can support anticipated growth and development.
"We produce a significant amount of free cash flow every year and we have open access to the debt markets. We intend to stay fully invested within our target leverage range at 7.0 to 7.5 times adjusted EBITDA. When we are not able to identify asset opportunities that meet our return requirements in order to fully utilize our available investment capacity, we will continue to supplement our portfolio investments with opportunistic share repurchases," Stoops said.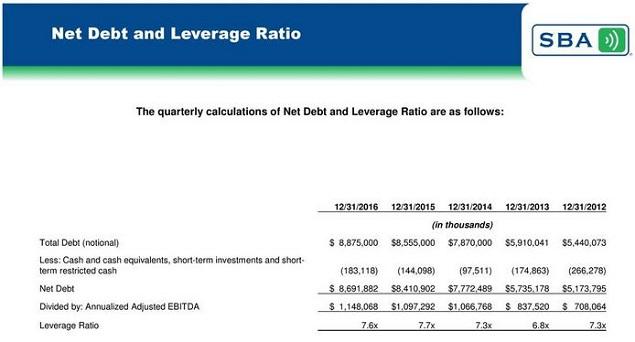 There appears to be more than adequate cash flow to cover the debt, ~3.5x on average for most quarters, and 3.8x for the most recent quarter ended December 31, 2016.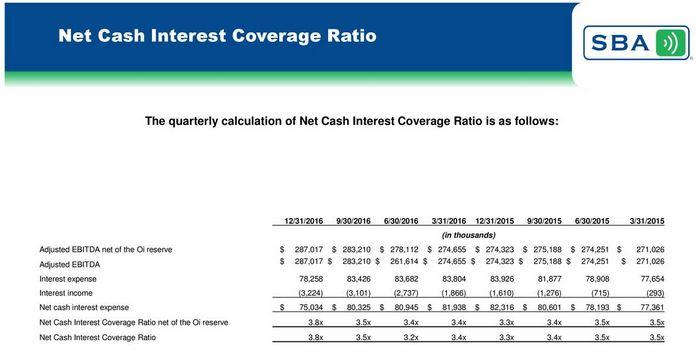 F.A.S.T. Graph - Valuation Analysis
It's time to use the F.A.S.T. Graphs tool to check under the hood. The black line is price. It is a visual comparison relative to the blue line, which is "normal" P/FFO for any time period. (The red line, which normally corresponds to the dividend yield on the far right of the chart, is missing.)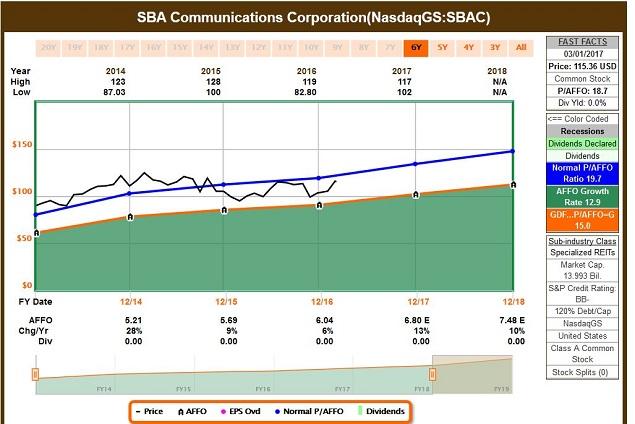 The AFFO growth rate and the BB- balance sheet are two items that stand out on the chart above.
Investor Takeaway
Management's 2017 outlook of $6.78 of AFFO per share at the midpoint equates to a 17x AFFO multiple at the $115.36 share price as of this writing. The projected AFFO per share growth rate of over 12% helps to make this valuation seen reasonable. However, the SBAC board's future dividend policy after REIT conversion (and a willingness to de-lever the balance sheet) will matter to most REIT investors.
Meanwhile, I'm not sure how the following remark by Stoops jives with the payment of a REIT dividend.
"We currently intend to use our net operating loss carry-forward positions for tax purposes to eliminate any distribution requirements, which we currently expect will be the case at least through the end of 2020. As a result at this time, we are not planning on any changes to our capital allocation strategy."
Given the ~$550 million returned to shareholders in the form of buybacks, there appears to be ample free cash for a dividend. Back-of-the-envelope math utilizing 112 million shares would imply a dividend of $4.91 per share and an AFFO payout ratio of 72.4%, based upon $6.78 at the midpoint. Most REIT investors are going to choose to wait prior to getting involved with SBA Communications, until there is clarity regarding a dividend policy.
I'm sure there are some growth-focused readers attracted to the company's 2020 $10.00 per share AFFO growth forecast. I suggest also taking some guidance from management regarding initiating an SBAC position. Last year, the average price of the company's share repurchases was ~$104 per share. That share price equates to a 15.3x 2017e AFFO multiple, a reasonable valuation given the a low-to-mid teens AFFO per share growth rate.
American Tower is growing its dividend distribution at a 20% per year clip, and represents an attractive alternative for REIT investors looking for double-digit growth with some current income. Crown Castle, which is generating a solid ~7% per year AFFO growth, currently pays investors a 4.1% dividend yield - making it the best alternative for retirees and other SA readers focused on generating near-term income.
I am contemplating whether to launch a Seeking Alpha Marketplace Premium subscription service. I would appreciate any feedback from readers who may be interested. Feel free to share them in the comment thread below, or send me an Inbox message.
I relentlessly hunt for diamonds in the rough and rising stars, in addition to closely following data centers, covering REIT blue-chips, and breaking news. Please consider following me as a Seeking Alpha author if you would like to be notified when my future articles are published.
Disclosure: I/we have no positions in any stocks mentioned, but may initiate a long position in AMT over the next 72 hours.
I wrote this article myself, and it expresses my own opinions. I am not receiving compensation for it. I have no business relationship with any company whose stock is mentioned in this article.