Since Trump got elected what seemed like an already elevated stock market shot higher still, and at present is running new record highs almost on a daily basis.
Conventional wisdom has it that it's Trump's policy agenda that is responsible for this, a mixture of:
Tax cuts
Deregulation
Additional spending in infrastructure and defense
Economic nationalism
Even Fed chairman Janet Yellen was in on this (from MarketWatch):
I think market participants likely are anticipating shifts in fiscal policy that will stimulate growth and perhaps raise earnings
However, there are lots risks involved:
The economic nationalism leading to protectionism, disrupting supply chains and risking trade wars.
The program might take lots of time to get implemented, it might be significantly watered down in Congress, and it could disappoint.
The tax credit approach to infrastructure spending might do little to induce new projects.
Low labor productivity growth and low growth in labor supply limiting growth.
An already tight labor market triggering growth.
Trump's anti-immigration and deportation policies limiting labor supply growth further.
Rising inflation, rising bond yields, Fed hikes, a rising dollar choking off much the reflationary effort.
We have discussed these doubts (see for instance here, here and here). In sum, potential growth doesn't exceed 2% a year because of the constraints on the supply side in the form of the combined growth of the labor force and productivity.
The growth in the labor force is much lower than in earlier decades as the influx of women to the labor market has stalled and the influx of baby boomers is reversing. More than half of the growth in the labor force is provided by net immigration, not something that the present Government is likely to boost (quite the contrary, as it happens).
That leaves productivity growth. This is also lower than in previous decade, simply because the sectors that have been most easily automated (that is, manufacturing) have already been automated and as a result they have shrunk a lot relative to the size of the economy.
Increasing productivity growth is very difficult, it needs a sustained boost in business investment, but tax cuts aren't likely to help a lot as investment isn't very sensitive to the cost of capital and experience from the 1980s with similar policies failed to produce any uptick in business investment (quite the contrary, see graph below).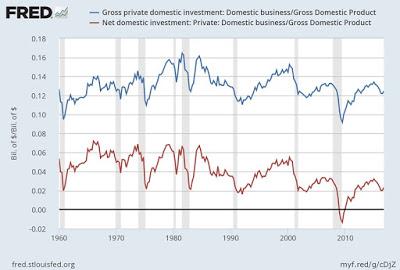 So if Trump's reflation increases demand growth structurally above the 2% supply limit, we're likely to see an overheating economy and rising inflation.
One is inclined to think that investors would realize this, but there seems to be some sort of a Pavlov reaction of investors to the prospects of 'business friendly' policies and magical thinking that these can be implemented in short order to get near instant traction lifting economic growth to 4%.
Or there is something else at work...
We offered one possibility in a previous article, in which we argued that higher growth is possible through 'stressing the system.' The point here is that business investment isn't likely to react all that much to the tax cuts, as investment isn't very sensitive to changes in the cost of capital.
But a supply reaction could still be in the cards if demand runs above potential growth for a prolonged period of time, as investment is more sensitive to output growth, or even just the expectations of this.
We see business and consumer confidence at multi-year highs and the stock market has really taken off, all this could very well produce something of a self-fulfilling prophesy.
For this to last, it's pretty important nothing serious goes wrong that produces a serious dent in that confidence. Take your pick; military confrontation, a trade war, a Chinese hard landing, Le Pen winning the French elections and pulling out of the euro, an Italian banking crash, a runaway dollar creating havoc in emerging markets, etc.
There is also another reason for the stock market rally, the simple fact that the world economy, which seemed marred in secular stagnation just a year or so ago, is looking significantly better these days, from the FT:
Global activity growth has rebounded sharply, and recession risks have plummeted. Growth in real output is now running at higher levels than anything seen since the temporary rebound from the financial crash in 2009/10. Importantly, recent data suggest that the growth rate of fixed investment is beginning to recover, which is a body blow to one of the central tenets of the secular stagnation school, though much of this may simply be due the end of the slump in the commodity sector.
This upturn in the world economy has preceded Trump and is the product of various forces like the end of austerity in most of the eurozone, another round of Chinese stimulus, aggressive policies by the ECB and the BoJ.
Lots of stuff is going up, from commodities to bond yields to inflationary expectations: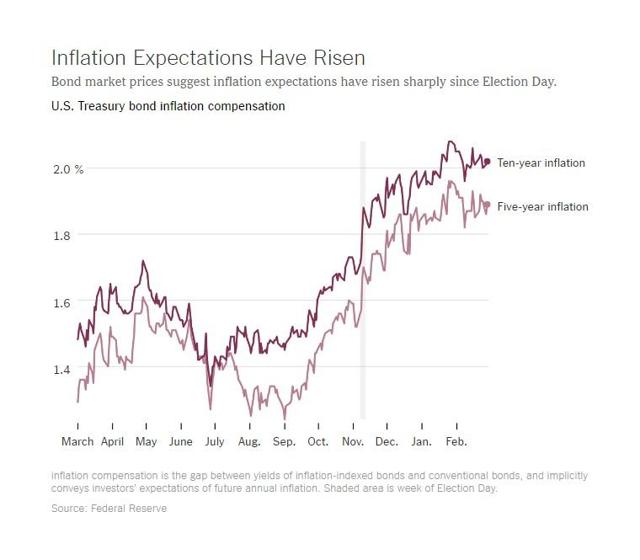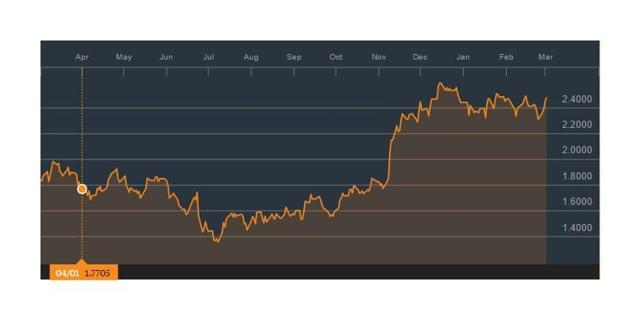 And perhaps most notably, world manufacturing seems to be on the rise, given PMI (purchasing managers index, a leading indicator) data from different regions: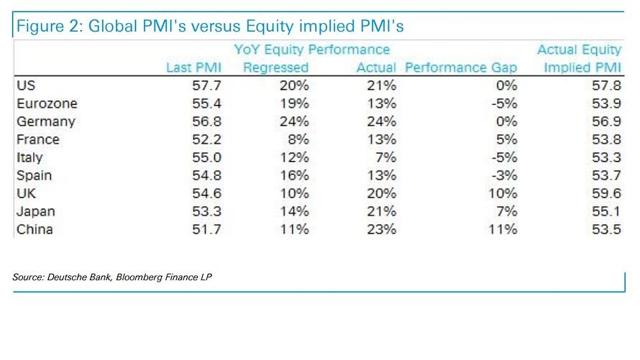 Perhaps the most notable turn-around in manufacturing has come from China, were years of real and substantial deflation have suddenly given away to a substantial rise in producer prices: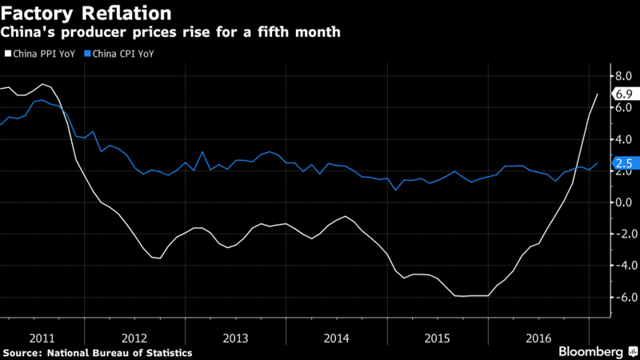 So while there is undeniable optimism about an upcoming Trump reflationary effort, an optimism that could very well be self-reinforcing, what seems to be driving stocks is real world data. The world economy is in better shape, and last but certainly not least, US earnings growth has turned the corner: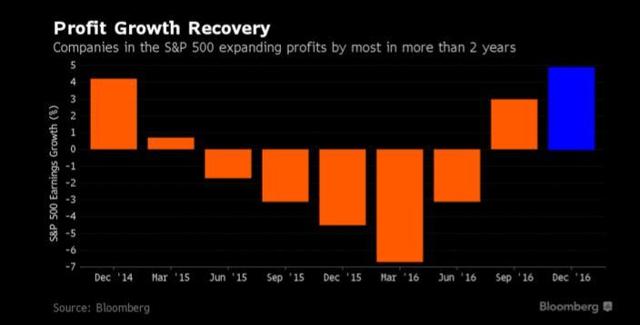 The latter is the ultimate driver of stock values. There wasn't a real big selloff in stocks even during the past earnings recession as there was never a real recession and there wasn't a convincing alternative to stocks.
Conclusion
Is the party going to last? Well, the rally can continue for some time driven by sentiment and the absence of crisis. But valuations are getting stretched which makes stocks vulnerable for adverse macro news and we think that any serious Trump reflationary impact is at least a year away.
That impact might also not be as good as hoped and already priced in, let alone when stocks keep on rising for another year before the rubber meets the road. On the other hand, sentiment can go a long way, we've seen this film before.
Disclosure: I/we have no positions in any stocks mentioned, and no plans to initiate any positions within the next 72 hours. I wrote this article myself, and it expresses my own opinions. I am not receiving compensation for it (other than from Seeking Alpha). I have no business relationship with any company whose stock is mentioned in this article.