Company Introduction
Devon Energy Corporation (NYSE:DVN) is an upstream oil and gas exploration and production company which produces oil and natural gas in equal proportions. Unfortunately for the business, natural gas prices are on the decline lately and this has seriously affected Devon's business. However, the company is still profitable under the current oil and gas environment, and the author recommends investors to purchase Devon on weakness.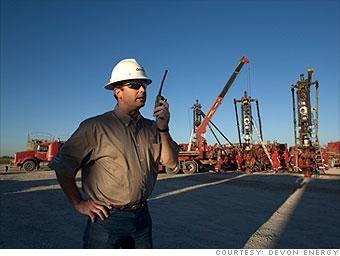 Company Key Facts
Share price: $43.47 per share
Market cap: 23.47 billion
Current debt: none
Net earnings in the fourth quarter: $331 million or $0.63 per diluted share
Company's production consist of 44% crude oil, 19% liquefied natural gas and 37% natural gas
Energy Prices and Future Earnings
Devon Energy Corporation reported a very good fourth quarter result with $452 million in operating net income. Of course, these results are the beneficiary of strong oil and gas prices in the fourth quarter of 2016 - including an average of $49.21 in WTI and $2.98 per million btu for natural gas. Unfortunately, natural gas prices have declined significantly to around $2.80 per million btu (-10%) since the company's most recent quarter report. In contrast, oil prices have been on the rise, gaining around 10% (from $49.21 to $54.00) since the fourth quarter of 2016. All in all, oil and gas prices have largely stayed constant during the past four months, and they are expected to stay line without too many disturbances. Since Devon produces approximately 50% in both crude oil and natural gas, the company is most likely to continue with its $300 million in net income in 2017.
Devon's capital expenditure, which was around $620 million for the fourth quarter of 2016, is also expected to stay in line for 2017.
Devon's Asset Sales and Liquidity Situation
Devon Energy Corp sold $1.3 billion in assets for the fourth quarter of 2016. This influx of capital combined with $452 million in operating income has resulted in a positive $1.8 billion in cash flow into the business. Going forward, investors should expect the asset sales program to continue into 2017, although the company will not need the cash inflow to keep its operations running. In addition, here is a summary of Devon's liquidity situation.
Cash and accounts receivable: $3.2 billion
Total current liabilities: $2.6 billion
Long term debt: $10.1 billion
Projected net income: $300 million quarterly operating income
Given these figures, Devon should have no liquidity issues despite having to pay out $2.6 billion in current liabilities. Notice that the company's total liabilities is $20 billion, which is 78% of its total $26 billion assets! However, do notice that this figure in a downtrend - its asset debt ratio was 84% the quarter before.
Oil and Gas Environment Going Forward
Currently, oil is trading near $56.50 for Brent and $53.75 for WTI. Fortunately for the company, oil prices have increased significantly from $47 from a few months ago thanks to the OPEC decision and action to cut production by 1.2 MBPD. However, an additional oil advance in the next 12 months is expected to be limited, and oil is expected to stay between $55 and $60 per barrel for 2017. Supporting this view are NYMEX future prices and the U.S. Energy Information Agency's prediction for oil prices for the next 12 months. The image below shows the predicted future price curve stalling around $56 to $60 for the next year.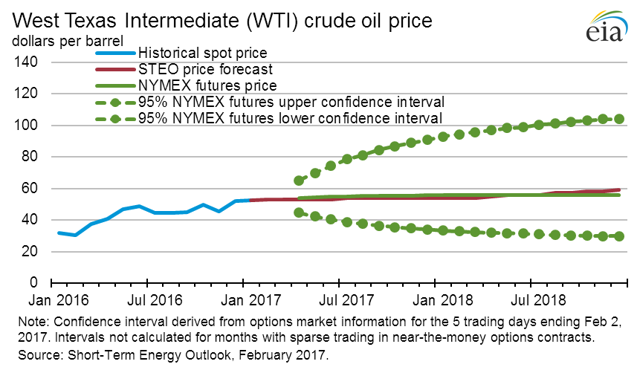 A guide to future oil prices - very steady at around $57 per barrel.
Similar to crude oil price, the price of Henry Hub natural gas is also slated to keep pace at where it is for another nine months until 2018. In 2018, gas prices are expected to rise to $4 per million Btu. Gas prices are currently priced at $2.80 per million Btu. Refer to the image below for IEA's prediction.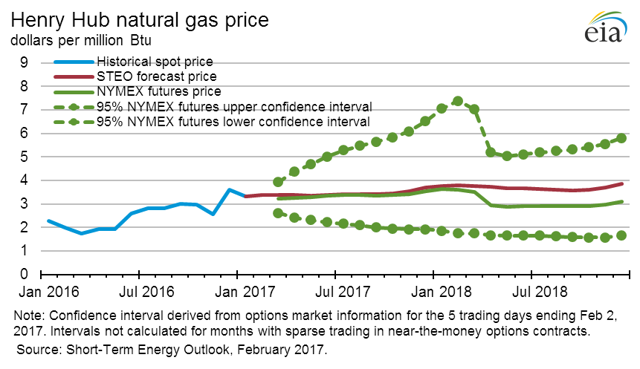 Future gas prices are expected to increase to closer to $3.50 from $2.80 currently. The price cycle is expected to continue.
Conclusion
In conclusion, Devon Energy Corporation has become very profitable in the current environment with natural gas still on the rise. The company's liquidity situation is strong for the foreseeable future, and will definitely benefit from rising energy prices. The author recommends investors seeking exposure to gas production to cautiously enter into the company.
Disclosure: I/we have no positions in any stocks mentioned, and no plans to initiate any positions within the next 72 hours.
I wrote this article myself, and it expresses my own opinions. I am not receiving compensation for it (other than from Seeking Alpha). I have no business relationship with any company whose stock is mentioned in this article.