There was an interesting bullish article about Bank of America (NYSE:BAC) on Seeking Alpha recently that really demands attention from anyone positioned in, or even considering, the stock. The title alone makes you dive in and read the arguments: "Bank of America is destined to double....again".
I urge you to read the article, at the end of which the writer, David Alton Clark, invites discussion. As BAC is one of my favorite stocks, here goes.
I continue to be bullish on BAC. But do I think it is "destined" to double from here? No way. Could it double from here? Most probably not if we are talking this cycle.
The article makes many strong points in favor of a bullish view. To summarize: (1) Regulatory reform under Trump (2) Valuation (3) Gearing to rate hikes (4) Dividend growth (5) Technical position is the main risk.
I don't disagree with any of these in themselves. But there is a whole series of qualifying points we need to consider.
Take regulatory reform under Trump. Whatever happens will be helpful and we can take encouragement that the individual driving the process is Gary Cohn, a Goldman (GS) alumnus. However, while policy is formed, let's keep things in perspective for BAC. The bank is a G-SIB (Globally Systemically Important Bank). One of the big players. My bet would be that loosening of compliance requirements (a cost gain) and regulatory capital (leverage restrictions) will be most significant for smaller banks, while loosening for major banks will be at a lower level and proceeds more slowly. For one thing, G-SIB regulation involves much international coordination between agencies, and Basel committee and domestic regulators. It can't be undone that rapidly and as banks' investors we shouldn't want things to return to pre-2008 laxity.
Valuation is probably where I would depart from the article the most. I see plenty of room for upside at BAC. The stock is trading on 11x 2018 EPS without a tax cut, and if the macro remains supportive should maintain a 15x multiple quite easily. Run a 20% tax rate for 2018, and you could see over 40% upside from here over the next 2/3 years, 50% even.
But double? Here's David Alton Clark:
...the bank currently trades for just 1.3 times tangible book. The bank traditionally trades for closer to two times tangible book value. With the bank currently trading essentially at tangible book value, the upside potential is vast at 85%."
This seems to make the argument that BAC can trade at 2x TBV because it used to trade at 2x TBV, indeed, this is the "traditional" level for the stock. I'm cautious about this. Tradition went out of the window with the 2008 crisis.
Let's compare some basic data from 2006 and 2016. By 2007 problems were emerging for BAC, so 2006 is the last of the glory years before the crisis. What do you see below?

BAC, due to regulatory changes, is carrying a lot more equity than it used to, some 31% more as a percentage of assets. The return on equity of this bank, other things equal, is therefore going to be 31% lower than before and the market will not pay the same multiple it used to for the bank's equity. OK, there may be some relaxation of capital levels, but is BAC going to go back to using one-third less capital in relation to assets? I don't think so. And I think the best stance, while welcoming some regulatory loosening, is not to bet too strongly on any particular scenario and certainly not an aggressive one, at least until we see what unfolds.
What about tangible book, which is what Clark focuses on? Alas, there it gets even harder for BAC to attain the old valuation level. The reason is that in the past, BAC carried very high intangible assets as a percentage of its book value, but no longer does. Tangible book as a percentage of book value used to be 44.5%, whereas in 2016 it was 73%.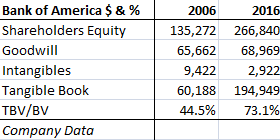 As you can see, while BAC has a lot more equity than it did, roughly twice as much, it actually has less combined goodwill and other intangible assets these days, so runs with much higher tangible book value as a percentage of its equity.
These numbers mean that every point of return on the 2006 TBV is going to be diluted 64% on the 2016 TBV. Consider: in 2016, the ROE of BAC was 16.3% and ROTBV was 36%. In 2016 ROBV was 6.7% and on ROTBV it was 9%. Even if the level of profit in BAC doubled tomorrow, we would not be looking at the same ROTB as the bank "traditionally" had back in the days of 2x TBV, and, of course, profit is not going to double that quickly at BAC.
This gets us to the next point made by Clark: gearing to rate hikes. BAC is certainly geared to rising rates. That's why the stock has celebrated the rise in market rate expectations. But will we see rate hikes of a sufficient level for profit (and thus ROE/TB) to double? This is an open debate to say the least. While things are lining up just now for the Fed to move more aggressively with hikes than we thought even a couple of months ago, as we've learned so often in recent years, this can change quickly.
The dollar level, Chinese growth sustainability, commodity prices, the eurozone and now questions over just how much of his infrastructure and deficit program Trump will be able to implement can all challenge the immediate alignment of inflationary forces at any time. And if the Fed does hike and keeps hiking, we are at some point going to run into the problems of doing this in a U.S. economy with fairly low structural growth, much lower than appeared to be the case back in 2006/7. In other words, recession risk may well rise before BAC can make the double for its bottom line.
As for the other bull argument, dividend and buyback growth is welcome, but my own forecasts assume improving capital distribution and don't scream a double. Here are the numbers: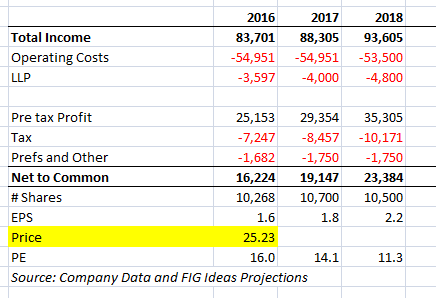 These forecasts embrace two rate hikes a year in 2017 and 2018, and improving volume growth while also forecasting BAC to achieve all of its cost savings program by 2018. To double in a foreseeable time frame (rather than "out there one day") you would need BAC to rerate on a multiple basis, not just generate higher earnings. There is too much noise in the outlook to commit to this view right now.
The Two Doubles perspective
Alton Clark makes something of the fact that BAC has doubled from its low last February (2016). It's happened, it can happen again! No question, Clark made a great call then.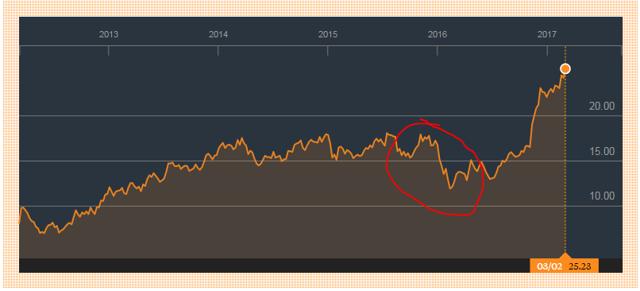 BAC though has doubled from February '16 partly because that level was courtesy of a big dip in the shares from nearly $18 in July 2015, as the China growth rollover, oil collapse and strong dollar all combined to provide powerful deflationary signals that caused a mindless panic in bank stocks and gave us all a great opportunity on the long side. After all, you just needed to look at the quarterly reports of banks through that time to see that little had changed in terms of the bottom line, and value had opened up. It isn't quite as simple from here and I think $50 is too bullish a call.
Conclusion
I agree with David on many of his points: we've got clear positives, comfortable value and a strong improvement in the bottom line of BAC in prospect. Perhaps that is what matters for now. But as we climb the wall of worry in the market, the rate hike ladder and the policy formation process from this unorthodox president, I would not go looking for doubles from BAC. 50% will do!
Disclosure: I am/we are long BAC.
I wrote this article myself, and it expresses my own opinions. I am not receiving compensation for it (other than from Seeking Alpha). I have no business relationship with any company whose stock is mentioned in this article.