Despite the seemingly overall negative tone taken towards Snap Inc., (NYSE:SNAP) and its recent IPO, demand for shares has surged sending the price up 40%+ on its opening day. Those buying in are hoping to be a part of the next Facebook (NASDAQ:FB) or Google (NASDAQ:GOOGL) perhaps, but if you've ever used the Snapchat app, you should be able to tell right away there are significant differences between the platforms and integration of advertisements, which is how all these companies generate most of their revenues. We'll take a look at those differences below, along with a look back at some recent IPOs that may indicate what's to come in the near future.
What is Snap?
Today, it calls itself a camera company that empowers people to have fun and live in the moment, but not that long ago, it was Picaboo, an idea of an app to send pics of "fun stuff" to friends.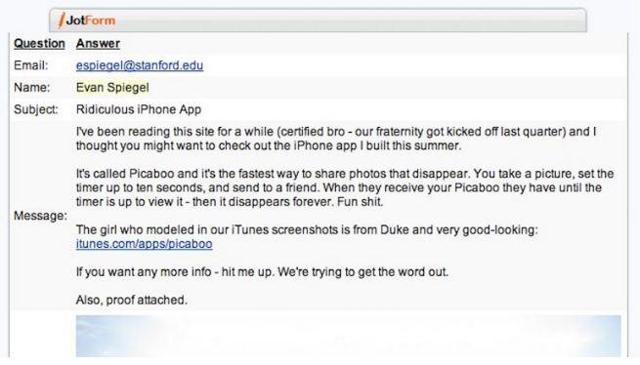 (Source: Business Insider)
Snap's first and main product is the app everyone knows by now - Snapchat. It's been the hot trending social media app of the last 5 years, which in a nutshell lets users send and receive photos, videos, and text messages with friends. It was a hit because of the timers for photos and videos, along with self deleting message histories, letting users send content to friends that they otherwise would likely never upload onto something like Facebook, Instagram, or Twitter (NYSE:TWTR). Since we're here today sitting on a market cap north of $28 billion, it seems like that feature is quite popular to say the least. From its design, it definitely filled a void that the before mentioned social media companies didn't fill when it came to sharing content and not worrying about who saw it. With the app, you choose who to send your photos/videos to, you know that content will be deleted when the 10 second or less timer is up, and you don't need to worry about it being seen by unintended others. Sure the app has a story feature which allows you to upload a picture or video that's available for all your friends to view as many times as they like, but that too is limited to 24 hours and only to your friends. There is no ability to share content uploaded by others on the app. Everything stays within your contact list (unless you choose to make your content public, but I have only seen that being used by celebrity accounts). This is drastically different from Facebook, Twitter, and Instagram, which have news feed style home screens that show what your friends are up to, what they liked and shared, and give users easy access to content from all sorts of individuals and companies that your friends are engaged with. Items uploaded on those platforms can go public very easily, which is good from a viral advertising and promotional point of view, but bad from an uninhibited "fun moment" sharing point of view which Snapchat is geared towards.
These differences work well for Snapchat because they reduce the second guessing nature of users who want to share content that might seem mundane or questionable on other social media platforms. That reduction in inhibition to share a moment or video drive daily usage and engagement within the app. Coupled with the more recent addition of filters and geo location tags, it catered to the need many feel to share multiple aspects of their day to day lives with friends.

(Source: Snap)
Taken together, it was a good idea and is no doubt fun to use, making it quite sticky once friends are on it. Added to this is the uptake of celebrities who use it on a daily basis. Snapchat gave the average user a view into the daily lives of their favorite publicly known figures, and it gave these figures another channel to grow an audience and promote their brands.
On the side of all this is the recent hardware goals that Snap is planning in order to diversify its brand as more than just a single app. First was spectacles, selling for $129.99 currently, which are sunglasses with a built-in camera that link to your phone and the Snapchat app, allowing a user to take videos and pictures from their point of view while wearing the glasses. Next are plans for drones to take pictures/video with, according to several sources. Both are fun thoughts, but are questionable when it comes to serious revenue generation for the long term.
Does Snapchat Have a Moat?
Those buying in have to consider whether there is anything truly unique to Snapchat that can't be replicated by its competitors. It's already quite widely known that the idea of filters and short video stories has been copied by Facebook on their Messenger app, and Instagram with its recent stories feature. Both additions allow messenger and Instagram users to create similar style content as that on Snapchat. An interesting note is since the introduction of stories on Instagram, Snapchat user growth and engagement in Snapchat story views has declined. This shouldn't be a surprise, since although Facebook may be losing popularity among millennials and younger generations, Instagram definitely isn't, and anything that Instagram can do to replicate Snapchat's features will drive usage time away from Snapchat. This will be an important factor to keep track of going forward, as it should be expected that any new feature Snapchat unveils will be quickly implemented on competing platforms which currently have much larger user bases and established markets.
When looking at the user experience next, it's quite different from what Facebook offers, chiefly due to the lack of a desktop platform and productivity features. Although Facebook started out as a plain social media company that allowed you to connect with old friends, it quickly morphed into a source of news, productivity, replaced the need for private websites for many small businesses, and became the go-to event planning application. All these features give Facebook its current moat and stickiness factor, as well as attracting a user base from every age group. Another similar success story was LinkedIn, which may have started out as a professional version of Facebook for business relationships, but ended up being a new way to recruit, find jobs, and recently take courses and grow a skill set. All the other social media apps also allow a much greater level of engagement between users, with long standing public content being the vehicle through which individuals and companies spread their message.
The focus on younger generations is a plus to Snapchat since it has succeeded in engaging them, but it also limits the growth potential in its user base. As was pointed out in an earlier article on the company, Snapchat has likely already captured upwards of ~70% of individuals in the US in its key demographic group of 18-24 year olds. That puts a limit on the growth rate going forward unless management finds a way to get older individuals on their app, or pushes its brand into foreign countries.
Advertising On Snapchat
When comparing the app to Facebook, Instagram, and Twitter, it seems like Snapchat's user interface is not as well suited to the presentation of advertisements to its users. At the moment, ads pop up in between views of stories your contacts have uploaded, and advertisers have an entire section on the app called Discover where their content is hosted. However, this content has to be voluntarily accessed by navigating to that part of the app. You can send and view private messages sent by friends without ever seeing an ad, which is quite different from how other social media platforms interlay advertisements into your news feeds and side columns. I assume this is likely to change in the future, as the app must become more revenue focused, now that it has gone public, but for now it trails behind its more ad-friendly competition.
Hardware
The recent launch of spectacles, and plans for potential drones to help take pictures and video seem more gimmick than opportunity for solid revenue generation. I wouldn't count out the possibility of rapid initial interest in their products, similar to what GoPro (NASDAQ:GPRO) experienced at its start, but I see similar problems in the longer term with the sustainability of selling fancy cameras to grow as a business. It's a fun addition, but the main product here will be Snapchat and its ability to bring in advertising dollars.
A Tale of Recent IPO Setbacks
As I'm sure most know by now, buying in at the time of an IPO is a quick way to lose money due to excessive hype and stock promotion by associated financial institutions that drive up the price short term. The promise of the next big thing gives many the sense of not wanting to miss out should the hype be real. However, you only have to look back at the last few years to see how similarly hyped and "revolutionary" companies have performed since their IPOs.
GoPro saw a 100%+ return in less than a year since its IPO, it was supposed to revolutionize the camera industry, but its story fell flat a year later. Fitbit (NYSE:FIT) was looking to change the fitness space with its wearable health tracking devices, which gained popularity briefly and like GoPro saw their success become short lived. These hardware-focused firms should give caution as to whether Snap's cameras have any long-term sustainability.
Moving onto a recent tech example, we of course have Twitter, which like Snapchat, was a unique and fun way to get a short message across to your friends and followers when it launched. It failed to really develop itself as anything more than a public messaging app however, and as a result, did not sustain the type of growth that Facebook has. From the sounds of it, Snapchat aims to stay a simple, and fun way to send content between friends. Rather than develop functionality within the app, Snap is looking to diversify via hardware, which is an interesting path forward, but has a poor track record of working out as of late.
Future Outlook
Snap is still quite early in its development and has plenty of time, and now money, to revamp its growth plans going forward. However, from what is currently being showcased, a photo/video messaging app with some compatible photo-taking hardware is not something that signals real innovation or moat worthiness. Being the fresh new stock to hit the market with a huge following is likely to see shares continue to appreciate for the next couple of months, but unless Snap can avoid the problems Fitbit and GoPro ran into with their hardware along with the lack of real usefulness Twitter encountered as it lost growth, it looks set up to disappoint.
Disclosure: I/we have no positions in any stocks mentioned, and no plans to initiate any positions within the next 72 hours.
I wrote this article myself, and it expresses my own opinions. I am not receiving compensation for it (other than from Seeking Alpha). I have no business relationship with any company whose stock is mentioned in this article.