Enerplus (NYSE:ERF) demonstrates just how much investors can benefit from a well-managed oil and gas company in a difficult environment. Almost written off by investors as overly leveraged only a couple of years ago, Enerplus not only increased production and cash flows in 2016 but also reduced its debt by 45% to a relatively light $500 million ($654 million Canadian funds) as at September 30, 2016. Then, in December, the company sold non-core North Dakota assets for $390 million, further reducing debt.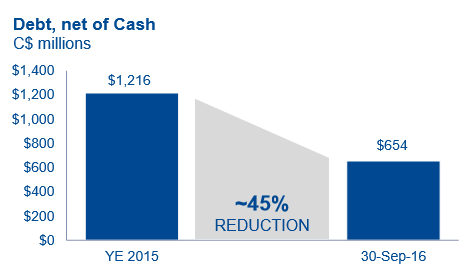 Source: Enerplus presentation
Enerplus has an undrawn $800 million credit facility and no significant debt maturities until 2020.
For 2017, Enerplus plans a $450 Canadian capital program entirely funded from internally generated cash flows.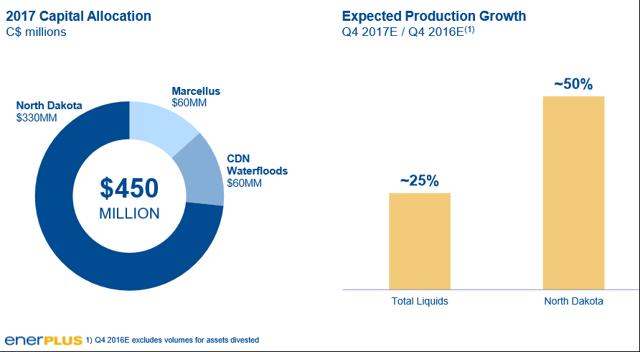 Source: Enerplus
The company will benefit in 2017 from its successful efforts to reduce operating and SG&A costs as well as lower interest charges. 2016 cost reductions totaled $100 million ($140 million Canadian).
Enerplus stock has not lagged. During 2016, the trading price of ERF shares more than doubled.
If oil prices remain north of $50 U.S. a barrel, ERF has the potential for further gains in 2017. At its current $9 per share, ERF price to cash flow for 2017 is about 6.5 times and with my forecast of 25% growth in cash flow ERF's 2018 multiple is just over 5 times.
Over time I expect some multiple expansion as oil and gas investors come to realize the value of this company's Bakken and Marcellus acreage and its Fort Berthold growth. If commodity prices remain at current levels, I can see ERF stock rising to $12 to $15 per share over the next 18 months. I am long.
Disclosure: I am/we are long ERF.
I wrote this article myself, and it expresses my own opinions. I am not receiving compensation for it (other than from Seeking Alpha). I have no business relationship with any company whose stock is mentioned in this article.