Introduction
Dynavax (NASDAQ:DVAX) faces the very same significant challenges today that it faced before its recent news. It still has options and it still faces huge risks. The only change amounts to no more than a glimmer. With a HEPLISAV-B vaccine PDUFA in its pocket, the field of plausible options for Dynavax have widened a bit.
Dynavax stalwarts had been throwing in so many towels that there were few left to throw.
Dynavax has been a simpering shadow of its bold self ever since the FDA issued it its second CRL directed to its HEPLISAV-B vaccine. With its stock in glum retreat, February was closing its doors. At the time, Dynavax was threatening to again take up a permanent roost in the shades of a <$4 per share existence (not previously seen since before its reverse split).
Comment streams on my 1/18/17 Dynavax article were overwhelmingly bleak, downright hostile to management. One went so far as to suggest that management had lost faith in HEPLISAV-B. Another responded, opining (without citing evidence) that Dynavax management was dishonest and that they were milking shareholders, only to file bankruptcy in the end.
Baseball metaphors came out to express frustration at one point. Commenter, speculative, suggested:
Can't hit a home run while bunting. Phase I, II and III got them to third base. Bottom of the ninth with bases loaded and are down one run. You know the rest.
Comments from Dan_43210, turbobotom and divviv got ever more dire. Finally, baseball was no longer sufficient and divviv compared Dynavax to the Cleveland Browns with the caveat that such a comparison was unfair to the Browns.
It went on and on, approaching a crescendo. The stock flirted with the <$4.00 per share territory but always found buyers before such price level became endemic.
So great was the despair that the teeniest bit of good news rocketed the stock upwards.
Then suddenly, Dynavax reversed its fortune. It is entering March roaring like a lion, finishing 3/1/17 with a >50% gain. It got a new lease on life when the FDA accepted review of its CRL.
To make matters better, the FDA issued a PDUFA date of August 10, 2017, very much in line with management's prior statements. Dynavax announced its triumph with a crisp press release dated 2/28/17 setting out the bare bones of the matter, giving a short write-up of HEPLISAV-B and not much else. If brevity is the soul of wit, Dynavax is the witty one indeed. Dynavax did augment this austere release with a conference call.
What is one to make of this? Dynavax had some hefty short interest going on. According to the latest data published by Nasdaq for mid February 2016, it was over eight million shares short which amounted to a hefty 15 days to cover.
Anytime there is such a backlog of shares sold short, a bit of positive news can lead to a mighty short squeeze. Yesterday's (3/1/17) massive share rally, coupled with the news on HEPLISAV-B, triggered the mother of all short squeezes powering >50% move in the stock.
Today (3/2/17), the stampede has mostly abated. As I write, the stock has pulled back >5% in heavy trade. The Dynavax journey since my last article brings to mind a cutaway schematic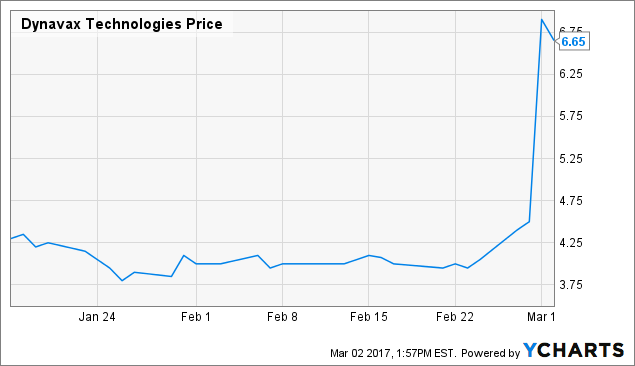 DVAX data by YCharts
of Yosemite Valley's El Capitan. In any case, it is a rather unusual chart for a stock finding itself in an unusual situation.
The CRL (complete response letter) created an overhang of uncertainty that has now lifted, even though the question of FDA approval is still open.
Although there were great gobs of Sturm and Drang over Dynavax's handling of the FDA's second CRL directed to HEPLISAV-B, they were likely overblown. The 3/1/17 announcement of the Dynavax response to the CRL was firmly within the timeline envisioned in Dynavax's JPMorgan presentation as illustrated by the slide in my previous article.
Dynavax has challenges over cash flow no matter the CRL. Its hurried restructuring this January makes that clear.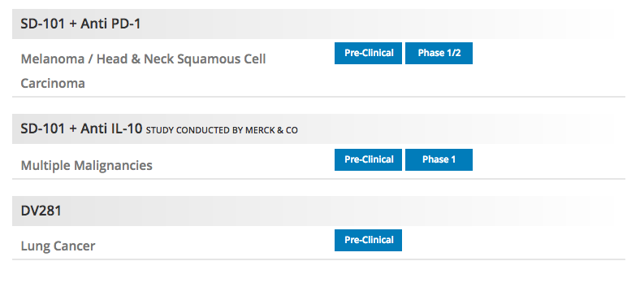 Its decision to prioritize its diversified immuno-oncology pipeline assures that such will be the case until it can generate a reliable source of cash to finance full development of a pipeline that is currently in a decidedly early stage, as shown in the graphic above.
In this regard, one must be mindful of Dynavax's track record of securing FDA approval for new drugs, or more precisely, its lack of a track record.
There do appear to be compelling arguments supporting FDA approval of HEPLISAV-B. It is significantly easier to administer as a two dose over one month regimen than GSK's Engerix's three dose over 6 months protocol. Additionally, HEPLISAV-B has shown itself to be significantly more effective in certain populations than is Engerix.
Conclusion
Dynavax is a speculative stock. While it has interesting possibilities, it lacks any special sauce that makes one want to risk significant funds in hopes that Dynavax can pull off a happy surprise more significant than a temporary short squeeze.
Dynavax has the trappings of another "me too" contender that is fighting to develop new cancer therapies in a world filled with glitzy early stage prospects. I do not see any indication that its management is particularly gifted, or shareholder friendly, or that its candidate therapies are far advanced towards FDA approval, or that it has significant cash resources.
The one thing that its recent announcement pulls back into the ring is its HEPLISAV-B vaccine. With a PDUFA date coming up in August, this vaccine has real potential to reach the market.
When and if its HEPLISAV-B vaccine makes it to the finish line, what then? How will it fare in the market place? This is unknowable until it receives approval. For 2015, GSK reported revenues for its Hepatitis vaccine north of $500 million.
Accordingly, it does seem safe to assume that if Dynavax can market a competitive product, it will generate significant revenue. Certainly revenue sufficient to create positive momentum for Dynavax would allow it to pursue its other pipeline objectives without further rounds of brutal shareholder dilution.
Even before FDA approval, the fact that HEPLISAV-B compares favorably to Engerix-B and has a near term PDUFA date relieves Dynavax from the intensive care ward. Dynavax will present a better profile in any deal it attempts to forge and should be able to negotiate better terms.
Disclosure: I am/we are long DVAX.
I wrote this article myself, and it expresses my own opinions. I am not receiving compensation for it (other than from Seeking Alpha). I have no business relationship with any company whose stock is mentioned in this article.
Additional disclosure: I may buy or sell Dynavax shares during the next 72 hours.