Compass Diversified Holdings (NYSE:CODI) attracted my attention as a way to take part in the lucrative private equity market. It pays a reliable dividend, around 8%, making it similar to a BDC in its portfolio role. However, its holdings are more concentrated: only 8 companies in its portfolio, with a controlling equity interest in each. With such a structure, its asset selection is of critical importance.
I like the assets it holds. They include well-known brands: Sterno, Liberty Safe, and (recently sold) Camelback. Recent acquisitions include 5.11, which supplies uniforms to police, and Manitoba Harvest, which supplies hemp-based foods for the health-food market. Something for everyone.
With the release on March 1 of the 2016 Annual Report, the stock price, which has already been declining, took a deeper dip. The most-noticed numbers were mixed: revenues up, net profit down. These numbers can be deceiving, though, in a complex business model. A lot of revenue was generated by selling one of their subsidiaries, but this can't be counted as "income" because it's a capital gain. Still, it's cash from operations, and funds the dividend well, so what's the problem?
Once I dove into the annual report, I found several things that could be troublesome.
First, the report itself is quite complex. They are reporting not just one company's earnings, as most 10-K's do, but on each of the subsidiaries, as well. I have neither the accounting background nor the patience to analyze the finances in this much depth, so I have to go on general impressions. (For those who like detailed narrative, that is provided for each of the companies, so it's not just numbers).
Second, as a shareholder, you are not just buying shares in one company, but becoming part of a whole maze of holdings (see diagram).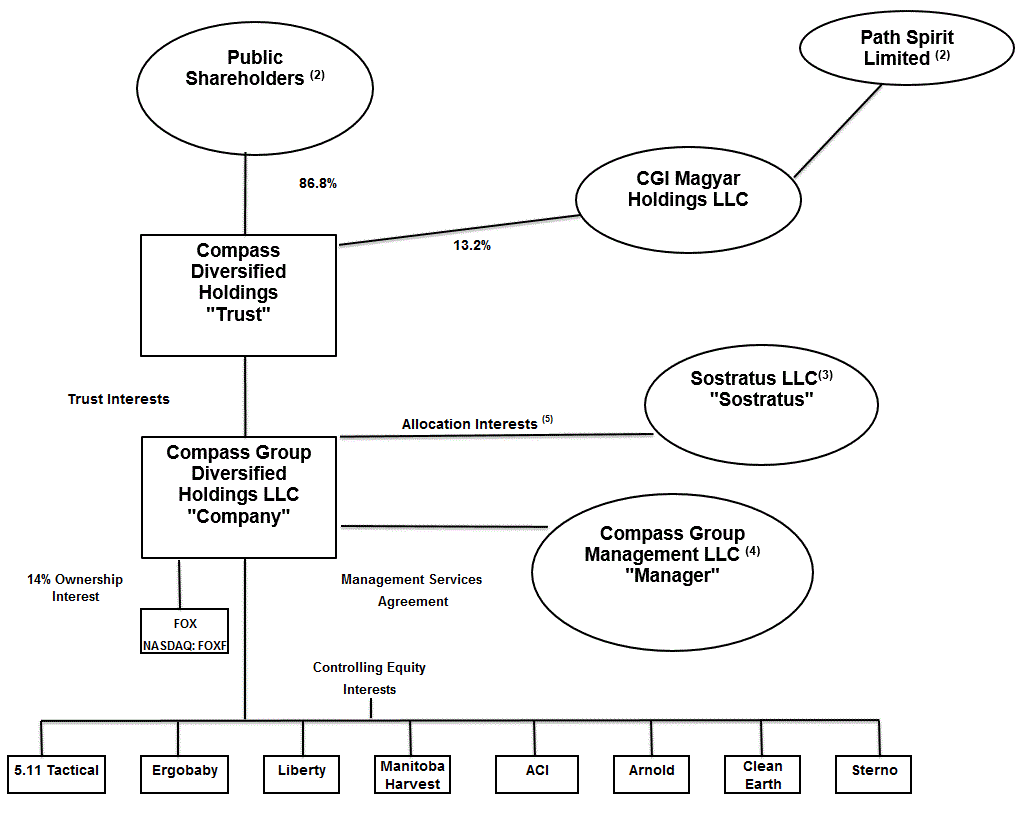 Now, this may be perfectly normal in private equity investments, but whenever there are multiple interconnected entities like this, there are lots of ways to fiddle with the risk/reward balance for each player. Again, I have neither the skills nor the time to do the deep digging that would quantify this, but it is to be expected that the public shareholders would be the least likely to see the benefits of any disparity.
The external manager is another place where profits can be transformed into fees. Scanning the financials, there's lots of good news. Revenue is soaring; book value per share is up; "effective" cost of interest paid by the company is down (although still over 5%, after counting the cost of hedging). All the signs of a successful business.
However, operating expenses are rising, too. The "selling, administrative and general" expense line increased 60% year-over-year. Management attributes this to the costs of acquiring new assets, but it consumed effectively all of the increased "gross profit," while also boosting the management fees. Shareholder benefit will have to wait.
I don't know if the sell-off after the release of the 10-K was based on misunderstanding the earnings number, or on understanding too well the flaws revealed by the details of the report. And perhaps an even deeper study could see beyond these apparent flaws and make a good case for owning the stock. Let me know if you find this.
Disclosure: I/we have no positions in any stocks mentioned, and no plans to initiate any positions within the next 72 hours.
I wrote this article myself, and it expresses my own opinions. I am not receiving compensation for it (other than from Seeking Alpha). I have no business relationship with any company whose stock is mentioned in this article.