For years, I've struggled to evaluate large biotech stocks' earnings data.
Typically, Big Biopharma earnings include myriad management "adjustments" to as-reported GAAP results. This requires picking through each adjustment, then deciding whether I believe it's reasonable. It takes time, and adds a level of complexity to the financial evaluation process.
Consequently, I began searching for alternative metrics and derivatives; something simpler and more straightforward, especially when attempting to compare different biotech firms.
Free Cash Flow appears to fit the bill. It's easy to figure, and easy to understand. I contend FCF and a related derivatives provide highly meaningful data; perhaps even superior to as-reported or operating earnings.
What is Free Cash Flow?
Free Cash Flow is Operating Cash Flow less routine Capital Expenditures.
Free Cash Flow is also referred to as "Owners' Earnings." While a non-GAAP measure, Free Cash Flow figures may be easily lifted straight from SEC filings. By design, "Consolidated Statements of Cash Flows" include subheads, "Net Cash From Operating Activities," and "Capital Expenditures."
There are several good reasons to focus upon this metric:
It's simple and easy to calculate.
Effectively, the SEC requires all corporations to report its Consolidated Statements of Cash Flows in the same format.
Free Cash Flow represents a businesses' bottom line: how much net cash is left over after a Company pays all its expenses and capital expenditures.
Picking through non-GAAP management "adjustments" is unnecessary. Free Cash Flow is an "all-in" mechanism.
Bingo.
What Are "The Four Horsemen" of Biotech?
The "Four Horsemen of Biotech" are Celgene (NASDAQ:CELG), Amgen (NASDAQ:AMGN), Biogen (NASDAQ:BIIB), and Gilead Sciences (NASDAQ:GILD).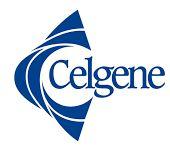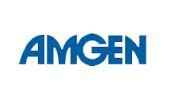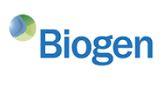 With all due respect to AbbVie, Inc. (NYSE:ABBV), these four companies represent the largest publicly-traded, similarly-situated biotech corporations. Sequentially, by market cap:
Amgen: $132B
Celgene: $98B
Gilead Sciences: $93B
Biogen: $63B
What Free Cash Flow Measures Should Be Reviewed?
I advocate monitoring three specific measures/trends:
Total Free Cash Flow
Return-on-Invested Capital as a function of FCF
Current Price-to-FCF Multiple/Forward Growth Rate; a hybrid PEG ratio
Free Cash Flow is the foundation metric.
RoIC is a function of management effectiveness. It is one way to evaluate how well management stewards corporate capital. Returns above a firms' cost of capital is the hurdle. Returns below this benchmark indicate management is destroying capital.
PFCFG is a derivative of the more commonly used PEG ratio: a valuation measurement most applicable to growth stocks. Generally, a stock with a PFCFG ratio above 2.0x may be considered expensive; between 1.0x and 1.5x denotes reasonable valuation; below 1.0x suggests shares are trading at a discount.
Free Cash Flow: The Foundation Metric
Following, a four-year summary chart is found for each identified company. All data was found in respective SEC 10-K filings.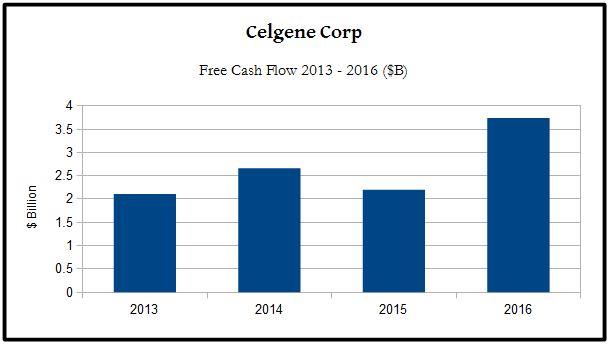 In 2015, Celgene saw its Free Cash Flow hit a speed bump. The Company closed several large deals, including Juno Therapeutics (~$1 billion) and Receptos (~$7.2 billion). Consideration in the form of stock options and upfront collaboration payments affected Operating Cash Flow, which in turn affected Free Cash Flow. The commercial arrangements also affected the balance sheet; this will come to bear when we review Return-on-Invested Capital.
In 2016, FCF rebounded smartly. Between 2013 and 2016, Celgene experienced 21% Free Cash Flow CAGR. For reference, CELG reported a 24% operating EPS compound growth rate over the same period.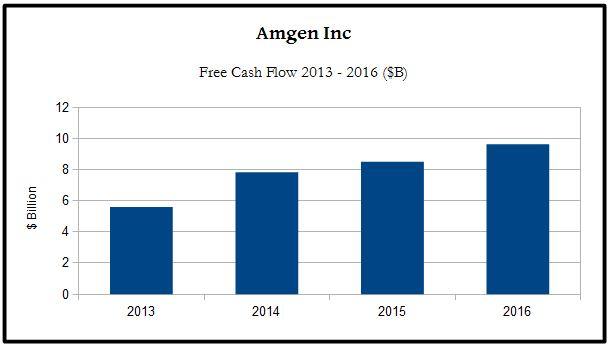 Amgen investors enjoyed steady Free Cash Flow improvement. The four-year CAGR was 19%. Strong and steady.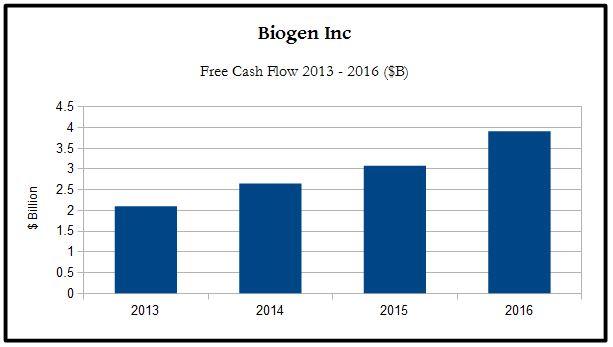 Likewise, we see Biogen grew Free Cash Flow consistently. 2016 saw an extra kicker. Year-over-year FCF growth accelerated to 27% versus 23% CAGR between 2013 and 2016.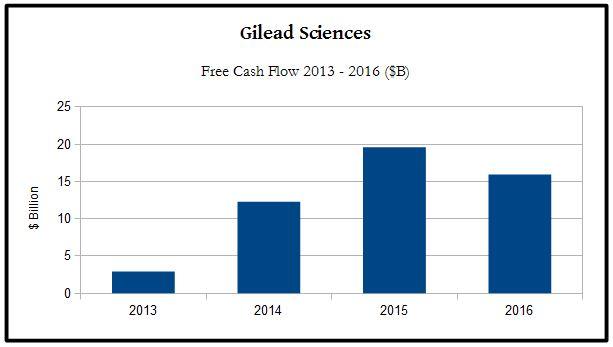 In 2016, Gilead Sciences experienced a Free Cash Flow reversal. FCF declined 18.7%.
Results were negatively impacted by declines in Hepatitis C Virus franchise revenues. When and if these revenues will stabilize is a big part of a GILD's investment thesis. Meanwhile, share prices have tanked. Since the 2015 high ($123), the stock tumbled 43% and sits at ~$70 today. The decline has been nearly unrelenting; it's not investors set a bottom. The FCF downtrend has marked this biotech as a battleground stock.
Bargain or trap?
Return on Invested Capital
Turning to RoIC, some explanations are necessary. A non-GAAP measure, I nonetheless contend RoIC is one of the most valuable investor metrics. At core, it measures how well management is handling entrusted capital.
RoIC can be calculated via multiple methodologies.
For our purposes, I elected to use Free Cash Flow as the key numerator input (the "return" part).
Traditionally, RoIC is calculated by using operating earnings (or EBIT) in the numerator. We will substitute FCF.
In turn, I determined the RoIC denominator (the "invested capital" part) by subtracting current liabilities from total assets; thereby requiring management to obtain a return on total shareholder equity and long-term liabilities (by implication, primarily debt).
Another way to think about it is management is responsible for creating long-term shareholder value upon net assets and debt.
I took the additional step to subtract cash and marketable securities from the Invested Capital base. I found this logical. Cash and securities are not "invested capital." It's capital waiting to be invested. My objective is to determine how well management generates returns upon active assets and borrowed capital.
As we go through the paces for our specific biotech firms, we will find this interpretation requires additional reflection. Please hang with me.
The proceeding charts offer case-by-case results: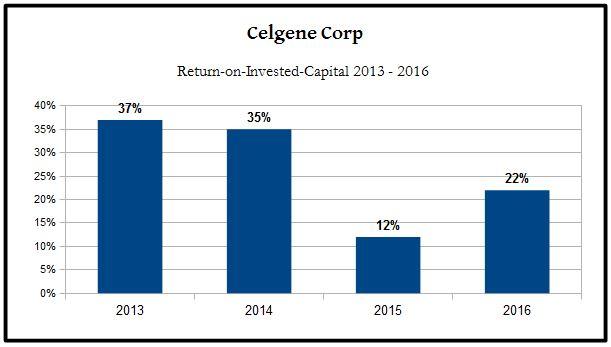 In conjunction with the 2015 commercial shopping spree, Celgene saw previously outstanding RoIC figures fall dramatically. The metric highlights precisely what it's supposed to do: if additional capital is employed, management is tasked with generating a return on it.
Savvy investors recognize the rhythm of the biotech business is not one necessarily set for immediate gratification. Of course, this must be factored into any investment decision. Nevertheless, the figures paint a picture. Note the rebound in 2016. Much of the upfront cash to complete the Juno and Receptos deals was accounted for from operating cash flow.
Notably, prior to 2015, Celgene's management used to tout the company's strong RoIC results. It was integral to quarterly earnings releases. Unsurprisingly, the practice fell by the wayside after the returns dropped big time. I contacted Celgene investor relations about the development. It responded that management was looking into it.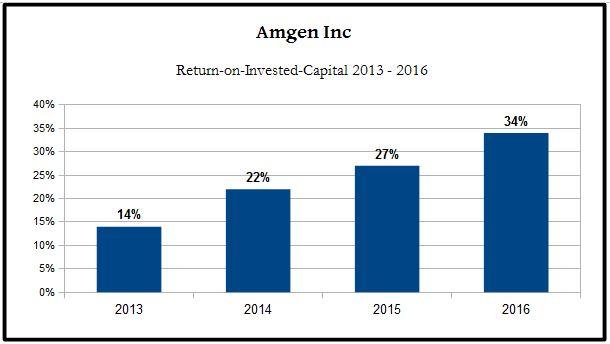 Moving on to Amgen, we find management produces outstanding RoIC; well above the cost of capital and growing stronger. AMGN has grown its balance sheet; though unlike Celgene, there's been no blockbuster acquisitive activity. Benchmark Free Cash Flow has simply grown at a faster rate than Invested Capital.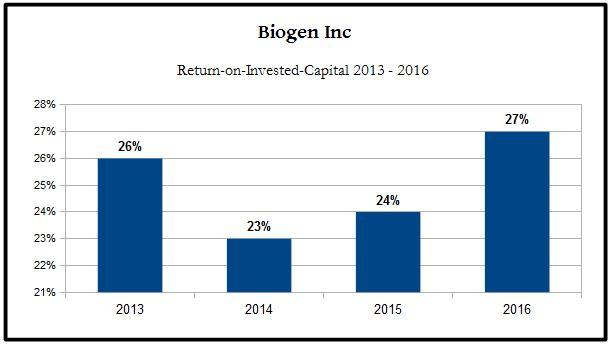 Biogen's management also demonstrated its ability to generate strong, consistent returns. The chart is a bit misleading: actually, the four-year RoICs are clustered in a pretty tight pack. The marker has not strayed below 23%.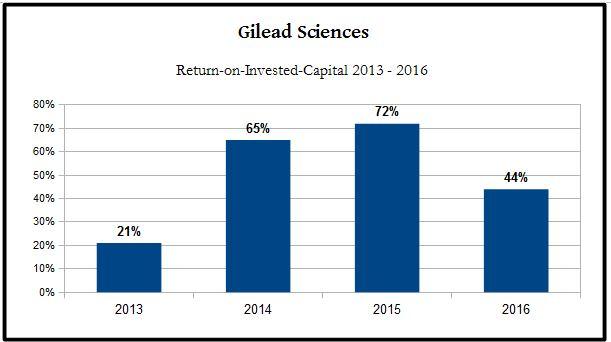 Once again, we see Gilead is the outlier. RoIC is monstrous. Readers should note when calculating GILD's Invested Capital, I did not subtract long-term marketable securities. The other biotech firms' balance sheets did not contain this line item. Indeed, one could make a good argument long-term marketable securities are no different than cash and short-term marketable securities, and therefore should be excluded.
If so, Return-on-Invested-Capital figures get even larger. The 2016 result becomes 153%, the highest during the entire four-year period.
How an investor interprets this may vary. On one hand, the raw RoIC is outstanding. On the other hand, must the company hold so much cash? M&A activity seems a given. But when? And what? Since free cash flow is declining, management is under some pressure to do something. Both the HCV revenue decline, and looming, cheaper HIV treatments threaten the franchise.
In any event, a recommendation: accept no figure in isolation. The numbers tell a story, but the numbers are not THE story.
Price-to-Free-Cash-Flow Growth Ratio (PFCFG)
Our final study highlights a modified PEG ratio; a common valuation measure for growth stocks. Instead of utilizing a trailing P/E (Price/Earnings) multiple, we will substitute a trailing P/FCF (Price-to-Free Cash Flow) multiple. Rounding out the exercise, reasonable forward FCF growth estimates may be obtained.
I limited forward growth estimates to 2017 and 2018 only, roughly a two-year period. Intentionally, I elected to keep the forecast period short. I question whether anyone can consistently and reliably project financial results farther out than two years.
For reference, a series of F.A.S.T. graphs is found following, illustrating Free Cash Flow expectations for each company.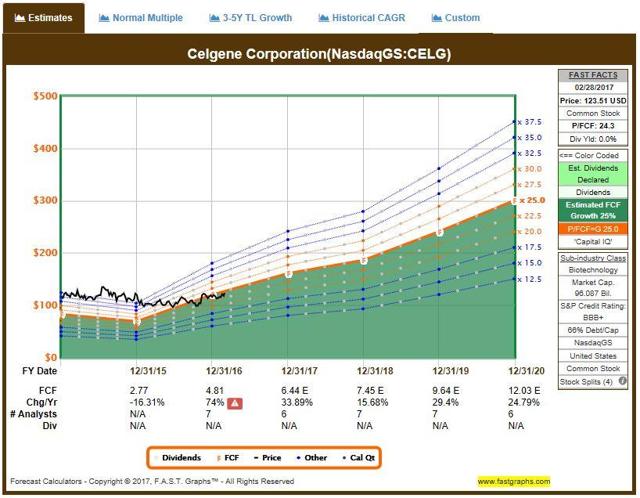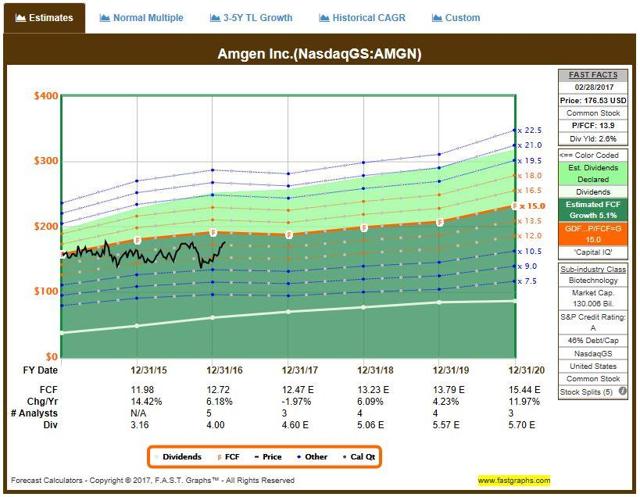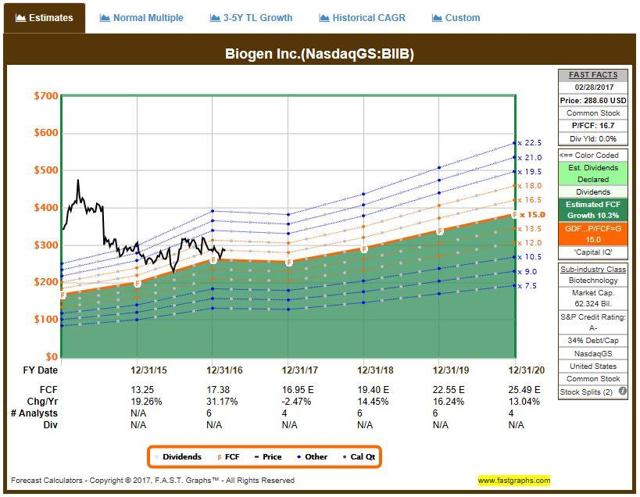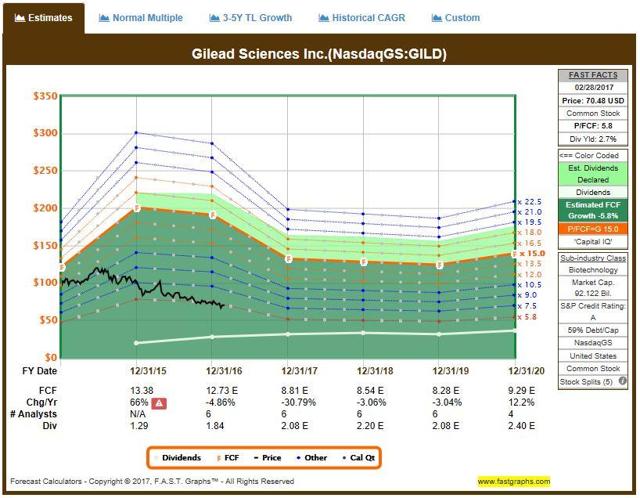 Using these forecasts, the table below was completed. It summarizes PFCFG ratios found highlighted in yellow.
For additional info and comparison, the last row of the table includes a standard two-year PEG ratio.

Celgene is the clear leader.
As a matter of fact, all others trail by a wide margin. Recalling a ratio greater than 2.0x indicates an overvalued stock, Amgen and Biogen blow through the benchmark. Tepid FCF growth expectations versus previous actual growth raises yellow flags. On the far end of the spectrum is Gilead. Through 2018, analysts expect GILD to experience declining FCF (and earnings, for that matter); thereby rendering the PFCFG or PEG ratio useless.
Celgene and its 1.0x marker suggest shares are reasonably priced. One could argue the stock is darn near a bargain.
Summary
The work product shared in this article appears to provide good data points for further investment due diligence.
Free Cash Flow offers investors a simple, no-fuss way to begin evaluating these securities. The foundation data is easy to obtain. It's found straightway via SEC filings. By definition, FCF is a good bottom-line measure. Importantly, the metric avoids having to pick through myriad management earnings "adjustments;" commonplace for many biotech names.
Return on Invested Capital is considered a good management effectiveness proxy. The mechanical calculation may vary by investor. However, the key is reading through the percentages to understand what's going on behind the numbers. In the case of the Four Horsemen of Biotech, we found whether to include a return upon long-term marketable securities has a major bearing Gilead Sciences' results.
At core, investors should expect ROIC to be above a firms' cost of capital.
A modified PEG ratio (derived by substituting trailing free cash flow multiples and forward growth rates for the more customary P/E) provides valuation insight. Here we found the most striking separation between the companies studied.
Clearly, the Street expects Celgene to grow free cash flow and operating EPS far in excess of peers. Results suggest CELG's shares are cheap. On the other hand, the metrics suggest Amgen and Biogen are overpriced. The ratio may also offer insight into why Gilead's shares have declined precipitously: poor forward growth prospects for a company categorized squarely in a growth industry.
On balance, and with the benefit of additional information beyond the scope of this article, I remain content with my Celgene shares. Free Cash Flow is growing smartly, returns are acceptable, and forward expectations are outstanding. Caveat: the sudden departure of President and COO Jackie Foust just a year into her tenure is a question mark.
If I were seeking an alternative biopharma stock, Amgen or Biogen deserve consideration. Tepid forward FCF growth is a risk.
Perhaps Gilead may be a long-term sleeper; the shares have fallen long and hard. However, it seems these shares have too much "hair" on them for me. More adventurous biotech investors may disagree.
Disclaimer: Please do your own careful due diligence before making any investment decision. This article is not a recommendation to buy or sell any stock. Good luck with all your 2017 investments.
Disclosure: I am/we are long CELG.
I wrote this article myself, and it expresses my own opinions. I am not receiving compensation for it (other than from Seeking Alpha). I have no business relationship with any company whose stock is mentioned in this article.