Cross Country Healthcare, Inc. (NASDAQ:CCRN) provides healthcare staffing (permanent and temporary), recruiting, and workforce solutions. The business operates in three main segments: nurse and allied staffing, physician staffing, and other human capital management services. With approximately 9,500 active contracts across hospitals, healthcare facilities, nursing facilities, schools, sports medicine clinics, government facilities, and homecare, Cross Country Healthcare has an extremely diverse client base.
CCRN reported 2016 Q4 and full-year 2016 financial results after market close Wednesday, March 1. While they missed their EPS estimates by 1 cent, they had a revenue beat of $12.5 million. Q4 revenue was $222.52 million (up 15% from Q4 2015) and full-year revenue was $833.53 million (up 9% from 2015). Cross Country is a small-cap stock with a market cap of $522.89 million. CCRN opened Thursday down 10% on the miss, but ended up closing positive for the day.
Nursing Shortage
There is a nationwide shortage of nurses. According to the Department of Labor, by the year 2020 nearly half of registered nurses will be at traditional retirement age. The decrease in the number of nurses, combined with increased demand as baby boomers begin to enter their late 60s, will force hospitals and other healthcare facilities not only use their resources more efficiently possible, but also to hire and train new nurses.
According to the Bureau of Labor Statistics, the nursing field is projected to grow 16% through 2024. The need for hospitals and other healthcare facilities to match staff supply to patient demand and the increase of new nurses entering the workforce over the coming years presents an incredible opportunity for healthcare staffing companies. CCRN, along with its main competitor AMN Healthcare Services (NYSE:AMN) are the two companies in the best position to take advantage of this opportunity.
Management
One of the biggest reasons you should consider buying CCRN and not one of its competitors is its management team. Lead by CEO William Grubbs, Cross Country's management team is extremely accomplished, experienced, and, most importantly, has a strong vision for the future of the company and the industry. After almost 30 years in the staffing industry, Mr. Grubbs was named CEO of CCRN on July 5, 2013, and since that date all he's done is double CCRN's revenue, make multiple key acquisitions, get named to the Staffing Industry Analysts' 100 Most Influential Staffing Leaders list four consecutive years, and almost triple the stock price. Definitely not a bad four-year run.
The most impressive thing about Mr. Grubbs has been his foresight to recognize the opportunities, specifically with nurses, that await the industry over the next decade. He has not been afraid to make acquisitions to help Cross Country increase its market share and expand its service offerings. This has already begun to pay off, as CCRN's revenue from its Nurse and Allied Staffing increased 20% from 2015 to 2016. In the press release accompanying the announcement of the Q4 and year-end financial results, Mr. Grubbs echoed this, saying:
As a result of the significant number of business wins over the past year, we increased our level of investments in staff and candidate attraction in the fourth quarter and our outlook includes a continuation of these investments in the first quarter of 2017. By taking full advantage of these new business wins, we expect to grow revenue in our Nurse and Allied segment at double digits in 2017 and continue to improve the revenue trends of our other business segments.
Current Job Market and Trump
The labor market is currently the strongest it's been in decades. For the 103rd straight week, jobless claims stayed below the 300,000 mark, which is the longest stretch since 1970. The unemployment rate has dropped to 4.8%, while the labor market is close to full employment. This environment of high employment is favorable for staffing companies. While it is Obama that deserves credit for the current labor market, if (and this is a big "if") Trump puts some of his campaign promises regarding jobs and taxes into practice, CCRN could stand to benefit. Trump pledged to bring millions of new jobs to the U.S. and cut corporate taxes. Staffing companies -- specifically small-cap, domestic companies with high effective tax rates and domestic revenue exposure -- are well-positioned to benefit from these potential changes. CCRN checks all these boxes.
While this sounds good, the Trump administration also brings some great risks. First, none of this could happen. Trump has talked a big game, but has failed to accomplish much early in his term. Second, if the current administration repeals the Affordable Care Act without a viable replacement, the country could see millions lose their health insurance. If there are fewer people who can afford proper healthcare, there could be a decrease in the demand for nurses and other healthcare professionals, which could create problems for the healthcare staffing industry.
Fundamental Analysis
While CCRN is technically in the industrial sector, this is misleading. Below is a chart showing just how closely CCRN has followed the healthcare sector over the past three years, and why I will be comparing CCRN to the healthcare industry.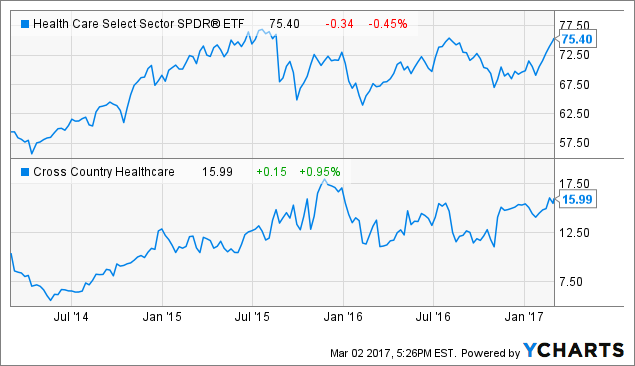 CCRN's seems to be properly valued in relation to other healthcare companies.
CCRN's current P/E ratio is 22.96, which is in line with the healthcare sector's P/E ratio of 21.
CCRN's 0.7 price/sales ratio is significantly lower than the 3.9 median price/sales ratio of the healthcare sector.
CCRN's 3.3 price/book ratio is equal to the 3.3 median price/book ratio of the healthcare sector.
The nursing crisis combined with a strong and improving job market makes both the healthcare industry and staffing companies solid long-term fundamental plays. While CCRN seems to be valued fairly relative to other healthcare companies, I do not believe their multiple acquisitions and business wins over the past few years have been priced into the stock.
Disclosure: I am/we are long CCRN.
I wrote this article myself, and it expresses my own opinions. I am not receiving compensation for it (other than from Seeking Alpha). I have no business relationship with any company whose stock is mentioned in this article.