Tuesdays earnings call from Valeant Pharmaceuticals (NYSE:VRX) proved Jim Chanos short thesis is still intact for the company. The company is failing to deliver on most all metrics as sales continue to fall across the board.
They have enough adjustments to non gap income that it gives me a headache trying to figure it out. The CFO spent 20 seconds telling investors they could find reconciliations on the website. Either way I am not comfortable with analyzing their calculations.
Here is a clip showing adjustments to GAAP, along with non-GAAP.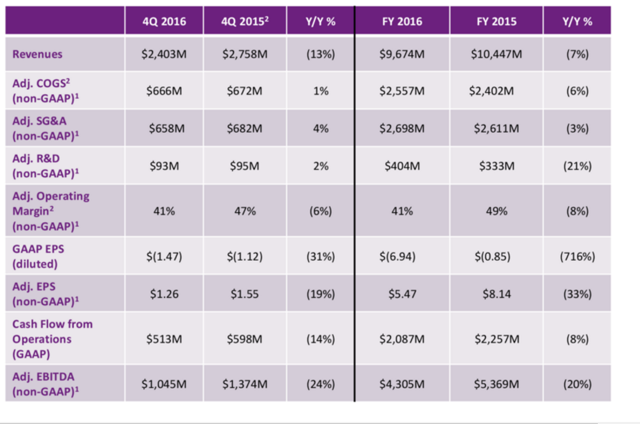 CEO Joe Papa is delivering continued negative results for shareholders, with losses accelerating across the board.
LOE will put a drag on earnings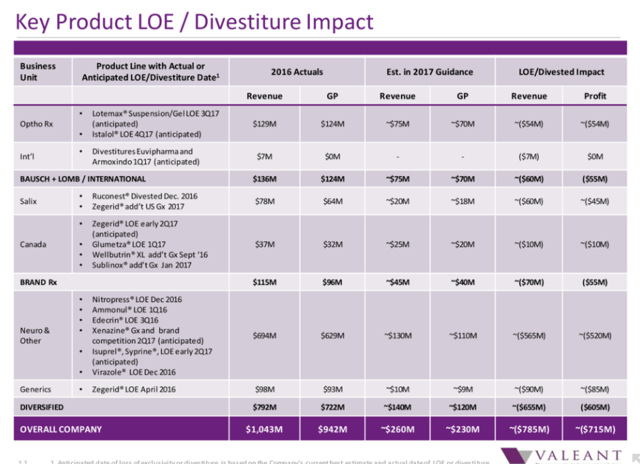 In a world where declining sales matter to stock valuations, one can see from the chart above that Valeant will struggle the next several quarters to make up lost revenue from products going generic.
Debt
Valeant has $30.1B in financed debt and holds $544M in cash. The revolving debt outstanding is $875M. Here is my issue; I do not trust their EBITDA numbers. In my view business model is not sustainable with the debt load the company is facing.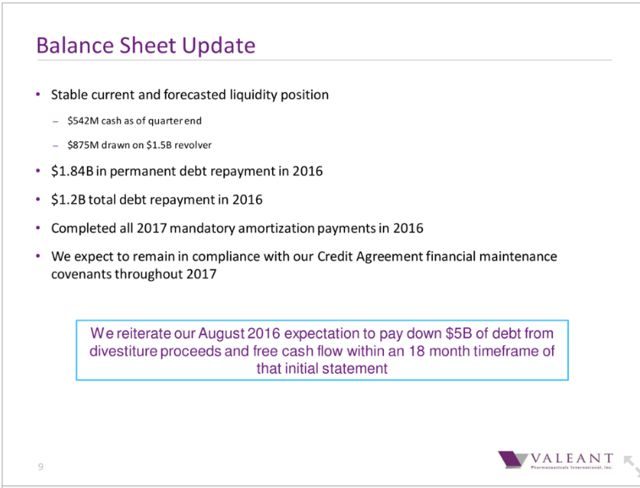 Significant downside risk remains
Valeant's earnings will be under severe stress this year and the company will have to perform at a very high level to survive the coming debt payments of 2018. I do not see this being possible without serious dilution.
Here is why I believe the stock could drop another 50% in 2017.
1. Revenue is declining with no end in sight.
2. Loss of exclusivity due to generics continues into the future.
3.Bausch and Lomb sales are flat to down slightly.
4. Unsustainable amount of debt at $30B
5. Management is unable to adequately explain their path to future growth and debt reduction.
6. Unable to sell overpriced Salix division.
7. Failed marketing plan to date for ADDY.
8. Sketchy accounting in relation to how management explains GAAP and Non-GAAP earning adjustments.
9. Management quickly losing credibility with the Wall Street.
10. Dilution by management in regards to repayment of debt and stock issuance seems a given in the near future.
Conclusion
Valeant's management, in my view, is not reliable with their numbers in relation to previous guidance. I do not see a way out of their debt trap without major dilution to existing shareholders.
I personally have no confidence in management's ability to increase sales with Loss of Exclusivity on so many of their products.
Earnings will continue to decline over the foreseeable future, and these are not favorable conditions to be long the stock.
As always, do your own research and know your exit point before making any trade.
Disclosure: I/we have no positions in any stocks mentioned, and no plans to initiate any positions within the next 72 hours.
I wrote this article myself, and it expresses my own opinions. I am not receiving compensation for it (other than from Seeking Alpha). I have no business relationship with any company whose stock is mentioned in this article.