American Outdoor Brands Corporation (NASDAQ:AOBC) just released FY 2017 Q3 Earnings and results were mixed. A 20% earnings beat should have sent share prices skyrocketing in after hours, but investors were skeptical of the slight revenue miss and downgrades in Q4 forecasts. AOBC dipped as low as $17.55 (-9.4%) in after-hours trading. Short-sellers must be celebrating right about now, unless they get caught in a short squeeze when the market opens.
Anyone worried about the revenue miss is trading the headlines. A miss of 1% is in-line with estimates and should not be counted against AOBC, especially as there was so much negativity on the company's ability to battle firearm headwinds. The bigger issue is the Q4 revenue and EPS estimates and what that means for the company moving forward. It was not so much the changing expectations in adjusted NICS because management reiterated their guidance at the January SHOT Trade Show. Adjusted NICS have also been relatively strong and CEO James Debney reminds us that there tends to be an uptick in adjusted NICS in February and March based on seasonality (revenue patterns mentioned later). In summary, the guidance revision was almost single-handedly caused by the rumored bankruptcy of outdoor retailer Gander Mountain in late February.
Forget the massive EPS beat, the market seems to only care about FY 2017 forecasts, which were guided down to $874-894mm from $920-930mm. With the first 3 Quarters combining for $662mm, AOBC is projecting $222mm for Q4 as opposed to previous guidance of $258mm. But with extensive insight into the newly released Q3 report, there is reason to believe that management is being overly conservative with Q4 estimates.
Stellar Q3, Disappointing Q4 Guidance
Sales increased 10.8% YOY but miss consensus estimates by 1%
Gross margins increased 1.4% YOY
Net Income increased 3.2% YOY
Adjusted EPS of $0.66 beats consensus estimates of $0.55
FY 2017 sales guided down 4%, Q4 sales down 14%
Q4 Adjusted EPS guided down to $0.32 and $0.42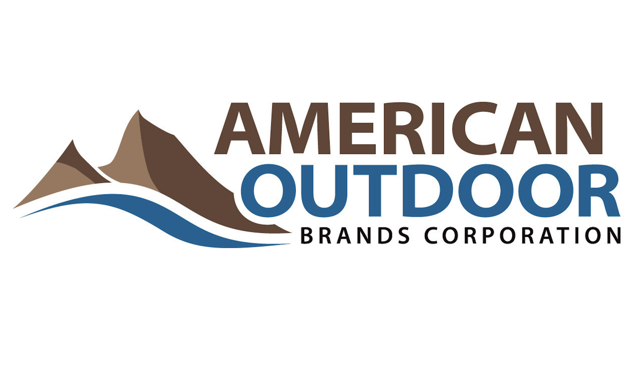 Conservative With Estimates
CEO James Debney has clear numbers in his head for Q4 estimates, but how closely does it align with the numbers he gave in the earnings call? In the earnings call, Debney predicted Q4 sales between $200-220mm and non-GAAP EPS between $0.32 and $0.42. My question is if investors are taking into account that AOBC guides very conservatively and not just taking this guidance for face value.
Debney states that part of the reason that Q4 guidance was down was because of rumors that Gander Mountain would go bankrupt. CFO Jeff Buchanan was very forthcoming in his statements, saying that "regardless of what happens with Gander, there is no risk to our Q4 regardless of what happens whether they file back bankruptcy are they don't." Because Gander Mountain's potential bankruptcy has already been taken into account, AOBC could see huge upside if Gander is actually able to keep operating.
Below is a reference for how AOBC's EPS performs relative to consensus estimates. Over the past 20 reported quarters, AOBC beats consensus estimates by 24%. Management tends to guide conservatively, but how conservatively are they guiding for this next quarter?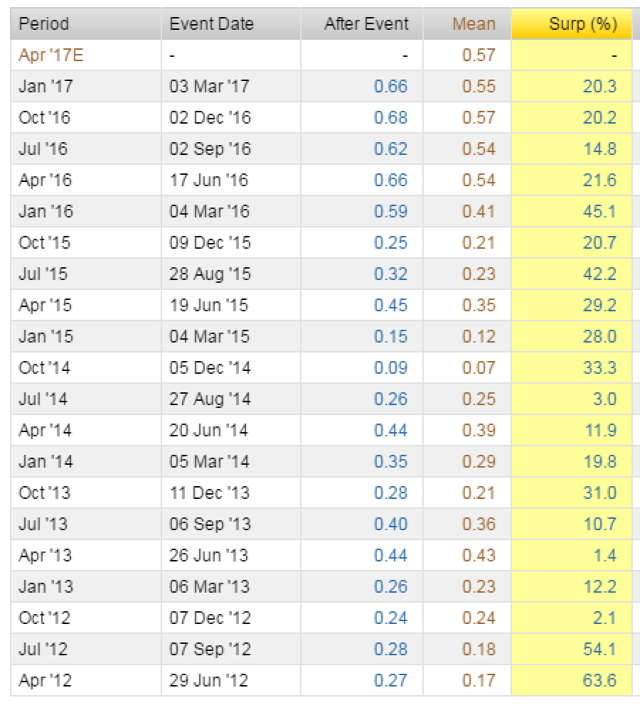 In a very hypothetical case, AOBC would beat EPS by 24%, as suggested by past trends. But would guidance between $0.38 and $.50 be enough to satisfy investors for Q4?
As far as sales, AOBC has beat guidance by 4% in the past three years. Seasonal revenue patterns suggest Q4 sales will beat Q3 sales by roughly 20%. Instead, management expects a 5% decrease quarter-over-quarter. AOBC skeptics argue there should be a massive decrease in Q4 sales because Q3 experienced unusually high sales because of gun-control uncertainty and the holiday season. This reasoning is invalid because AOBC's FY Q3 period is from November to January, meaning there were only 8 days that were affected by gun-control uncertainty from the 2016 election. Secondly, even with a revenue boost from holiday shopping, Q4 (February - April) consistently outperforms Q3.

The chart below includes 62 quarters of data showing quarter-over-quarter sales growth. For example, Q4 shows average QOQ Growth of 22.4%, meaning that Q3 to Q4 experienced a 22.4% increase in sales on average. This data confirms the statement CEO James Debney made in the conference call about stronger firearm demands in February and March.

This leads me to believe that the Q4 guide down is roughly the same as the $920-930mm revenue guidance but strictly takes into account the bankruptcy of Gander Mountain, which brings guidance down to $874-894mm. Even with a Gander Mountain bankruptcy, I find it hard to believe that Q4 sales will be less than Q3, especially as AOBC is still growing revenue through outdoor products and accessories.
Product Segments

Firearm sales were nothing stellar, which was to be expected given that Republicans overtook congress and the presidency in early November. Q3 firearm sales were $197mm compared to $195mm a year ago. Interestingly, long gun sales were up 32% while handguns were down 6.5%. CFO Jeff Buchanan said, "that was the big surprise for us to be honest because the recent trend had been for handgun adjusted NICS to have from long gun but you've seen that basically flip flop."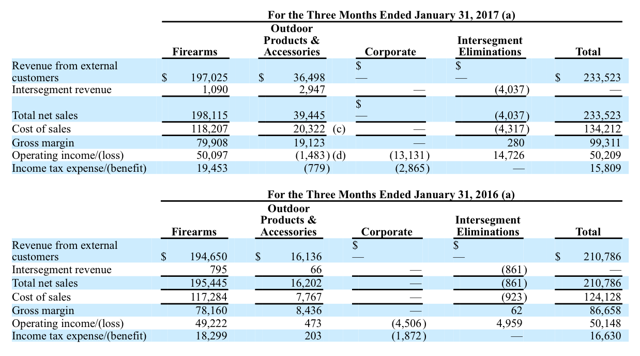 EBIT margins for firearms were 25.4%, which is in-line with previous quarters. However, outdoor products and accessories have been the key difference in revenue, as non-firearm sales accounted for 15.6% of total sales compared to just 7.7% last year. With recent acquisitions of Battenfeld Technologies, Ultimate Survival Technologies, and Taylor Brands, non-firearm sales should continue to grow and contribute to a larger share of overall revenue. Accessory sales tend to have better margins, which may have explained the huge earnings beat for Q3 despite the revenue miss. But upon closer inspection, non-firearm margins were extremely disappointing. EBIT margins were -3.8% compared to 3.0% last year, both of which are much lower than one would expect for margins of outdoor products and accessories.
AOBC's 10-Q explains that "operating expenses increased $12.6 million over the comparable quarter last year as a result of $10.1 million of additional operating expenses related to our new acquisitions of Taylor Brands, LLC, Crimson Trace Corporation, and Ultimate Survival Technologies, Inc. during fiscal 2017, which included $3.1 million of additional acquired intangible asset amortization expense." I had previously thought AOBC would skip the branding phases of their new accessory products because of inorganic growth, however, I stand corrected as there seems to be a significant amount of up-front operating expenses related to such acquisitions. On the brighter side, this means that AOBC beat EPS estimates by 20% even with terrible margins in the non-firearm department. Gross margins for non-firearm products are at a healthy 48.5%, which means that SG&A and R&D spending must be dragging down earnings. AOBC will certainly have the potential to improve efficiency and make its accessories department more profitable moving forward, especially as many of these marketing expenses are front-heavy and will taper down in the coming quarters. The 10-Q also details several one-time expenses related to the recent acquisitions that are being amortized over several quarters.
Conclusion
AOBC has been getting hammered by external factors such as the political makeup of congress and a potential retail bankruptcy. However, the core business has not changed and remains as profitable as ever. The only difference is in their strategy to diversify away from firearms, which has been discussed extensively in the past. AOBC's decision to expand their accessories department through cheap acquisitions will help them continue to grow revenue and create greater margins in the long-run.
Investors will need to reexamine the reasons why AOBC guided down for Q4 results. Is it more so the potential bankruptcy of Gander Mountain or headwinds in firearm sales? For the reasons mentioned earlier, I believe the guide down was strictly because of Gander Mountain bankruptcy rumors. Generally, I'm a big fan of management giving conservative guidance. But their strategy will have back-fired if investors take it for face value.
Supporting Documents
Disclosure: I am/we are long AOBC.
I wrote this article myself, and it expresses my own opinions. I am not receiving compensation for it (other than from Seeking Alpha). I have no business relationship with any company whose stock is mentioned in this article.
Additional disclosure: Please email me (justinwu@college.harvard.edu) for proprietary data on quarter over quarter estimates.