Canadian Imperial Bank of Commerce (NYSE:CM) is seemingly the cheapest of the five major Canadian banks. The lower-than-peer's valuation is largely the result of concerns over CIBCs larger-than-peers' exposure to the Canadian housing market. The Canadian housing market has given rise to concerns for regulators and investors alike as the level of heavy indebtedness amongst Canadian households continues to rise along with real estate values.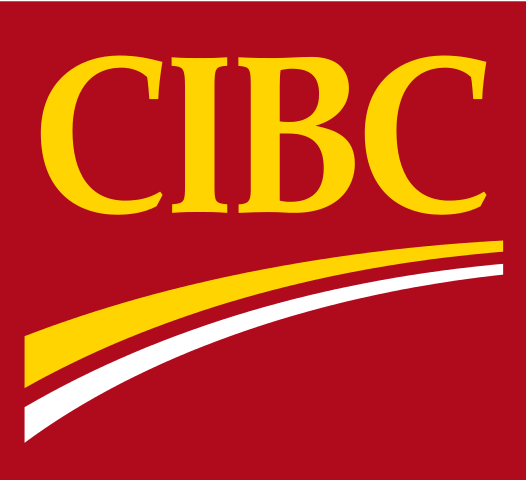 I am, however, confident in CIBCs ability to manage these risks and continue to pay its dividend. The banks dividend yield is currently around 4% and it has paid a dividend every year since 1886. The banks lack of presence in the US is also part of the reason it trades at such a discount and although this may be solved by the acquisition of Private Bancorp (NASDAQ:PVTB) there is seemingly growing resistance to the deal resulting in a higher probability that the deal may not close. Readers should note that all figures referenced are in Canadian dollars unless reference is made to the ticker symbol or the contrary is indicated.
Asset Quality and Capital
CIBCs Capital Adequacy Ratio at 15.2%, on an All-in Basil III basis, is the highest of the five major Canadian banks. Its capital levels are also well above the regulatory minimum levels of 11.5% for total CAR and 9.5% CET1 CAR set for the six biggest Canadian Banks. The banks CET1 CAR at 11.9% is also the highest CET1 CAR of any of the big five.
(Source: Company Fillings)
The main area of concern with regards to asset quality arises from the banks' exposure to uninsured Canadian residential mortgages. The infographic below indicates that the banks' exposure to uninsured mortgages relative to capital is by far the highest amongst the big five. It is therefore seemingly more at risk than its peers in the event of a Canadian housing market collapse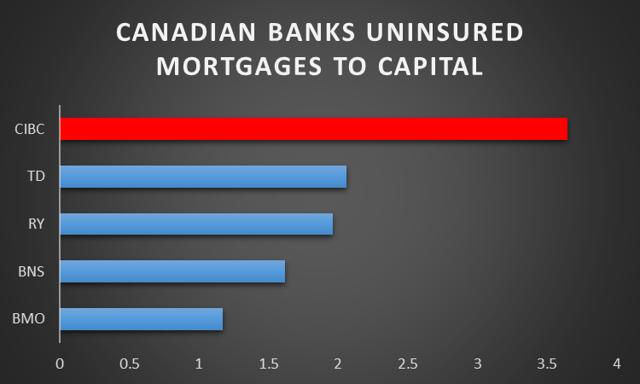 (Source: Company Fillings)
This exposure should not, however, be viewed in isolation and should be considered along with other key metrics such as the loan to valuation ratio (LTV). The main threat of a housing bubble arises in the greater Toronto (GTA) and Vancouver (GVA) areas; though some have expressed concerns over the market as a whole the chart below depicts that price movements across Canada have by no means been uniform. The banks LTV ratio in the main areas of concern is generally quite low with an average LTV of 48% in the GVA and 52% in the GTA. The low LTV ratio ensures that the risk of significant losses to the bank is reduced. In addition, thereto there are fundamental differences in the Canadian and US housing market, key amongst those being that Canadian mortgages are generally full recourse, which further reduces the risk of substantial losses for the bank.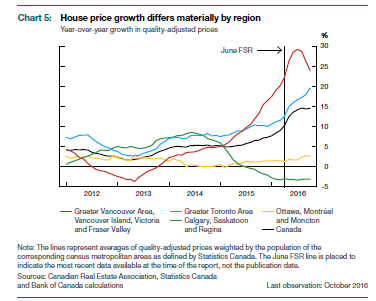 (Source: Bank of Canada- Financial System Review)
In a scenario of loan losses; in which it is assumed that default rates on uninsured mortgages rise to a level of 5%, historically very high for Canada where default rates are generally below 1%, and in which banks can recoup about a third of the current value of properties the banks total losses would be in the region of $2.4 billion. This is not a great outcome but hardly catastrophic. It should, however, be noted that this explanation may be over simplistic as it doesn't consider spill over into other credit areas but nevertheless showcases the value of having low LTV ratios.
The chart below further indicates that the banks borrowers tend to have credit scores in the upper range. This is not a perfect measure, as it considers past payment history and cannot factor in potential unemployment, but is nevertheless a good guideline of the bank's credit management practices.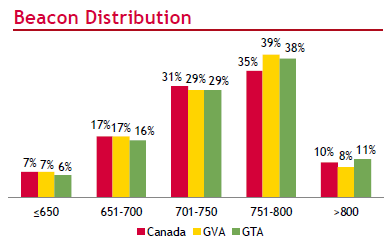 (Source: Investor Presentation)
Earnings and Dividend Safety
In the first quarter of 2017 the bank reported a 44% YoY increase in EPS and a 13% YoY increase in adjusted EPS. The bank has also continued to show strong deposit and lending growth with an 8% YoY increase in personal deposits and a 10% YoY increase in business deposits. Mortgages and business lending also increased YoY by 12% and 10% respectively.
I expect the banks positive earnings growth to persist in 2017, but a severe economic slowdown or a potential housing crisis should be considered a key risk to this view. The bank also increased its dividend to $1.27 and will likely continue its streak of dividend increases.

(Source: Simplywall.st)
A strong capital position, a payout ratio of less than 50% and continued earnings growth also enhances the safety of the banks dividend and reduces the probability of a dividend cut. The bank noted that the acquisition of PVTB would not be earnings accretive for a period of two years at the time the deal was announced. It is for this reason and the fact that the acquisition was costly to begin with that I do not anticipate that CIBC shareholders will be supportive of paying an increased price. It also seems unlikely that PVTB shareholders will approve the deal at the old price after the rally in US banking shares and some investor may choose to stay on the side-lines until there is clarity on the future of the acquisition.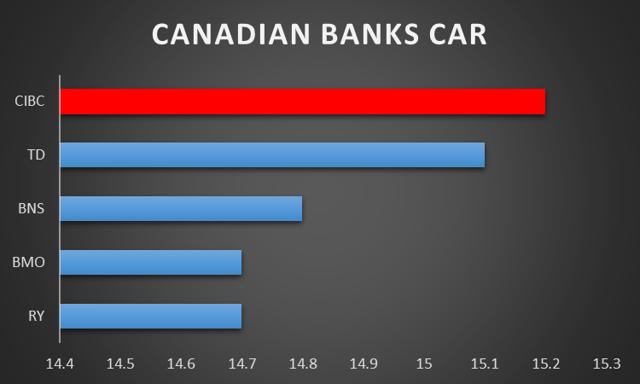 (Source: Company Fillings)
Valuation and Conclusions
CIBC TTM p/e ratio of around 10.1 is the lowest of the big five Canadian banks. It is also below its 5-year average TTM p/e ratio of 10.89.
(Source: Ycharts)
The banks price to book value at around 2.022 is essentially at its 5-year average. In comparing CIBCs price to book value relative to ROE with that of its peers, as depicted in the chart below, it becomes apparent that the stock is attractively valued relative to its peers.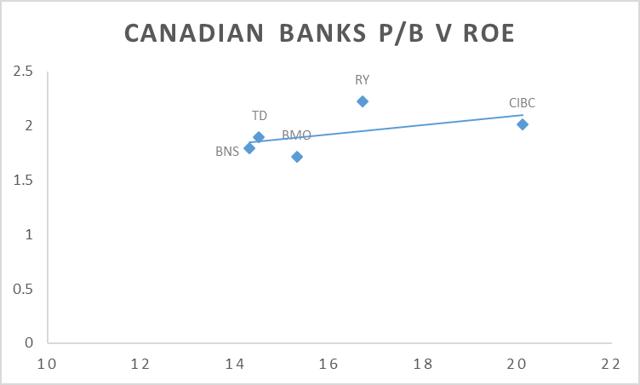 (Source: Company Fillings & Ycharts)
CIBC is facing a number of potential risks, and more so than many of its peers, as well as lower growth expectations than the other four of the big five. Its lower valuation and superior ROE is, however, somewhat difficult to ignore. I will continue to hold CM and look to add more on a pullback.
Thank you for taking the time to read this article. If you enjoyed it, please consider following me by clicking the follow button next to my name at the top of the page. I am hoping to cover all five the major Canadian banks over the course of this month and will do periodical updates where relevant.
Disclosure: I am/we are long CM.
I wrote this article myself, and it expresses my own opinions. I am not receiving compensation for it (other than from Seeking Alpha). I have no business relationship with any company whose stock is mentioned in this article.
Additional disclosure: I receive complimentary access to premium charts from Simplywall.st which I use in my articles where relevant.